Ruthann Crawford is a Mental Health Counselor at ​​Insight & Action Therapy in Midtown Manhattan passionate about destigmatizing therapy and ensuring equal access to mental health for individuals of all backgrounds. While taking a client-centered, eclectic, and collaborative approach, Ruthann works with clients on many topics, including relationships, communication challenges, anxiety, race/cultural identity issues, and major life transitions. She also enjoys incorporating art and music therapy into sessions to take advantage of the significant healing and meditative properties of these modalities.
We asked Ruthann more about her work with clients and her guiding philosophies on therapy.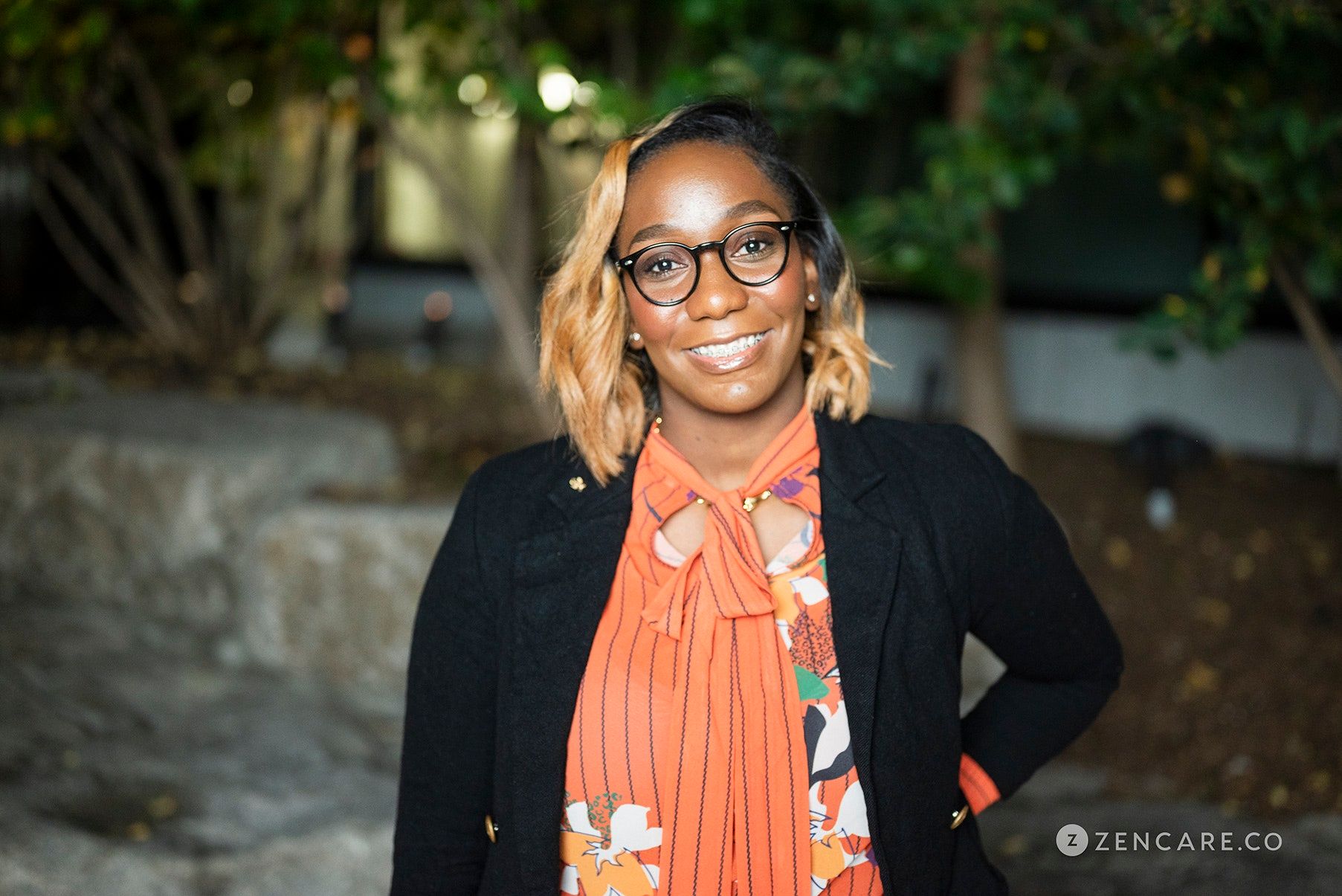 Ruthann's background and personal life
What was your previous work before going into private practice?
Before becoming a therapist and deciding to work in private practice, I worked as a music specialist for the intellectually/developmentally disabled and provided services to youth and adolescents with severe mental disturbances within the foster care system.
What do you enjoy doing in your free time?
I love traveling to new and old destinations! I always find and remember who I am at my core through travel, as it provides me with global context and experience. Our world is much smaller than we can imagine, even with 8 billion citizens!
Ruthann's specialties and therapy philosophies
What guiding principles inform your work?
People have a lot to say. If only we take the time to listen, we can heal the mind, body, spirit, and community. As abstract as it may seem, our existence relies on our ability to not only communicate, but also on our ability to understand. My niche is humanity and with each year that I age, I grow and gain the ability to share, relate, and understand new dimensions of myself and those I work with. My experience allows me to service both the most affluent clients and the most vulnerable and underserved communities.
What clientele do you work with most frequently?
While I do welcome all clients and strive to serve individuals of all different socio- economic statuses, ethnicities, and cultures, I often connect closely with the black and brown community through my own culture and identity.
Can you tell us more about your specialty in agentic work?
Agentic work allows us to identify the underdeveloped components of the self and their influence on our ability to take inventory and build capacity within our lives. We have all experienced the hurdles of life altering decisions, and the underdeveloped self may struggle to make these decisions and make us feel a lack of purpose or direction in life. This is truly an opportunity to learn more about the self—each detail propels the need for expansion to overcome the void of meaninglessness. A therapeutic relationship encourages this journey and promotes accountability for clients.
Can you tell us more about your specialty in object relations?
We are a part of and in a relationship with the things, places, people, and memories that connect us to our past, present, and future. Understanding our relationship to these valued parts of our identity can provide insight into the source of the work to be done in therapy. Object relations provides inner work and reflection for both therapist and client to heal and experience.
Can you tell us about your work with clients on improving their communication style?
As language is to speech, communication is to understanding. We all communicate by both verbal and nonverbal means, and the messages we leave and how they are received tell the tale of much more than the verbal and nonverbal innuendos we may or may not intend. The way we communicate shares the story of our culture, beliefs, character, and experiences, and each interaction compels us to understand who we are so that we in-turn can be understood by those around us.
What do you find most rewarding about your work?
I love seeing the progress that clients make, and I value the ability to connect directly with clients. It truly brings me great joy, satisfaction, and peace to see the ways in which lives can be transformed with the right interventions and support. I love being a part of the process.
Therapy sessions with Ruthann
What will our first session together be like? What happens in ongoing sessions?
We start with an intake of course! The intake session may feel slightly overwhelming due to the discomfort of meeting a stranger and being asked a wide variety of questions about oneself. However, I love to let my clients in on a beautiful secret during our intake that allows us to mend well, join me to find out.
How long do clients typically see you for?
The number of sessions any particular client may see me for varies significantly, as everyone comes to therapy to get something different out of it! As such, even the intervals of our treatment plan review can vary based on how things are progressing, and treatment can be recommended to increase or decrease as needed. I hate to give vague answers, but there is no way of knowing how long any one client's sessions may last.
Are there any books you often recommend to clients?
I find that Domonique Bertolucci's motivational poems and life reflection books like Love Your Life. They provide helpful reminders and encouragement when needed.
Do you assign "homework" between sessions?
While most do not like the term "homework," there are occasional tasks that I assign to help make better use of time with clients and move the process along smoothly.
How do you help ensure I'm making progress in therapy?
I love doing check-ins and treatment plan reviews with clients so that they always can view and be reminded of their autonomy and progress.
How do I know that it's time to start seeking therapy?
There is no better time than the present for us all to seek therapy. Therapy is not isolated to those with apparent mental illness or those on the brink of distress. It is also an excellent resource and service for self care, self-maintenance, and a safe space to decompress.
How can I prepare for our first session?
Check out my social media platform for tidbits on how to feel better prepared in the beginning or in continuing your journey through therapy: @rbc_therapy on Instagram and RBC Therapy on Facebook.
How will I know it's time to end my time in therapy with you or reduce session frequency?
I usually suggest bringing this up during a treatment plan review, as goals and feedback provided by clients help both myself and them check-in on how things are progressing. Desired session frequency is also discussed during this time.
Why should I seek therapy, rather than turning to my partner, friends, or other loved ones?
Partners, friends, and loved ones can provide healthy insight into the ways we should live our lives with good intentions. However, they also may be the one stop shop for bias because they know us so well. Having an outsider who can provide you with clinical impressions, healthy coping skills practice, and a space to let your inner thoughts really reveal themselves makes the investment in therapy worth it.
What advice would you share with therapy seekers?
If you have been hesitant about how effective therapy can truly be, I compel you to start. The only way to know how something can change your life is through your own experience. When you are ready, I (along with colleagues throughout the profession) are always here to help.
Visit Ruthann's profile or the ​​Insight & Action Therapy group profile to read more about her and contact her for an initial call!