Robyn Sheiniuk is a Licensed Clinical Social Worker in Culver City, CA specializing in trauma and PTSD, as well as frequently accompanying symptoms to these conditions, such as anxiety, depression, adjustment difficulties, isolation, and/or grief. In sessions, Robyn makes regular use of both EMDR and psychodynamic talk therapy to engage the body and the mind in the healing process. She also has a particular passion for working with high-achieving women on issues related to perfectionism or health-related issues, such as cancer. Robyn welcomes individual clients of all ages, couples, and families into her practice and conveniently offers teletherapy sessions to clients throughout the state of California.
We asked Robyn more about her work with clients and her guiding philosophies on therapy.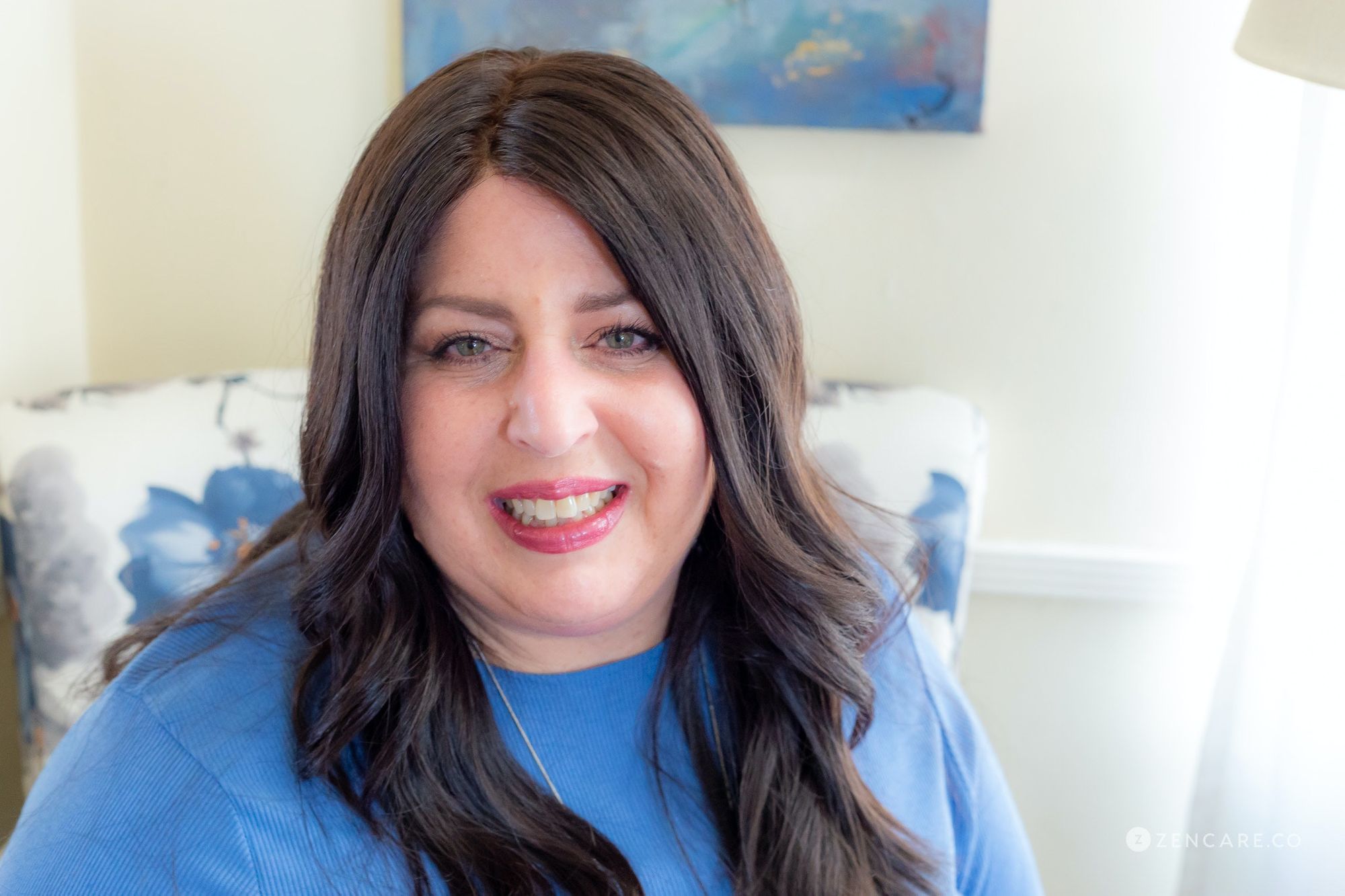 Robyn's background and personal life
How did you decide to become a therapist?
I've always been drawn to listening to people's stories. Even as a child, friends would talk to me, and I was naturally a good listener. I'm much more of a natural listener than I am a talker, so it was an easy decision to become a therapist. I think it's such a privilege to be entrusted with people's inner-most feelings, thoughts, fears and hopes, and I find it fascinating to learn how different people's minds work.
What was your previous work before going into private practice?
I started my career in L.A. working for a variety of agencies that helped children and families. I then became a Clinical Supervisor, helping other clinicians before becoming a Program Manager and Clinical Director at other agencies. I've worked with a lot of trauma in both children and adults in outpatient clinics and residential programs. I continue to supervise other clinicians now that I've transitioned to private practice.
What do you enjoy doing in your free time?
I love to travel and explore the world!
Robyn's specialties and therapy philosophies
What guiding principles inform your work?
I believe that who we are today is a composition of all the interactions we've had in our lives combined with our innate nature or temperament. I think it's important to understand the "why" of our thoughts, behaviors, and reactions—in addition to learning how to change them. I look at each person as a whole, strive to understand what's gone into creating who they are today, and work with them to change today to have a better tomorrow.
What clientele do you work with most frequently?
I love working with women who are high achievers. Those of us who put their all into whatever they are doing—be it work, family, relationships, or hobbies. Those of us who have a tendency towards perfectionism are often critical of ourselves. We need help undoing the effects of our past experiences so that we're able to feel strong and confident inside, just as we project to the world outside.
Can you tell us more about your work with women?
High-achieving women are often driven by an underlying critical voice which often comes out as perfectionism. Part of why they are high-achievers is that they are pushing themselves because there's a part of them that fears not being good-enough. This often comes from old messages from parents or teachers. In therapy, I help clients examine the messages that have informed their lives and help them feel as good inside as the rest of the world sees them.
Can you tell us more about your specialty in trauma?
There are "Big T" and "Little T" traumas. Big T traumas are what we all recognize as traumas—sexual assaults, car accidents, dog bites. Little T traumas are those repeated hurtful events that have happened throughout our lives that have eaten away at our self-esteem; they are those instances where we have felt humiliated, put down, or not good enough. Having several of those can add up to a lifetime of unrecognized traumas, as Little T traumas are often not recognized as traumas.
Using EMDR, a therapy that uses eye-movement, I help your mind to reprocess how those traumas are stored in your brain so that the intense emotions attached to them lessen over time, and the memories become just bad memories, rather than active incidents that continue to interfere in your life.
Can you tell us about your work with clients navigating a recent cancer diagnosis?
A cancer diagnosis impacts you and everything in your life. How will you work through treatment? How will I tell my loved one? What will happen to me? Will I survive? If I do, what will I look like? How do I define myself as a woman if I don't have breasts or a uterus? The questions feel endless and overwhelming. Cancer is a scary diagnosis, and you don't have to go through it alone.
Having been both a patient and a caregiver, I have a unique understanding of what you or your loved one is going through. We'll get through this together. You can have someone who you could tell all of your fears and questions to. You can have someone who understands that while you're grateful for treatment, you're also angry that this is happening. You can have someone who can be with you while you cry, giving you one place where you don't have to look strong for those around you.
In therapy, you'll have a place to talk about all that you're going through—all the fear and all the hope. You won't feel like you're burdening your friends and family. You'll have a place just for you. We'll celebrate your wins and cry if you get bad news, whatever you need. And when you get through it all, I'll help you design your new life.
What do you find most rewarding about your work?
I find it incredibly rewarding to see change in my clients. Whether it's a decrease in depression or anxiety or seeing a decrease in the impact of a past trauma, watching clients gain confidence in themselves or their abilities is very rewarding. I also find it really rewarding to offer my clients the experience of really being understood and helping them have an "ah-ha!" moment when they feel heard, understood, and understand themselves better.
Therapy sessions with Robyn
What will our first session together be like? What happens in ongoing sessions?
I offer therapy via telehealth, so in our first session (and all other sessions), you log in with a simple click to a link. In the first session (and maybe a few others), I'll spend a lot of time getting to know you. In order to figure out how to help you, I need to understand you and what you've been through. I'll ask questions about you, your family, your history, work, friendships, relationships, and how you're coping with the challenges that have brought you to therapy now.
After that we'll discuss goals that you have for treatment and set up a plan to help you reach them. Ultimately, you're the driver of our therapy, and I let you set the pace and the agendas for each session.
How long do clients typically see you for?
Very often I work with clients who are dealing with issues that have been with them for a while, so our work together takes a little longer. I would say the average length of time is about 6 months, but I've seen people for just a few months and others for ongoing support for several years. Each individual is different, and the length of treatment varies by person and issue.
Are there any books you often recommend to clients?
For parents I often recommend the book The Whole Brain Child by Dan Seigel and Tina Payne Bryson. On a personal note, I love the kids books Alexander and the Terrible, Horrible, No Good, Very Bad Day by Judith Viorst. I can often relate to wanting to leave it all behind and move to Australia!
I also love the book Do Princesses Wear Hiking Boots? by Carmela Coyle. I love the feminist view it provides kids.
Do you assign "homework" between sessions?
There a some instances where I'll suggest things to help you cope with the challenges you're facing, but I don't generally assign things like homework sheets.
How do you help ensure I'm making progress in therapy?
I'll check in with you during each session to see how you're doing, and I look to you to see how you're feeling about the progress you're making. I believe you're the best expert on you!
I do use an assessment form prior to the intake that asks questions about how you're doing, and it's easy to use as a reference point to see how you were feeling then, compared to how you're feeling now.
How do I know that it's time to start seeking therapy?
When you start to notice that you're not quite yourself and you're struggling to change, it's time to start to thinking about therapy. Maybe you're feeling down, blah, or depressed. Maybe you're anxious thoughts are now running away from you and you feel like you're not in control of them like you used to be. Maybe you're realizing that you have to feel sort of numb, or put up a wall around yourself to get through life. Life is feeling harder, more overwhelming. You're snapping at your friends, family or co-workers and you don't like the feeling. Maybe a loved one has expressed a concern about how you're doing.
There are lots of avenues into therapy, and the important thing is just to reach out and ask for help.
How can I prepare for our first session?
I know that meeting a new person and talking about intimate issues can be scary, so just relax and know that eventually we'll get to where we need to be.
How will I know it's time to end my time in therapy with you or reduce session frequency?
As you start to feel better and the issue that drove you to therapy seems less intense, or no longer feels like it's having a negative impact on you, we can talk about either reducing the frequency of sessions or making a plan to end sessions. Again, you're the driving force of our work together, so it's really up to you.
Why should I seek therapy, rather than turning to my partner, friends, or other loved ones?
It's great to have a support network, but your friends and family may have trouble being objective because they love you! Talking with someone who is both a trained professional, and who can listen without their own feelings clouding their responses is a gift. It gives you a safe place to say anything and everything without fear of judgment. A professional is also trained to know what/when to suggest coping skills, how to help you move deeper into insight, or know when a possible medication evaluation would be helpful.
What advice would you share with therapy seekers?
Finding the right therapist can feel like going on a first date. You're nervous, you don't know how much to share, and you're not sure if you'll like them. Trust your gut and know that finding the right connection can take a few tries, but it is definitely worth it when you do!
Visit Robyn's profile to watch her introductory video, read more about her, and book an initial call!