Robin Zarel is Licensed Clinical Social Worker in Midtown Manhattan. With a background in Employee Assistance, Robin is intimately aware of the challenges clients face in the workplace, including feeling stuck, unmotivated, and overwhelmed with work stress. Robin also has expertise working with clients experiencing anxiety, depression, chronic illness, and relationship challenges.
We asked Robin about her work with clients and her guiding philosophies on therapy.
Robin's background and personal life
1. How did you decide to become a therapist?
In my sophomore year of college when trying to determine a major, a good friend of mine told me she thought I would make a great therapist as "everyone tells you their problems and you are so non-judgmental and insightful". I had always been interested in psychology and enjoyed helping people. Something clicked when my friend mentioned this, so I went on to get my BA in social work. Following graduation from college, I got my Master's of Social Work (MSW). Afterwards, I continued to get more advanced training to hone my skills.
2. What was your previous work before going into private practice?
After graduate school I worked at various mental hygiene clinics and then started my private practice. For many years I have combined a private practice with a part time position at a college where I am the Coordinator of the Employee Assistance Program.
3. What do you find most rewarding about your work?
I love seeing the evolution of people as they reach their goals and become happier, healthier human beings. To be part of the process that helps people get there is rewarding and humbling. As a curious person and problem solver, I am always interested in putting the pieces of the "human puzzle" together, making connections, figuring things out, and having a plan to reach a goal. The work is always interesting and fulfilling.
4. What do you enjoy doing in your free time?
I love spending time with friends, traveling, going to the theater, watching movies, being outdoors, hiking, and going to the beach.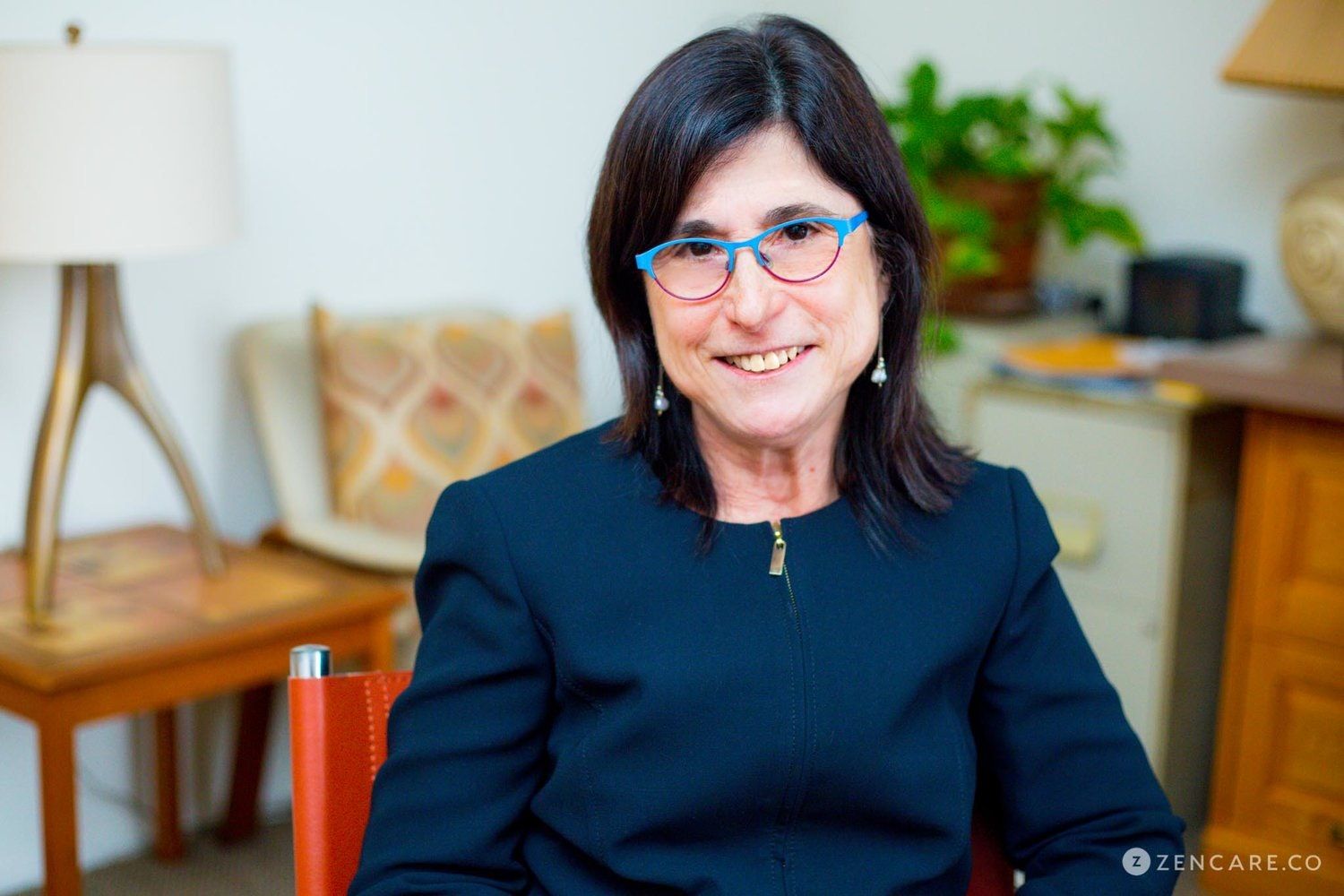 Robin's specialties and therapy philosophies
5. What guiding principles inform your work?
I believe one of the most important principles that informs how I work with people is to create a safe place where clients can say EVERYTHING they think and feel even if they are embarrassed or ashamed about discussing it. While I have trained in many different modalities, I always make an assessment about what would be most helpful to a particular person with a particular problem at that time. Each person is unique, and I always encourage feedback to see what is helpful and what is not.
6. What clientele do you work with most frequently?
I have worked with clients in their 20s all the way through clients in their 70s; however most range in age from their 30s to 50s. Clients are from varied backgrounds, but I am most drawn to working with people who are curious about their inner life and committed to the process of therapy. Based on my experience and years of working at The Fashion Institute of Technology and also being an affiliate to other Employee Assistance Programs in the business field, I enjoy working with creative people, but also understand the stresses of those in the financial field. As a board member of a national cancer organization, I also have a commitment to help individuals and families dealing with life threatening or chronic illness.
7. Can you tell us more about your specialty in relationship difficulties?
I have worked with both individuals and couples who are experiencing problems in their relationships. A common challenge that people deal with is getting stuck in unhealthy patterns based on their backgrounds, belief systems and fears. Sometimes individuals even have difficulty acknowledging or knowing what the real problems might be. Although the specific way I would help might be different if working with an individual rather than working with a couple, the basic goal for both would be the same. The goals are to increase understanding about all of these issues, including how they impact feelings, behavior, and choices. I also work with clients to improve communication and help them decide what they wish to do about the relationship.
8. Can you tell us more about your specialty in career/work concerns?
In my experience working in the Employee Assistance field for many years, employees often come to me for consultation when feeling stressed, underappreciated, or stuck in their career. I also help clients deal with difficult personality types and address problems with supervisors, supervisees, or colleagues. I work with clients to identify stressors and come up with a plan to deal with them, which often includes learning techniques to advocate for themselves, delegating responsibilities, improving communication skills, and developing a stress management plan. We also identify if outside stresses are impacting work difficulties and develop a plan to deal with that as well.
9. Can you tell us more about your specialty in working with clients with chronic illness?
People who have faced a life threatening illness or are dealing with a chronic one have to face their mortality and the impact of the disease on their self esteem, relationships, body image, sexuality, career, and finances. I have helped numerous clients over the years process and accept all of their feelings in a safe place, mourning the losses they have experienced, recognizing the strengths they have, and determining future realistic goals. In addition to "talk therapy," I have used clinical hypnosis to help people with medical procedures, prepare for surgery, or deal with different treatments. I have also taught relaxation and guided imagery to assist them in dealing with these challenges.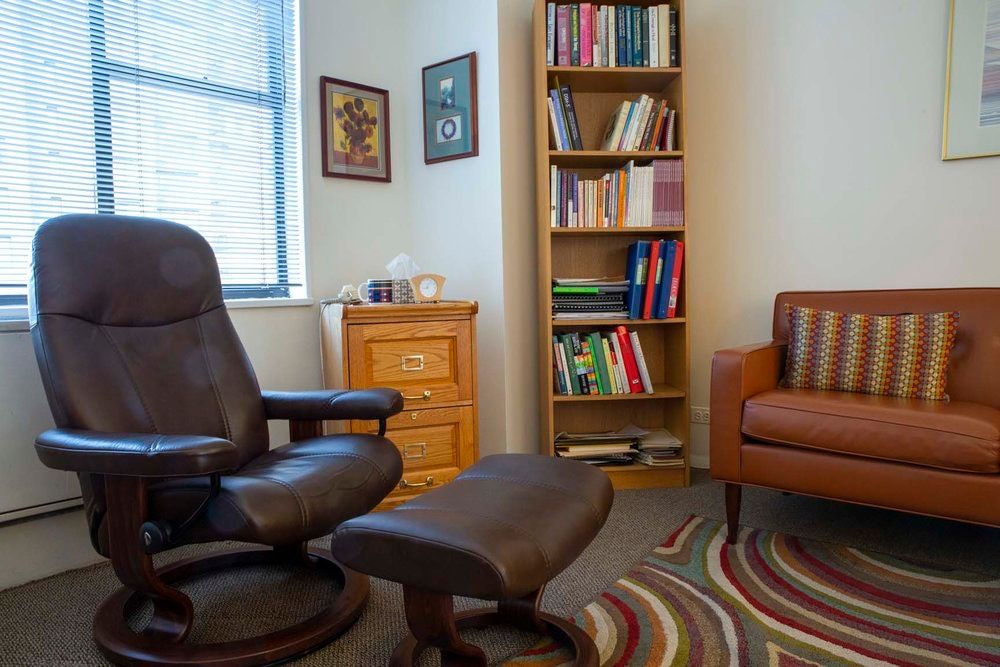 Therapy sessions with Robin
10. What would our first session together be like? What happens in ongoing sessions?
In the first session I want to try to get to know you and your background. I take a history which includes a familial background and your relationship, work, medical, and therapy experiences. We would further enumerate on the goals you mentioned during our initial consultation call, discuss attempts to solve the problems, and identify strengths that you might not even be aware of. Subsequent sessions further explore these issues, increasing consciousness about choices and dealing with stumbling blocks that get in your way.
11. Do you assign "homework" between sessions?
Not typically, only if I think it might be helpful. For example, if there is a mood shift, I might suggest people take notes to notice what was happening when the mood changed. I am more likely to give assignments to couples, such as listening and communicating exercises.
12. How do you help ensure I'm making progress in therapy?
We would be reviewing whether you are feeling better and starting to reach some of your goals. If something is not working for you, it would be important to communicate that to me. It is a process and depending upon the problem and length of how long it has been going on, it is important to have a realistic time frame. Most important would be open and honest communication about what you are feeling so that we can change approach if it is not working.
13. How long do clients typically see you for?
It depends on the problem. Some people prefer a more time limited therapy for a specific problem, for instance 8-12 weeks to deal with specific issues such as bereavement, caregiving, or career difficulty. Other times clients want more in-depth analytic work which can be for a few years or more depending on goals.
14. How can I prepare for our first session?
It would be helpful to start thinking about what you would like to get out of therapy and honestly assess whatever your concerns might be about starting this process. Then we can address them in the first session.
15. How do I know that it's time to start seeking therapy?
It's time to start seeking therapy when, despite your best efforts to resolve a problem, nothing has changed. It's time to start therapy if you are feeling stuck in an unhealthy relationship, dealing with a job you don't like, experiencing difficulties with family or friends, or noticing moods that are causing you distress.
16. How will I know it's time to end my time in therapy with you, or reduce session frequency?
You will have reached most of the goals you came in with, or will have gotten the tools you need to continue the work on your own. Either one of us can bring this up when we feel the time is right. If we disagree, ultimately you decide what you want to do.
17. Why should I seek therapy, rather than turning to my partner, friends, or other loved ones?
Talking to a trained professional is very different than talking to a partner, friend, or loved one. These people, though they may be well intentioned, are not impartial. They have a relationship with you, which includes preconceived ideas that influence what they say and don't say. The same goes for you; there are certain things that you might not feel comfortable sharing with them for various reasons. A good therapist is trained to not let their own biases get in the way of therapy.
18. What advice would you share with therapy seekers?
It is important when determining if a therapist is a "good fit" for you to ask yourself:  "Do I think that this is a person I can say everything to once I get to know them better and feel more comfortable with the process?" Therapy should be the "safe" place in your life to discuss all your feelings and concerns no matter what they are.