Risha London Nathan is a Licensed Clinical Social Worker licensed in the states of New York, California, and Connecticut. Risha sees both individuals and couples in her practice, most frequently working with clients on issues relating to self-esteem, relationship challenges, depression, anxiety, and/or perfectionism. Her approach to sessions is client-centered and collaborative, often drawing upon humanistic, mindfulness-based, and psychodynamic approaches to best meet the needs of her clients and empower them to become more confident in who they are and who they want to become.
We asked Risha more about her work with clients and her guiding philosophies on therapy.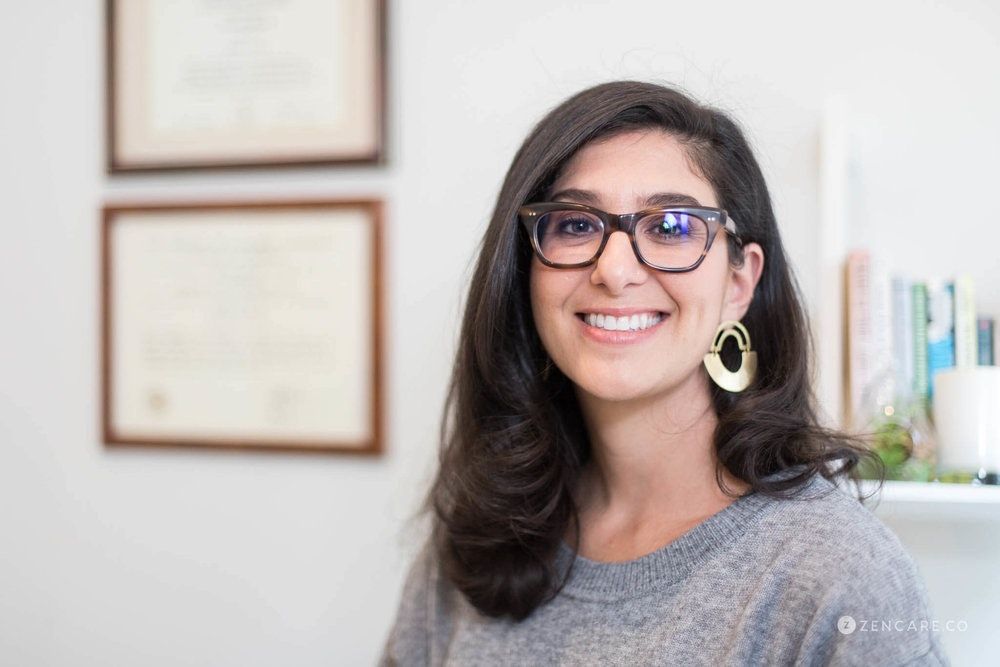 Risha's background and personal life
How did you decide to become a therapist?
It was a bit of a long path for me. I was interested in health and wellness, and I was interested in feelings. I originally thought I'd remain in the clinic setting but felt like it was important for me to transition into working with people based more on their individual needs rather than the requirements of a clinic. I am a person with high levels of compassion and empathy, and it felt like a very natural path for me to be a support system for people who were struggling emotionally.
What was your previous work before going into private practice?
I worked for several years in a clinic setting dealing with a wide range of mental health and substance abuse issues. I also spent time as a nanny and working at the 1199 training fund.
What do you enjoy doing in your free time?
I knit and make wheel thrown ceramics, and enjoy all things health and wellness related. I also enjoy traveling, cooking, reading, and exploring new places. Time with friends and family is very important to me. I'm also passionate about my plants and grow lemons in my Brooklyn home!
Risha's specialties and therapy philosophies
What guiding principles inform your work?
I always aim to enter into a situation looking for root causes rather than putting bandaids on. I enjoy learning about the mind/body connection and looking at our body as one system that's either balanced or needs balancing. I do my best to create a space without judgment to allow people to thrive and grow. I welcome anything anyone brings to the table!
What clientele do you work with most frequently?
I work with adults—individuals and couples and anyone who is looking to grow. I enjoy working with people on improving communication, strengthening relationships and building self-esteem. Watching people grow and become closer and more connected to those around them is very rewarding for me.
Can you tell us more about your specialties in relationships and communication-related challenges?
I work with people on aligning more with their needs in order to better relate to others. I often find that people struggle in their relationships due to unmet personal needs and/or a lack of expression of feelings. From there, things can spiral into anger, depression, anxiety, etc., so helping people get to the root of that is important.
Can you tell us about your work with clients on improving anxiety/stress symptoms?
Anxiety and stress come up for everyone. I help people normalize what they're feeling while also assisting them in developing tools to deal with and get out of that stressed state. I focus on nervous system health as well as providing practical tools and suggestions. I'm a therapist who gives a lot of feedback.
What do you find most rewarding about your work?
I enjoy watching people learn more about themselves and take ownership for change, rather than blame. I find so many moments of humor, care, admiration, and connection with my clients. I feel deeply passionate about supporting people on their journey to be their best selves.
Therapy sessions with Risha
What will our first session together be like? What happens in ongoing sessions?
Our first session will include getting to know you and your issues of concern. It's informal and just a space for us to assess whether we'll be a good match.
How long do clients typically see you for?
It' such a range! Anywhere from 8 months to 8 years+. It really depends on the person and what they're looking for.
Are there any books you often recommend to clients?
Attached. The Body Keeps the Score. Any book by the Gottmans. Nonviolent Communication. Getting the Love You Want. The Dance of Anger. And many more!
Do you assign "homework" between sessions?
Sometimes! It depends on the person. If I do, I often suggest reading, tool practicing, journaling, meditation, etc.
How do you help ensure I'm making progress in therapy?
We check-in on this, and I also greatly appreciate feedback if you feel things need to pivot.
How do I know that it's time to start seeking therapy?
If you're feeling sad, "off," overwhelmed, or ready to grow in a way that you're not doing on your own, it may be time to seek therapy. We all love to get stuck in our patterns because they're comfortable. When those patterns stop serving you, give me a call!
How can I prepare for our first session?
Water. Tissues. A pen and paper. Openness.
How will I know it's time to end my time in therapy with you or reduce session frequency?
This is very different for each person. Go with your gut, but we will also have open dialogue about this. My goal is to offer support and tools, not to keep someone in therapy forever. There are people who want a very long-term sounding board. There's room for all.
Why should I seek therapy, rather than turning to my partner, friends, or other loved ones?
Therapy is an unbiased space that's there purely to give you support and a healthy push.
What advice would you share with therapy seekers?
Talk to a few people and go with style and connection. The more you openly bring to the table, the more you'll grow.
Visit Risha's profile to watch her introductory video, read more about her, and book an initial call!