Rebecca Love is a Licensed Clinical Social Worker and the Clinical Director of HeartWise Psychotherapy, a group therapy practice in Fair Oaks, CA that offers both telehealth and in-person therapy sessions. Rebecca's specialties include trauma, grief, and gender & sexuality topics. We asked Rebecca more about her work with clients and her guiding philosophies on therapy.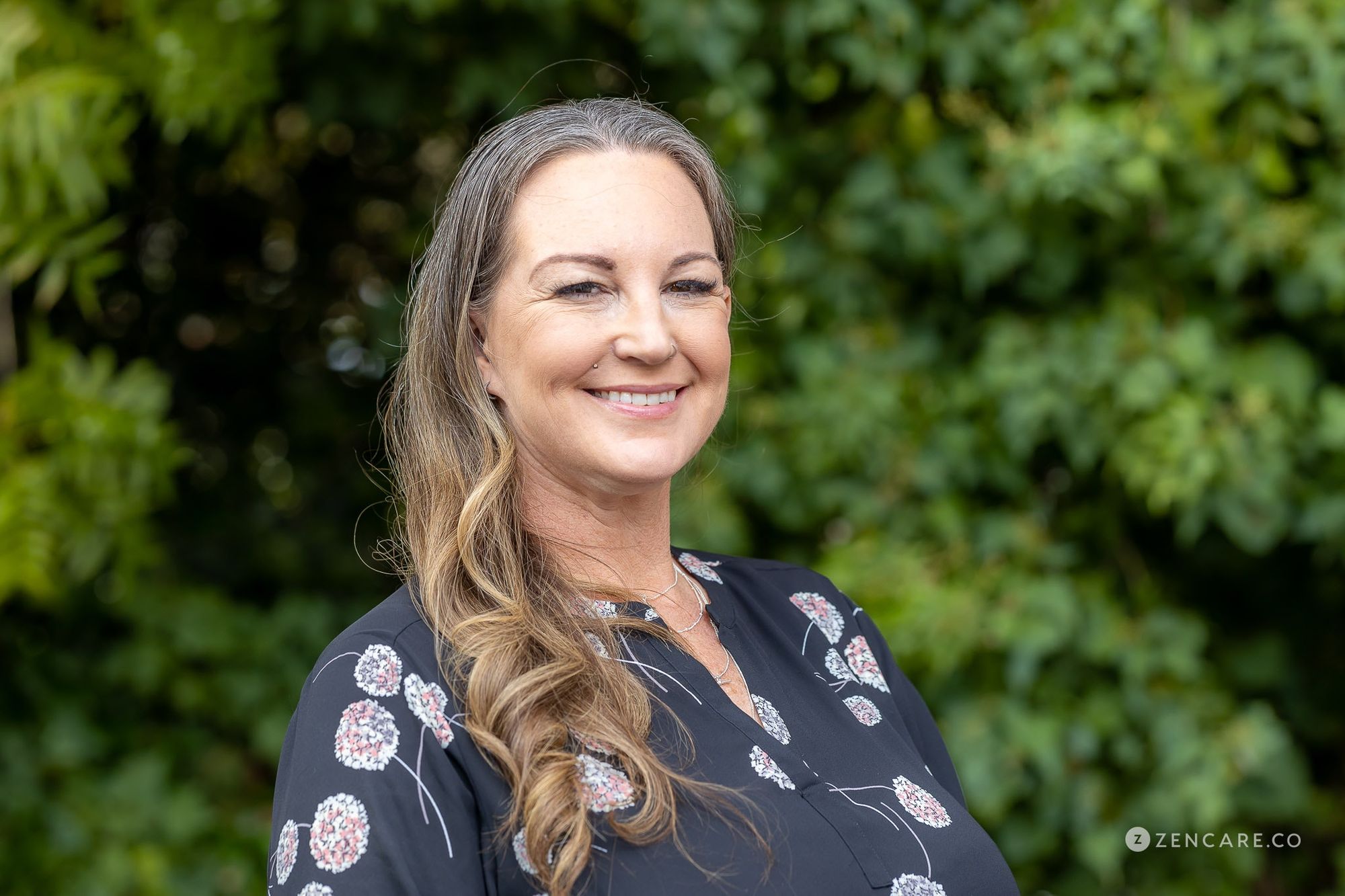 Rebecca's background and personal life
How did you decide to become a therapist?
After my military deployment, and again after the sudden death of my adult son, I found a lot of gaps in the mental health care system for people like me. Finally finding a good therapist was literally life-saving. I wanted to be able to provide the kind of care and connection that had helped me through some very difficult times in my life.
What was your previous work before going into private practice?
I served in the Army for 14 years, and deployed as a medic to Afghanistan in 2009-2010. Once I received my Masters in Social Work, I worked as a therapist in CA Department of Corrections and Rehabilitation with seriously mentally ill inmates from 2016-2019. I joined a large group practice in 2019, and went on to open my own small group practice in 2020.
What do you enjoy doing in your free time?
I'm always learning. I'm currently a doctoral candidate in Psychology, and writing my dissertation consumes a lot of my time. When I'm not doing that, I love hanging out with family and friends, watching football (Titan Up!), swimming, gardening, crocheting, and reading. I love Schitt's Creek and Marvel movies/shows!
Rebecca's specialties and therapy philosophies
What guiding principles inform your work?
I look for people's strengths and try to understand the reasons behind their choices. Rarely do we do things intentionally to make life more difficult! I help my clients focus on the things they have control over, and capitalize on their strengths so they can improve their lives, in a safe, non-judgmental space. I believe that healthy boundaries are the ultimate act of self-love, and without them, we will struggle with self-worth. Each of us comes to therapy with an individual story, and specific needs. And when confronted with change, we all need a helping hand sometimes.
What clientele do you work with most frequently?
I am fairly direct, and not much different in the therapy room than I am in the "real" world. I have a passion for working with the bereaved because as a society we are not very good with grief, which can leave folks feeling isolated and lost. After my own loss, I see much of our struggles through the lens of grief, especially during life transitions - that could be a change in identity, a loss (of a person, a job, a relationship, the old self), sobriety, leaving the military, to name a few. Even good change can cause anxiety and distress.
Can you tell us more about your specialty in grief?
After the sudden death of my 25 year old son in 2019, I became acutely aware of how little space there is for the bereaved in our society. I was frustrated with the people who told me I was strong (didn't feel that way), or that I needed to "move on" or "let go" (of my child?!).
It's so important for people to have a space where the overwhelming and often conflicting emotions of grief are accepted, where love and grief can be witnessed and held, where people can explore what their new life without their person is going to look like without fear, judgment, or unreasonable expectations.
Can you tell us more about your work with clients on topics related to gender and sexuality?
The binaries of sexuality and gender are being challenged, and more people are finding themselves wondering where they fall on the spectrum of gender. Historically this was seen as a mental disorder, and socially we are still far from fully accepting folks who don't fit neatly into our gender binary boxes.
It is important to me to actively challenge this social rigidity, and provide a compassionate, accepting space for anyone to ask questions about their identity and explore what feels most comfortable for them. We all deserve to show up as our authentic selves in the world, whatever that looks like.
Can you tell us about your specialty in boundaries?
As I said before, boundaries are the ultimate act of self-love. When we set healthy boundaries, we not only teach others how to treat us, but we teach ourselves how we deserve to be treated. However, if you aren't good at setting boundaries (spoiler alert - most of us aren't!), you likely have a collection of people who benefit from your lack of boundaries, and just the thought of changing your interactions with those people (like family members) can be really intimidating and overwhelming.
I teach people how to set firm boundaries without conflict, and nurture themselves in the process, increasing self-worth and self-esteem.
What do you find most rewarding about your work?
I love the moment when something "clicks" for a client, or someone tells me "I heard you in my head!" It's incredibly rewarding when a client sets a healthy boundary with someone toxic for the first time, and is able to be firm and compassionate and avoid conflict. Seeing their pride in themselves, and showing themselves how they deserve to be treated never gets old!
Therapy sessions with Rebecca
What will our first session together be like? What happens in ongoing sessions?
In our first session, we will get to know each other a little bit. We will talk about what brings you to therapy, if you're comfortable sharing that, and we will work together to develop some goals, and strategize how we will reach those goals.
How long do clients typically see you for?
I typically see clients for 3-6 months. It's my goal to work myself out of a job! For clients dealing with more complex or chronic issues, that time frame can be a lot longer. But if I had to badly describe my job it would be "people pay me money so I can show them how to stop paying me money!"
Are there any books you often recommend to clients?
Do you assign "homework" between sessions?
I assign homework for my clients who have the time, energy, and desire to do it! I often assign a workbook, or give specific writing prompts based on what we are talking about.
How do you help ensure I'm making progress in therapy?
Every few months we will review our goals and decide if our current strategies are getting you closer to your goals, or if we need to rethink our plan. I may also use some measurement tools that will ask about you anxiety or depression levels that we can compare over time.
How do I know that it's time to start seeking therapy?
When the things that normally help you aren't helping you anymore. When the situation that you've been trying to manage becomes unbearable. When you see where you want to be in your life, but you don't know how to get there.
How can I prepare for our first session?
The best thing you can do is just relax. Therapy is for you, and it will be at your pace, based on your comfort level. While I will challenge you, I'm not going to force you to do anything you aren't ready for. I'm a pretty nice person, actually! In our first session, we will most likely be getting to know each other, and talking about how you'd like to feel, and what you'd like your life to look like.
How will I know it's time to end my time in therapy with you or reduce session frequency?
There are a few things that I look for that signal that our work is wrapping up: that we don't have much to talk about anymore, and you're consistently coming to sessions feeling stable and strong, maybe even saying "I don't really have anything to talk about"; that we've met all your treatment goals; that you're functioning well at work, with relationships, and taking good care of yourself. We will be monitoring your progress constantly, so when it's time for us to part ways, you'll already know. :)
Why should I seek therapy, rather than turning to my partner, friends, or other loved ones?
Our partners, friends, and other loved ones are very emotionally invested in us, and often have a lot of opinions about what we should or should not do. Believe it or not, therapy is not about getting advice! As wonderful as our friends and family are, sometimes things we need to deal with come with a lot of shame or embarrassment, some things you just don't want to tell anyone, especially if they might accidentally (or intentionally) tell someone else.
A therapist is a neutral, nonjudgmental, and confidential person who will help you develop your own resolutions, that make sense to you, and are specific for you.
What advice would you share with therapy seekers?
Shop! If you don't feel like someone is a good fit for you, it's totally normal and it's ok! You won't hurt the therapist's feelings, and often they will help you with additional referrals. It's so important that you feel a comfortable connection with someone you are going to be very vulnerable with! Take your time, and make sure it's the right fit.
Visit the HeartWise Psychotherapy profile to read more about Rebecca and book an initial call!