Rachel Ladov is a Licensed Clinical Social Worker (LCSW) in Austin, TX specializing in working with women in their 20s and 30s navigating anxiety, life transitions, trauma, relationship challenges, or career issues. Rachel brings both a therapeutic and a coaching perspective to sessions, striving to support her clients in processing past challenges while also moving confidently in the direction of their goals. When indicated, Rachel also frequently uses EMDR and mindfulness techniques to help clients ground themselves in the present.
We asked Rachel more about her work with clients and her guiding philosophies on therapy.
Rachel's background
What was your previous work before going into private practice?
I spent over 15 years working for various local nonprofit organizations that serve kids and families. I worked as a clinical social worker in direct practice as well as a program director, developing programs and supervising staff. As much as I love working 1-1 with clients, I also enjoy doing the big picture work.
I also worked for 8-10 years creating programs to support teen girls, and this is when I started my private practice. As my clients have gotten older and entered new stages of life, my practice has shifted along with them.
Rachel's specialties and therapy philosophies
What clientele do you work with most frequently?
I work mostly with women in their mid-20s to early-30s. Many of my clients come to me when they are at a decision point—maybe they are feeling unfulfilled in a job or relationship and are looking to make a change. Or maybe they're feeling uninspired by life in general and looking for something more. I love helping women connect with their true knowing and discover a way forward that feels "right" to them.
Can you tell us more about your specialty in working with women in their 20s and 30s?
Most of my clients are at a point in their life where they have past experience to guide them and are ready for something more. The 20s are a time of so much self discovery, and I appreciate being part of that journey.
Often my clients have a keen intuition, but sometimes they worry about what others will think about decisions or changes they want to make. Other times they are grappling with what they truly want in any or all areas of life or just feel nervous about change. Together, we explore their experience and use tools and strategies so that they can feel confident moving forward on their own authentic path.
Can you tell us more about your specialty in anxiety?
Now more than ever, anxiety is a part of life. Using mindfulness strategies and experiential activities, I help clients make peace with the anxiety they are feeling, listen to what it is telling them, and make changes to bring more peace and calm to their lives.
Can you tell us about your work with clients navigating major life changes?
Change is a part of life. Sometimes it happens around us, sometimes it is out of our control, and sometimes we want to be the force to make it happen. Regardless, it can be stressful. I help clients feel more ease as they work through change. We slow things down, break change into smaller steps, and clear the old beliefs that might be getting in the way of moving forward into the possibilities they imagine for themselves.
What do you find most rewarding about your work?
I feel incredibly lucky to work with all the amazingly smart, talented and thoughtful women in my practice. It's extremely rewarding to see clients shift and change in ways that bring them a deeper sense of fulfillment in life. It can be a big change like leaving a job they don't like, but often it's the smaller shifts—like saying no to something that doesn't feel right or saying yes to what feels right even if it feels a little scary—that are the most rewarding over time.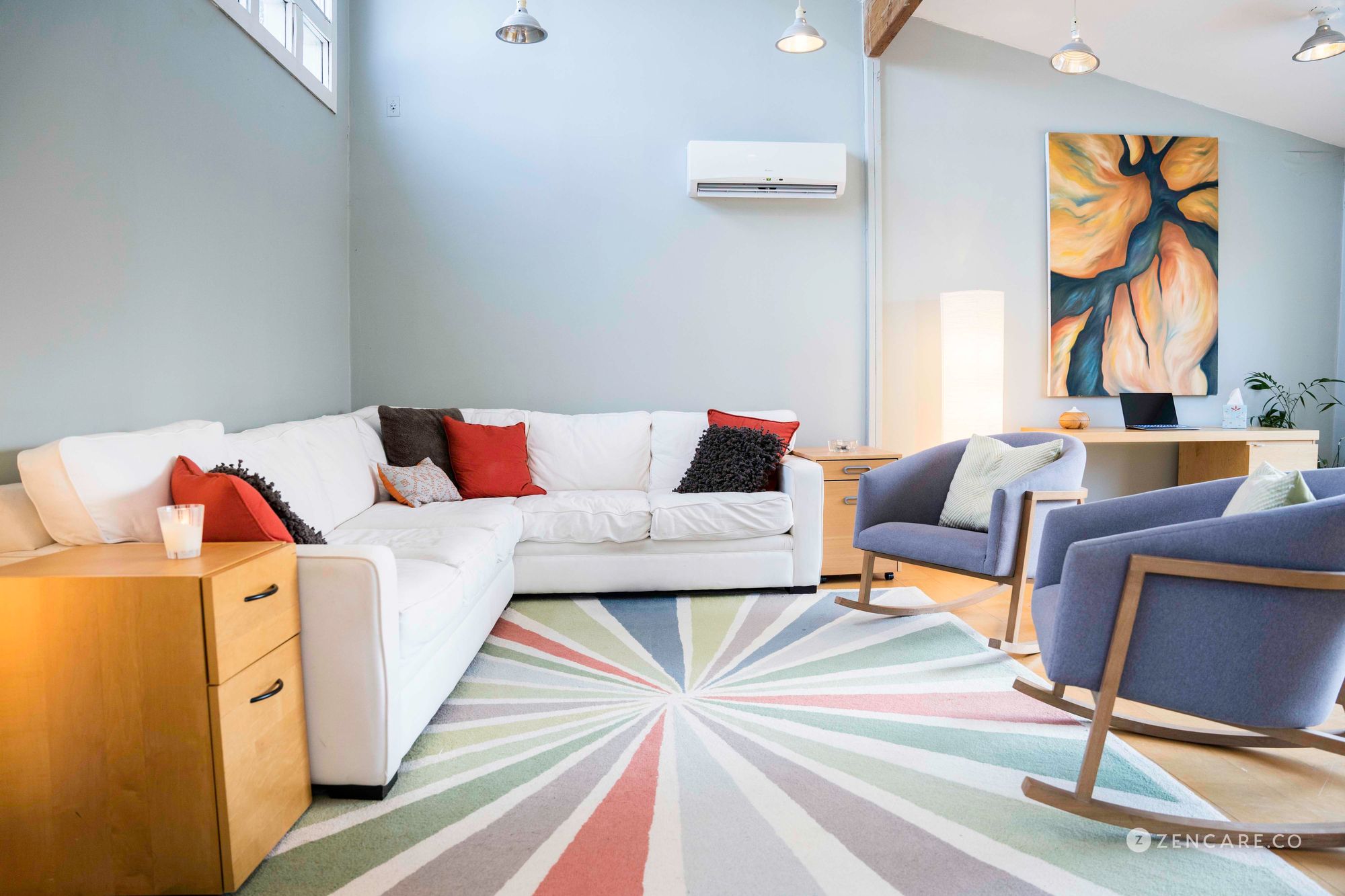 Therapy sessions with Rachel
What will our first session together be like? What happens in ongoing sessions?
In our first session, we spend time going over your history and setting goals. This way, I can better understand what got you to where you are today, and we can get clear on where you want to go. After that, sessions have a structure that includes some grounding and intention setting.
Intentions can be big picture ("I want to feel more peace") or be topics you want to discuss ("I want to decide whether to leave my job"). We then use your intention as a guide for what to focus on during the session. Sometimes we explore an issue through talking, other times through EMDR or an experiential coaching sequence.
How long do clients typically see you for?
Typically people work with me a minimum of 3-6 months. Some people stay on long-term for ongoing support, and others find their needs are served by shorter-term work. I also sometimes have clients take a break to integrate our work and then come back when life stressors arise.
Do you assign "homework" between sessions?
At the end of sessions, I often ask clients what steps they can take to make changes based on what we explored in session. This becomes their "homework." It can be more tactical (e.g. exercise three times a week) or experiential (e.g. notice how you feel when you say yes to something that's really a no or put an inspiring phrase from session on your bathroom mirror so you see it every morning).
How do you help ensure I'm making progress in therapy?
I provide a safe, inviting space to share and focus on change. I find that by setting an intention for every session we achieve progress on overarching goals and also address what is feeling most important in that moment. While therapy is not a linear process, I find that my clients feel really good about how our work together supports their growth and the changes they wish to make in their lives.
Visit Rachel's profile to watch her introductory video, read more about her, and book an initial call!