Dr. Philip Bender is a Clinical Psychologist in Manhattan who specializes in working with young adults and creative professionals of all kinds. His clients' challenges include anxiety, depression, relationship difficulties, existential concerns, grief, and trauma. Dr. Bender also runs a therapy group for young adults that emphasizes building connections and understanding interpersonal patterns utilizing a group setting.
We asked Dr. Bender about his work with clients and his guiding philosophies on therapy.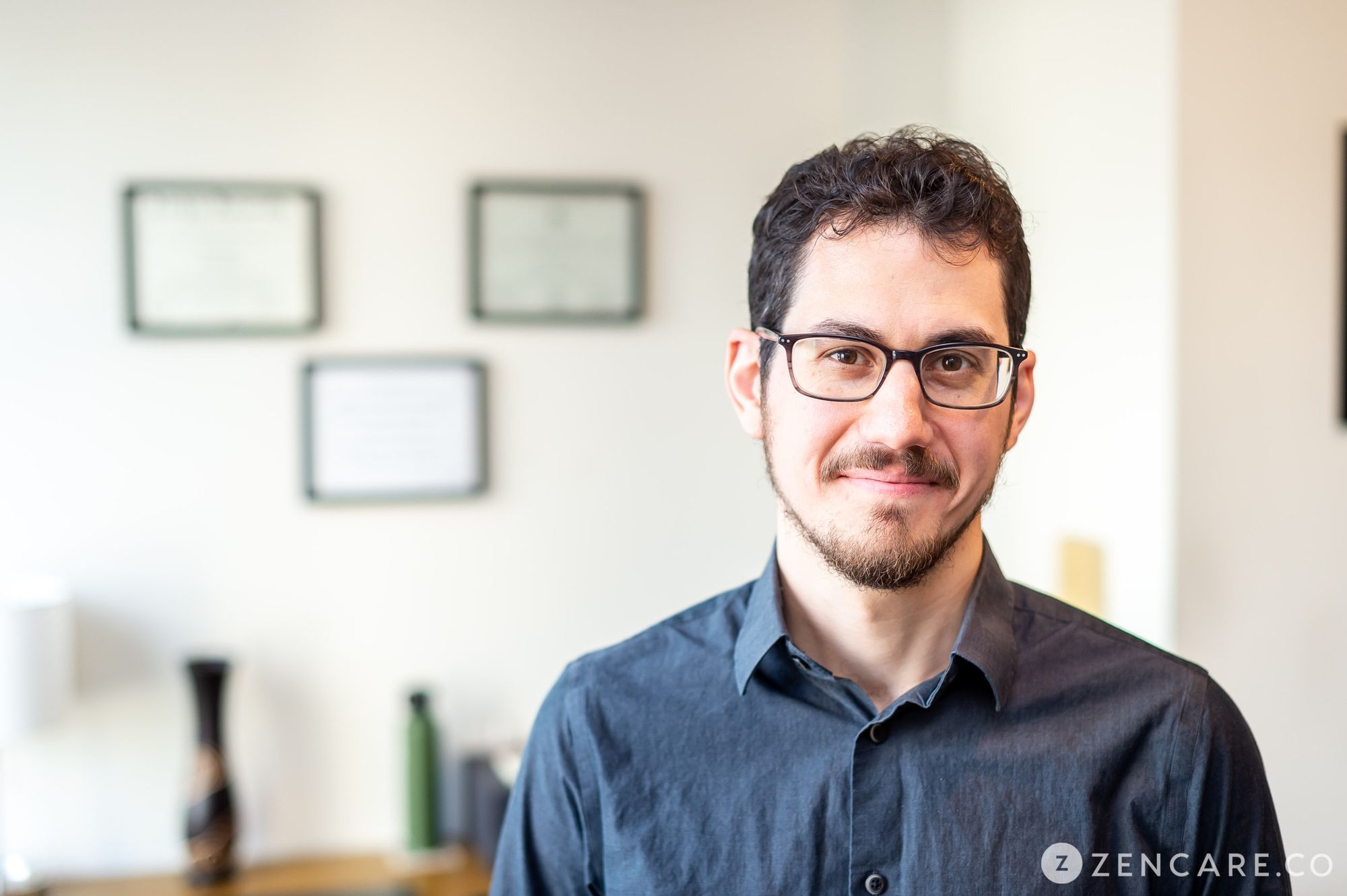 Dr. Bender's background and personal life
How did you decide to become a therapist?
I found therapy to be very helpful in my own life as I was entering adulthood and having a hard time figuring out what kind of person I wanted to be. I think everyone struggles in some way to grow beyond their social or family origins and form their own identity. As I saw how much therapy helped me understand myself, I became more interested in understanding others and in learning what therapy was generally about. I'm all about deep connections, so it's really fantastic being able to get to know people so well.
What do you enjoy doing in your free time?
I'm an avid film buff and probably watch at least one movie a week. I also read a lot, everything from history to literature and sci-fi. I exercise when I can – biking, rock climbing, and yoga. Creativity is also a big part of my life. I take photos and do some video editing. I've done improv comedy in the past, and my wife is a classical musician.
Dr. Bender's specialties and therapy philosophies
What clientele do you work with most frequently?
The majority of my clients are in the young adult range, 20s and 30s. It feels like a natural fit, given I'm in that age bracket myself, and can relate to their experience. Many of my clients are creative professionals as well. It's a lot of fun to work with both of these groups, and I think they are a natural fit for my therapeutic style, which tends to be down-to-earth and open to exploration.
Can you tell us more about your specialty in depression?
A lot of things can contribute to depression. I'd say it's almost always a sign of something painful or amiss in someone's life that can include present sources of unhappiness as well as painful past events and traumas. My approach is to work towards insight and understanding of these contributors, while also building skills to become more active and improve one's mood.
Can you tell us more about your specialty in anxiety?
Anxiety disorders are actually pretty diverse. How I approach therapy will be different for someone with social anxiety versus panic disorder, OCD, etc.
Learning skills to regulate one's anxiety is often important, and mindfulness is my go-to for that. But like depression, persistent anxiety can also be a sign that something in your life isn't working, and we can work together to figure that out.
Can you tell us more about your work with clients looking for assistance in improving their personal and professional lives?
Relationships are essential to our existence, but they can be messy and challenging. And none more so at times than our relationships with ourselves! Therapy is a great way to learn more about how you're interacting with yourself and other people, and work on making changes.
I find that group therapy is often the best modality for this work, because it allows you (and me, as your therapist) to learn about yourself from in-the-moment interactions and experiment with new ways of relating.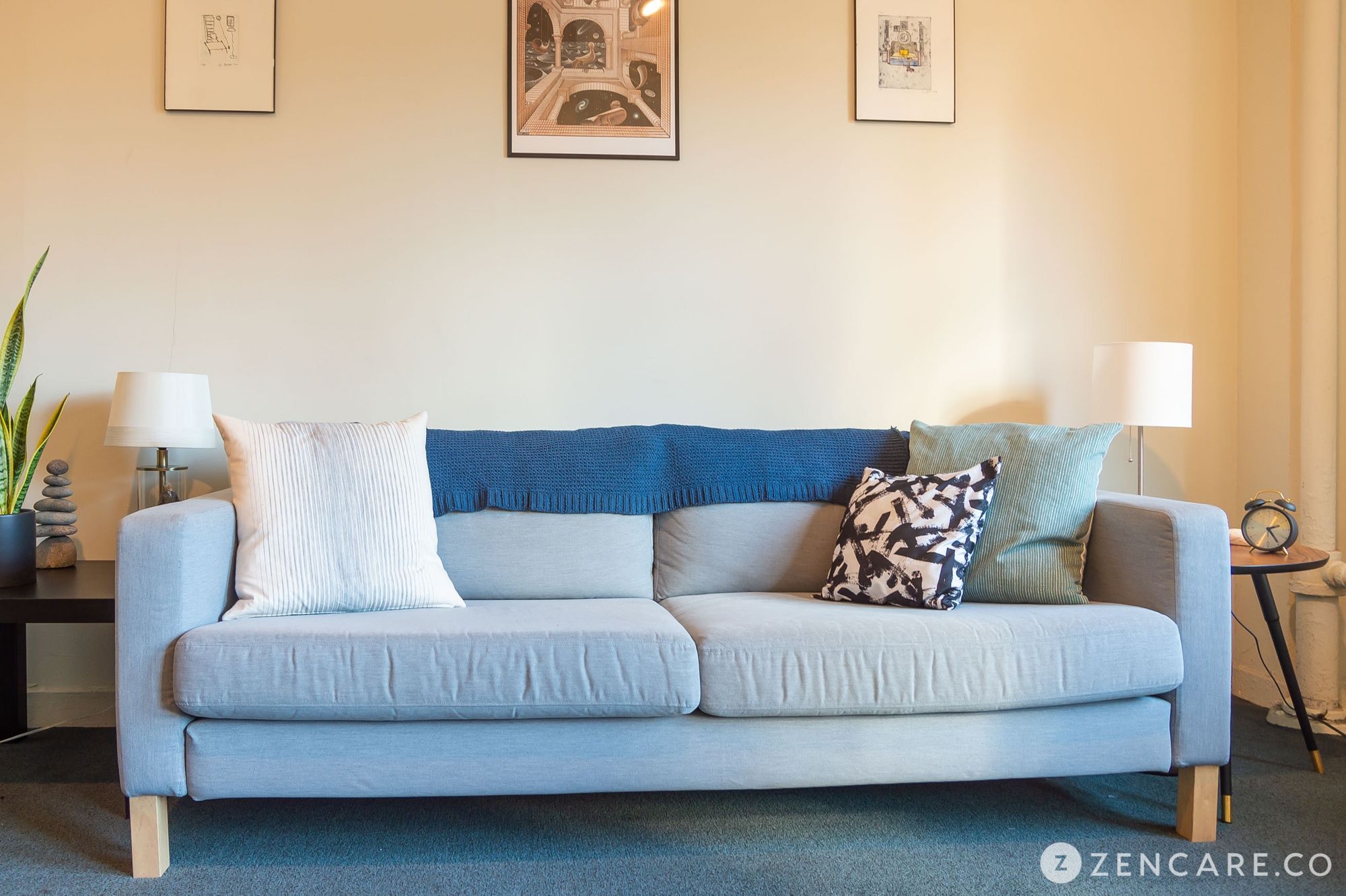 Therapy sessions with Dr. Bender
What will our first session together be like? What happens in ongoing sessions?
The main thing we focus on in our first session is getting to know each other, especially so we can both decide if we think it's a good fit. I'll be interested in hearing about what contributed to your decision to come to therapy and what you're hoping to accomplish.
I'll probably have some thoughts and suggestions about how we can start to work towards those goals. Ongoing sessions are often then a mix of continuing progress toward those long-term goals (e.g. building certain types of skills, making life changes, etc.) and talking about whatever is current in your life. This isn't necessarily an either/or distinction – the current and the long-term are often related.
How long do clients typically see you for?
It really depends on the client. I have clients who are continually working to understand and improve themselves, make changes in their relationships, and heal from past traumas. That's work that can last as long as someone needs it to last. Whereas other clients are looking to build skills for coping with anxiety, managing OCD symptoms, etc., and we can get there in just a few months.
Do you assign "homework" between sessions?
Not as a matter of course; it depends on your goals. It may be to practice some skills we've been working on, or maybe just to give some more thought to a particular aspect of what we talked about. We can also set a few goals each week if you find it helpful for accountability and continuity.
How do you help ensure I'm making progress in therapy?
First and foremost, you're the judge. Are you seeing the changes you want to see? Therapy can take time and can cause discomfort. That's part of change. But if we take the long view, we should see you working towards your goals. I'll check in with you regularly.
Why should I seek therapy, rather than turning to my partner, friends, or other loved ones?
I think most people find it easier to be really open and honest with someone who's not directly involved in their life. Partners, friends, and loved ones are essential to our well-being and can hopefully be very helpful. But they may be entangled with whatever is causing you stress or unhappiness, or even contributing to it directly. A therapist has no involvement, and therefore no investment, in your personal life except the motivation of wanting to help however possible.
What advice would you share with therapy seekers?
Give it a try! Have a session and see how you feel. Better yet, schedule sessions with a few therapists so you can compare and choose who feels like the best fit. Whether to continue is always up to you.

Visit Dr. Bender's profile to watch his introductory video, read more, and book an initial call!