Michelle Payne is a Licensed Professional Counselor in Denver, Colorado. Michelle sees clients across the lifespan struggling with anxiety, attachment issues, trauma, substance use, and depression. She also enjoys working with couples, new parents, and women navigating perinatal/postpartum challenges. Michelle approaches sessions in a non-judgemental, compassionate, and client-centered manner and uses a variety of evidence-based therapies, such as CBT and mindfulness practices, to help clients achieve their therapy goals.
We asked Michelle more about her work with clients and her guiding philosophies on therapy.
Michelle's background and personal life
How did you decide to become a therapist?
I was always interested in psychology, but my passion truly blossomed after escaping an attempted abduction. I experienced severe PTSD symptoms and sought my own counseling. The sense of empowerment and growth I experienced through that relationship gave me so much comfort and connection to myself, and I feel deeply connected with my purpose of providing that same experience for others.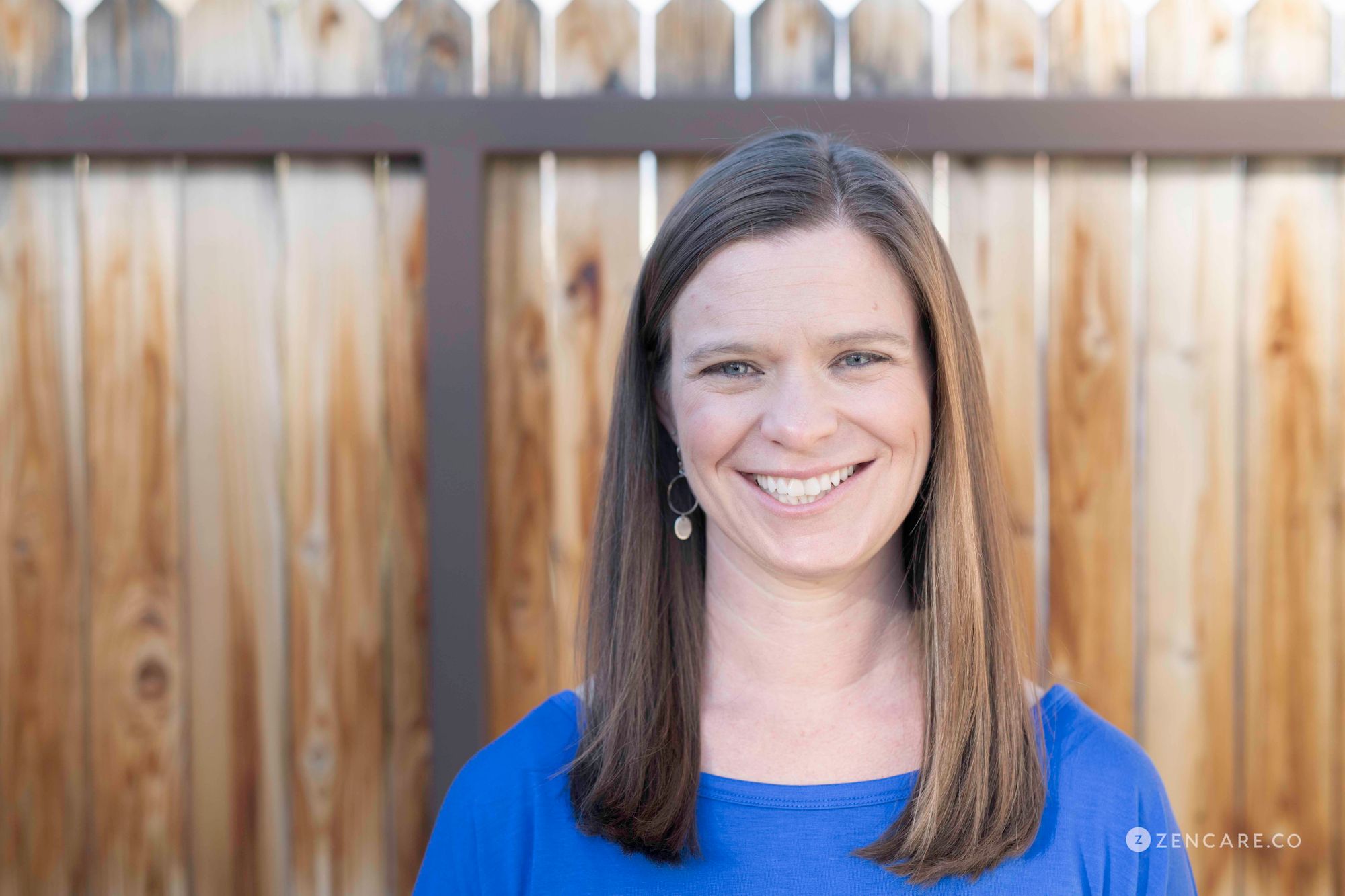 What was your previous work before going into private practice?
Prior to going into private practice, I worked with children and families that had experienced significant trauma and struggles with positive attachment relationships. I worked as part of an intensive therapy team that would help heal deep trauma and allow for new bonding and trust. I also have previous experience working with addiction and mood disorders.
What do you enjoy doing in your free time?
During my free time I enjoy hiking, running, and biking. I also enjoy quilting, baking, and playing with my children.
Michelle's specialties and therapy philosophies
What guiding principles inform your work?
My practice is guided by my belief that we are all capable of health and healing if we are given the right tools and support. I use knowledge of neurobiology and how our thoughts and feelings are influenced by our experiences to support my clients in finding a new understanding of themselves and their world.
Can you tell us more about your specialty in treating anxiety?
When working with clients struggling with anxiety, I have observed that there is so much power and peace of mind that clients can experience when they understand the underlying contributing factors that increase and sustain anxiety. As clients gain a deeper understanding of their own experience with anxiety, they are able to create new thought patterns and understandings of their triggers. It is so beautiful to watch anxiety give way to gratitude and joy.
Can you tell us more about your work with couples?
I use my background knowledge of attachment and bonding to support couples in becoming more connected and able to communicate at a deeper level. I have noticed that many clients lose a sense of positive connection to their partner if they are hurting very deeply. I help couples heal and come back together as they become more communicative at a more vulnerable and empathic level.
Can you tell us about your work with clients processing attachment issues or interpersonal trauma?
I particularly enjoy working with couples, parents, and people that have experienced significant interpersonal trauma. People that struggle with attachment or have background experiences with interpersonal trauma typically experience difficulty trusting others, difficulty with self-esteem or self-worth, and an overall belief that the world is not a safe and good place.
Despite many clients doing their best to use positive self-talk and create positive experiences, underlying core experiences can color the rest of one's life. Through using trauma and attachment informed practices, clients are able to develop a new appreciation of themselves and a new ability to experience the world and other people with openness and joy.
What do you find most rewarding about your work?
The most rewarding part of my work is giving people the opportunity to experience a more peaceful and enjoyable life, that involves a more loving relationship with themself.
Therapy sessions with Michelle
What will our first session together be like? What happens in ongoing sessions?
During our first session, we will spend a lot of time exploring background experiences and goals for therapy. I explore the struggles that led clients to seek support and work to learn more about how those struggles developed and what experiences tend to make those struggles better or worse. Our ongoing work together then involves using the insights we gained about your barriers to wellness to create tailored interventions that heal struggle, open new opportunities for growth, and foster wellness.
Are there any books you often recommend to clients?
I often recommend Hold Me Tight by Sue Johnson to the couples that I work with. For people struggling to resolve childhood abuse and associated symptoms, I recommend The Body Keeps Score by Bessel van der Kolk and Primal Wound by Nancy Newton Verrier. I also particularly value work by Jon Kabat-Zinn for clients struggling with anxiety and depression.
Do you assign "homework" between sessions?
I assign a variety of "homework" assignments between sessions depending on what fits best for a client. Examples include art therapy projects or self-care assignments, such as exercise, meditation, or structured emotional check-ins. Clients sometimes also choose their own between-session homework, such as journaling, checklists, or reading supplemental materials.
How do you help ensure I'm making progress in therapy?
My clients create their goals for our time together in their first few sessions. We revisit those goals frequently to assess what has changed since starting our work together. If clients are feeling stuck or  if they are not making the progress they would like to, we revisit the strategies that are currently in place to see if a different approach would be more beneficial.
How can I prepare for our first session?
The clients that come to therapy ready to do the work and open up about themselves tend to see the best results. In mentally preparing to begin counseling, it is helpful to have a clear picture of what you would like your life to look like and what is currently interfering with meeting those goals.
Why should I seek therapy, rather than turning to my partner, friends, or other loved ones?
Therapy is such an amazing resource because, unlike a partner or friend, your therapist does not have a personal attachment to your experiences and has been well trained to listen with openness and empathy. Having a third party support system allows for sharing without fear of judgment or repercussions.
What advice would you share with therapy seekers?
In seeking a counselor, it is so very important to find a provider that you feel comfortable with and trust. You will be working through things that you likely wouldn't otherwise share with someone you don't know well, and you may at times be asked to challenge yourself in new ways. The therapeutic journey is most successful when you feel like your counselor is a partner to your success.
Visit Michelle's profile to watch her introductory video, read more, and book an initial call!