Maja Nuoffer is a Licensed Marriage and Family Therapist (LMFT) in Los Angeles, CA. Maja specializes in working with young adult and adult clients dealing with anxiety, burnout, chronic stress, life transitions, and existential crises. She takes a holistic approach to mental health and utilizes her certifications as a health coach and yoga teacher - as well as her knowledge of nature-inspired therapy and client-centered positive psychology - to help guide clients toward wellness and an improved mind-body connection.
We asked Maja more about her work with clients and her guiding philosophies on therapy.
Maja's background and personal life
How did you decide to become a therapist?
This question is often the most difficult for me to answer in that I did not have an "a-ha!" moment where I realized I would become a therapist. Instead, I felt guided to this calling. My interest in human wellness and how we are able to flourish truly sparked during my undergraduate studies when I took a phenomenal class called "Health and Wellbeing." This was essentially an introduction to positive psychology, where I learned what is right with people, and not what is wrong. The lessons of these studies - coupled with my drive to be of service to others and my personality strengths - organically led me to the doorsteps of counseling psychology.
What was your previous work before going into private practice?
I contracted as an independent licensed therapist for the Los Angeles County Department of Mental Health, providing counseling to the most vulnerable children and adolescents in the San Fernando Valley.
What do you enjoy doing in your free time?
I appreciate my daily self-care practice which includes yoga, nourishing meals, time in nature, and reading inspiring books. I also enjoy taking regular family trips, anything from a weekend getaway in the mountains to adventures across the globe to visit my family in Poland.
Maja's specialties and therapy philosophies
What guiding principles inform your work?
I find that people often struggle because they assume they are not supposed to. I teach my clients what it means to be human, how anxiety and stress is part of the human experience, and that anxiety and stress may also be managed. I believe that people are good and forward-thinking and if given a nonjudgmental, supportive and encouraging environment, they thrive and grow to overcome their difficulties.
People are made up of the physical body, the mental circuit, the emotional heart, and the spiritual being, so I take a look all these dimensions in bridging the mind-body connection, and taking a fully holistic approach to healing.
What clientele do you work with most frequently?
My clients are young men and women, beginning to enter adulthood or well on their journey in adulthood, who are beginning to ask themselves significant but scary questions such as, "Why I am so busy and yet I can't accomplish anything? Am I in the right relationship, career, and/or city? Who on earth AM I?"
Before beginning their work with me, my clients usually have tried for quite some time to either bury their anxiety or push it away with unhealthy coping tools. Usually by the time they've come to see me, they have "tried everything" and feel at a loss, wanting answers to why they are feeling distressed, uneasy, frustrated, overwhelmed, anxious, and unwell.
Can you tell us more about your specialty in anxiety?
I find that my anxious clients are some of the most intelligent, creative, and empathic individuals who were not taught how to cope with their difficult feelings as children, leading to the false assumption that there is something "wrong" with them.
Of course, this isn't true, but rather their anxiety is a gateway to an awakening, to healing something inside of them that deserves attention that has been instead buried beneath their day-to-day lives.
I offer guidance in helping clients define their anxiety, identify its core roots and origins, and learn skills to learn to tolerate the uncertainty and pain that accompanies us on our journey of being human.
Can you tell us more about your work with clients facing burnout?
Many of my clients are high-achieving, driven, and forward-focused successful men and women who push themselves to the point of exhaustion or to the point of physical and emotional burnout.
Usually this creeps up slowly until there is an emotional breakdown, a physical illness, a major fight with a partner, or a perceived failure as a parent. These moments are actually gifts that point to the direction of healing. The false assumption is that if they work "hard enough" or are "perfect" in some way, they will avoid the pain of being human.
I teach my clients to be able to manage their emotional pain and engage in simple, self-care practices that nourish, restore, and enliven them.
Can you tell us about your chronic stress specialty?
Chronic stress is often a cousin of anxiety and burnout that shows itself through emotional pain, physical ailments, mental exhaustion, and spiritual questioning.
Many of my anxious and high-achieving clients are addicted to the rush of stress, unable to find ways to pause and turn it off. They use their stress as a way of avoiding their true core issues. I help them overcome their resistance and learn self-trust practices to reduce and manage stressors so that life feels more liberating and peaceful.
What do you find most rewarding about your work?
The most gratifying aspect of my work is the moment a client finds it within them to summon the courage and accept responsibility for their life, valuing their strengths while understanding and accepting themselves.
It is at this moment that real change takes place.
When my clients reach their therapy goals and are ready to end counseling work, they continue their lives with greater presence, acceptance, and meaningfulness.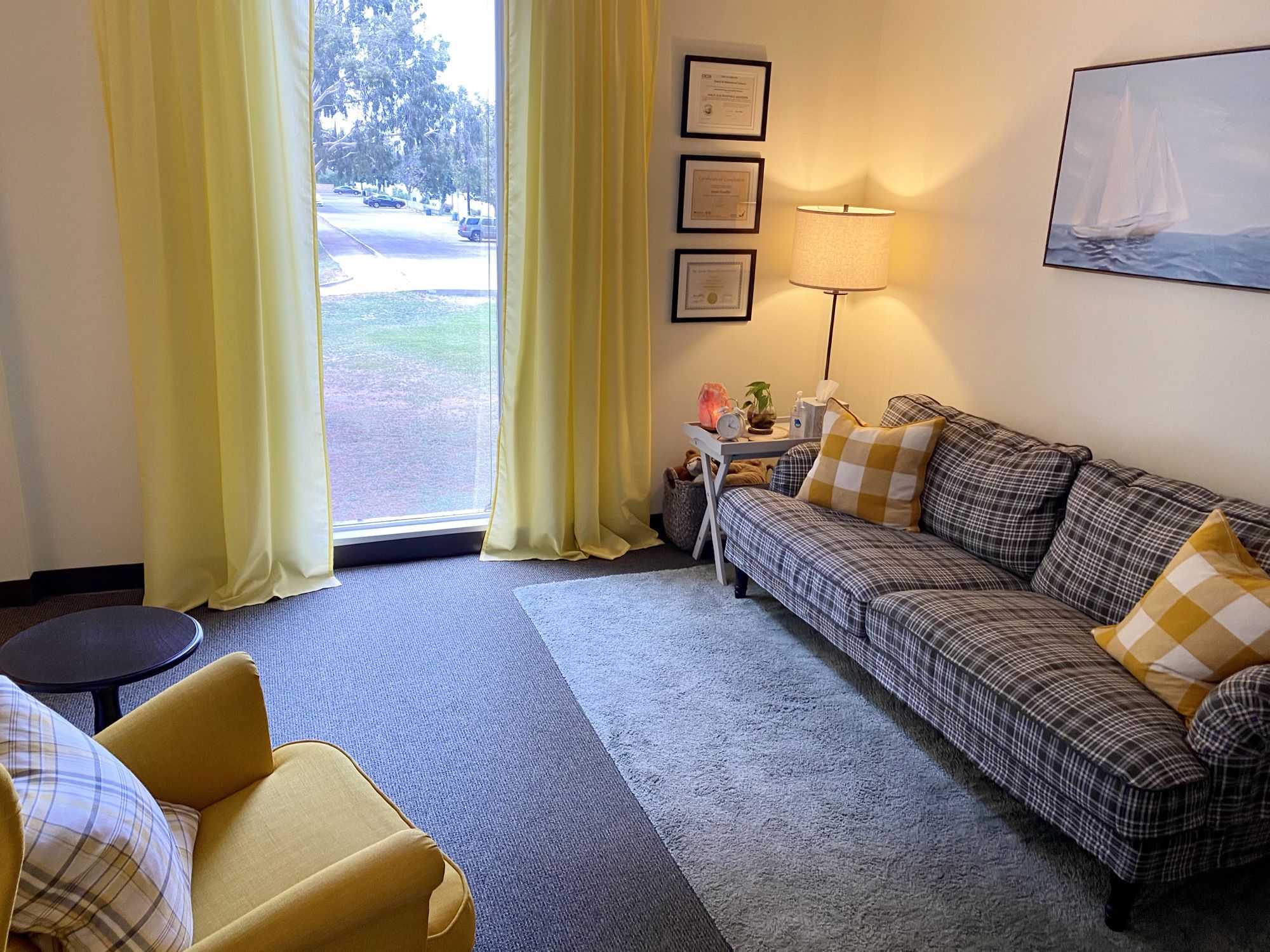 Therapy sessions with Maja
What will our first session together be like? What happens in ongoing sessions?
Our first session is an intake assessment where I ask questions about who you are, where you have been, and what has brought you here today. I help you define what the presenting problem is, and take an honest but encouraging look at your emotional, physical, mental, and spiritual health. Together, we create goals that will guide our work together. Following our intake, we will dive into our sessions with compassion, non-judgment, and a sense of hope for positive change. I will always have a plan to help guide our sessions, but will first and foremost honor and respect what you would like to discuss.
How long do clients typically see you for?
My clients see improvement in about twelve sessions, but many remain in our work together for up to nine months.
Are there any books you often recommend to clients?
I often recommend:
Do you assign "homework" between sessions?
I provide concrete guidance and productive feedback in each session, as well as with tools and skills that I will encourage you to practice in-between our sessions. We will review them together, noting what has worked and what areas need more compassion and encouragement to overcome resistance.
How do you help ensure I'm making progress in therapy?
I hold you accountable in a supportive and encouraging way. I will give you 100% and expect you to commit to your healing. I often check in about therapy, reviewing what is working, what is helpful, and what needs to change so that you may reach your goals.
How do I know that it's time to start seeking therapy?
When you feel that something is "off," you feel unwell, stuck, empty, or your life feels purposeless, it is time to seek guidance. Additionally, when you are overwhelmed, frustrated, irritable, tired, stressed, and/or anxious, it is an invitation to ask for compassionate help.
How can I prepare for our first session?
Take a deep breath and allow me to guide you.
How will I know it's time to end my time in therapy with you or reduce session frequency?
We'll know it's time to end our work together when you "do not know what to talk about" in sessions and you feel you have reached your goals in managing anxiety, overcoming burnout, and reducing stress. There will be an ease and sense of calm in our sessions, and you will feel acceptance and self-trust.
Why should I seek therapy, rather than turning to my partner, friends, or other loved ones?
Turning to your partner, friend, or loved one can be very healing and helpful, and I encourage you to do so. Throughout human history, we have turned to sages and healers for help, and in our modern times, therapists often fill that role. A seasoned therapist can offer you the insights, guidance, and tools that a loved one may not provide.
What advice would you share with therapy seekers?
You are not alone in your pain. Though it may feel isolating and lonely, pain is the fabric of humanness that unites us. Seeking therapy takes courage, and I applaud your willingness to commit to your wellbeing. So let us begin…
Visit Maja's profile to read more about her and book an initial call!