Maggie Evans is a Mental Health Counselor and Board-Certified Art Therapist in Spokane, WA specializing in working with women navigating major life transitions, relationship challenges, emotional abuse, anxiety, and grief. Many of Maggie's clients identify as highly-sensitive individuals, often putting the needs and comfort of others before their own. Maggie is passionate about helping these women rediscover their own inner strength and supports them in the healing process to a more free and fearless life—through art therapy, creativity exercises, and other forms of somatic therapy.
We asked Maggie more about her work with clients and her guiding philosophies on therapy.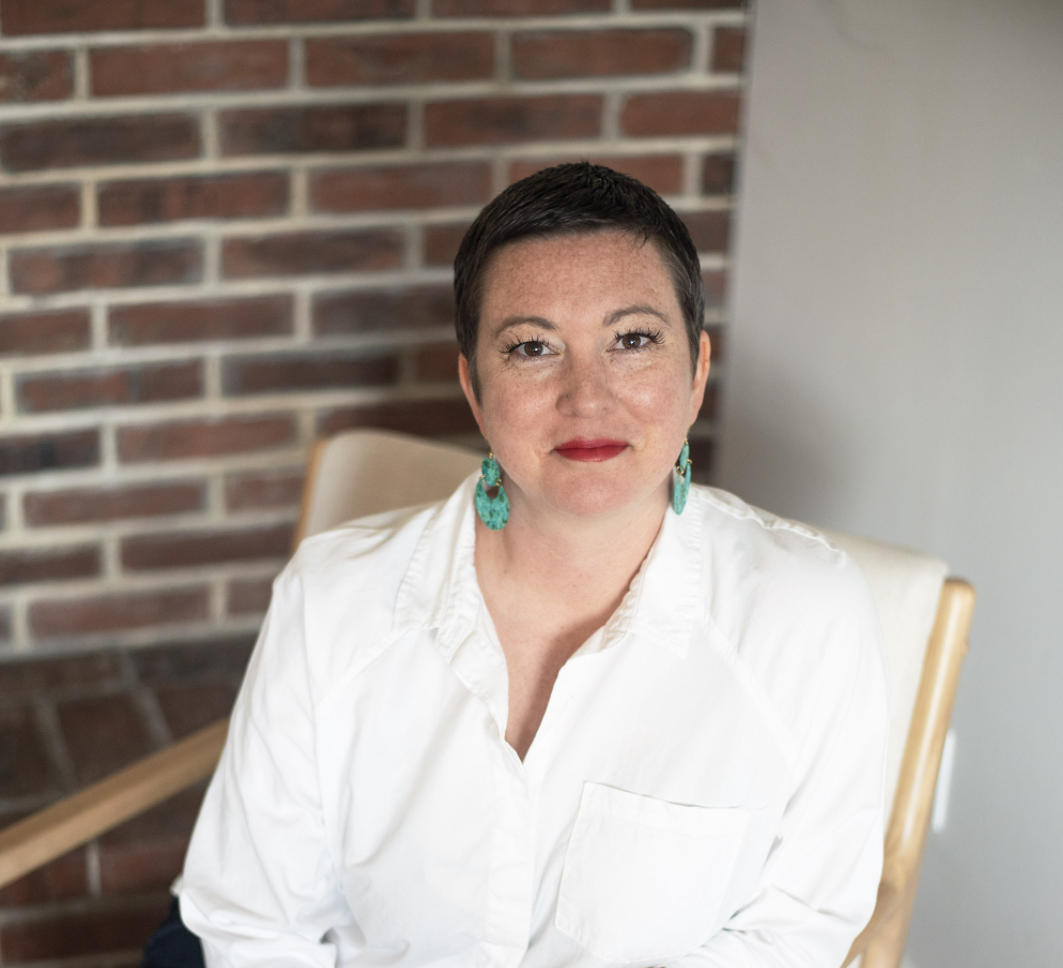 Maggie's background and personal life
How did you decide to become a therapist?
Spending hours, upon days, reading to and playing cards with a 10-year-old boy during a volunteer trip to St. Lucia, West Indies with my family while I was in college. Those first few moments of sitting with him, his back turned towards me, terrified to be vulnerable with anyone ever again after having been beaten and left in the ditch by his own father because he'd stolen a coin from a neighbor's house for food. These moments pointed me in the direction of learning to sit with another human in their suffering, knowing the potential for transcendence and healing.
What was your previous work before going into private practice?
In a former career life, after completing my education in psychology and art therapy, I ran my own wedding dress design company. I designed, sewed, and altered dresses for brides out of a hip little studio in Boulder, CO. Being a single mom—raising a baby that came along at the end of graduate school—demanded that I have a flexible schedule and work environment.
After closing that business and moving to WA, I pursued work with at-risk-youth, as well as coordinated adult and adolescent treatment programs for individuals with eating disorders.
What do you enjoy doing in your free time?
Knit, knit, knit—I'm always knitting—in the movies, out to dinner, talking with friends. I've even attempted knitting while walking. I also read a lot of novels and nonfiction. Sprinkled in among these two main hobbies are amateur gardening, raising chickens and cats (but not together), and keeping up with the latest music, Tik Toks, and shoe trends that have captured my teenage son's attention.
Maggie's specialties and therapy philosophies
What guiding principles inform your work?
From my own personal experience of spending many an afternoon upon returning home from school, up in my room sewing, drawing, or just lying on the floor daydreaming—I've always believed in the creative potential within each of us. Over and over again, I've been in awe of the transformative power of creativity, and it is the lens through which I look when I spend time with people who are suffering.
A simple, yet profound, teaching from my Buddhist grad school training is that of the Four Noble Truths, which basically translate to suffering being a part of living, that there is a reason for suffering which usually stems from resistance to the feelings or experiences you're having, and that in surrendering to these difficult feelings fully, you can find freedom. It's so counter-intuitive, but it works every time!
It's my job to get inside your worldview, to understand how you see the world, and to work with you from that place—never from a place on my agenda or from pre-conceived ideas about what is right for you. Only you know that.
What clientele do you work with most frequently?
I've got a sweet spot for women, mid adulthood, who've been pursuing what they think is right in order to be accepted, loved, or seen but are discovering that's just a mold they actually don't fit into anymore, if ever they did.
Often times these women have left an emotionally abusive relationship or have realized they were raised by a dysfunctional parent. These women are intelligent and sensitive and successful in their careers, but something is keeping them small in big ways that they just can't stand anymore and somehow can taste the sweet freedom that's on the other side of that something.
Can you tell us more about your work with clients in recovery from a past of emotional abuse?
Having experienced this kind of abuse first hand and having used creative practice to heal, I know what it's like to be in a place where you absolutely can't imagine you could ever feel better, stronger, or free again! Learning about, coming to understand, and normalizing the experience of emotional abuse is a big job for therapists and clients. Knowing there is a way through, that a new reality is possible, and that I'm there to fight relentlessly with you, is what's going to bring you that freedom you crave!
Can you tell us more about your specialty in anxiety?
Working with anxiety actually excites me! I know, that's so nerdy of me to say, but it's true. Anxiety lives in the body. Anxiety is about the future. Mindfulness and body-focused interventions are some of my favorite types of skills to teach, and they work wonders for anxiety.
Can you tell us more about your work with clients navigating grief?
We don't live in a society that honors grief well, even though it's such a large part of the human experience. Grief is not just about losing someone to death—it includes losses of all kinds. Naming these difficult experiences and making room for the grief process is important for each of us; to become familiar with how we grieve, to allow space and time to process grief when it surprises us, and to share our grief with others are all practices that could literally change the world.
What do you find most rewarding about your work?
Those "ah-hah" moments that clients get when something has clicked into place—a new understanding of themselves, a change in how they see the world, or an opening appears —even a little one—to make way for moving forward.
Therapy sessions with Maggie
What will our first session together be like? What happens in ongoing sessions?
Our first session typically starts with a review of your intake paperwork in order for us both to settle in, learn about each other a bit more, and chat about your goals for therapy. Most often there will be time for you to get into the meat of what brings you to therapy during that first session.
How long do clients typically see you for?
Most clients stay with me for at least one year; many stay longer!
Are there any books you often recommend to clients?
Do you assign "homework" between sessions?
I'll definitely assign homework if you ask for it. Most often it will be some kind of creative activity—a book to read or a podcast to listen to.
How do you help ensure I'm making progress in therapy?
At the end of every session there is time to check-in about how the session was helpful and how you can use the insights gained in your daily life. Many times throughout the course of your therapy journey we will pause, and sometimes we will even spend a whole session focusing on the progress you've made!
How will I know it's time to end my time in therapy with you or reduce session frequency?
Ha, you'll know it in your body! I say this because I know you—you feel things deeply in your body, and you have a sense of things. And if you don't, we'll regularly be checking-in about it as we go.
How do I know that it's time to start seeking therapy?
Read the answer given above for how you'll know when it's time to stop therapy... you'll know. Otherwise, it's time when the difficult feelings and experiences you're having can no longer be managed on your own and they're impacting your daily functioning.
How can I prepare for our first session?
Give yourself plenty of time to complete your intake paperwork, especially the questionnaire. The more you share in the beginning, the quicker we can reach the depths of process you are craving!
Why should I seek therapy, rather than turning to my partner, friends, or other loved ones?
You wanna keep your friends and loved ones. Therapists are designed to not be needed at some point. We're neutral and consistent and don't need you to also take care of us. Keep your friends, ditch your therapist (once you don't need me anymore)!
What advice would you share with therapy seekers?
Trust your gut. Go with the person that calls to your soul.
Visit Maggie's profile to watch her introductory video, read more about her, and contact her for an initial consultation!