Kirsten Louise Cantley is a Licensed Mental Health Counselor in Manhattan, NY. While Kirsten works with women of all ages and backgrounds, she most frequently works career-driven professionals struggling with anxiety, depression, burnout, or general feelings of disconnection and poor mental health. Kirsten uses a strengths-based and holistic approach in sessions and strives to help her clients navigate the major challenges in their lives while also prioritizing their mental health and finding more joy and empowerment.
We asked Kirsten more about her work with clients and her guiding philosophies on therapy.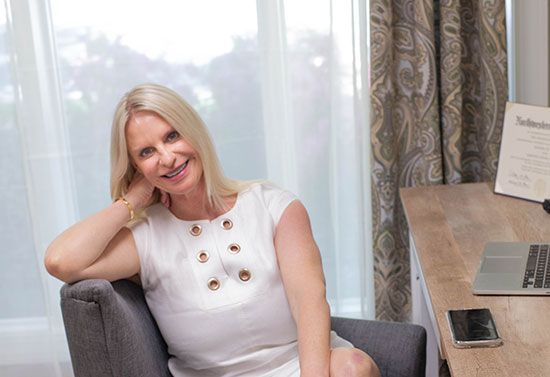 Kirsten's background and personal life
How did you decide to become a therapist?
My first class in college was Criminal Psychology. After the first day, I was hooked! I knew I wanted to be a psychotherapist.
What was your previous work before going into private practice?
Previously, I was a stay-at-home mom and a blue-chip art dealer, specializing in Pop Art.
What do you enjoy doing in your free time?
I love going to Central Park, shopping at local bookstores, visiting museums, creating fabulous foods, and working out (including yoga). I also enjoy spending time with my fiancé and Bailey Louise (our 6lb Zen Chihuahua!).
Kirsten's specialties and therapy philosophies
What guiding principles inform your work?
I am an empath, so the majority of my work comes from being able to feel what my clients need in that moment. It is different for everyone and every session is different. I always invite my clients into a space that is non-judgmental, warm, kind, nurturing, and full of encouragement.
The foundation of my work is to make sure my clients are kind to themselves, which can not be done if they are beating themselves up. I teach clients how to practice self-care, as well. I am a holistic psychotherapist, so I assess everything in their life—mind, body, and spirit. From here, we create a plan on how to achieve the life that they desire.
Can you tell us more about your specialty in working with women?
I work with career-driven women of all ages—from those just starting college to those in middle age and beyond. Many are high-achieving with Type A personalities who are driven, intelligent, passionate, and caring. These women tend to take care of everyone else but themselves—at their own expense. I teach my clients how to use their voices and how to create beautiful boundaries.
When I am working with a woman who is burnt-out (or headed that way), they tend to be exhausted, not sleeping well at night, and spread too thin. I teach clients proper ways of self-care—providing a list that is long and wide, so they are able to pick and choose what resonates best for them.
Can you tell us more about your work with clients struggling with anxiety?
Anxiety can show itself in many ways: fear of the unknown, not being able to control everything around you, etc. The women I work with tend to have a mind that is in overdrive—over-thinking, worrying, and trying to solve issues for themselves and others around them. I teach my clients how to change their way of thinking. By changing their neural pathways, I help clients develop a new normal of inner peace and confidence instead of constant anxiety and second-guessing.
What do you find most rewarding about your work?
I am so passionate about what I do. What I find most rewarding about my work is being able to share and teach a new way of being to clients. I love watching them bloom and create a new life of joy, on their terms, with empowerment, excitement, and curiosity.
Therapy sessions with Kirsten
What will our first session together be like?
In our first session, I want to hear why you decided to start therapy, what things are going on in your life currently, and what outcomes you hope to gain from our work together. I make sure to gain a full history from you, which helps us both understand your current situation. The first session is a time to get to know each-other, and I make sure my clients know that they are safe to talk about everything and anything with me at their own pace. Hopefully after our first session you will already be feeling lighter, more hopeful, and excited about our work together!
How long do clients typically see you for?
I have clients see me as little as 6 times, and I have clients who have seen me for years—for some, it becomes part of their self-care regiment.
Are there any books you often recommend to clients?
I always recommend books, and I often send articles to my clients that pertain to what they are going through if I think they would benefit from it. I educate them on everything and everything! I often recommend:
Do you assign "homework" between sessions?
Yes! I assign homework after every session, but I make sure that my clients do not feel pressure to complete it before our next session. I do not want to add any stress to their lives, only to enhance it. Homework varies week-to-week based on what we are discussing and working on.
How do you help ensure I'm making progress in therapy?
I have you self-report to me every week. This way we can both look at the progress you have made, discuss it, and build on it from there.
How do I know that it's time to start seeking therapy?
If your current situation is causing you problems in your life, if you are not feeling good mentally and/or physically, if you are wanting to make changes but are not sure how, or if you are questioning major life decisions, it may be time to seek therapy.
How can I prepare for our first session?
You can prepare for our first session by being excited about taking the first step to feeling better. You can also bring a list of things you'd like to talk about.
How will I know it's time to end my time in therapy with you or reduce session frequency?
The timing of when to end therapy is different for everyone. I think we will both be able to feel it by examining the progress you have made and the goals you have reached. I have clients who I have seen for years but are now are on "as needed" or check-in basis. You can always have a check-in session after our initial work has been done. Life happens, and I will be here and always willing to make room on my calendar for you.
Why should I seek therapy, rather than turning to my partner, friends, or other loved ones?
Having a therapist that you connect with gives you a person who can listen to you and talk to you objectively.
What advice would you share with therapy seekers?
Find a therapist that you vibe with! If you don't connect with the first one please don't give up. Finding a therapist is like dating—you need to feel a connection and sometimes it takes a few tries to find that person. :)
Visit Kirsten's profile to read more about her and book an initial call!