Karen Seif is a Licensed Clinical Social Worker providing remote therapy sessions to clients throughout Pennsylvania, Massachusetts, and Wisconsin. She specializes in working with young adults, as well as parents, adult adoptees, and members of the LGBTQIA+ community. Having worked in various therapeutic settings in her career—including a community mental health clinic, an adoption/foster care center, an inpatient adolescent psychiatry unit, and at a university—Karen has extensive experience in the mental health field. She also has developed a unique style of her own, blending relational, narrative and cognitive-behavioral therapeutic approaches to best help her clients make the changes they want to make in their lives. Karen also writes a blog of her own that she welcomes prospective clients to take a look at to get a feel for her therapeutic style.
We asked Karen more about her work with clients and her guiding philosophies on therapy.
Karen's background and personal life
How did you decide to become a therapist?
Becoming a therapist has been a life-long journey. I've been a therapist for over 25 years, but I'm still growing and maturing into the best therapist I can be. I often think of Michelle Obama's Becoming as a model for my personal and professional development. I decided to become a therapist because it's a natural channel for my skills, life experience, temperament, and interests. I'm reflective and creative, I'm a listener, and I believe in the potential of each individual. Most importantly, I've stayed in this profession because I love my job!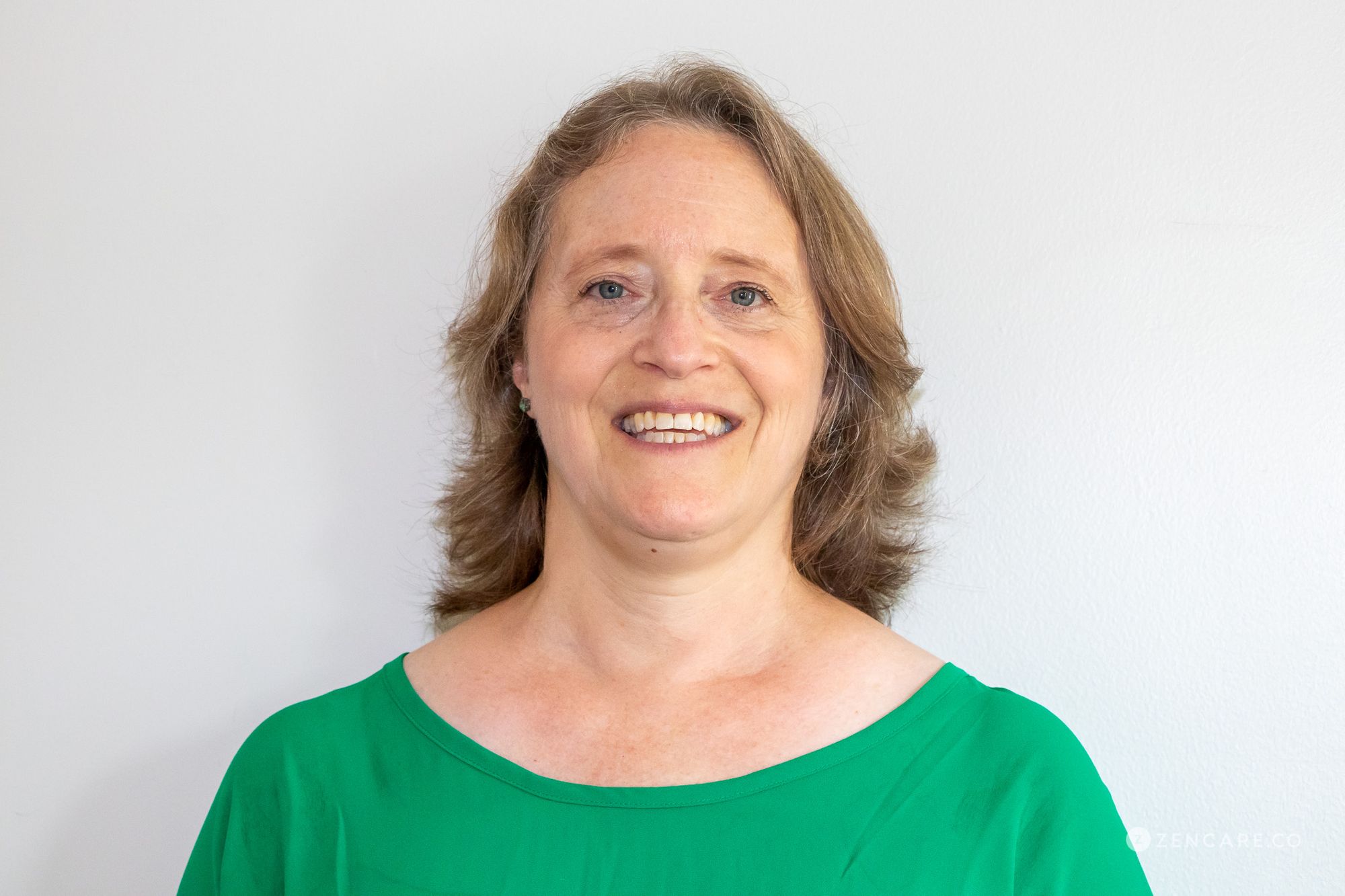 What was your previous work before going into private practice?
I worked at a college counseling center in Kenosha, Wisconsin. I loved the job because I enjoyed working as part of a team and because, even though there were consistent themes and commonalities between students, each student was unique and extraordinary in their own way. I left this job because I moved out of state, and decided to start my own practice.
What do you enjoy doing in your free time?
I enjoy walking my dog, spending time with family and friends, gardening, reading, writing, knitting, and being outdoors. I've always been a reader and writer, but gardening and knitting are recent additions. In fact, I always thought I lacked the "magic touch" with plants, and that I was "bad" at knitting because I had struggled with it years ago. However, with age, I've learned that one doesn't have to be perfect to be successful and that most skills come with trial and error. I now have a beautiful garden and can make uneven scarves full of mistakes, but I thoroughly enjoy the process!
Karen's specialties and therapy philosophies
What guiding principles inform your work?
The main principles which guide my work are collaboration, respect, social justice, and optimism. I build individual relationships with each client, even those who only come for a few sessions only. I believe that, ultimately, the therapeutic relationship is the key to healing. I read a lot and am attuned to the intersectionality and context that informs each person's story.
What clientele do you work with most frequently?
I most frequently work with young adults because I know how challenging our world is to navigate and because I enjoy their open-minded and empathetic approach to life. I truly believe that Gen-Z has the potential to solve many of the world's most complex problems, but they will need support from older adults to get there.
I also work with adults of all ages and particularly enjoy working with parents.
Can you tell us more about your specialty in working with members of the LGBTQIA+ community?
The experience of being connected to the LGBTQIA community is as varied as each individual client. There are many generational differences which impact understanding of identity, but my life experience, combined with the value of having worked in a college counseling center, gives me a lot of insight on many related themes. Relationships, intersectionality, being an outsider, the meaning of labels, discrimination, violence, hate crimes, family-of-origin relationships, religion, building families, and parenting are all common in my practice. As a member of the community myself, I intuitively understand many aspects of my clients' experiences, though I'm always growing and learning.
Can you tell us more about your specialty in helping clients navigate life transitions?
Life transitions can include the transition to adulthood, marriage, moving, divorce, illness, loss, parenting, caretaking, and more. People who are experiencing life transitions often don't recognize the degree to which stress is impacting them. They might wonder why they feel so anxious all the time or why they can't manage tasks that used to come easily. Helping clients slow down and embrace mindfulness can help them appreciate their strengths rather than deficits. I also provide concrete tools to help manage negative thoughts which might be interfering with effective coping strategies.
Can you tell us more about your work with parents?
Parenting in the age of social media and COVID-19 is not for the faint of heart. I help clients sort out what are typical parenting problems versus what might be specific to their unique situation. I help parents build self-awareness, learn to communicate more effectively with co-parents and partners, and develop creative problem-solving strategies. My ultimate goal is to help parents build trust and strengthen their relationships with their children.
What do you find most rewarding about your work?
What I find rewarding is when a client views a problem in a new way, or creatively solves a problem which had previously seemed intractable. I find it rewarding when I can elicit a smile or laugh from someone who was despondent a few moments ago. I find it rewarding when I learn a new therapeutic approach and am able to use it effectively to help a client. I find it rewarding when I learn something new or gain life wisdom from a client.
Therapy sessions with Karen
What will our first session together be like? What happens in ongoing sessions?
I always suggest a free consult prior to formally starting therapy. During this consult, I will share information about who I am and about my approach to therapy. I'll give the client the chance to ask any questions and allow them to make an informed decision about whether I'm the best fit for their needs. I will then ask if they want to move forward or not, or if they want to think about it. I am always respectful of any decision the client makes.
How long do clients typically see you for?
There is no typical amount of time. Sometimes one session can be effective, and sometimes long-term therapy is valuable. Unless there is a safety concern, I allow the client to determine the frequency of sessions and the length of the therapy.
Do you assign "homework" between sessions?
I will never "assign" homework. I may give suggestions for techniques or strategies which I think may be helpful for you, but I will offer them as suggestions only. I make sure the client knows that if they're unable to follow through for whatever reason, we'll just pick up where we left off. I have a very flexible style.
How do you help ensure I'm making progress in therapy?
During the initial few sessions, we will talk about the your goals for therapy. I take copious notes during sessions, which allows me to weave threads between sessions. I try to make sure that we stay true to your initial goals and check in regularly about both of our perceptions of progress.
How can I prepare for our first session?
It can be helpful to think about your goals for therapy, why you chose to reach out at this specific time, and any questions you have about my approach, style, or qualifications.
How will I know it's time to end my time in therapy with you or reduce session frequency?
We will talk about this together on a regular basis. As finances are often a factor in session frequency, we will talk about how to work within your budget to meet your needs.
Visit Karen's profile to watch her introductory video, read more about her, and book an initial call!