Judith Wafe is a Certified Nurse Practioner based in Florida and offering online sessions to clients throughout Florida, New Hampshire, Delaware, and Rhode Island. Judith specializes in perinatal mental health, postpartum depression, and new parent stress.  We asked Judith more about her work with clients and her guiding philosophies on therapy.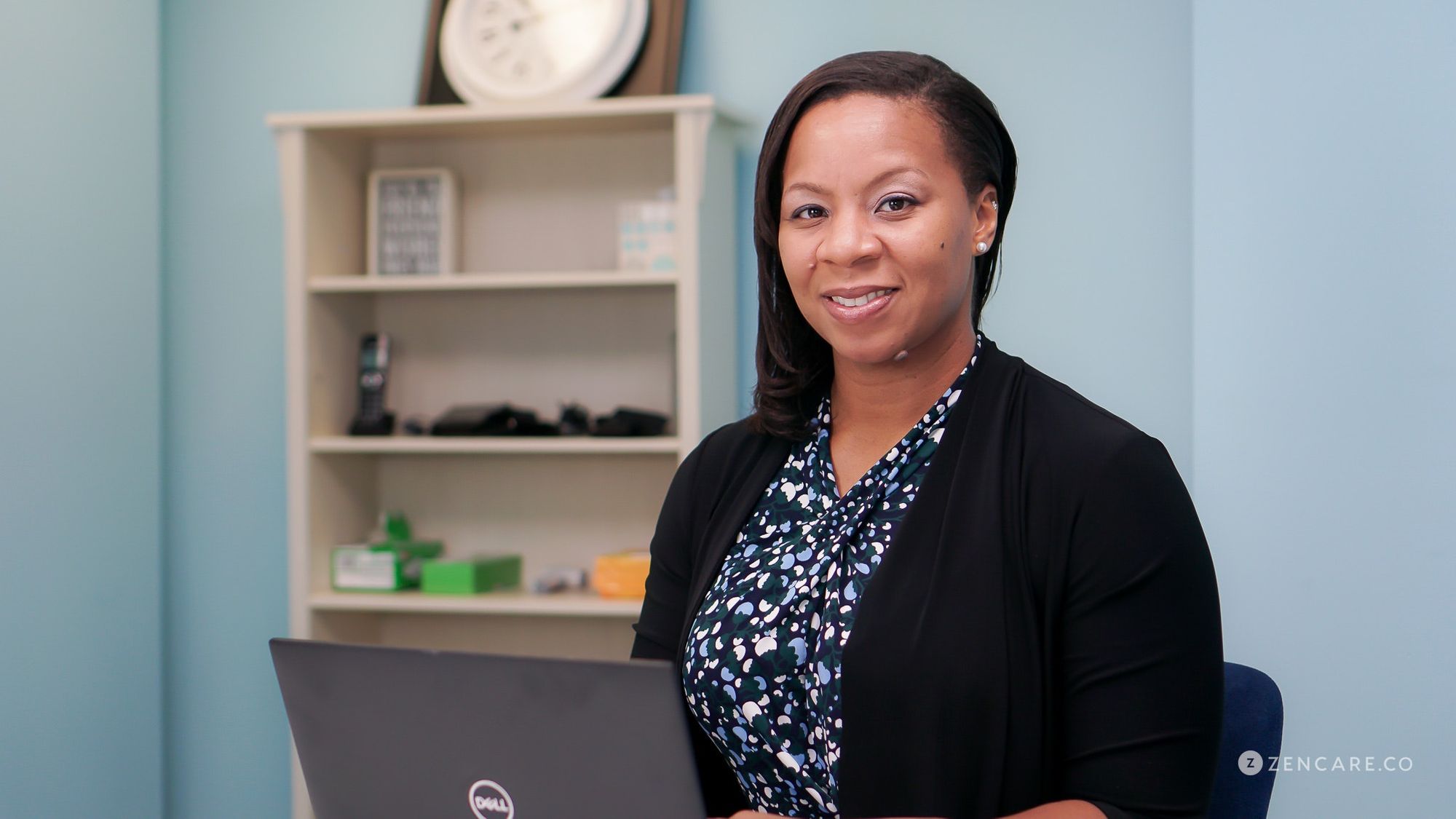 Judith's background and personal life
How did you decide to become a therapist?
I decided to center my work on mental health, as I saw that the mind was the ultimate battle field. I took care of women with high risk conditions during pregnancy and newly diagnosed breast cancer patients. The women who fought their conditions with resilience often had better health outcomes. Even when they did not have a better outcome, they were able to cope with difficult clinical situations. Sharing what I have learned with others will help with their quality of life regardless of what life experiences they may encounter.
What do you enjoy doing in your free time?
I enjoy weightlifting, long nature walks, going to the beach, being fully immersed in water, watching provocative comedians, giggling with my children, and spending time with my husband.
Judith's specialties and therapy philosophies
What clientele do you work with most frequently?
I work with women who experience mood challenges during pregnancy and after delivery.
Can you tell us more about your specialty in perinatal/postpartum depression and anxiety?
Perinatal/postpartum depression is common and underdiagnosed. Mothers experience a disconnect between the Hollywood portrayal of bonding with their baby and feelings of isolation, sadness and fatigue. They may feel that it is taboo to express scary thoughts and tend to not suppress them. I provide a safe space to vent. I help with normalizing the experience, medication management, talk therapy and health promotion.
Perinatal/postpartum anxiety often co-exists with depression. Mothers can become hyperfocused on future unknowns that are beyond their control. They also tend to underestimate what can be done about specific situations. Common concerns include body image, baby health, work-life balance, new parent role. I help with normalizing the experience, medication management, talk therapy and health promotion.
Can you tell us more about your work with new parents?
Parenting is one of the most stressful transitions we experience. There are so many elements to learn and learning is dynamic. Often if mothers feel depressed, the entire family is negatively impacted. The greatest risk factor for postpartum depression in men, is depression in their partner. So tackling expectations and other stressors as they occur can preserve the family unit. I provide a safe space to vent. I help with normalizing the experience, medication management, talk therapy and health promotion.
What do you find most rewarding about your work?
As a child, I had poorly controlled asthma. This meant that I spent a lot of time in the Emergency Room. I would marvel at patients going from unstable states to stable ones and wonder about the process. Now as a healthcare provider, I have the ability to help patients transition from an unstable and scared state to a balanced and hopeful one. It is fulfilling to facilitate this transition.
Therapy sessions with Judith
What will our first session together be like? What happens in ongoing sessions?
Our first session is a gathering of information session. We discuss your medical history, obstetric history and psychiatric history. We do a battery of tests to ensure that you are getting the most appropriate care. In the second session we start focusing on therapy.
How long do clients typically see you for?
Typically 9-12 sessions or approximately 6-9 months.
Do you assign "homework" between sessions?
I assign action plans between sessions that are tailored to your needs and goals. Therapy is all about what is best for you. Therefore, the action plans are never generic but always relevant to you. For example, for a patient who was having difficulty bonding with their baby, we would plan for them to read to the baby at least 3 times before the next weekly session, and document their mood, before, during, and after reading.
How do you help ensure I'm making progress in therapy?
I ensure progress by collecting data from tests during every session and plotting the changes. Also by collecting mood ratings. I also hold patients accountable for action plans between sessions.
How do I know that it's time to start seeking therapy?
It is time to seek help when your daily activities are impacted. Are you self medicating? Is it difficult for you to laugh? Is it difficult to find joy? Is it difficult for you to sleep and wake up rested? Are you mad at everyone? Are you scared of your thoughts? Have you lost your sense of purpose? Are you lonely in a room full of people?
How can I prepare for our first session?
Know that you are entering a safe space. Also would be good to find out your family history of mental disorders. We collect that information as well, in order to assess your risk.
How will I know it's time to end my time in therapy with you or reduce session frequency?
We change the session frequency when moods are less severe based on client report and psychological testing.
Why should I seek therapy, rather than turning to my partner, friends, or other loved ones?
Having social support is one of the important aspects of achieving mental well being. However, it is only one part of treatment. For a comprehensive assessment and plan, having professional help yields a better prognosis.
What advice would you share with therapy seekers?
You cannot fight in the dark, let in the light and seek help.
Visit Judith's profile to watch her introductory video, read more, and book an initial call!