Jennifer Rick is a Licensed Clinical Social Worker at Blossom Health offering remote therapy sessions to clients located in New York, Massachusetts, Rhode Island, and Florida. Jennifer specializes in working with college & graduate students on a variety of concerns, including anxiety, ADHD, perfectionism, and Autism spectrum disorder. Regardless of presenting concern Jennifer strives to foster a warm and non-judgmental therapeutic environment grounded in evidence-based practices, such as CBT.
We asked Jennifer more about her work with clients and her guiding philosophies on therapy.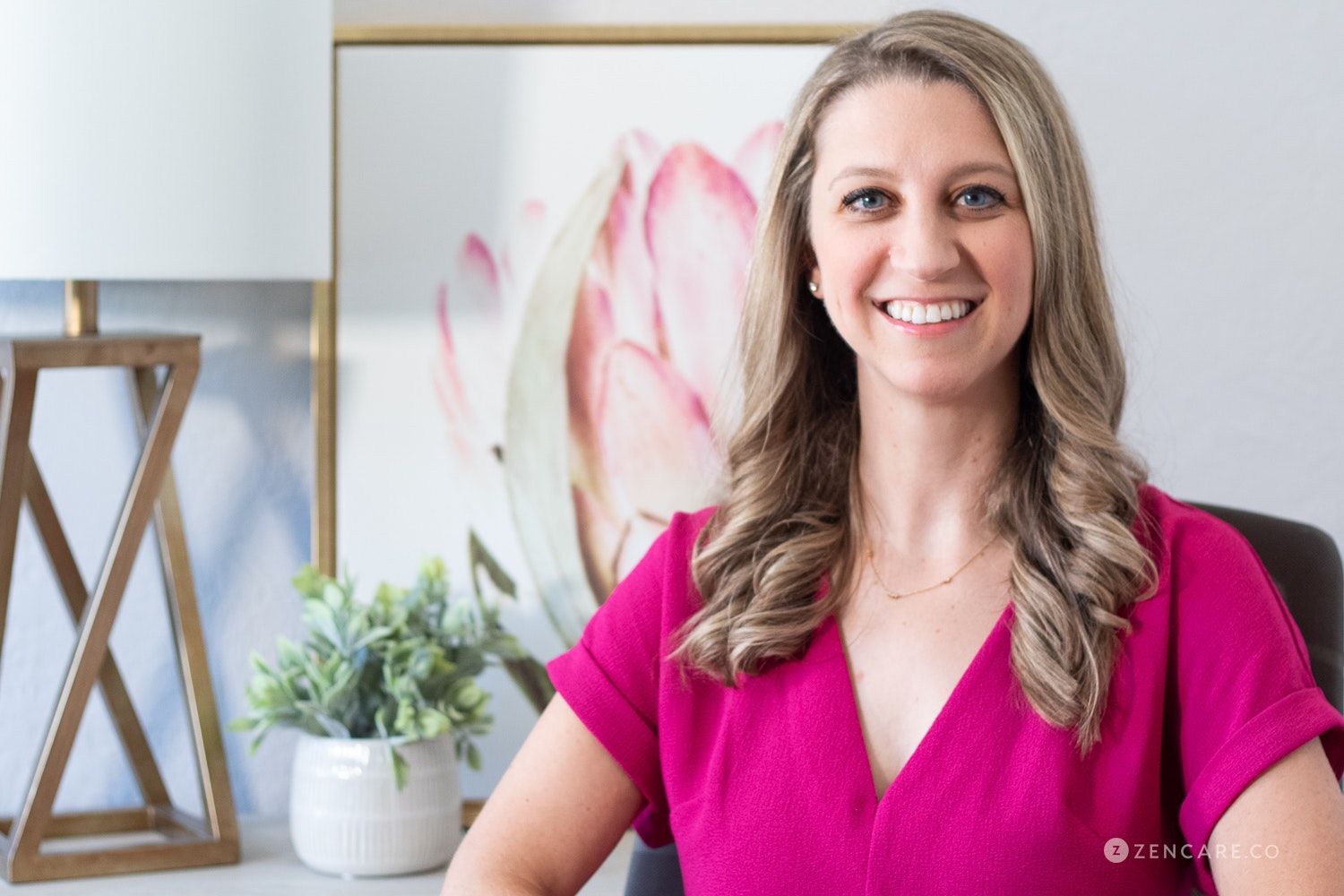 Jennifer's background and personal life
What was your previous work before going into private practice?
Prior to starting at Blossom Health, I spent several years working as a diagnostician and therapist at a practice that specializes in neurodevelopmental disorders. At this practice I worked with many college and graduate students, as well as young adults who had ADHD, autism spectrum disorder, and other co-occurring disorders. I also previously worked as a supervisor in a school-based mental health program.
What do you enjoy doing in your free time?
In my free time, I enjoy reading novels and listening to pop culture podcasts. I also recently moved to a new city and love exploring different neighborhoods.
Jennifer's specialties and therapy philosophies
What clientele do you work with most frequently?
I primarily work with college and graduate students, as well as young professionals. I enjoy working with patients during this time in their lives, which is both exciting and challenging. They are often seeking support as they navigate living away from home for the first time and balancing academics and other responsibilities. Young people are also forming new friendships and relationships.
Can you tell us about your specialty in neurodevelopmental disorders?
I help many patients with neurodevelopmental disorders, including ADHD and autism spectrum disorder. These individuals often struggle with organizational skills, procrastination, maintaining healthy routines, social skills, and emotion regulation. I help patients create and maintain organizational systems and routines that work for them. I often use social skills training in my work with individuals with autism spectrum disorder to support them in developing friendships and romantic relationships. My work also involves helping patients more effectively identity and regulate their emotions.
Can you tell us more about your work with college and graduate students?
I work with many college and graduate students who are often going through a significant transition in their lives. They are learning how to navigate the world, both academically and socially, and often while living far away from their support system. I assist students in building skills to manage their time effectively, developing new friendships and relationships, and managing stress.
Can you tell us more about your specialty in anxiety?
Many of my patients struggle with anxiety, whether it be generalized anxiety, social anxiety, or anxiety related to perfectionism. I use cognitive-behavioral techniques and help my patients recognize how their thoughts and behaviors interact in order to create and maintain their anxiety. I help them change their negative thoughts patterns and behaviors. My work also incorporates relaxation and coping skills that patients can integrate into their daily life.
Therapy sessions with Jennifer
What will our first session together be like? What happens in ongoing sessions?
Our first session will likely feel more structured then ongoing sessions and will focus on gathering information. During our first session, we will meet for about 75 minutes and discuss what is bringing you to treatment now, reviewing your history, and discussing a treatment plan for how I can be most helpful for you. Ongoing sessions will be completely tailored to you and your treatment. These appointments often involve discussions about your thoughts and feelings, interpersonal relationships, performance in school, and navigating transitions.
Do you assign "homework" between sessions?
I view homework as a great way to practice skills in between sessions. Sometimes I use worksheets to help my patients log their thoughts and feelings, while other homework involves actively practicing social skills. This allows my patients to take skills and concepts we discuss in session and actively apply them to their everyday life.
How can I prepare for our first session?
I will guide the first session, so don't feel as if you need to formally prepare anything. Many patients do find it helpful to write down a list of their concerns so they remember to bring these up to me during this initial session.
How will I know it's time to end my time in therapy with you or reduce session frequency?
I like to check in regularly with my patients in order to assess their progress towards goals. I also often use symptom ratings to help guide decision-making. As patients work towards their goals and begin to experience a reduction in symptoms, we may reduce the frequency of our appointments.
Visit Jennifer's profile to watch her introductory video, read more about her, and book an initial call!