Jennifer Leupp is a Licensed Clinical Social Worker in Long Beach, CA specializing in addiction, codependency, trauma, and LGBTQ topics.  Jennifer utilizes a number of evidence-based modalities in sessions with clients, including CBT and DBT. As a certified yoga instructor, Jennifer also often incorporates yoga and mindfulness practices into sessions to help clients find inner peace, develop resilience, and foster a more relaxed mind.
We asked Jennifer more about her work with clients and her guiding philosophies on therapy.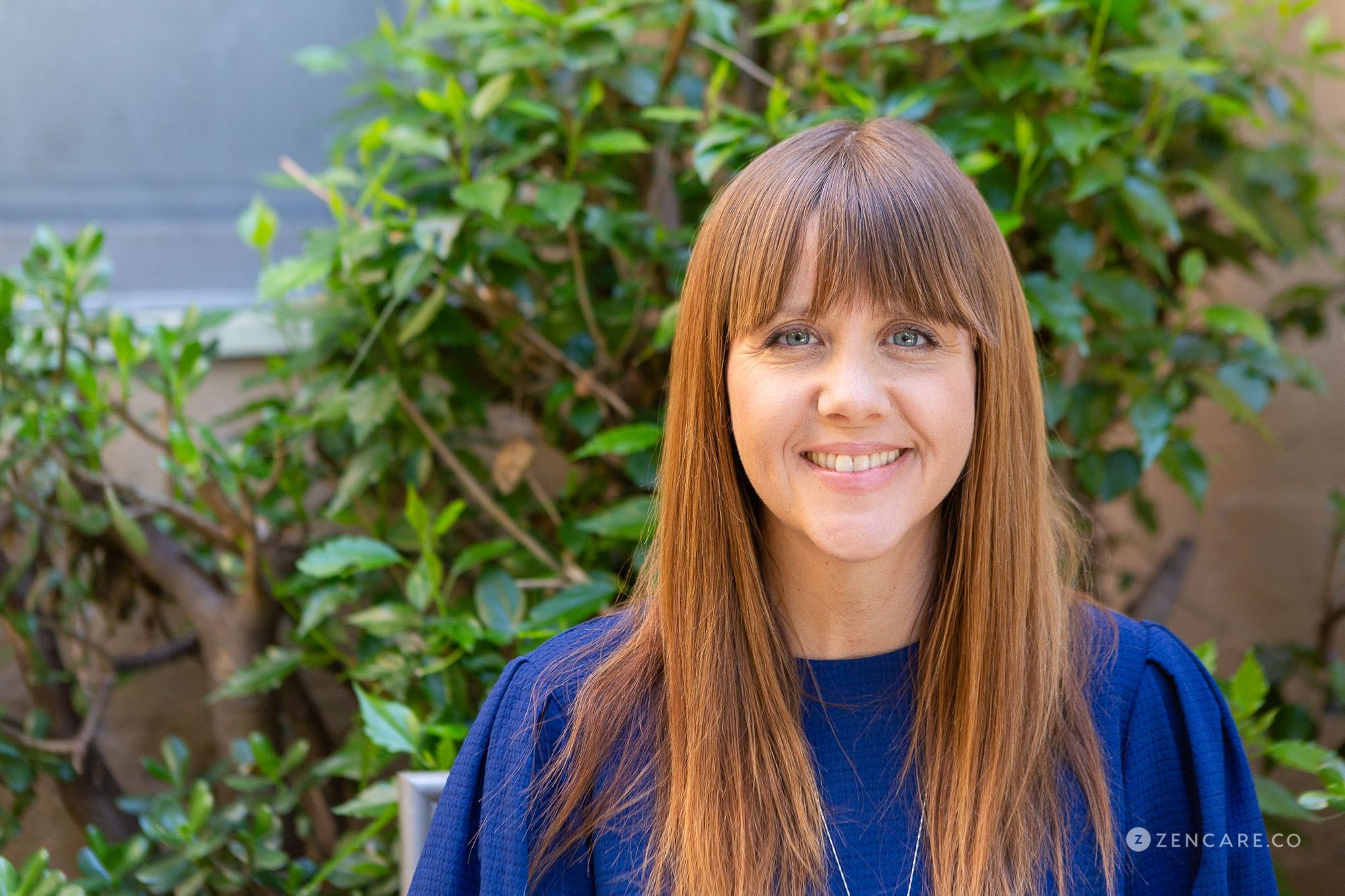 Jennifer's background and personal life
How did you decide to become a therapist?
I've thought of being a mental health professional since I was a young adult. I have often been the helper type amongst my friends. It has felt good to be a grounding presence for loved ones. I was teaching and realized I wanted to work one-on-one with people, so I thought about becoming a school counselor. A co-worker suggested I get a Masters in Social Work because I would have more options, so I did!
I felt at home in my Social Work program because it was very social justice oriented with a focus on Critical Race Theory. I interned at a City College in my first year and loved being a counselor! I can't imagine doing anything else now. It feels so good to support clients in their healing journeys and empower them to set boundaries, express feelings or needs, and be assertive.
What was your previous work before going into private practice?
I worked at a mental health agency with children and teens for a little while. Before that I worked at a drug rehab for people with co-occurring disorders (mental health and substance abuse diagnoses) for a longer while. Working at the Drug Rehab really prepared me to help people that struggle with substance use in my private practice.
What do you enjoy doing in your free time?
I enjoy doing yoga, hiking, singing, and chatting with friends. :)
Jennifer's specialties and therapy philosophies
What guiding principles inform your work?
I value a holistic approach to therapy, incorporating mindfulness practices, discussing how environment and culture can impact our mental health, as well as nutrition and movement.
What clientele do you work with most frequently?
I love working with women and non-binary folks in their 20s and 30s who struggle with codependency. I enjoy empowering them to trust themselves and find freedom from guilt, anxiety, and shame.
Can you tell us more about your specialty in helping clients with codependency?
Codependency is a common phenomenon among women and among some non-binary folks and men as well. Many of us have people pleasing tendencies and find it hard to express our feelings and needs. A lot of us get focused on trying to help or fix loved ones and end up putting aside our own needs in the meantime.
I help clients heal from codependency by identifying it, educating them about it, and suggesting literature or videos they can check out about the subject. If a client is open to it, I lead them in guided meditations during sessions. Becoming mindful of where we feel our feelings in our body can also be helpful in assisting clients through recovery.
Can you tell us more about your specialty in helping clients recover from addiction?
People of all ages and genders struggle with a variety of addiction issues. Common challenges among those experiencing addiction are relapse, difficulty with setting boundaries, and dealing with unhealed trauma. Often times people will use alcohol, drugs, or other compulsive behaviors in order to avoid the difficult emotions they are having due to not setting boundaries with people.
I help clients that are struggling with addiction learn how to set boundaries by helping them to identify the issue and educating them about how to address it. We brainstorm scripts that we can use with loved ones and co-workers to set boundaries.
Can you tell us more about your work with clients navigating past trauma?
Unhealed trauma often manifests as anxiety, depression, and/or addiction. People that have experienced distressing events often avoid certain situations, have nightmares or flashbacks, find themselves being hypervigilant, or experience mood changes. I use a technique developed by Dr. John Smith called A.C.E.S. (Accelerated Cognitive and Emotional Solutions) which has been proven time and time again to alleviate PTSD symptoms on the same day of treatment. It feels so good to be able to provide some relief for my clients.
What do you find most rewarding about your work?
It feels so good to laugh with clients!! And to hear that they are feeling better and making decisions for themselves that align with their values.
Therapy sessions with Jennifer
What will our first session together be like? What happens in ongoing sessions?
For our first session, I will ask you to share a bit about what has been going on, as well as some things about your history, your family, and your goals. From there, I will invite you to share about what has been going on for you between sessions as well as delve into any past experiences that you would like to process.
Are there any books you often recommend to clients?
Hmm...so many! Codependent No More by Melody Beattie is a great one... The Artist's Way by Julia Cameron is good for people that are having creative blockages. Adult Children of Emotionally Immature Parents by Lindsay Gibson is another book I often recommend.
Do you assign "homework" between sessions?
I often suggest books and videos to clients and sometimes will send them a worksheet that they can review and complete if they want to.
How do you help ensure I'm making progress in therapy?
I check in with clients regularly to see how therapy is feeling for them and where they feel that they are in terms of reaching their goals.
How do I know that it's time to start seeking therapy?
It may be time to seek therapy if you are struggling with relationships, substance use, anxiety, depression, or difficult memories and the things that you normally do to help yourself are not helping.
How can I prepare for our first session?
Call from a place where you feel safe. No need to bring anything. Try to get a good night's sleep and eat a nice meal beforehand.
How will I know it's time to end my time in therapy with you or reduce session frequency?
If you are feeling better and feeling like you don't need weekly support, feel free to let me know. I often check-in with clients about where they feel like they are in terms of progress.
Why should I seek therapy, rather than turning to my partner, friends, or other loved ones?
Therapy is you time! You don't have to worry about how much you are talking or whether you are giving back because it's all for you! Having an impartial ear to talk to can be invaluable.
What advice would you share with therapy seekers?
You may want to do a consult with a couple therapists before you start or you may just know from their website, profile, or social media that they have the vibe you are looking for!
Visit Jennifer's profile to watch her introductory video, read more about her, and book an initial call!