Jackie Tassiello is a Licensed Creative Arts Therapist in New York specializing in anxiety, grief and loss, and difficult behaviors/emotions. We asked Jackie more about her work with clients and her guiding philosophies on therapy.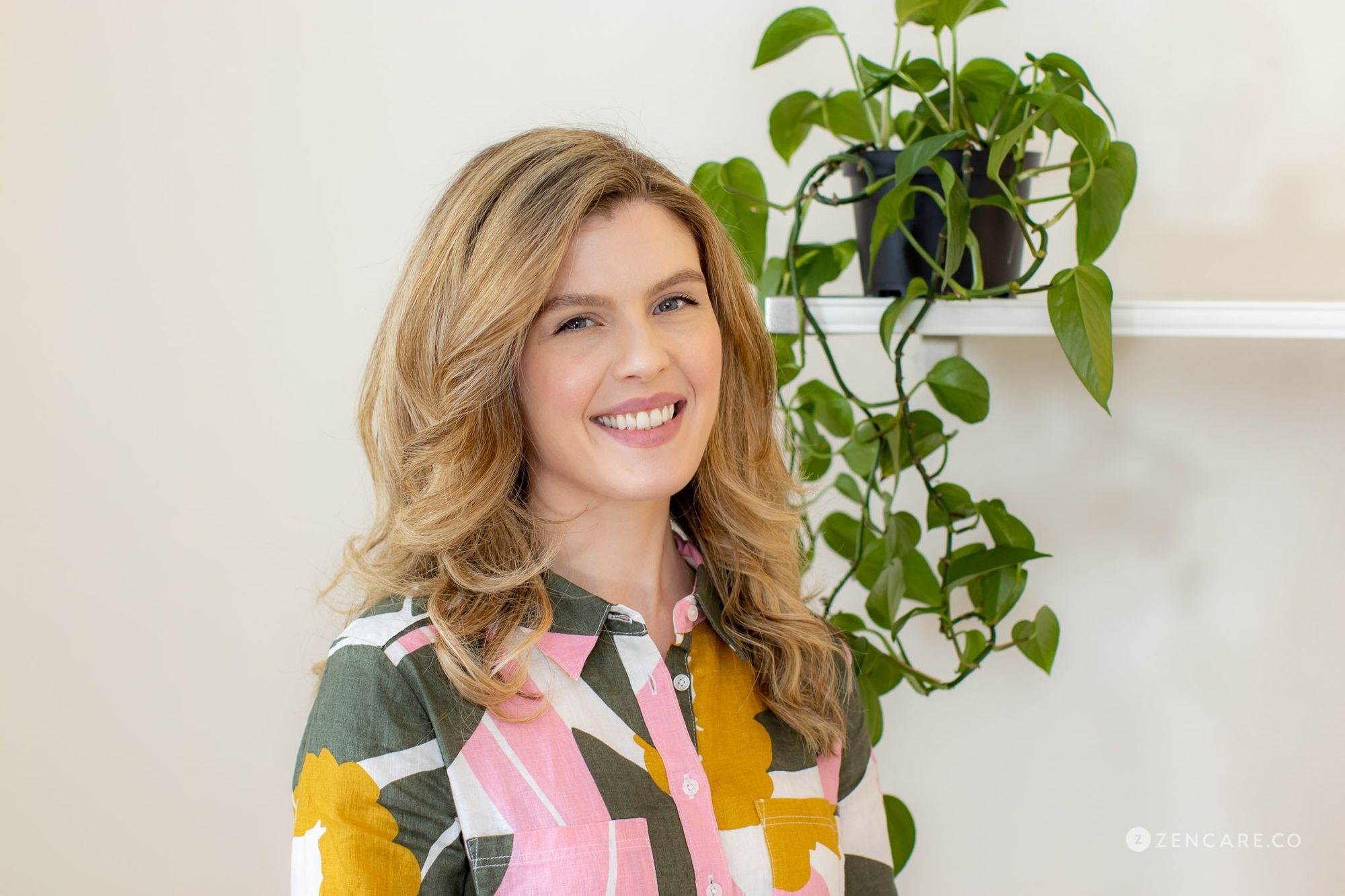 Jackie's background and personal life
How did you decide to become a therapist?
Growing up, I used artmaking as a way to express my feelings and experiences. I had a sibling who had a condition that required frequent hospitalization, so I developed certain skills around listening, observing, and empathizing from a young age. Art accepted happiness and grief equally. In college, I had just about as many credits in Psychology as I did in various fine art and art history classes. I had been volunteering in the foster care system and witnessed two sisters who used art to process their feelings; something sacred and therapeutic was happening.
One day, I searched "art + psychology" in an effort to find a career in Psychology that was also creative. I couldn't believe art therapy existed. My business name (Art Therapy Source) is a tribute to "Art Therapy Sourcebook" by Cathy Malchioidi, the first art therapy book I read when I wanted to learn more. I will never forget the excitement and passion I felt when I was reading it, knowing that I had found my dream career.
What was your previous work before going into private practice?
Before opening Art Therapy Source, I worked as a therapist within various hospital settings in NYC and NJ. My most recent position was at NewYork-Presbyterian/Weill Cornell, providing art therapy to children, teens, and young adults with cancer and blood disorders. During the pandemic, I became an essential worker, providing emotional and psychological support to frontline medical staff.
The level of grief and trauma of that time period is still difficult to grasp. I saw my community suffering in so many ways and knew that the long-term impacts were going to be significant. I felt pulled to bring my expertise and training closer to home, where I could focus my skillset on healing and supporting my community.
What do you enjoy doing in your free time?
I love spending time outdoors, from walking with my dogs to hiking in a new place, nature is a big source of joy for me. Traveling a few times a year and planning trips always helps me open my mind and feel creative and connected. I also spend a lot of time with loved ones - I'm so lucky to have an exceptional group of family and friends in my life - we put a lot of fun and effort into our gatherings. I love art, in all of its forms. I journal, blog, and just finished the Artist's Way. Playing board games, video games, and reading are also up there!
Jackie's specialties and therapy philosophies
What clientele do you work with most frequently?
I work with all ages using art therapy. I work with many children and teens, as creative self-expression often feels so much more natural for youth in therapy. With adults, I often work women who identify as caregivers, empaths, high achievers, and highly sensitive individuals who are struggling with overwhelming emotions, careers, and/or relationships and want to foster the mind-body connection.
The majority of my clients struggle with anxiety, so art is a really helpful way to foster a sense of calm, focus, and release of energy. When we make art, it's like slowly piecing together a story. Over time, we can begin to see patterns and themes through the visual narrative that gets created. All of my clients have shared with me at some point how calming and insightful the process feels.
Can you tell us more about your specialty in anxiety?
When we think of anxiety, we tend to think of nervousness or worry. Anxiety absolutely shows up this way, but it can also look like somatic manifestations (headaches, pain), aggression, anger, tantrums, regression, or difficult behaviors such as defiance or avoidance. Anxiety can be difficult to understand for this reason, because not everyone can identify the emotion under their behavior. Sometimes, anxiety emerges from seemingly nowhere, and all of a sudden, a person might develop a specific fear or experience panic attacks but doesn't know why.
With the pandemic, I'm seeing a lot of people coming in with high anxiety and who are holding so much inside. I work with my clients on getting in touch with what's happening in their bodies and using creative self-expression to help externalize those internal feelings. When we can see part of what we're experiencing, we have control over it; we can see it and talk about it.
Can you tell us more about your work with clients navigating grief or loss?
Often, I meet clients who come in and initially feel that they want to discuss their anxiety or build self-awareness around their family dynamics, and we find over time that what we're really working on is processing grief. I've noticed that a lot of individuals share with me that they feel high pressure at work or in school, but it's as though they can't move at a faster pace or they feel burned out. Grief stays with us, in our bodies, and we've been in a time of so much loss and crisis that we're all still processing.
Art therapy addresses grief and loss through the unique way that our brain stores those experiences and feelings. Grief is such a full-body experience. A lot of people don't understand that grief is exhausting physically, emotionally, and mentally. We can experience everything from having trouble focusing in our daily life, to extreme fatigue, to actual, physical pain.
Can you tell us about your specialty in difficult behaviors/emotions?
New behaviors can be adaptive or maladaptive; starting a mindfulness meditation practice can be a new behavior in response to stress, the same way that high reactivity and explosiveness can be. For younger children and teens especially, they may struggle with self-regulation and executive functioning because they need tools and skills to cope effectively. Change is always stressful - even positive change.
Emotions can feel overwhelming for people of all ages, at all different life stages, and it can be truly difficult to feel like you can't cope with your anger, sadness, fear, and worry. Utilizing creative materials and modalities to explore your emotions can increase self-awareness and decrease, over time, those behaviors (which are really just maladaptive coping mechanisms).
Therapy sessions with Jackie
What will our first session together be like? What happens in ongoing sessions?
Our first session involves a lot of questions and information sharing. We'll go over your biological, psychological, and social history and important aspects of our work together, such as confidentiality, communication preferences, and practice policies. Ongoing sessions vary in art therapy. Some clients benefit from a more structured approach in terms of materials and prompts. Others will benefit from an open studio, or more open-ended approach, where they can freely select what they'd like to work with.
How long do clients typically see you for?
Each person comes to therapy with different needs and goals. My approach is that I typically work on a long-term basis with my clients. This ranges from several months to a few years and really depends on a lot of factors. While it's not possible for me to predict someone's progress in therapy, I can usually get a sense of what the work might look like after a few weeks.
Do you assign "homework" between sessions?
Sometimes, my clients benefit from keeping a visual journal between sessions. This helps us track moods and behaviors, and identify triggers or patterns outside of our sessions. It also acts as a coping tool for many clients who have big emotions - journaling helps move the energy and contain it. A lot of clients also enjoy exploring their dreams which is always welcome. For younger children, I might suggest a rewards chart or a book they can benefit from reading.
How do you help ensure I'm making progress in therapy?
Progress is assessed by a number of factors, and one really great thing about art therapy is that the art acts as a visual timeline. At various points in time, my clients and I will explore their artwork and things we've talked about together. This allows us to notice shifts and changes and any themes that have come up over time. Stepping back from the work at regular intervals allows for discussion of progress and next steps.
How do I know that it's time to start seeking therapy?
If you have been through anything that has impacted you, whether recent or a long time ago, it's never too late or early to begin. Usually, clients sense that something is different, whether it's their thoughts, feelings, or behaviors. With the pandemic, many of my clients are sharing feeling more easily fatigued than in the past, a sense of grief/sadness, or burnout symptoms.
Visit Jackie's profile to watch her introductory video, read more about her, and book an initial call!