Heidi Behr is a Licensed Clinical Social Worker in Florida specializing in anxiety, couples counseling, and grief & loss. We asked Heidi more about her work with clients and her guiding philosophies on therapy.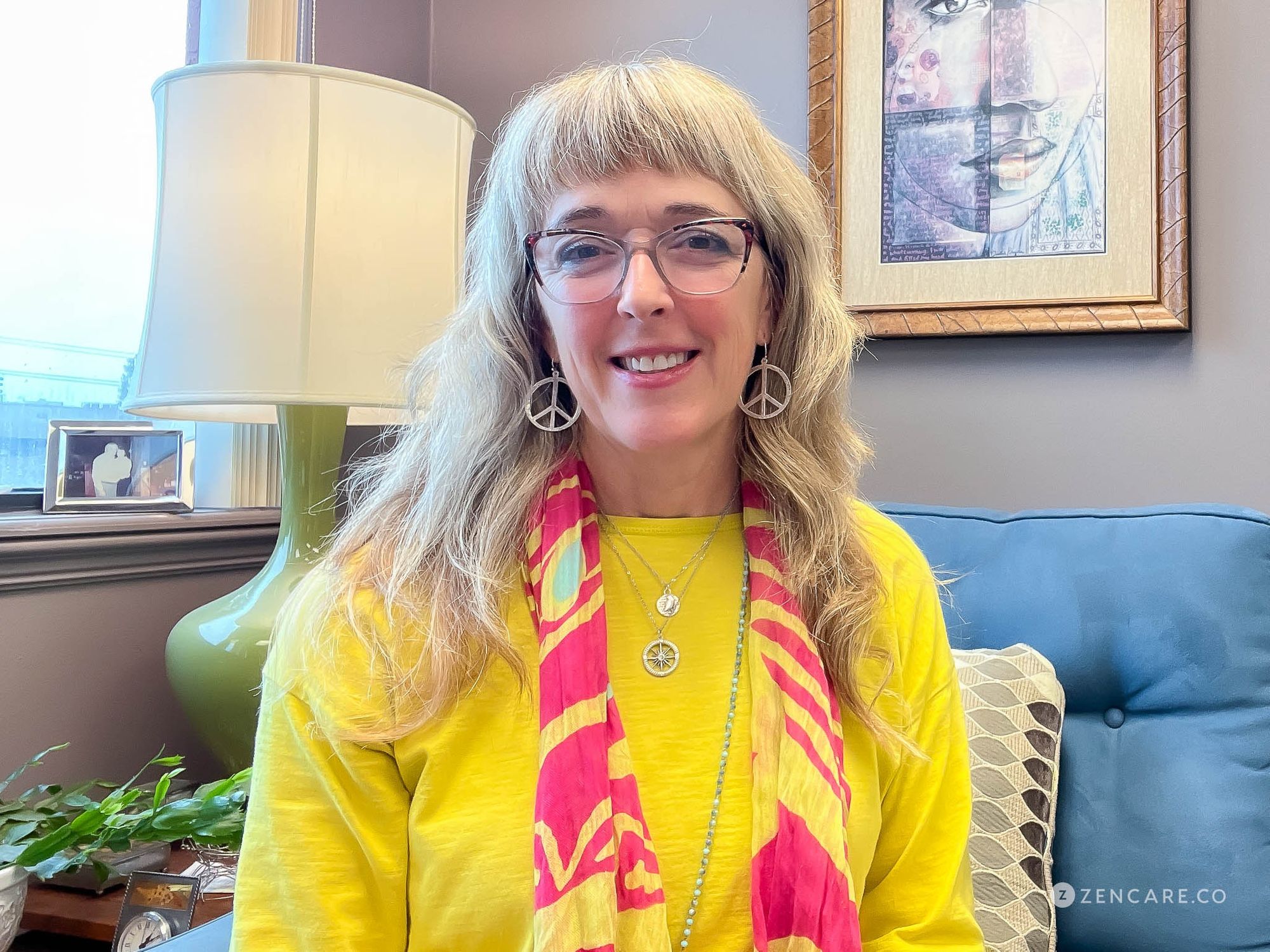 Heidi's background and personal life
How did you decide to become a therapist?
My last year of college I took a class, "The Sociology of Mental Health and Illness" and I was HOOKED. Then after college, I pursued becoming a substance abuse counselor, because that was the one field that recognized the importance of a spiritual life to ones' well-being.
What was your previous work before going into private practice?
I have worked in schools, out-patient mental health and substance abuse clinics, and hospitals (Brigham and Women's, Boston VA Medical Center, Florida Hospital) prior to working in private practice. Those varied settings and experiences, along with continued education trainings, have helped me be the clinician I am today.
What do you enjoy doing in your free time?
I started pursuing art about 11 years ago. I love to be in my art studio, making mixed media pieces. I've even had a few solo shows! This past year I also started teaching art and well-being workshops, which is super fun! I'm also an avid yogi, practicing for over 22 years. So in free time I might be taking a yoga class in the morning, making art in the afternoon, then later having a date with my husband, who is a total foodie like me. My best days are when I am outside in nature, which is also my favorite church.
Heidi's specialties and therapy philosophies
What guiding principles inform your work?
I know each of us has well-being within us. I also know that circumstances effect each person differently, and that traumas (big and small) impact us, and everyone deserves the chance for healing. The mind-body-spirit connection is real. What hurts your heart might show up in your body... I've learned how to help you heal what hurts. I offer a non-judgmental space. I'm an advocate for marginalized communities and believe spirituality is part of your health and well-being.
What clientele do you work with most frequently?
I love working with women who are ready to deepen their care of themselves so they can show up in their lives more wholly. I love working with college-age folks, because this population is so open to growth and learning. I also love working with women ages 30-60 who are ready to heal anxiety, fears, or grief so they can live more fully with what brings them joy. I am a cisgender straight woman who is also a huge advocate for the LGBTQIA+ community. My office is a safe place for you.
Can you tell us more about your specialty in anxiety?
Anxiety can come from many things, so I do a thorough assessment of what's happening in your life now. I want to totally understand you AND understand your history, your beliefs about life and what what's important to you now. I have specialized training to help you relieve anxiety and heal what's under it, so you feel better, often times sooner than you would expect.
Can you tell us more about your work with couples?
There's nothing more important in our lives than our health and our relationships. Even if you are sick, you have a better chance of healing if you have connected loving relationships. So I've taken advanced training in couples therapy for the last dozen years. I keep up with training. This makes me a better clinician to help you. Helping couples resolve old hurts and betrayals like affairs is totally possible, if both parties want to heal their relationship.
Can you tell us about your specialty in grief & loss?
Many people think that you will always suffer after a grief and loss experience, and many people don't going to counseling, thinking they just have to tough it out. That is so sad, and unnecessary. You have the ability to heal from ANYTHING. Getting support and help makes a difference. I have training in helping folks heal from all kinds of trauma. I combine different techniques to help your heart hurt less, heal sooner.
What do you find most rewarding about your work?
I love seeing people heal. I love it when clients are truly living their joy. This happens regularly with my clients. It's fantastic!
Therapy sessions with Heidi
What will our first session together be like? What happens in ongoing sessions?
When we first meet, it might be in person or over zoom. In that first session I will review the paperwork you filled out, and answer any and all questions you have. Your needs and desires for healing matter to me. I will ask you questions and give you plenty of time to talk. Many clients report feeling better in the 1st session due to my skill level and care. I know it's not easy meeting a new therapist, and I strive to make your experience good.
How long do clients typically see you for?
I typically see clients for a few months, sometimes 6-8 weeks, but with a client with complex trauma or relationship issues they might come in for 3-4 months.
Are there any books you often recommend to clients?
My top recommended/fav books include:
Do you assign "homework" between sessions?
I don't assign homework, but if you are curious to learn about ways to help yourself, I have loads of resources I can share with you, specific to your situation and desires.
How do you help ensure I'm making progress in therapy?
We'll review your goals for therapy regularly when we meet. This helps us stay on track for what you are wanting.
How do I know that it's time to start seeking therapy?
When you are living with emotional pain that isn't resolving, when anxiety/grief/trauma are intrusive in your life, when you need help talking to your partner, these are times to seek therapy. If you can't sleep, having ruminating thoughts, life with memories that distress you, this is also a time to seek professional help.
How can I prepare for our first session?
Before our 1st session, you'll fill out my paperwork. If you come see me in person, you'll bring it with you. If we meet over telehealth, you'll email the forms back to me. If you're seeking resources before our 1st meeting we can chat over the phone and I can suggest books, podcasts, or guided meditations that can help support your goals.
How will I know it's time to end my time in therapy with you or reduce session frequency?
When you are feeling much steadier each week and are reaching your goals, you'll know you are ready to change the frequency of sessions. I have a keen sense when someone is ready to reduce their sessions with me,or "graduate" and it often coincides with your inner knowing-- it happens so often. I would probably say, "Are you wanting to book longer in between sessions?" or "how are you feeling-- do you want to keep coming in regularly?" One thing is for sure, I do not pressure you to come in or stay in therapy -- your attendance is up to you.
Why should I seek therapy, rather than turning to my partner, friends, or other loved ones?
Licensed therapists like me are trained to help clients navigate emotional challenges and offer objective advice. We don't take things personally or get our feelings hurt like a loved one or friend might. We are trained to have good boundaries and that helps too. You might have friends who love and care for you, but they might not have the skills you need to help you resolve what is bothering you.
What advice would you share with therapy seekers?
Therapy is for everyone. Everyone deserves a place of safety and respect to talk about what is on their hearts. If you are curious to try therapy, or try a new therapist, you can call to ask me anything. Free consultations help many people figure out if now is a good time to seek help. Even attending one session could be positively life changing. Feel free to call me today.
Visit Heidi's profile to watch her introductory video, read more about her, and book an initial call!