Gina Macdonald is a Licensed Professional Counselor in Branford, CT who specializes in eating disorders and body image issues. She is a Certified Eating Disorder Specialist (CEDS) and utilizes Cognitive Behavioral Therapy (CBT), Dialectical Behavior Therapy (DBT), and art/expressive therapies in her work with clients. Gina also uses her experience as a yoga teacher to bring mindfulness and body awareness into sessions with clients who may feel disconnected from their bodies.
We asked Gina about her work with clients and her guiding philosophies on therapy.
Gina's background and personal life
How did you decide to become a therapist?
My ballet teacher inspired me to work with physically challenged adolescents and adults, just as she did. I wrote and received a grant with another dancer and percussionist to work in hospitals and rehab settings for 2 years. That inspired me to go to graduate school for dance/movement therapy and expressive art therapy.
Following graduate school, I worked with traumatic brain injury survivors. I then landed in a psych hospital setting, where I was asked to work on an eating disorder unit and addiction recovery unit using creative/expressive art therapies. I continued working to become licensed as a professional counselor which allowed me to combine psychotherapy and body image training in other hospital and treatment centers (treating eating disorders and body image disturbances). Now, I am a Certified Eating Disorder Specialist (CEDS) and a supervisor through the International Association of Eating Disorder Professionals.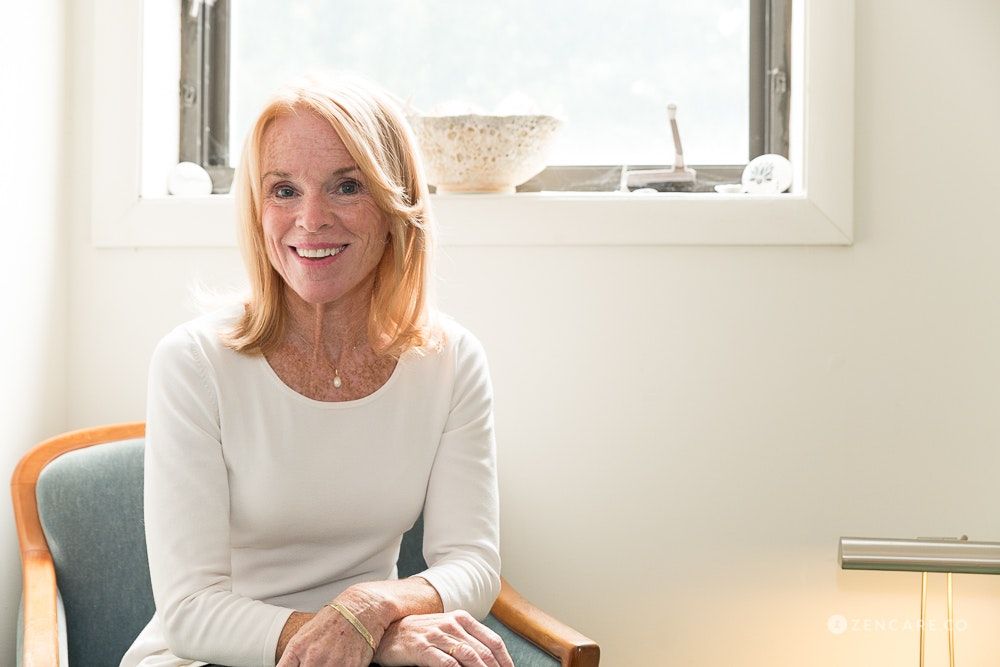 What was your previous work before going into private practice?
I worked in two hospitals and two eating disorder treatment programs for 15 years before opening my private practice.
What do you enjoy doing in your free time?
I teach yoga and take ballet classes on Saturday mornings for fun! Throughout the summertime, my husband and I sail around the Thimble Islands.
Gina's specialties and therapy philosophies
What guiding principles inform your work?
Self care is not properly taught in our society, especially with the many ways of competing, comparing, and evaluating one's appearance and body. It is difficult to navigate the pressures of social network's beauty emphasis. Balancing our concerns with inner self care and outer self care can require a new, more compassionate way to pay attention to both.
I offer a safe place to discover how to balance this inner and outer self care. Reviewing my body image questionnaire so as to locate what contributes to one's dissatisfaction and distortion will help lessen the struggle with poor body image. Some clients who come to me may find the need to examine their coping skills and replace negative styles with new ones.
I offer my book "Mind Your Own Body: A Body Image Handbook" to clients who wish to better understand the complexities of body image and it's impact on food and eating habits.
What clientele do you work with most frequently?
I work with males and females 14-65 years of age. I offer individual assessments and sessions as well as groups for high school age girls, college age females and women.
High school age is tough. For those who have difficulty talking about their emotions, I offer a chance to do use creative art therapy techniques. In addition, role-play techniques and movement therapy work wonders to practice boundary-setting in my Women's Therapy Group. These sessions are powerful and prepare women to face challenges and move toward the happiness they deserve. Over the 25 years of working in this field, I have collected numerous techniques to work verbally or go beyond the cognitive realm to help clients.
Can you tell us more about your specialty in eating disorders?
I provide a full mental health assessment, eating assessment, and body image assessment before assuming any diagnosis. The diagnosis may change into another type or behavior, as letting go of one habit that helps one manage and cope is tricky.
There is a lot of suffering and deeper pain going on inside under the symptoms. My approach is to befriend the maladaptive coping behavior (or symptom) and recognize it as an attempt to cope. Together, we attempt to lessen the need for the behavior. This requires compassion toward oneself, which is acquired through the practice of being non-judgmental.
Can you tell us more about your work with clients with body image disturbances?
Body Image is my specialty within the field of treating eating disorders. This multi-level psychological experience starts at birth and develops throughout our lifetime. It creates an image of how we see and experience ourselves and can strongly influence our quality of life and success. Our society gives confusing messages that tell us to change our bodies to make them look better.
The truth I teach is that we must change our attitudes toward ourselves if we wish to change how we feel about our bodies. Only then will one be able to experience their goodness and loveliness.
Can you tell us more about your specialty in emotion regulation?
When we are regulated emotionally and eat and sleep regularly, we feel good! This sounds so simple, yet it requires a fair amount of kindness and compassion toward oneself as we need to pay attention and honor our cues for hunger and fullness as well as our cues for emotional support and sleep. We must rest and replenish our body, mind, and spirit!
What do you find most rewarding about your work?
I love receiving a holiday card from past clients who are now teachers, lawyers, doctors, and/or moms, especially when they tell me they are using the same strategies we practiced to deal with their present life challenges.
Therapy sessions with Gina
What will our first session together be like? What happens in ongoing sessions?
I like to ask if you have any questions for me before we begin. Then I explain my practice treating eating disorder and body image struggles. I share my past experience and recovery from an eating disorder back before the term "eating disorder" existed in the 70's. I ask if you would like an assessment for food and disordered eating or an assessment for body image dissatisfaction.
We cover a lot in the assessment as people usually are well aware of what they want to see happen. I just have to listen and ask for details. No one has to share anything they do not wish to and they can say 'NO' if they don't feel comfortable answering. I stress this throughout the assessment. I will respect you for not wanting to share something (such as your weight) if you are not comfortable doing so.
After the assessment, I use a large graph I created. It is a diagram of an eating disorder. We discuss where you have been on your journey and where you are presently in the diagram. This helps us see if we have a similar understanding of how you experience your life in relation to your eating disorder. We identify where you are and where you wish to be.
How can I prepare for our first session?
No worries... just show up!
How long do clients typically see you for?
The average is 6 months to 5 years. Clients usually go from 1x week for 6 months to 1x bi-monthly to 1x month to "good-bye!" I also sometimes have clients come back from college in the summertime for a few sessions.
Groups usually run for 8 weeks. However, many individuals may repeat the group series or return to individual sessions if the group ends. It depends on what you need at that time.
Are there any books you often recommend to clients?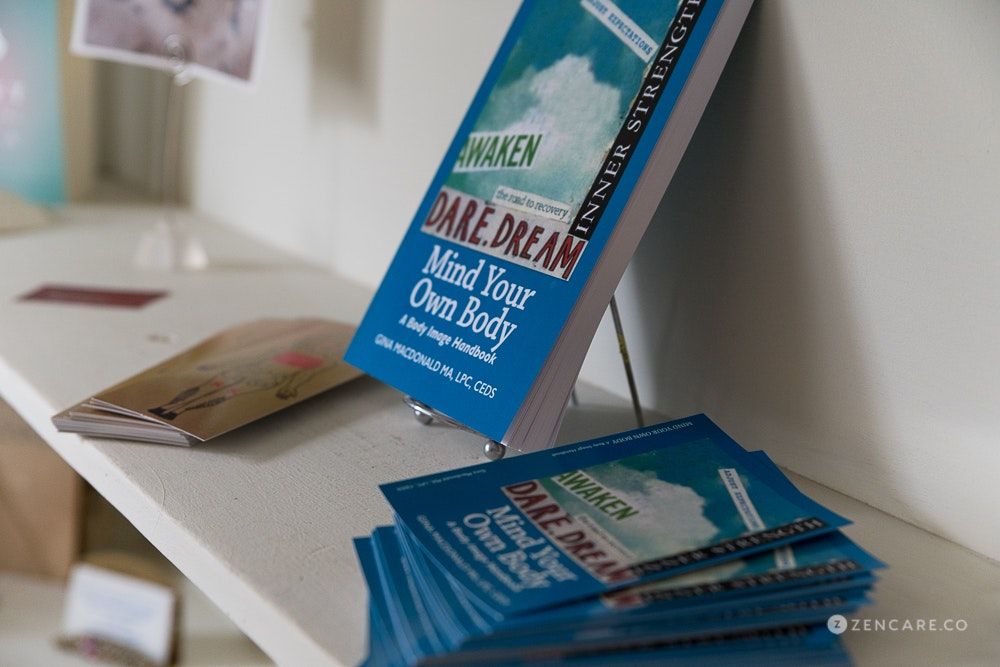 Do you assign "homework" between sessions?
I do provide handouts of psycho-educational articles, body image info, self-care info, and ways to document any struggles during the week. I also stress listening to any compliments that come your way. I am looking to see if you can practice in-between the sessions to incorporate the ideas we have discussed.
How do you help ensure I'm making progress in therapy?
As clients make progress, they use sessions to clarify any confusing feelings or challenges that arise during the week. I also look to see if clients can begin to develop an inner sense of self, rather than rely upon judgements or social media. I will also work with your nutritionist and/or doctor if you wish, using a written "release" to obtain permission to speak to them. Numbers are not important to me, other than knowing my clients are working toward a strong physical self and weight.
If there is a dependency on mirrors, we do "mirror/perception work" in the session. If relationships are impacting you with added stress, we might try boundary tasks or role playing.
How do I know that it's time to start seeking therapy?
If you are leaving your friends behind and always alone, if you are suffering from any worry or strong emotions, if you are beginning to spiral into symptom usage, if you focus on external ways to control and manage your life (e.g. scale usage, mirror usage, social networking comparisons, etc.) then it is time to start seeking therapy!
How will I know it's time to end my time in therapy with you or reduce session frequency?
This varies depending on the need for my support. It is up to you.
Why should I seek therapy, rather than turning to my partner, friends, or other loved ones?
It is helpful to have friends and family to help with your situation. They can be a support that helps propel you forward.
However, it is still helpful to reach out to find a therapist who will direct you toward recovery. Find an experienced eating disorder therapist, such as myself or someone who is a Certified Eating Disorder Specialist (CEDS). Do not be fooled by clinicians who state they have training, but have no credentials to show they are certified.
What advice would you share with therapy seekers?
You are worth it! Think of this as another chapter in the book of your life. You will look back on it in awe of yourself!