Eric Fraser is a Licensed Creative Arts Therapist (LCAT) and Board-Certified music therapist in the Columbia County region of upstate New York. Eric works with individuals and couples across the lifespan, many of whom seek his support on topics relating to anxiety, attachment, trauma, and relationship-related challenges.
Eric is also passionate about providing music therapy to children on the autism spectrum, as well as older adults suffering from dementia or chronic illness. In addition to his creative arts therapy specialty, Eric blends somatic, attachment-based, and mindfulness-based approaches into his work with clients—focusing on helping clients both move past the things that make them feel "stuck" while also healing past emotional wounds.
We asked Eric more about his work with clients and his guiding philosophies on therapy.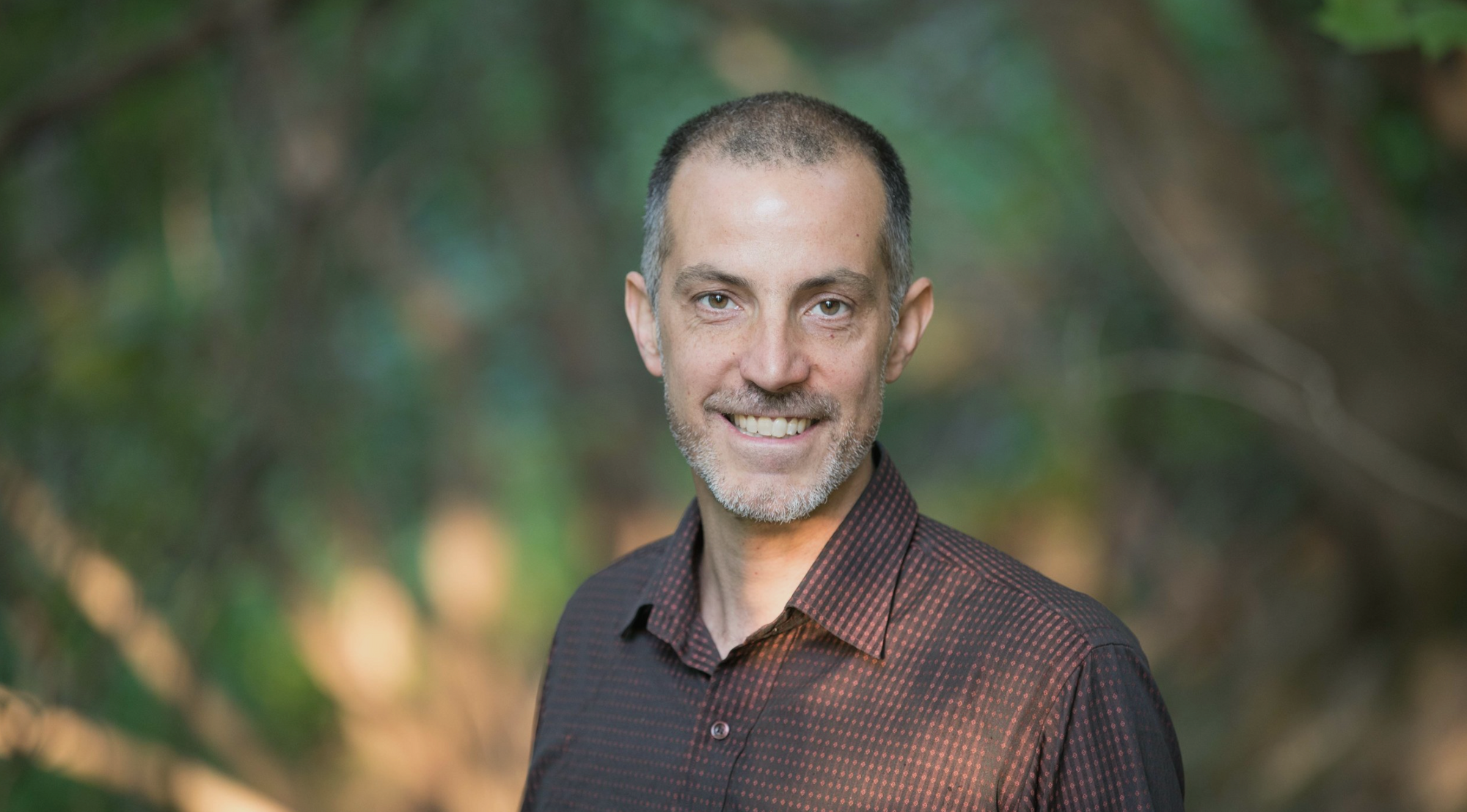 Eric's background and personal life
How did you decide to become a therapist?
I was always told by friends that I "know how to listen," and I believe I have an innate skill for listening deeply and being fully present with people. I began my journey to being a therapist by merging my love of music with therapy work. I became a music therapist first and then worked hard to become a Licensed Creative Arts Therapist. I have been inspired to bring trauma and attachment work into my practice through both verbal and creative arts methods.
Like so many therapists, I had to heal my own wounds along the way (and still continue to heal!). To me, emotional healing is among the most important and most challenging call to action in a person's life. I am deeply humbled and inspired by those who get on the healing path, and I strive to serve that process with humility and grace.
What was your previous work before going into private practice?
I have been a music therapist in the foster care system since 2009.
What do you enjoy doing in your free time?
I enjoy playing music, playing with my two children, going for hikes, swimming, meditating, and being wild and free!
Eric's specialties and therapy philosophies
What guiding principles inform your work?
Developing somatic awareness (awareness of how the emotions arise in the here and now) is a powerful tool to enact change and healing. Developing our awareness of ourselves as we are in the here and now helps to make sense of our story. It is also the best way to change the story going forward. Together with somatic awareness, authentic emotional expression can lead to change and healing. I work with people to understand themselves in the here and now and to find the voice within that is yearning to speak.
What clientele do you work with most frequently?
I truly feel comfortable working with people from all ages and backgrounds. I have worked with people of all ages, as well as with people from a diversity of racial backgrounds, sexual orientations, and gender orientations.
Can you tell us more about your unique therapeutic approaches?
I am certified in an approach that combines Somatic Experiencing and Attachment Theory. This approach is known as Dynamic Attachment Re-patterning experience (DARe). This is a highly effective approach for working with people on relational issues, self-esteem, self-concept, anxiety, trauma, and more.
Can you tell us more about your specialty in working with artists and musicians?
I am also a musician, and I have very relevant lived experiences to the emotional and relational issues that artists and musicians face.
What do you find most rewarding about your work?
Helping people on their healing journey. Period.
Therapy sessions with Eric
What will our first session together be like? What happens in ongoing sessions?
In our first session, we will cover important history: What was it like growing up? What are your resources (things that help you feel well)? What is your relationship to substances? What are your presenting issues?
Going forward, we will work deeply on the here and now, how your emotions show up in your body, how to understand them, how to liberate your own authenticity, and create strategies together to move forward on the path of healing.
How long do clients typically see you for?
Clients generally come for at least 10 sessions.
Are there any books you often recommend to clients?
I always recommend any book or podcast involving Brené Brown. For trauma and relationships, I recommend the work of Peter Levine and Diane Poole Heller. I also highly recommend the book Healing Developmental Trauma by Lawrence Heller and Aline Lapierre.
Do you assign "homework" between sessions?
Sometimes I ask clients to do journaling, breathing, meditation, or practice new habits (such as abstaining from screen time prior to sleeping and for a short time after waking up).
How do you help ensure I'm making progress in therapy?
I routinely check-in with clients to assess the clients' perspective on their progress and offer my insights into how I perceive the progress that is being made.
How do I know that it's time to start seeking therapy?
If you are struggling emotionally, if you are having a hard time taking care of yourself, if you are having a hard time getting through life, if you are struggling with addiction, anxiety, relationship issues, or any major life issue, it is appropriate to seek therapy.
How can I prepare for our first session?
No need to bring anything except yourself!
How will I know it's time to end my time in therapy with you or reduce session frequency?
We will decide together whether termination is appropriate. If a client decides to terminate, I will always request at least one session for closure, as I firmly believe that closure is an important piece for the integration of therapeutic work.
Why should I seek therapy, rather than turning to my partner, friends, or other loved ones?
When you work with a therapist on your issues, you have the freedom to be totally honest, vulnerable, and transparent with the most amount of privacy. A therapist can provide a special relationship that does not involve any other roles except to be present with and for you and to offer experience and training to help you overcome your challenges.
What advice would you share with therapy seekers?
You are not "messed up." Working on you is the best thing you can do for yourself and your relationships.
Visit Eric's profile to read more about him and contact him for an initial consultation!