Emily Logsdon is a Licensed Master Social Worker in New York City specializing in anxiety, depression, self-esteem, and interpersonal challenges. We asked Emily more about her work with clients and her guiding philosophies on therapy.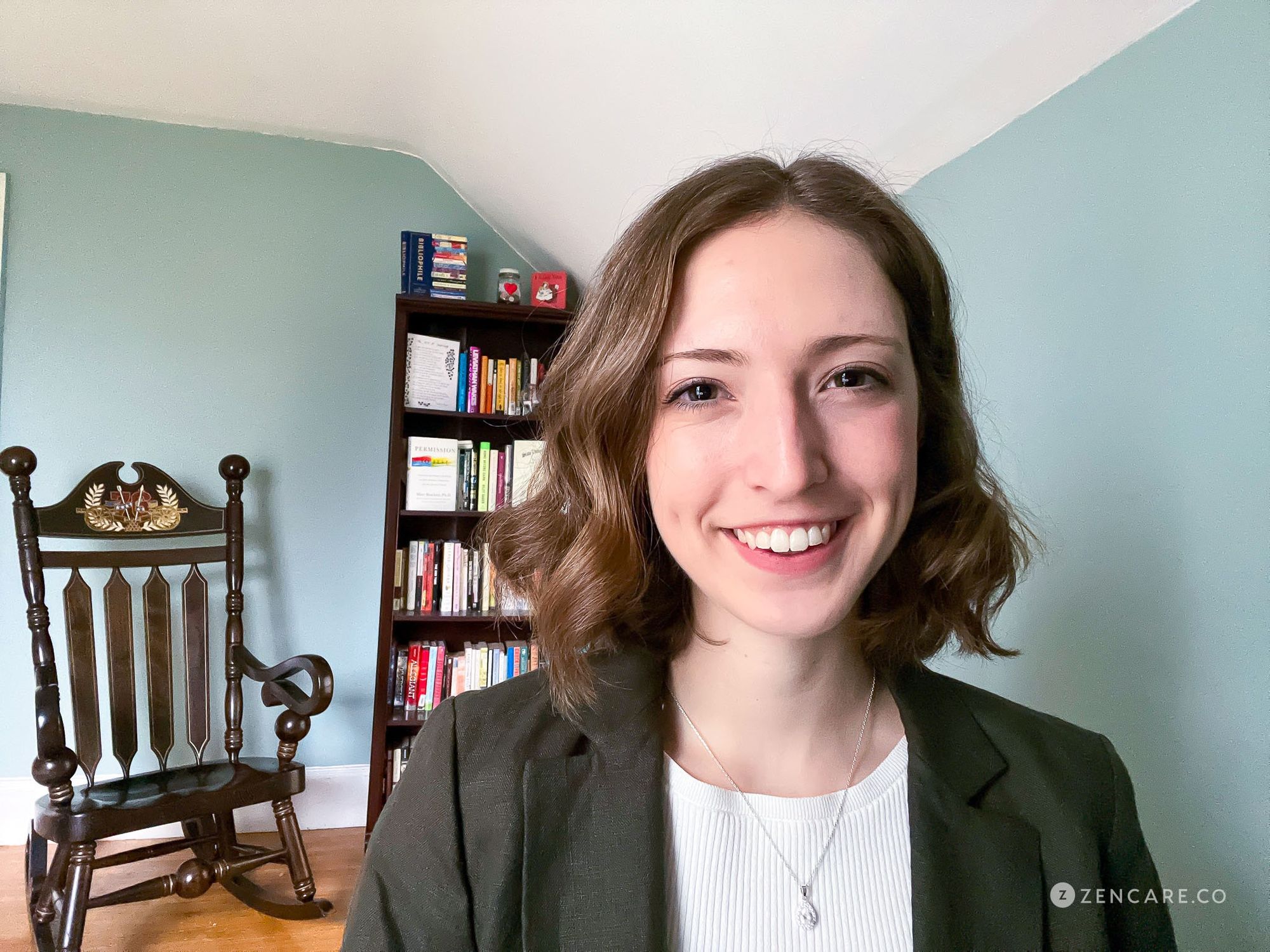 Emily's background and personal life
How did you decide to become a therapist?
Growing up, both of my parents were involved in the mental health field, and I was so proud of the work that they did empowering others to make changes in their lives. I knew from a very young age that I wanted to do the exact same thing and help others live the best lives that they can.
What was your previous work before going into private practice?
Before going into private practice, I worked heavily with families and children in school settings.
What do you enjoy doing in your free time?
In my free time I love reading, snowboarding, and spending time with my fur babies and loved ones.
Emily's specialties and therapy philosophies
What guiding principles inform your work?
One of the main guiding principles that informs my work is the idea that everyone has the power to change circumstances at any point in their lives. In therapy we can work together to compassionately acknowledge problematic thoughts and change the way we feel about ourselves, the world and others.
What clientele do you work with most frequently?
I often work with adults who experience anxiety, family/relationship struggles, poor self-esteem and shame. I love working with clients that experience these struggles because they are so common in our day-to-day lives and these are real things that I understand what it's like, personally.
Can you tell us more about your specialty in working with clients navigating interpersonal struggles?
Getting along with others and even just interacting with others can be so challenging. All of us experience interpersonal struggles at some point in our lives. I often work with clients who harbor irritation and frustration towards people in their lives (i.e., family, friends, coworkers, strangers).
These feelings can be draining, especially when we are hoping that these people will change their behaviors. In therapy I work with these individuals to acknowledge the control we have in our lives and where we may not have any control. Teasing this out can allow us to feel empowered to let these negative and draining feelings go to allow us to advocate for what we need and have relationships that are effective.
Can you tell us more about your work with clients on self-esteem?
We don't often think consciously about the ways we view ourselves. Whether we know it or not, the way we view ourselves impacts a lot of things in our lives from our relationships with others to our ability to navigate the world effectively. Together, we can identify ways of balancing these thoughts about ourselves to mantras that are more compassionate, understanding, and kind. Once we can have acceptance and compassion for who we are and what we stand for, we can begin to have more confidence, better relationships and increased overall well-being.
Can you tell us about your specialty in anxiety?
Anxiety is something that is experienced by every person. It actually is a feeling that keeps us safe from danger and can be highly effective in helping us achieve goals. However, if we have too much anxiety at any given point, it can hinder us in many ways. A lot of the time, we are anxious about things we can't control.
In my work with my clients, we spend time discussing what types of things in life we can control, what we can do to change our situations, and where we can practice acceptance for those things that we cannot control. Understanding this distinction can help us feel more empowered to be active participants in our lives, and allows us to let go of stress and worry over things we do not have power over.
What do you find most rewarding about your work?
The most rewarding part of my work is hearing from clients that they feel that they have met their goals, made big changes in their lives, and feel empowered to take on life's future challenges on their own. It's so nice to know that I have been a part of their journey supporting them to achieve their goals and feel confident in who they are.
Therapy sessions with Emily
What will our first session together be like? What happens in ongoing sessions?
First sessions with me are all about setting the stage to make you feel comfortable, safe, and valued. These first few sessions are used for me to develop understanding of what brought you to therapy, what your goals are, and for us to determine a course of action for us to actively achieve your goals. We will discuss your expectations from me in therapy so that I can be useful to you. First sessions are always low stress and often heavily guided by you. We'll take it slow and get to know each other.
How long do clients typically see you for?
On average I typically see clients for 24 months. This is something that differs from person to person, however. Each client has their own goals and ideas of how they want therapy to go. This is highly individualized and tailored towards your own needs and wants.
Are there any books you often recommend to clients?
I often recommend What Happened to You by Bruce Perry and Oprah Winfrey.
Do you assign "homework" between sessions?
I often find that "homework" between sessions can be extremely valuable. It can sometimes look like short, one-page reading assignments, worksheets to complete, journaling, or even as unstructured as a quick directive that matches with your goals such as "aim to take one 15 minute walk every day after work for one week." These assignments tend to be so important because they reinforce the topics we discuss in therapy and can be generalized to your everyday life.
Just showing up to therapy and participating in the work once a week is commitment in and of itself, but it is not enough to make serious changes in your life. We have to use the tools and skills we learn in therapy outside of sessions to make them applicable to all moments that we may need to use them.
How do you help ensure I'm making progress in therapy?
I closely monitor progress in therapy with my clients by keeping an open line of communication. At the end of each session, I like to save time to discuss how you feel you are doing in therapy, if you feel like we are working on the right goals, and if we need to tweak anything. Another important part of ensuring progress is following a guided treatment plan that we will develop together and can hold us accountable. All-in-all, your perception of your progress is most important to me. You are in the driver seat of everything we do, or don't do, in therapy.
How do I know that it's time to start seeking therapy?
The best time to start seeking therapy is when you feel ready to change the way your life is going, but you're not sure where to start on your own, or when you feel like you need additional support from someone who is objective to do so. Therapy can be extremely beneficial to gain an outsider's perspective on what you're going through, learn new skills and to talk with someone who will not judge you at all.
How can I prepare for our first session?
To prepare for our first session, all you will need is a device that allows you to connect to the internet and a quiet and private space to talk. Physically speaking, that's all you'll need. I do know, however, that it can sometimes be scary meeting with a therapist for the first time. To mentally prepare yourself for a first session with any therapist, it's good to remind yourself that this person is here to serve you--that's their whole job. They won't be there to judge you, just to get to know you.
Another great thing to remember is that all the pressure is on your therapist to make you feel comfortable and guided. You don't have to worry at all about saying anything wrong (or right). There's no wrong way to do a first session as a client.
How will I know it's time to end my time in therapy with you or reduce session frequency?
When it's decided that therapy has been beneficial and less frequent sessions or complete termination is required, we will do this together and talk about comfortability with this decision. Most of my clients opt to do a slow transition, where we start therapy weekly, then move to biweekly, then monthly and then plan for a termination date when they feel comfortable. This is always a collaborative process between the two of us. Termination/lessened frequency is something that we often will begin talking about once major progress has been made and will be a slow transition. For example, if we decide to move to biweekly sessions, but that feels too infrequent after trying it for a month, we may decide together that moving back to weekly at this point is the best option. We will constantly evaluate this to make you feel the most comfortable.
Why should I seek therapy, rather than turning to my partner, friends, or other loved ones?
The therapeutic relationship is unlike any other relationship in our lives. Partners, friends, family and loved ones all know us very well and often provide great support, but sometimes they are too subjective and may not have the skills that a therapist to help us grow in the ways we may want to.
There's also this added piece that these people that we have close relationships with give us unsolicited advice that may feel judgmental or ill-fitting for our situations. Also, there are some topics that we just aren't comfortable sharing with people who are close to us. Therapists are required by law to not share any of your personal information with anyone else (unless there is a concern for your safety or someone else's) which keeps you protected from being unnecessarily judged by others.
What advice would you share with therapy seekers?
I always love to share with my new clients that therapy is a lot like finding the perfect pair of shoes. Oftentimes, you have to try on many different pairs of shoes at the store before you find the pair that are comfortable, affordable, and meet your needs just so. Working with a therapist is the same way. Sometimes we have to try a few therapists out before we find the right fit.
Take your time to review therapists' profiles and find the person who matches with what you think you need, and don't be discouraged if you feel like it wasn't a good fit. We are all here to help you achieve your goals and if the fit feels off, we'll help you find someone else who is better suited for you.
Visit Emily's profile to watch her introductory video, read more about her, and book an initial call!