Emily Davenport is the owner of Davenport Creative Arts Therapy, a modern psychotherapy studio that blends art therapy with traditional talk therapy and mindfulness practices in Midtown Manhattan. Emily and the other art therapists at Davenport Creative Arts Therapy specialize in a variety of areas including anxiety, depression, trauma, borderline personality disorder (BPD), perfectionism, family issues, medical professionals' mental health, and work stress.
We asked Emily about her work with clients and her guiding philosophies on therapy.
Emily's background and personal life
1. How did you decide to become a therapist?
I feel as though the field chose me! When I was around 4-5 years-old, I started to notice that I was highly-attuned to emotions. I frequently defended other kids and always wanted to help; this nourished me and, simply put, made me feel happy. My path towards becoming a therapist was winding (art school, a 6-month stint living in Japan, and then graduate school), but I greatly appreciate the organic progression that led me to where I am today.
2. What was your previous work before going into private practice?
I worked at numerous public and private mental health establishments with adults and teens for about 9-years before going into private practice. I also taught horseback riding (yes, even in the city) for a long time too!
3. What do you enjoy doing in your free time?
I enjoy playing with my two-year-old daughter, cooking, hiking and creating mini-collages in my sketchbook! I also enjoy the occasional indulgence in a Real Housewives or Master Chef episode!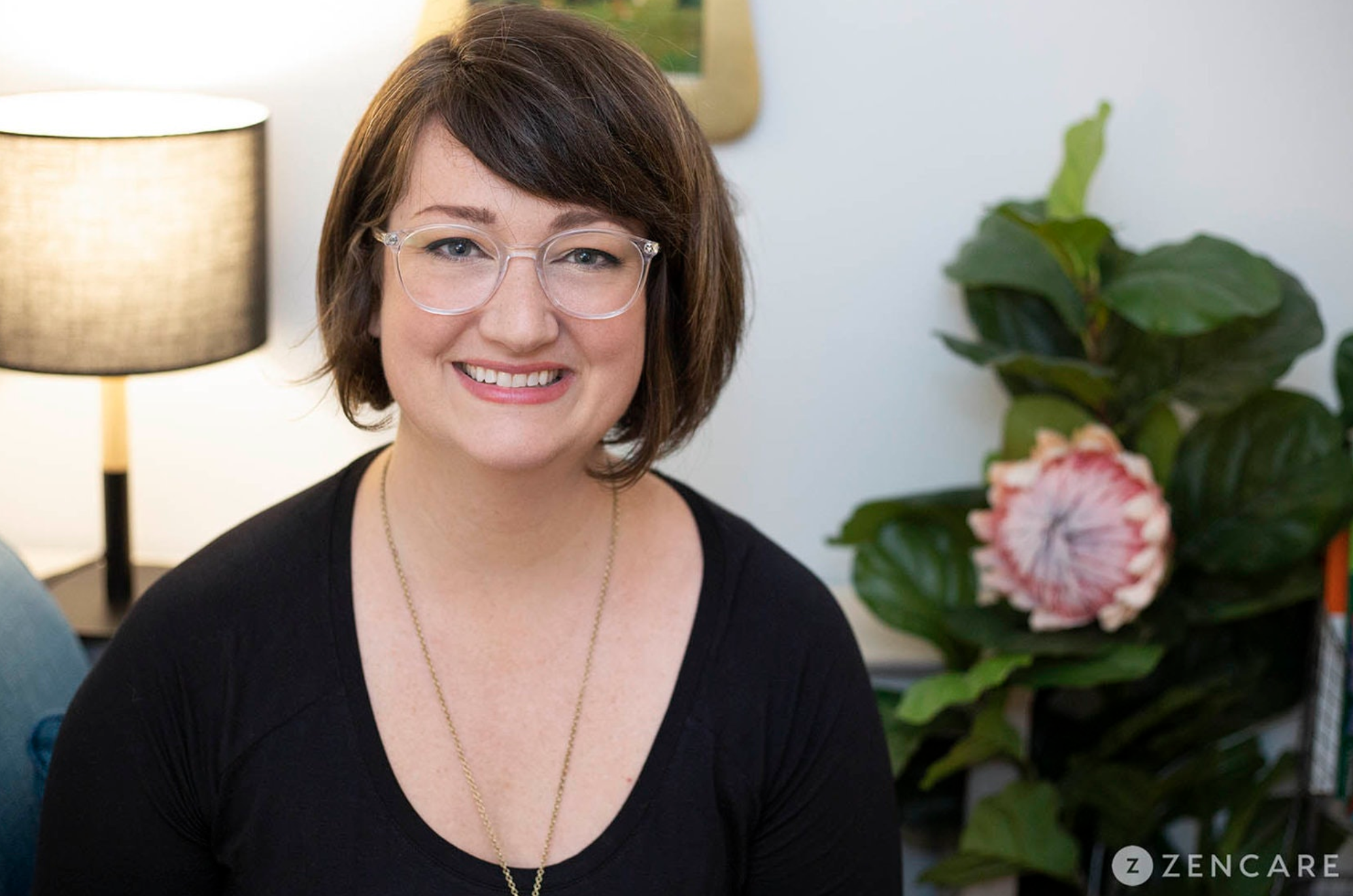 Emily's specialties and therapy philosophies
4. What guiding principles inform your work?
The guiding principles that inform my work and practice are "kindfulness" (mindful self-compassion), resilience, creativity, and the re-establishment of a connection to the body and the breath! You can't be kind to others if you are not kind to yourself.
5. What clientele do you work with most frequently?
At Davenport Creative Arts Therapy, we're honored to support individuals in their 20s and 30s. We work extensively with college students, creative professionals, and individuals who work in the tech, finance, and health & wellness industries. Some of these individuals identify as LGBTQ+ and many are struggling with self-image issues, anxiety, stress, low-mood, irritability and relational conflict with their partner, family member(s) or co-workers.
6. Can you tell us more about your specialty in anxiety?
Anxiety and feeling 'on-edge' can be a healthy response to stressors around us. However, if you're experiencing panic attacks, social anxiety, and everyday anxiety, you need a plan that works to help you feel better ASAP! In our practice at Davenport Creative Arts Therapy, we treat anxiety holistically. We infuse breathing techniques, guided imagery, and meditation with art therapy and evidence-based talk therapies (such as DBT and CBT) to help you recover from chronic stress, anxiety, panic, and worry.
7. Can you tell us more about your specialty in relationship challenges?
Feeling disconnected from family, friends or partners can be very painful. I see many individuals who are struggling with setting healthy boundaries, speaking up for themselves, or inadvertently pushing people away. Some of the clients we support have experienced emotionally abusive relationships or past trauma(s). In sessions, you will learn interpersonal effectiveness skills pulled from a DBT model. In addition, we use self-compassion psychology, psycho-education, and a strong relational approach to healing that utilizes mindfulness and positive psychology. Sometimes we also use art therapy to explore roles and dynamics to increase insight (many of of our clients really appreciate this approach)!
8. What do you find most rewarding about your work?
Oh, so much! I feel so alive and grateful when clients create positive changes in their life that increase joy, relatedness, and connection to themselves! These changes can be slow, and seemingly 'uneventful,' but I believe it's my job to validate all of these efforts. Simultaneously, it is also rewarding to see and hear when a client can acknowledge and accept themselves as they are, for who they are. In therapy, I try to balance acceptance AND change.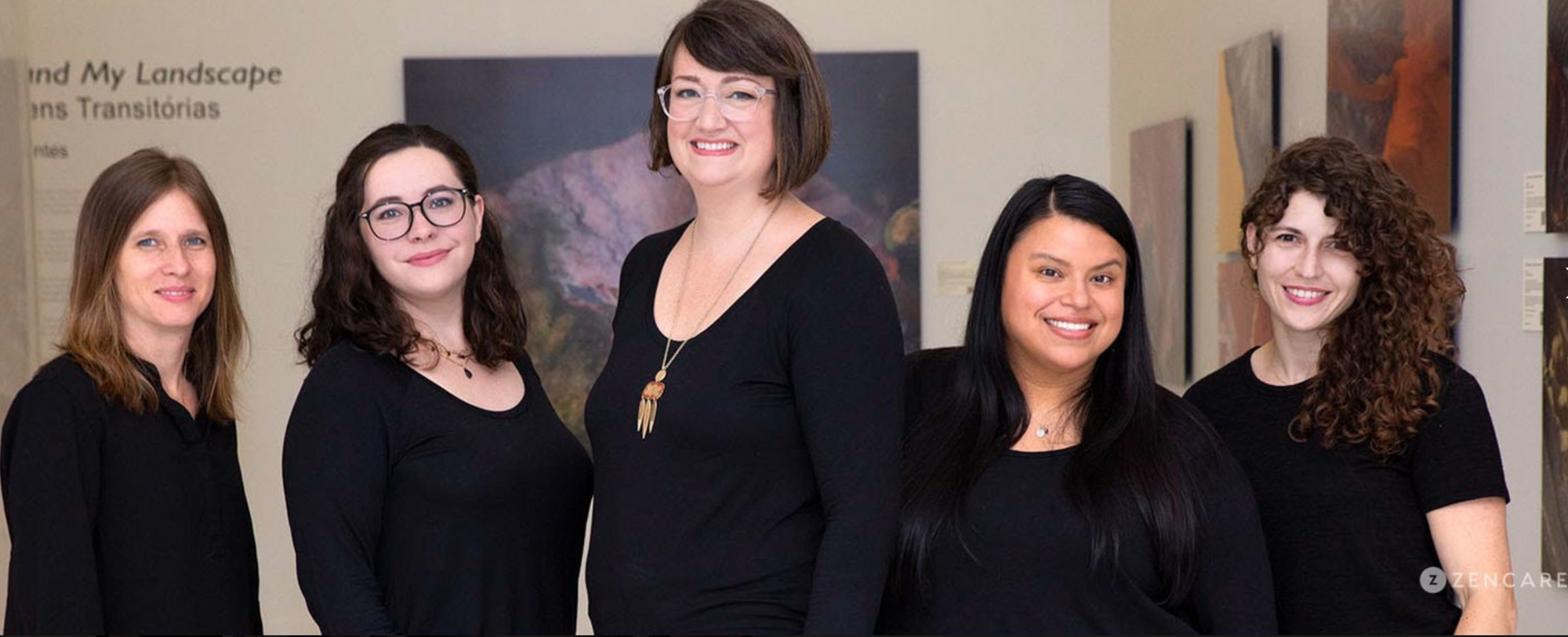 Therapy sessions with Davenport Creative Arts Therapy
9. What would our first session together be like? What happens in ongoing sessions?
In your first session, we will focus on getting you oriented to therapy and most importantly getting to know you and your unique goals! From there, we will infuse various modalities to help support you, including thought-provoking questions, invitations to participate in guided meditation, art making, and learning DBT Skills.
10. How can I prepare for our first session?
We make everything easy for you! We offer an online intake process, email directions to our practice, and text message reminders the day of your appointment. My suggestion would be to come with an open mind and feel free to ask any questions. It's our job to make you feel comfortable with therapy!
11. How long do clients typically see you for?
Average length of therapy is eight months to one year. Sometimes more, sometimes less. However, clients are not committed to any length of therapy.
12. Are there any books you often recommend to clients?
YES! There are so many gems! Here are a few of our favorites:
Noble Listening by Mark Brady PhD
Difficult Mothers by Terri Apter
What You Can Change & What You Can't and Authentic Happiness by Martin Seiglman
The Power of Now by Eckheart Tolle
13. Do you assign "homework" between sessions?
Yes! Follow-up is key! We are instructional while also honoring individuality and autonomy. You may have DBT skill homework or mindfulness practices to try throughout the week.
14. How do you help ensure I'm making progress in therapy?
We offer frequent verbal check ins about how the therapy process is going for you. We will openly discuss progress, habit changes, and will occasionally use assessments to gauge progress. Sometimes you can even see progress in the progression of your artwork! We balance self-acceptance and change in sessions so some 'progress' may not be behavioral changes.
15. How do I know that it's time to start seeking therapy?
It's time to seek therapy when you are feeling overwhelmed and have felt 'not quite right' for awhile now. You may be struggling physically, emotionally or spiritually, and friends, partners or family members may have suggested reaching out to a therapist. You may want to make changes but don't know how. It's frustrating and can be scary.
16. How will I know it's time to end my time in therapy with you or reduce session frequency?
We will talk about this together. We are very open to feedback! If you've met all your goals and are feeling like you no longer need services, then it may be an indicator to stop or pause.
17. Why should I seek therapy, rather than turning to my partner, friends, or other loved ones?
Would you go to an eye doctor for a broken leg? Of course not. It's great to process things with friends and family members, but they are biased and may have stuff going on themselves, making it extra hard to give you what you're asking for. Therapists are highly-trained to support very specific life challenges. Seeing a therapist can make a life-changing difference for many people.
18. What advice would you share with therapy seekers?
Do your research, take your time, and, if possible, be open to out-of-network providers (as it really does open so many more options to you). Ask questions, and trust your gut (this is the biggest one)!