Elle Bernfeld is a licensed clinical social worker (LCSW) in Brooklyn, NY specializing in anxiety, depression, life transitions, self-esteem, and perfectionism. In sessions, Elle uses an eclectic mix of CBT, DBT, and psychodynamic therapy - in addition to other modalities - to help clients identify the patterns that hold them back and implement helpful coping strategies for the future. As a result of her own history in the art industry, Elle also enjoys working with artists and creative professionals to improve their overall wellbeing and allow for better artistic expression.
We asked Elle more about her work with clients and her guiding philosophies on therapy.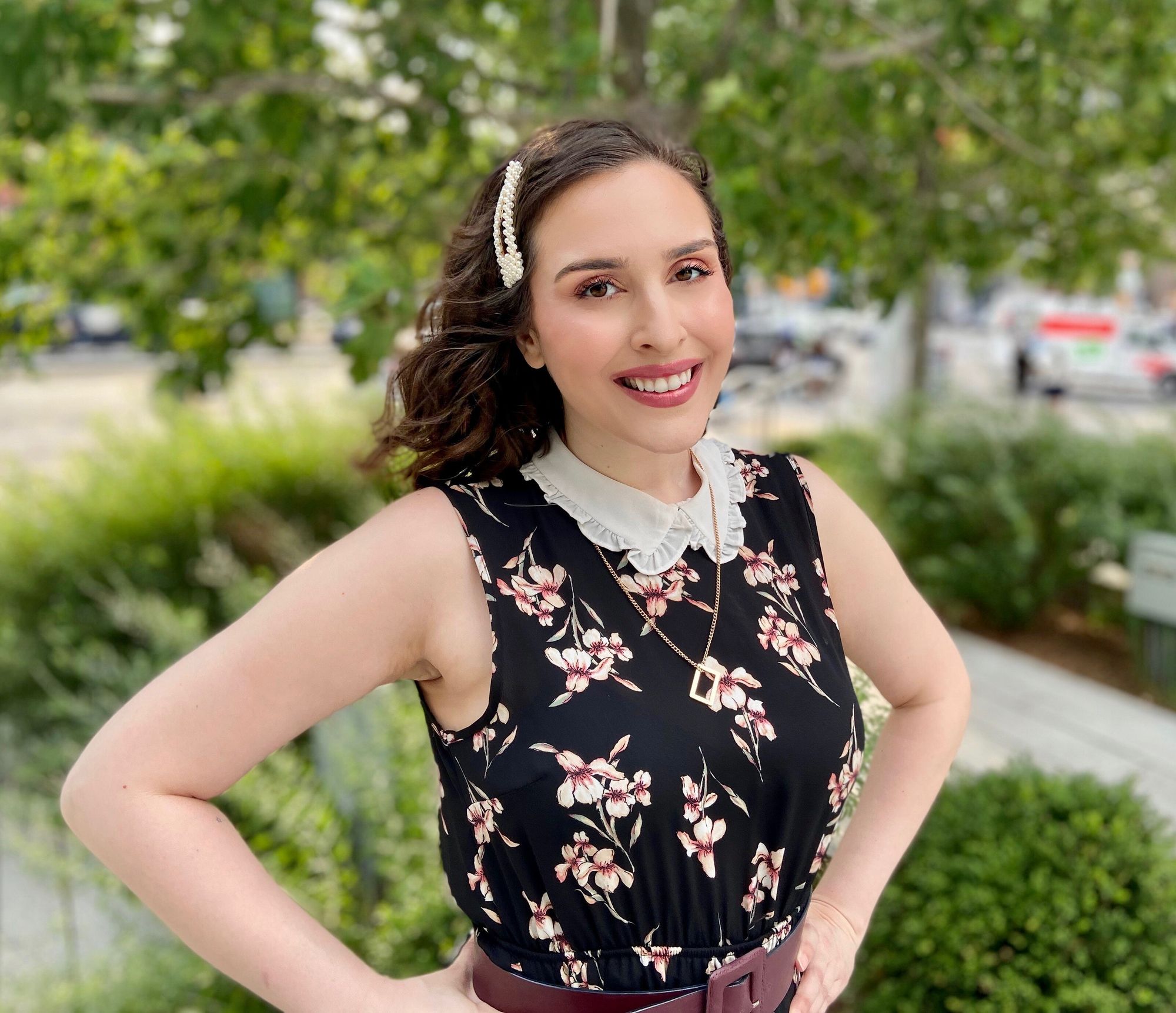 Elle's background and personal life
How did you decide to become a therapist?
I grew up acting and being fascinated by why people make certain choices and what their motivations for those choices are. I loved working towards understanding someone else and really putting myself in their shoes. As I became an adult, I realized my love for the human psyche could be explored not just as a performer, but as a therapist too!
What was your previous work before going into private practice?
I worked in various outpatient settings in the years leading up to private practice - in substance use, general mental health, domestic violence, eating disorder, and others. I feel very lucky to have such a diverse background to help my clients with a large range of issues.
What do you enjoy doing in your free time?
I have become a bit of a movie buff over the years and love learning about different types of cinema. When live shows are available, I love going to concerts, Broadway, and off-Broadway shows. I enjoy anything involving the arts!
Elle's specialties and therapy philosophies
What guiding principles inform your work?
My number one goal is to make people feel safe and empowered. I strive to be unconditionally accepting, and I look for the strengths my clients already have. I want my clients to feel we are in this process together and that they are not alone.
What clientele do you work with most frequently?
I work mainly with adults who are artists, entertainers, or some other type of creative professional. I became interested in working with this population doing research in grad school. I realized this was a way to connect my "past life" as a performer to my "new life" as a therapist. I like to say it turned my work from a career into a calling.
Can you tell us more about your specialty in working with clients with anxiety and depression?
Depression is something that changes the way you see the whole world. It is like the opposite of rose colored glasses. It can make you feel very alone, which is something I hope to combat and help as a therapist. In order to help my client's find hope again, we need to foster a strong relationship of trust first. I believe trust is the core need in therapy even before exploring coping skills.
Anxiety is that little voice in your head reminding you of the worst things that can happen, and how you will not be prepared if they do. With my clients, I help them to find ways to reframe their inner negative voice while also building acceptance and self-esteem.
Can you tell us about your work with clients navigating relationship challenges?
I joke that my middle name is "boundaries" at times. I find that exploring my client's boundaries and how they may feel they are not being communicated clearly in their relationships is a big starting point. From there, we can explore assertiveness and other strategies to better express their needs.
What do you find most rewarding about your work?
I love seeing my clients realize all the things they are capable of. I love seeing them gain confidence and start making choices to improve their overall wellbeing.
Therapy sessions with Elle
What will our first session together be like? What happens in ongoing sessions?
Our first session will be about establishing a rapport and building our relationship. I will also gain a better understanding of your history and what brings you into therapy. In ongoing sessions, we will check-in for the week and address any immediate concerns, but we will always then bring it back to the larger issues being addressed in therapy and look for themes, patterns, and coping skills for you to implement.
How long do clients typically see you for?
Most of my clients see me for at least 6 months. Of course, there are some who are only looking for shorter-term work, and we will work together to base shorter term goals around that.
Are there any books you often recommend to clients?
I love talking about books, music, movies, and art with my clients, but if I make a recommendation, it is generally very specific to them.
One book I do go back to consistently, however, is The Inner Game of Tennis by Timothy Gallwey. It is really helpful in regards to addressing self-sabotage and breaking habits... And yes, it is about tennis! Don't let that stop you though.
Do you assign "homework" between sessions?
It depends on the client! I very much cater the work to how the client likes to work. If they love homework, I might provide a structured worksheet, a specific journal prompt, or a new coping skill to experiment with on their own time (such as meditation). If they are more hesitant, I might just give them a topic to think about during the time in-between our sessions.
How do you help ensure I'm making progress in therapy?
I keep the line of communication open! I try to check in consistently with clients and encourage feedback. I want both of us to be active in the therapy process, and by you expressing your needs, we are able to reach your goals faster! I have specific progress questions I do often revisit to check-in with and help the client assess their needs as well.
How do I know that it's time to start seeking therapy?
I believe therapy can be beneficial for everyone at some point in their lives. A good time for most to seek therapy, though, is when they are feeling like they have exhausted all their normal coping skills and are not sure what to do next.
How can I prepare for our first session?
Before our first session, I will send you some paperwork to fill out which will help give us some direction in the first session. There is no need to otherwise prepare! However, if you are feeling nervous or concerned, I always encourage you to reach out!
How will I know it's time to end my time in therapy with you or reduce session frequency?
It is different for everyone. For some, it is when their primary issues are feeling resolved or better managed. For others, it is when they are ready to address other therapeutic concerns. If you are thinking about reducing or ending sessions, I encourage you bring it up, so we can explore what would be a good next step!
Why should I seek therapy, rather than turning to my partner, friends, or other loved ones?
For some, talking to a loved one is enough. However, there are always certain issues that you can not address with loved ones, or feel that they are unable to offer unbiased support on. Talking to a professional gives you an unbiased viewpoint as well as an individual who provides unconditional acceptance and new coping skills.
What advice would you share with therapy seekers?
I encourage therapy seekers to examine their options and utilize free consultations! The relationship between you and your therapist is important and feeling connected to someone from the start can be a good indicator of where therapy can go!
Visit Elle's profile to read more about her and book an initial call!