Elizabeth Hammond is a Licensed Independent Clinical Social Worker specializing in eating disorders, trauma, and burnout. Drawing on her years of experience in the field and her training as a Certified Intuitive Eating Counselor, Elizabeth helps clients navigate eating disorder recovery while drawing on their strengths and improving their relationships—to others, to themselves, and to their body. Elizabeth is licensed in Rhode Island, Massachusetts, and Vermont.
We asked Elizabeth more about her work with clients and her guiding philosophies on therapy.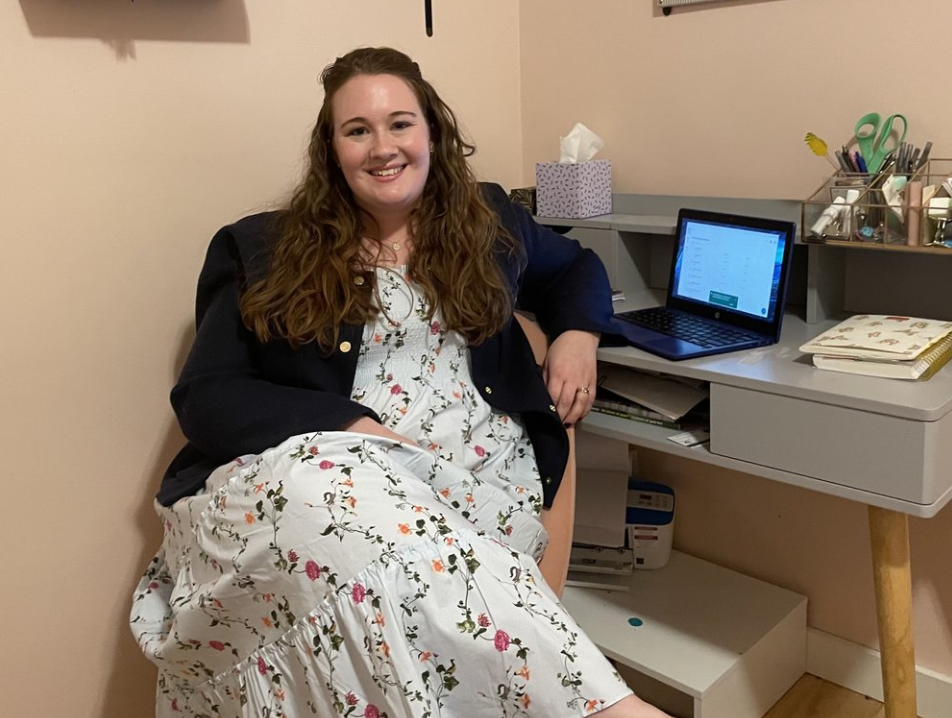 Elizabeth's background and personal life
How did you decide to become a therapist?
When I finished graduate school I began working in hospice. I loved the support I offered my patients and families, but really wanted to be able to form relationships over a longer period of time and work more one on one with clients. That was my favorite part of my job. I also became really passionate about the individual work and research I was doing around eating disorders and diet culture in America, so my current work was a natural progression of those passions.
What was your previous work before going into private practice?
I've worked in a variety of settings before I found my home as a therapist! My very first internship was advocating for survivors of domestic violence and supporting them in navigating the legal system. I've also worked as a case manager in community mental health and a social worker in hospice and end of life care.
What do you enjoy doing in your free time?
I love to write, walk my dog, and spend time with my family.
Elizabeth's specialties and therapy philosophies
What guiding principles inform your work?
I help clients look inward and connect with their own guiding principles and values. Everyone has an internal guide that can support them on their healing journey. Trauma, eating disorders, burnout, and depression or anxiety disconnects us from this guide. My job is to help clients reconnect with themselves so they can find authentic healing and peace.
What clientele do you work with most frequently?
I work with young and emerging adults, mostly from ages 18-39. I find that the connection and relationship in therapy is one of the most important parts of healing. This demographic is the one I relate to the most, because we are of similar age. There's something really helpful about getting the language and pop culture references of what a client cares about.
Can you tell us more about your specialty in working with clients with eating disorders and/or body image concerns?
Some of my clients come to me because years of dieting has damaged their relationship with their body and food. Others have diagnosable eating disorders. I find that underneath there are often larger issues - like perfectionism, people pleasing, and trauma - that needs to be addressed as well. I help my clients discern their individual goals and tune in to their own internal wisdom to find authentic healing.
We live in a culture that is very diet-oriented and a lot of disordered behaviors are normalized and even glorified. In addition many of my clients began engaging in these behaviors due to fat-phobia. It takes time to unpack what health means to each individual and how to separate healthy behaviors from unhealthy ones. I can be challenging to help a client re-orient towards their own internal values when society is pushing values centered on restriction and shrinking their bodies.
Can you tell us more about your specialty in working with clients who have experienced trauma?
I define trauma as any event that overwhelms a person's coping mechanisms. Some of my clients can point to a clear, well-defined traumatic event. Others experience several events that accumulate over time. Regardless, there is a growing body of research detailing the effect trauma has on the physical body. As a species, we tend to disconnect from ourselves when we need to enter the "flight or fight" survival mode, and trauma keeps people stuck in this mindset. I help clients learn the skills to return to a sense of safety and reconnect with their bodies.
Can you tell us more about your specialty in burnout?
Burnout is a much bigger problem than society wants us to believe. Living in a state of constant stress and overwhelm is terrible for physical and mental health. Some of my clients can't even consider tackling larger issues like trauma or eating disorders because they are overwhelmed by the endless array of tasks and expectations. Again focusing on internal wisdom, I help clients re-orient towards their own values and goals so they can determine what's really important in life, let go of what isn't serving them, and create sustainable, long term systems that balances their needs with the expectations of others.
What do you find most rewarding about your work?
I love watching a client grow and change over time. I get to see the small victories as well as the big "aha" moments. There's something really beautiful about sitting with a client and reflecting on how far they have come in their journey.
Therapy sessions with Elizabeth
What will our first session together be like? What happens in ongoing sessions?
Our first session focuses on me getting to know your needs, and you getting to know my style. I'm a pretty straight shooter and offer a lot of analysis and feedback. While some clients love that approach, it's not for everyone. The first session gives you a chance to decide if this relationship will work for you and helps me assess how to best meet your needs. The clients job is to come prepared to talk about their needs and goals.
My job is to validated their feelings and concerns, ask clarifying questions that guide the conversation so I learn the important information. If I notice a pattern in the clients life, indications of a diagnosis, or feel I can offer normalizing information I tell the client. My goal is for the conversation to feel connected and reciprocal. Then, at the end, I will suggest some next steps and we can go from there.
Are there any books you often recommend to clients?
Tons! I have a full list on my website.
Do you assign "homework" between sessions?
I do! However, I don't like the power dynamic that is implicit in the term "homework." It makes me feel like teacher who will offer a passing or failing grade. A very small percentage of the work happens in the therapy space, so I try to offer suggestions for a client to do more self-exploration or put some tools into practice outside of session.
How do I know that it's time to start seeking therapy?
Whenever you feel ready! My hope is that one day therapy will be seen as routine, preventative health care that can be accessed whenever a client needs extra support in managing their mental health.
How will I know it's time to end my time in therapy with you or reduce session frequency?
In the very first session I will ask you about your goals. We will check in throughout the time in session to see if goals have changed or progressed. I have found that, once a client is tuned into themselves, they are able to sense when their therapy journey has changed or come to a close. We work together to decide the best time to terminate.
What advice would you share with therapy seekers?
I have two pieces of advice. The first is that your body has wisdom that's valuable and important. If you ever enter a space with a therapist and something just doesn't feel right or doesn't feel like a good connection, that is okay! A good therapist will not take that personally and will support you in finding the right fit. The second is that good therapy is hard work. You will get out what you put in. It's an investment in your time and money, so take it seriously, come prepared, and spend time putting the skills into practice.
Visit Elizabeth's profile to watch her introductory video, read more about her, and book an initial call!