Ektha Aggarwal is a Licensed Clinical Social Worker based in Los Angeles, CA. Ektha works with clients struggling with anxiety, depression, cultural identity challenges, and life transitions. Ektha also has a particular interest in the impact of trauma on the mind-body connection and utilizes a combination of psychotherapy and other holistic practices to help clients increase their overall mental, physical, spiritual, and relational well-being.
We asked Ektha more about her work with clients and her guiding philosophies on therapy.
Ektha's background and personal life
How did you decide to become a therapist?
Moving from Tanzania, I grew up in a community where those who were fortunate supported those who were less fortunate. Every Sunday my parents would make food and take my brother and I to distribute it to the homeless community. I remember laughing with them as they would tell us jokes and express gratitude. Moving to the U.S. at the age of 10, I was overwhelmed by the homeless population and how the lower income communities were treated. I couldn't figure it out - I was confused, angry, lost, sad.
Moving through the years, my commitment to rebuild hope grew even stronger, eventually leading me into psychology and then to a Masters in Social Work. Today, my passion to build hope and touch as many lives as possible extends beyond the homeless community; it's for everyone: people of color who face the challenges of cultural duality, women who are learning to use their voice with power and grace, men who want to normalize expressing all their emotions. Each of us has an internal battle we are facing, and I hope to be part of the strength and resilience that you build to get through those battles you are facing.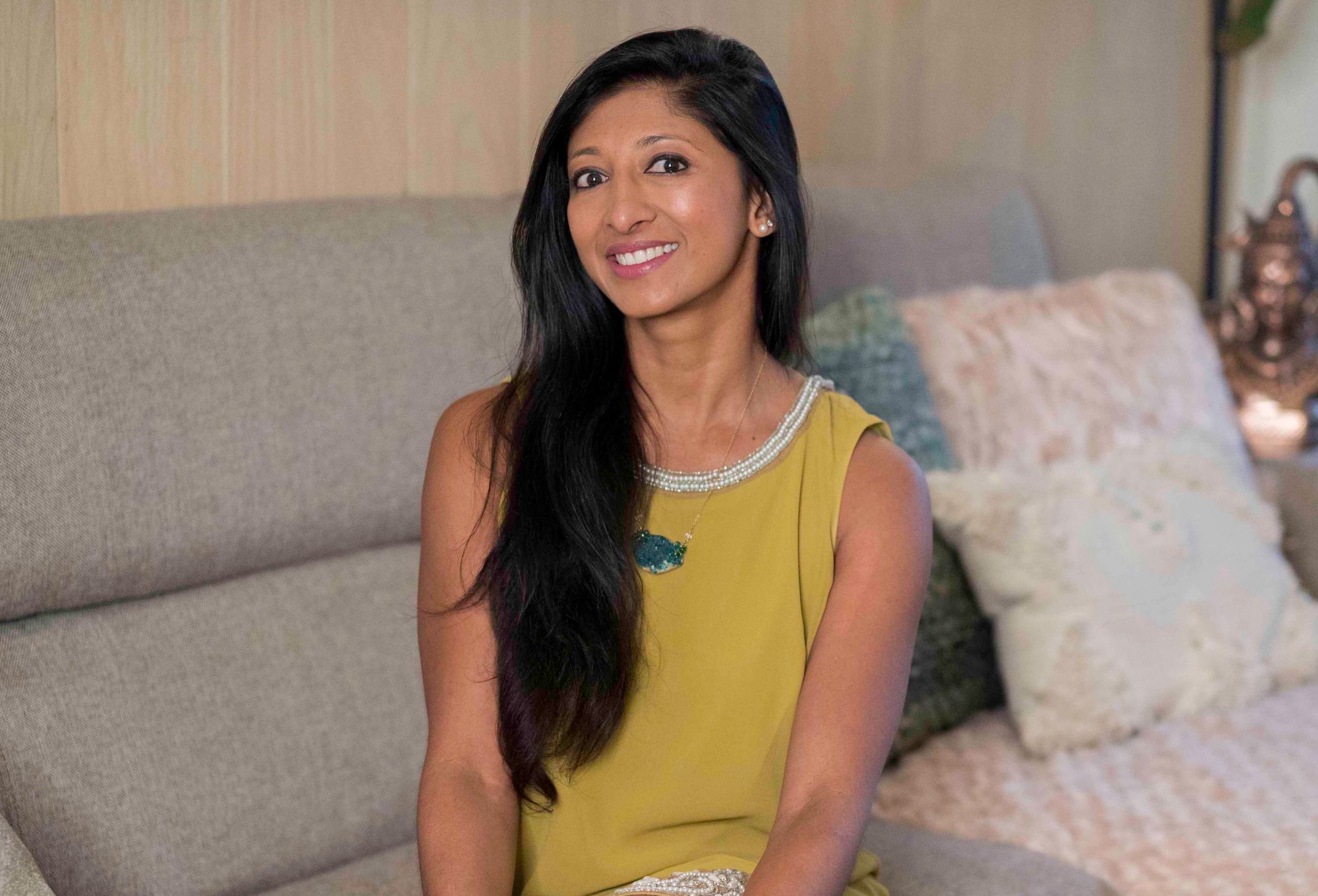 Ektha's specialties and therapy philosophies
What clientele do you work with most frequently?
As a licensed psychotherapist, I am committed to helping adults discover their higher purpose. My areas of expertise include supporting you through anxiety, depression, and shame. As a first generation Asian therapist based in Los Angeles, California, I enjoy working with people who are trying to resolve the duality between their obligations to their culture and family, all while trying to assimilate to the Western world they call "home." Growing up in the States as a South Asian woman, I often felt guilty for making decisions that were in my best interest because they conflicted with my transitional or familial beliefs. Many times these different cultures can have conflicting values, causing you to feel uncentered, unaligned, and confused about your own identity.
My ideal client is YOU! You have worked so hard to get to where you are – you've put in 110% in all that you do and in who you are today – yet, you may still feel incomplete or unhappy with life. I am dedicated to helping you tap into your inner healing intelligence (the part of us that has the ability to naturally heal) and rediscover your power. I call this power Shakti.
Shakti is the primordial force that is responsible for creation and is an agent for change. You observe this life force Energy through the rush of the river crashing against the rocks… the striking connections that fire your neurons… the power in your deep, intentional breaths… the depth at which your heart beats in every moment. My goal of my therapy practice is to awaken the Shakti in each person. Activating the Shakti can evolve a person's experience of who you are, transition their trauma from pain to resilience, redefine their life goals and priorities, and deeply transform how they relate to the world.
Therapy sessions with Ektha
How long do clients typically see you for?
The length of therapy for each person is so intimate and unique to their own life experience. This generally varies by client and the commitment they want to make to their self-healing journey.
There are some who come and want therapy to be an hour of time dedicated to them every week, similar to going to the gym to take care of your physical health. These people see healing and self-care as an on-going commitment and stay with me for many years. Then there are clients who come during a crisis or to resolve a challenge, and they may stay with me for 6-9 months as they were looking for short term solution focused guidance. Lastly, we have everyone else in the middle. Generally, I like to evaluate progress every 3 months with you and we collectively discuss how you are doing. Part of this discussion is exploring if it makes sense to keep weekly sessions or move to every other week while trying to imbed new insights and skills into your life.
My life purpose is to touch and build hope in as many people as I can, so I deeply enjoy building inner strength and confidence in each person to help them thrive on their own.
Are there any books you often recommend to clients?
I personally have grown to deeply appreciate Attached by Amir Levine and Rachel Heller. Although this book is about authentically finding love, it really is about attachment styles. It gives you a deeper understanding of how your attachment style affects your day-to-day decisions, triggers, choices, and thinking. This is my personal go-to if you are experiencing anxiety. Normalizing your attachment style and learning tools to manage it helps bring out your most authentic self to the world.
A recent book I have also found myself enjoying is The Queen's Code by Allison Armstrong. It's an interesting take on feminine and masculine energies that each and every one of us embodies. For many years we've grown up learning men are from Mars and women are from Venus. What exactly does that mean? The Queen's Code clearly outlines how the different structures of our brain affect the way we communicate and think. It provides insight on how we can better understand the differences between men and women, and more importantly, embrace and value them.
Do you assign "homework" between sessions?
I absolutely enjoy encouraging clients to do homework between sessions. We have 50 minutes together and you are trying to heal years–if not generations–of trauma, anxiety, depression, and other experiences.
Homework allows you to take the tools you learn and talk about in session and begin to anchor them into your life. Each homework is specific and specialized to a person's experience. It can vary from journaling on a specific topic, writing an effective letter, or creating a resilience timeline... to wildly dancing to connect with your body, practicing a communication technique, or creating a celebration jar to help rewire your brain to focus on successes.
How can I prepare for our first session?
I have a Client Therapy Guidance Workbook coming soon. This is a tool I am creating to help you develop a more intimate relationship with yourself and your healing journey while in therapy. It guides you in how to get ready for therapy, how to stay present in sessions, and how to work through challenges in-between sessions. The workbook is a tool you can look back on and see the wonderful progress you have made over your healing journey.
How will I know it's time to end my time in therapy with you or reduce session frequency?
Generally, I like to evaluate progress every 3 months with you. We collectively discuss how you are doing and if it makes sense to keep weekly sessions or move less frequent sessions as you try to imbed the new insights and skills into your life. There is a fine line between building comfort with staying in therapy and being open to uncomfortability and thriving on your own.
I guide you in finding where that line is for you so you can live your best life! My life purpose is to touch and build hope in as many people as I can, so I deeply enjoy building inner strength and confidence in each person to help them thrive.
Why should I seek therapy, rather than turning to my partner, friends, or other loved ones?
The first thing to consider is talking to a friend, family member, or a loved one is a reciprocal conversation. This requires you to listen, process their story, and find a sense of relation with their experiences. Therapy, on the other hand, is all about YOU! It is a place where you can be open and feel safe to explore your thoughts and emotions in whatever manner that would be most helpful to you. This non-judgmental space allows you to fully tap into your inner self and discover the most intimate parts of you.
With that being said, know that therapy does have an expectation from you to fully share what is on your mind and be honest with yourself. Many times we filter our thoughts in fear of judgement or shame. Therapy invites you to tap into those profound/dark feelings to cultivate a sense of lightness and freedom from them. Therapy is a confidential process that is also separate from your everyday life. You are taking control of your emotional and mental well being by carving out time for it.
This brings us to our second point: while therapy can feel like a liberating and rewarding conversation, a skilled psychotherapist can help deepen the conversation to foster meaningful and lasting change in your life. A good-matched therapist is someone who you can connect with and can trust. This therapist has the skilled ability to translate years of training/education and experience, research, and theory to help you grow, claim your strength, discover your inner power, and accomplish your goals.
What advice would you share with therapy seekers?
It can get confusing to understand which therapist to trust with your feelings and thoughts. I encourage you to schedule a complimentary phone consultation with each prospective therapist to ask about their background, learn about their theoretical approach, and get a sense of the connection. Each therapist holds a strong belief in their approach, as this lays the groundwork for their foundational practice. The single and most important factor in therapy is the genuine connection you have with your therapist.
These are some questions to ask yourself throughout the consultation:
Do I feel comfortable and safe in conversation with the therapist?
Is this someone I think I can talk to?
Do I trust them, or can I see myself trusting them in the future?
Does this therapist try to understand me?
What potential biases are rising up for me?
Here are some questions to ask the therapist:
How does multiculturalism inform your practice? (*This is especially important for people of color to feel understood, heard, and accepted)
What does therapy look like in the room with you? (*This will give you an idea of the therapist's theoretical approach)
Ultimately, it is important to listen to your gut, that voice deep inside that guides you to the path best suited. Feeling a good connection with a therapist is an important factor that has repeatedly been cited in research as the key to achieving effective and lasting improvements.
Visit Ektha's profile to watch her introductory video, read more, and book an initial call!