Devon Cozens is a Licensed Clinical Social Worker who welcomes individuals, couples, and families to her private practice in Denver, CO. Many of Devon's clients come to her seeking support through major life transitions, relationship concerns, attachment issues, or parenting challenges. Much of her work is rooted in Emotionally Focused Therapy (EFT), which she uses to help clients navigate their relationship difficulties from an attachment lens in order to build stronger, more authentic relationships.
We asked Devon more about her work with clients and her guiding philosophies on therapy.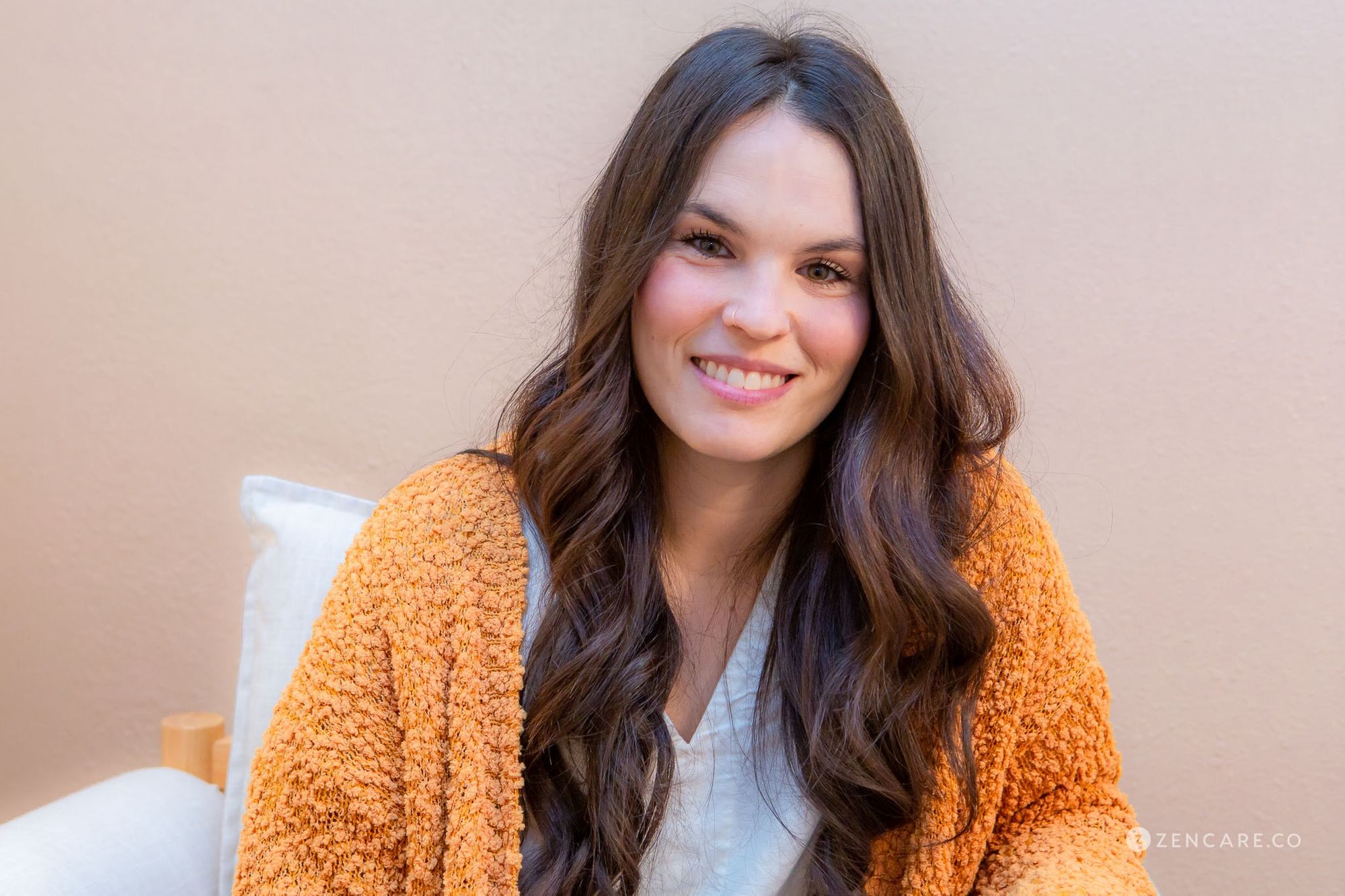 Devon's background and personal life
How did you decide to become a therapist?
I worked as a school social worker for years and never felt like I was quite able to be effective, the deep clinical work that is necessary for healing just wasn't in my scope. It seemed as if the ways that young people and their families interacted with each other were set in stone, immovable. I decided to become a therapist because I started to believe that the best way to serve and protect children was to work with adults and couples—it feels preventative and as if there is a real chance to interrupt intergenerational trauma.
What do you enjoy doing in your free time?
I honestly just always want to be outside! At home, I like to hang with my kiddo and partner, play with our dog, cook fun meals, play board games, and watch movies.
Devon's specialties and therapy philosophies
What guiding principles inform your work?
I believe in the transformative power of connection. I have seen it change lives. Dr. Sue Johnson once said, "Being the 'best you can be' is really only possible when you are deeply connected to another. Splendid isolation is for planets, not people." I trust attachment to show me where the heart of the matter is, and that is where I target my work.
What clientele do you work with most frequently?
I most often work with individuals and couples from all kinds of backgrounds between 20-40 that are struggling in some way with relationships. Many feel stuck in repetitive patterns (within themselves and between them and others) that are not serving them and don't know how to get out. I am drawn to this kind of person because this is the kind of person I am! I have done this work myself and it was transformational.
Can you tell us more about your specialty in Emotionally Focused Therapy (EFT)?
EFT is the gold standard for evidence-based relationship work and uses attachment science to help us understand what is at the heart of our relationship distress. Many people I work with can see the ways that stories they've carried since childhood are impacting their lives in real-time, but they don't know what to do with that information or how to make it stop. They want to have happy, healthy relationships, but seem to get caught in the same loop over and over. I support people in getting really clear about what is happening for them emotionally, and trust the process to use this information to create transformational change.
I help you identify and exit these negative patterns and connect more deeply, vulnerably, and meaningfully. We will focus on supporting the strength of your connection, not teaching you how to fight better or go on more date nights. All of that will come naturally with time, the way it used to. When our relationship is the safe haven we know it can be, there is nothing we can't do.
Can you tell us more about your work with clients navigating major life transitions?
The individuals I work with best are often moving through some kind of big life transition and feel strongly about getting it right. All things considered, they are often insightful and want to live a meaningful life—they just want to know why they keep getting stuck in the same places! Many feel something is missing, and they fear that if they can't figure it out, they might never have it. Sometimes they are worried they will never be able to get out of their own way.
What do you find most rewarding about your work?
The most rewarding thing about my work is when someone is able to shift, change, own, or let go of something that has been keeping them stuck for years. When someone tells me that they were able to unlock something that has kept them stuck, sometimes for their entire life, I feel so proud and totally humbled by the human experience.
Therapy sessions with Devon
What will our first session together be like? What happens in ongoing sessions?
The first intake session is about us deciding if we are going to be a good fit, getting a sense of where you need support, and figuring out how I can help. It is a little more structured than other sessions and will feel very approachable!
How long do clients typically see you for?
My clients typically see me for at least 6 months, and some have come weekly for 2+ years!
Are there any books you often recommend to clients?
I don't usually recommend a ton of books, but I have recommended Braiding Sweetgrass by Robin Wall Kimmerer a few times this year!
Do you assign "homework" between sessions?
I don't really assign homework because the change comes from the encounters we move through in session. This is one of the unique qualities of experiential therapy. Sometimes I encourage people to journal about their experiences in therapy after the session. Often, I ask people just to notice what is happening in their bodies and minds as experiences come up in the moment outside of the therapy room.
How do you help ensure I'm making progress in therapy?
Honestly? I ask you. I measure progress by your own experience of emotional balance, increased self-efficacy, and changed behavior.
How do I know that it's time to start seeking therapy?
It is time to start seeking therapy when you are ready to up-level your life and relationships.
How can I prepare for our first session?
Just take a deep breath!
How will I know it's time to end my time in therapy with you or reduce session frequency?
I will check in with you frequently and follow your lead. Sometimes, I feel that people are ready before they even let me know! We will always have a conversation about this first.
Why should I seek therapy, rather than turning to my partner, friends, or other loved ones?
Therapy is about so much more than venting. There are things that we just can't tell anyone in our lives, we may fear judgment, hurting feelings, or being rejected. I want to create a space where you can say anything and know I'll catch you.
What advice would you share with therapy seekers?
If you're even considering therapy, take the leap! If you find the right therapist, you'll be so glad you did.
Visit Devon's profile to watch her introductory video, read more about her, and contact her for an initial consultation!