David Burkholder is a Licensed Professional Counselor with over 20 years of experience in the counseling field. David specializes in helping adult and young adult clients navigate anxiety, depression, life transitions, or career-related issues. He is also particularly passionate about working with couples and regularly utilizes the Gottman Method to support couples who are navigating difficulties in their relationship. With all clients, David takes a client-centered approach that meets clients where they are at. He provides remote therapy sessions to clients throughout the states of New Jersey and Virginia.
We asked David more about his work with clients and his guiding philosophies on therapy.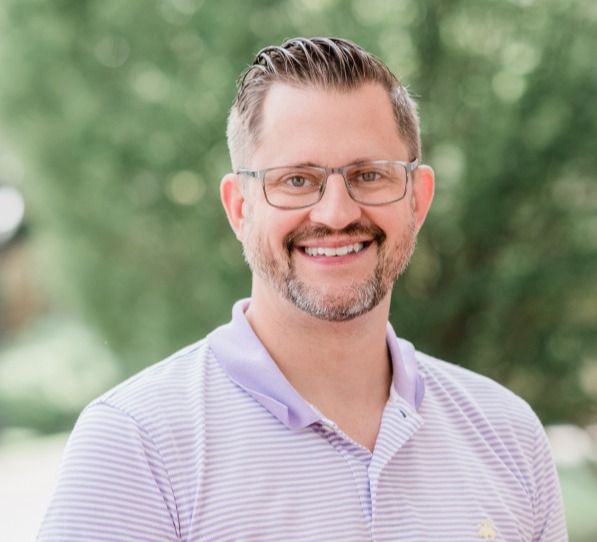 David's background and personal life
How did you decide to become a therapist?
I grew up experiencing family members suffer from emotional difficulties, and saw how their often maladaptive responses to those difficulties dramatically increased the suffering they went through as well as the suffering of those around them who loved them. I knew there had to be a better way.
What was your previous work before going into private practice?
I worked in an outpatient agency for several years as a child and adolescent clinician, during which time I was completing my PhD. Upon completion, I was (and still am) a professor in a graduate level clinical mental health counseling program. I started my private practice after establishing myself as a professor.
What do you enjoy doing in your free time?
I love to travel, do hikes, and go on bike rides in the Appalachian foothills near my home.
David's specialties and therapy philosophies
What guiding principles inform your work?
People who are suffering amplify that suffering when attempting to "go it alone." In a very basic sense, having a safe and reliable person for someone to open up to is what I believe to be the cornerstone for change and healing.
What clientele do you work with most frequently?
Since beginning my private practice, I have most frequently worked with couples. I believe that healthy and fulfilling relationships are vital for mental health, and that belief underscored my decision to continuing my education and clinical training to work with couples, even after being licensed and having a PhD. I also have significant experience working with young adults and adults on navigating the developmental challenges those age groups commonly face.
Can you tell us more about your work with couples?
I recognize that many couples experiencing challenges in their relationship often cannot untangle these issues on their own. I specialize in working with couples to successfully navigate these challenges in their relationship and gain a greater understanding of themselves and their partner.
For many couples, the context of therapy is the first time that issues are given a voice, and I use a practical and research based approach--the Gottman Method--to help couples successfully break through barriers to achieve greater understanding, connection, and intimacy in their relationships. This approach is based on four decades of breakthrough research with over 3000 couples.
Can you tell us more about your specialties in anxiety and depression?
I view most psychological difficulties as developmental in nature, and many times anxiety and depression are symptoms of the transitions (developmental transitions and other types) all of us experience throughout our lives. I think it is important for me to normalize this for clients and supportively provide depth-oriented counseling to help them move beyond the suffering as well as find meaning in it.
Can you tell us about your career counseling specialty?
There is almost no life transition more certain than changes in career, and these changes can be life altering for people. I frequently utilize an approach with clients that helps to assist them in understanding their pasts in order to effect changes in the present and create their desired futures.
Additionally, as a professor, I frequently teach career counseling, and I am a certified administrator of the Strong Interest Inventory and the Myers Briggs Type Indicator, both commonly used assessments for career counseling.
What do you find most rewarding about your work?
Being witness to couples restoring their relationships and individuals successfully overcoming personal struggles.
Therapy sessions with David
What will our first session together be like? What happens in ongoing sessions?
In the first session, my focus is going to be on establishing a supportive and empathetic tone while also gathering information clients are comfortable sharing. The first session is really a feeling out process for both myself and the client, and I am very intentional about making this process as safe as possible. It is normal for clients to feel apprehensive about counseling, and I am very sensitive to this reality.
How long do clients typically see you for?
Whether it is couples or an individual client, the duration of counseling is typically between three and 9 months. Some clients experience very quick effects, while others have a different experience--however, the most important element is that the client is able to articulate goals early on in the therapeutic process, providing a blueprint and an endpoint for myself and the client to follow and collaboratively work toward.
Are there any books you often recommend to clients?
Do you assign "homework" between sessions?
When working with couples, homework is typically suggested, and depending on the presenting concern, this can be the case for individuals as well. The ultimate goal for any kind of therapy is for the client(s) to be able to transfer desired changes to their lives outside of the counseling session, and homework is a great way to facilitate this.
How do you help ensure I'm making progress in therapy?
It is important for clients to establish explicit goals early in the counseling relationship in order for any kind of progress to be evaluated. After this, frequently reviewing the goals with the client and determining any areas of deficiency really helps in the collaborative process of continual progress.
How do I know that it's time to start seeking therapy?
I think when someone experiences significant distress in relationships and observes that their social and/or occupational functioning begins to decline, seeking help from a professional is warranted. Trying to soldier on in silence only increases suffering and ultimately can make recovery more difficult.
Why should I seek therapy, rather than turning to my partner, friends, or other loved ones?
In addition to the obvious difference of the skill set a trained professional has, a licensed professional does not have any "skin in the game," so to speak. Biases, personal history, self-interest, and many other confounding elements present in personal relationships are not an issue when sitting with a professional.
What advice would you share with therapy seekers?
Tolerate any anxieties and hesitancies you may have about therapy, and reach out. Your mental health is worth it, and you are worth it.
Visit David's profile to watch his introductory video, read more about him, and book an initial call!