Dana Dart-McLean is a Licensed Marriage and Family Therapist (LMFT) based in San Francisco, CA. Dana specializes in working with adolescent and adult clients navigating a variety of concerns, including anxiety, relationship challenges, major life transitions, LGBTQIA topics, and low self-esteem. Dana's approach is integrative in nature and draws upon somatic, mindfulness, artistic, and attachment-focused therapies in order to help clients decrease symptoms of distress and increase self-confidence, joy, and movement towards their goals.
We asked Dana more about her work with clients and her guiding philosophies on therapy.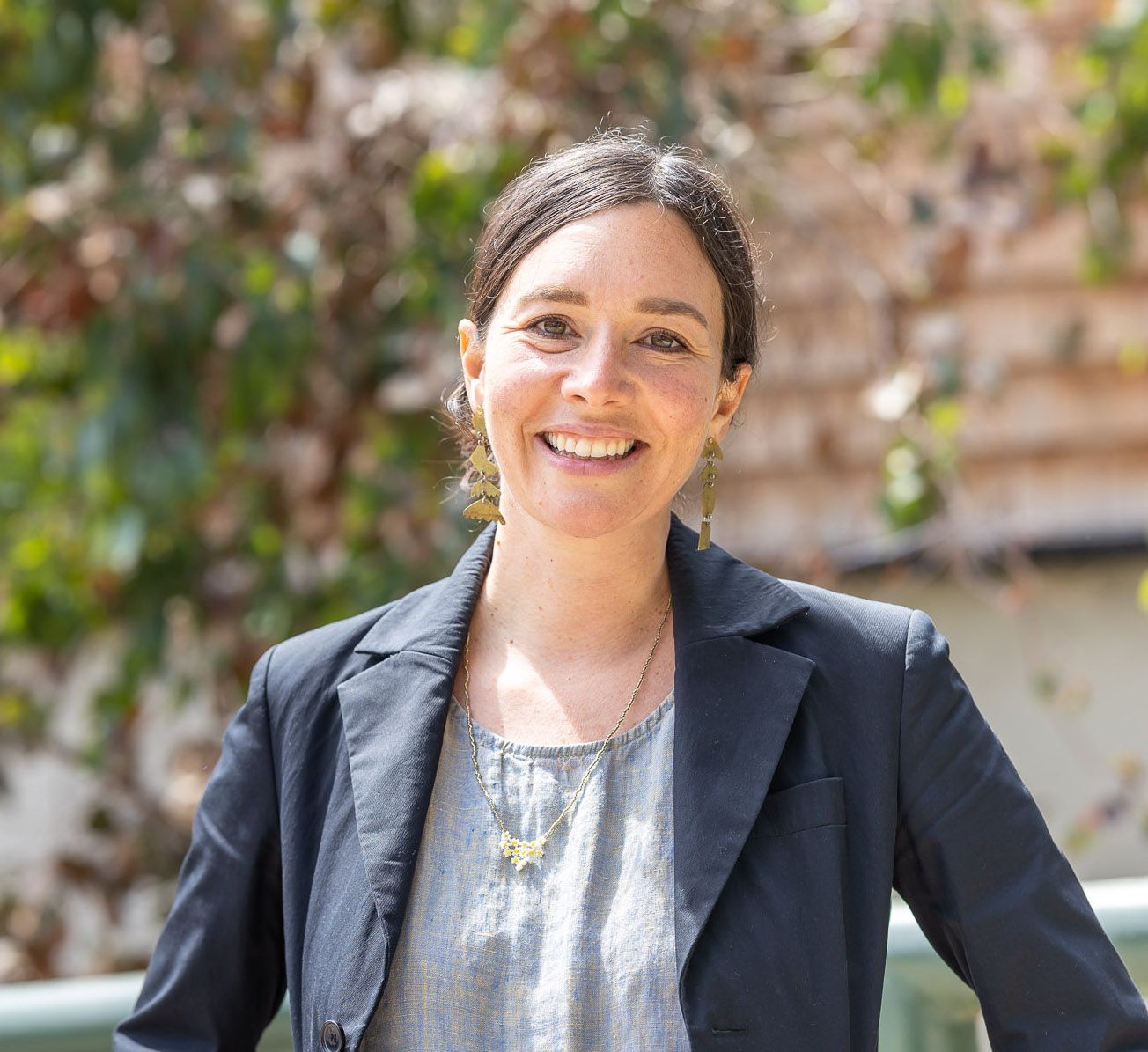 Dana's background and personal life
How did you decide to become a therapist?
I was teaching art to kids who were dealing with a lot of trauma and instability. They kept bringing tremendous amounts of emotion to the art-making process—lots of tears and intensity. The art classes became impromptu art therapy sessions, but I didn't really know what I was doing. Simultaneously, I was making my own art and experiencing the process as cathartic and clarifying within my own life. I was also assisting artists and witnessing the power of creativity. I wanted to understand all of this better, so I then decided to go to graduate school at the California Institute of Integral Studies for Expressive Art Therapy.
What was your previous work before going into private practice?
I worked with unhoused people doing a combination of street outreach, trauma care, art groups, harm-reduction therapy, and crisis management. Before that, I worked with emotionally-disturbed children in under-resourced schools.
What do you enjoy doing in your free time?
I enjoy painting, visiting San Francisco's amazing parks and views, dancing, going to the beach, and reading. Recently I went cherry picking for the first time—so fun!
Dana's specialties and therapy philosophies
What guiding principles inform your work?
My work is grounded in the belief that individual growth and increased self-compassion is beneficial for collective change. When people feel more secure and loving within themselves, they can more fully engage with the challenges of life, including being more caring partners, community members, family members, and human beings. A vision of supporting increased equity, self-expression, and embodiment for all motivates me.
What clientele do you work with most frequently?
I work with creative people who are dealing with life transitions, particularly people who are seeking deeper embodiment and overcoming whatever messaging they've internalized that tells them they shouldn't be fully embodied—queer, trans, non-binary people, people dealing with trauma, people struggling with disassociation from their body, people who are overwhelmed with obligations like work and put themselves last...
I work with a wide range of ages and am most effective when working with people who are deeply curious about getting to know themselves and loving themselves in the process.
Can you tell us more about your specialty in anxiety?
I often use somatic approaches with anxiety to support people in learning more about regulating their nervous systems through awareness, breathing, and self-compassion. There is often a habitual component of anxiety that shifts through strengthening the capacity to relax and changing patterns in one's response to stress. Anxiety can also signal a need for deeper connection to the self, and it may show up as an indication for a deeper need, such as for healing or some kind of life change. I provide a nonjudgmental space to explore this and bring out a fuller expression of the self.
Can you tell us more about your specialty in relationship challenges?
Relationship patterns offer insight into how people understand themselves. I support people to explore how they relate to interdependence and independence, how to be distinctly yourself while still deeply connected to others, as well as how to communicate needs and desires, navigate conflict, and tend to the ways relationships quickly bring up our woundedness. Relationships teach us how to be vulnerable while staying strong in ourselves. The therapeutic relationship brings these dynamics to the surface, hopefully in a gentle and nurturing way, so people can use what they learn in therapy within their life.
Can you tell us about your work with clients on identity issues?
Identity is a really broad word for the many diverse ways people may be in a process of bringing out their full (and dynamic) self. My work supports people to recognize and move through whatever internalized or self-imposed obstructions alienate them from congruence with who they really are. Often, these obstructions come from trauma and play out through various circumstances of people feeling like they lose themselves—in overwhelming work, in relationships, in substances, or in extreme self-criticism. Understanding what the unmet need is underneath these compulsive patterns can make it easier for people to find a way to meet their needs, which can be so empowering!
What do you find most rewarding about your work?
I am so inspired by the courage and vulnerability of my clients. It's always a fresh and dynamic process to witness someone's growth. I feel fortunate that I get to keep learning more and more about how people nurture and enact positive change in their lives.
Therapy sessions with Dana
What will our first session together be like? What happens in ongoing sessions?
The first session is an opportunity for me to get information and clarity about my clients' goals. It's also a time to really assess fit in order to make sure that whoever I'm working with feels comfortable enough with me to continue. I invite open dialogue about this. Ongoing sessions focus on working through whatever challenges occur during the week as well as ways these challenges fit into the client's larger growth process—the themes they are working with, the recurring patterns they are discovering, and the life transitions they're going through.
Are there any books you often recommend to clients?
I like to recommend:
How do you help ensure I'm making progress in therapy?
We frequently check-in on your goals and your sense of your progress. Some of this may be tracking whether or not the symptoms that brought you in have lessened, and some of it may be checking-in with larger measures to see if you feel more relaxed, more at-ease, or are experiencing more joy. If you don't feel this is the case, we are talking about it and exploring what's happening in order to create the practical support that does work for you.
How do I know that it's time to start seeking therapy?
It may be time to seek therapy...
When you can tell that your mindset and mood are blocking you from feeling a sense of ease and freedom in your life but you're not sure how to change it
When you know there is a part of you that wants a fuller voice and more expression in your life but you are unsure of how to bring it out
When trauma, grief, or loss cause daily pain that interferes with your ability to enjoy life and/or to function
How will I know it's time to end my time in therapy with you or reduce session frequency?
You will know it's time to reduce session frequency or end sessions when you feel like whatever brought you to therapy is no longer troubling you. You will have effective tools to care for yourself and will have found clarity about how to move forward. Sometimes, people want to continue therapy for ongoing support with self-exploration and growth (which is basically endless!) or other issues that may underlie whatever motivated them to seek therapy initially. Discussing this in an ongoing way often helps people to connect with their sense of self-determination, intuition, and knowing what's right for them.
Why should I seek therapy, rather than turning to my partner, friends, or other loved ones?
Trained, licensed therapists can offer a neutrality and nonjudgmental space to allow you to explore yourself in a way that isn't possible in other relationships. While loved ones are tremendously important, part of the benefit of therapy is that the dynamic is about you and your growth. You aren't responsible for your therapist's experience in the way that you are in the reciprocal dynamics of relationships with our loved ones. This makes the therapy space more oriented towards you and what you need in order to heal and grow.
Visit Dana's profile to watch her introductory video, read more about her, and book an initial call!