Dacia Fusaro is a Licensed Clinical Social Worker providing remote therapy to clients throughout the state of California. Dacia specializes in trauma, sexual and physical abuse, PTSD, grief and loss, eating disorders, and mood disorders. She passionate about providing clients with evidence-based and trauma-informed care and has additional training in EMDR and TRM (Trauma Resiliency Model), two modalities she regularly uses in sessions to help individuals and couples heal past trauma and experience more safety within themselves and in romantic relationships.
We asked Dacia more about her work with clients and her guiding philosophies on therapy.
Dacia's background and personal life
How did you decide to become a therapist?
I have always wanted to be a therapist! Self discovery is one of the most important things we can do for our well-being, and I've long been deeply curious about this process and how it shows up differently from person to person. If not for the compassion and guidance of loving healers in my own life, I wouldn't be where I am today. I know first-hand how instrumental and instructive a good therapeutic relationship can be, and I aspire to provide that for the clients I work with.
Mental health isn't formulaic nor is it prescriptive. We almost always know what it is we "should be doing" or what would be the "healthier choice," but we still often find ourselves stuck and unmotivated to do the things that would lead to more fulfillment and happiness. It's far more fruitful to examine, with curiosity and compassion, the barriers and obstacles that keep us from doing those things. Oftentimes, we find the barriers are self-protective, adaptive mechanisms that show up in our life for a reason. My job is to help my clients discover those reasons and learn ways to shift them to more adaptive and sustainable ways of being. I love my job!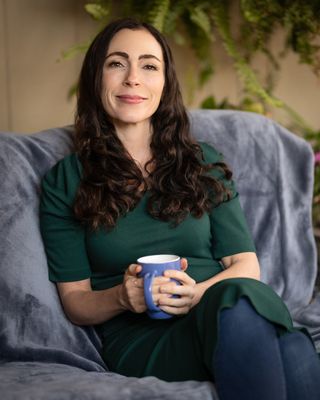 What was your previous work before going into private practice?
Prior to becoming a therapist, I worked as a New York City school teacher in special education. I was an educator for 8 years before returning to school to become a therapist. I've long been drawn to therapy and always dreamed of becoming a therapist, and part of me knew I would fulfill that dream some day.
What do you enjoy doing in your free time?
I love to read and write. I'm a huge bookworm and can often be found with my head buried in a book. I'm currently writing a book as well. Hiking, baking, and time spent with friends and family also rank high on my list.
Dacia's specialties and therapy philosophies
What guiding principles inform your work?
All of us fundamentally long to be seen and heard. I believe in creating a safe therapeutic space where my clients can connect to the parts of themselves they may feel shame for. Shame, when kept buried, is corrosive. As Brene Brown claims, the antidote to shame is to share it with others rather than keeping it hidden. I believe knowledge of our inner world sets the stage for all other parts of our lives, and it's always helpful to have a nonjudgemental other to help navigate this discovery.
I believe my clients already have the inner strength, knowledge, and resilience inside of them, and my work is to help connect them to that which they already possess. The therapeutic process looks different for everyone. Some people want to be connected to skills and resources while others want to work on processing and exploring past trauma and grief. I meet each client where they're at and together we determine how to set the pace and structure of our sessions.
What clientele do you work with most frequently?
I specialize in working with clients with a history of trauma, those navigating grief and loss, and individuals struggling with mood disorders. I love the quote "adversity is not destiny" because I've seen my clients' lives transform for the better during the therapeutic process and sincerely believe that we all possess the ability to transcend and overcome debilitating, challenging life experiences.
Can you tell us more about your specialty in trauma?
I am trained in multiple trauma modalities, including EMDR and the Trauma Resiliency Model, which works with trauma somatically and with sensations in the body. I am very passionate about working with trauma survivors, whether it be childhood trauma, single-incident trauma, sexual abuse, or trauma in any of its other manifestations.
Can you tell us more about your work with clients navigating grief and loss?
I received my Certification in Grief and Loss after experiencing an enormous loss in my own life. Grief is one of the only universals there is and yet how we navigate grief can often feel deeply confusing and isolating. My job as your therapist is to help you understand grief isn't something we need to "fix" or "get over," but rather that it's an evolving process of learning to incorporate the grief into our lives and find meaning in what's happened.
Can you tell us about your specialty in treating mood disorders?
I have extensive experience working with mood disorders. I help my clients learn ways to work through their symptoms and learn new skills and strategies that enhance their sense of well-being and happiness.
What do you find most rewarding about your work?
I am so passionate about what I do. I love helping my clients cultivate self-compassion and connect to valuable insights that shift how they view themselves and others. Walking beside my clients as they learn new skills that help them feel more grounded and connected and that enhance their quality of life is so inspiring for me.
Therapy sessions with Dacia
What will our first session together be like? What happens in ongoing sessions?
Our first session would be focused on us getting to know each other, as well as prioritizing what your goals for therapy are and how we can work towards those goals during our time together. I love to get to know my clients within the context of their lives, so we spend a lot of our first session discussing your life history and what brings you into therapy. I also create space for you to ask me any questions you might have and provide pyschoeducation on the therapeutic modalities I'm trained in and how they might be beneficial for you.
Are there any books you often recommend to clients?
So many! I love Tara Brach – her books Radical Acceptance and True Refuge are genius. I also recommend anything by Pema Chodron. Janina Fisher is a little wizard – her book Healing the Fragmented Selves of Trauma Survivors has greatly informed my work. Lorri Gottlieb's Maybe You Should Talk to Someone is another favorite. Alain De Botton's books on relationships are also such a source of inspiration. And too many fiction books that have shaped how I walk through the world to count.
Do you assign "homework" between sessions?
I often assign homework between sessions; however, my assignments are always invitational. I tell my clients to only do the things that resonate with them, and there's absolutely no judgment if my clients don't complete their exercises. I am a huge believer in providing psychoeducation and connecting people to resources, whether that be recommended books, podcasts, articles, blogs, and so forth. I am passionate about what I do and love to share my wisdom and the things that have helped me with others.
How do you help ensure I'm making progress in therapy?
That's a wonderful question. Therapy is such a collaborative process, and I have an ongoing dialogue with my clients about their goals and progress towards these said goals. I often check in to see how my clients are feeling about their work in therapy and if they have any concerns or would like to fine tune or change certain things. Therapy is such a fluid, flexible, and ongoing process, and I like to approach it as such. I always welcome feedback and suggestions.
Visit Dacia's profile to read more about her and book an initial call!