Courtney Loyola is a Licensed Professional Counselor based in Austin, TX specializing in trauma, anxiety, depression, dissociative disorders and depersonalization. We asked Courtney more about her work with clients and her guiding philosophies on therapy.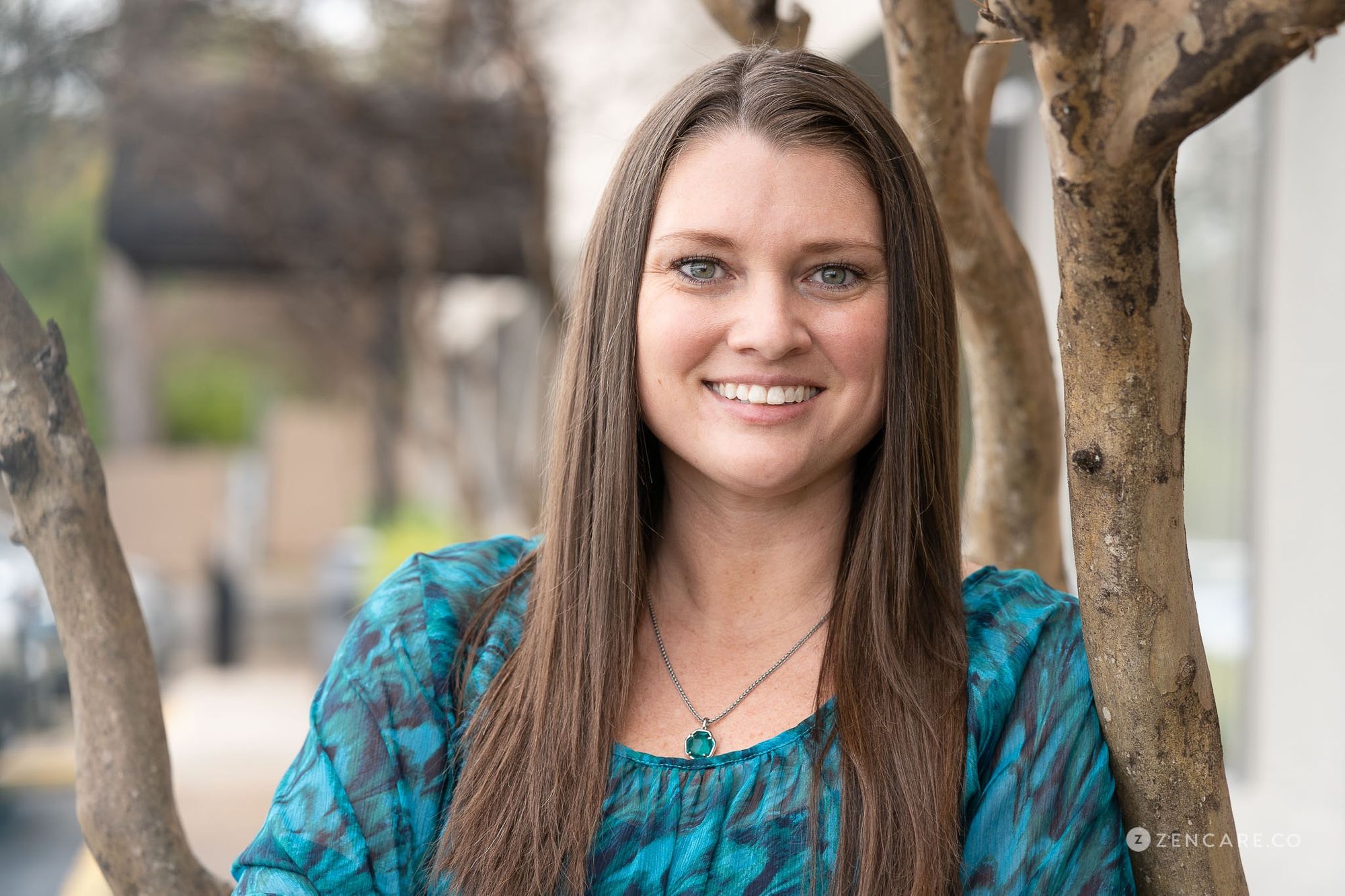 Courtney's background and personal life
How did you decide to become a therapist?
I've always known I wanted to be a therapist; I was always the person people went to for advice and support. I became a trauma specialist because I'm a trauma survivor myself, and knew I wanted to help others heal from their trauma.
What was your previous work before going into private practice?
I've worked in multiple settings throughout my career- public schools, community mental health, psychiatric hospital, group home and addiction treatment center.
What do you enjoy doing in your free time?
I enjoy gardening, spending time outside, and hanging out with friends, my husband and dog. Right now, I am spending a lot of time getting ready for the birth of my baby boy in November, 2022.
Courtney's specialties and therapy philosophies
What guiding principles inform your work?
I believe in total wellness which incorporates a mind body approach. I believe healing begins by looking at the root of problems and healing trauma from the core.
What clientele do you work with most frequently?
Adult trauma survivors, This population faces unique challenges due to experiencing repeated traumas that impact their identity, emotional and attachment development. Therefore, this population requires and deserves a complex approach focusing on the root of the traumas. Often the root problem is ignored due to distractions from trauma symptoms. Total healing requires focus on the root- attachment, parts work, inner child/shadow work, identity development, and emotional development- to fully heal from trauma.
Can you tell us more about your specialty in narcissistic abuse?
Narcissistic abuse is an insidious abuse that often goes overlooked and/or not believed by outsiders. This abuse alters the survivors identity, ability to think independently, trust oneself, etc. due to the indoctrination of abuse. I help survivors identify the abuse as abuse, and begin to detangle the indoctrination of the abusers beliefs and words that have become a part of the survivors identity. The goal is for survivors to develop their own identity outside of their trauma.
Can you tell us about your work with clients with dissociation challenges?
Dissociation is a trauma response often seen in complex trauma survivors. This type of defense mechanism requires specialized treatment in order to help the individual heal from their trauma. I help by utilizing a mind-body approach to help the client feel safe in their body and increase their window of tolerance. The goal being for the individual to no longer feel the need to dissociate when experiencing distressing emotions.
What do you find most rewarding about your work?
I find the most rewarding part of my work to be individuals healing from their trauma and able to move forward in life with a brand new sense of self, separate from their trauma.
Therapy sessions with Courtney
What will our first session together be like? What happens in ongoing sessions?
The first session includes history taking and understanding current stressors and identifying problems to work on. This session is about rapport development and allowing the individual to feel safe in expressing themselves authentically. A large part of the session involves validation of the individual's experiences and emotional responses. Education about complex trauma is provided, as well as, a couple of strategies to help cope with the identified problems. At the end of session, a goal and focus for treatment is developed.
How long do clients typically see you for?
Each individual is different, so I'm unable to state a 'typical' length of sessions. It is up to the individual and their goals. A more targeted goal may be up to 6 months of sessions. A more complex and long term goal may be 1 year or more of sessions. I always continue to check in with clients on the length of treatment and if they want to make any adjustments. I am an advocate for a step down process in therapy, which means a gradual reduction in frequency of meetings. This allows the individual to feel supported while transitioning to life without therapy.
Are there any books you often recommend to clients?
Do you assign "homework" between sessions?
I believe in assigning homework between sessions to allow for further development and growth outside of the therapeutic room. 'Homework' is in line with the goals and focus of treatment and is tailored specifically to the individual and their needs. The 'homework' is a build off of what the session was about and encourages deeper work. I always tell my clients the majority of the work is done in between sessions when they are using the skills asked of them.
How do you help ensure I'm making progress in therapy?
I am a strong believer in checking in with the client and continuing to build off of their goals. I encourage clients to be honest in session if they believe they are not making as much progress as they would like, and we begin to troubleshoot the 'stuck points'. I utilize a direct approach with clients, and will highlight lack of progress and/or barriers to healing in session. Often I will discuss reducing the frequency of sessions with clients if progress has slowed, in an effort to "allow more time to live" between sessions; this often allows individuals more time to independently implement skills learned in session.
How do I know that it's time to start seeking therapy?
It's always time to start therapy! Everyone benefits from therapy and it doesn't have to start when you are at your worst. Sometimes therapy can be great when you want to build off of something good in your life or a recent success.
How can I prepare for our first session?
Preparing for the first session depends on the person and their goals. If you are a more organized person, often writing down your ideas, goals and history can be beneficial in the first session. If you are not that organized, that is OK. As long as the individual thinks deeply about what their struggles are and has an idea of what they would like to work on, that can be enough for the first session. Remember that trauma work is hard and you are on your own healing timeline.
Why should I seek therapy, rather than turning to my partner, friends, or other loved ones?
A therapist is a non biased individual in your life. Family, friends and partners are biased and unable to offer advice that is not influenced by your history together and their own past. A therapist is someone you can tell everything to and feel safe knowing none of this information will ever be used against you in the future.
What advice would you share with therapy seekers?
My advice is trust your gut and find a therapist that you truly connect with. Sometimes this can take a few tries and that's OK! Everyone has their own desire for therapy and a style that works best for them- don't settle for something that is OK, search for great!
Visit Courtney's profile to watch her introductory video, read more about her, and contact her for an initial consultation!