Courtenay Houk is an Associate Marriage and Family Therapist (AMFT) in California specializing in helping clients navigate relationship-related challenges, including boundary-setting issues, codependency, and premarital concerns. She has experience working with a wide range of relationship structures, including LGBTQIA+ partnerships and polyamorous/non-monogamous structures. Courtenay also welcomes individual clients to her practice, many of whom she works with on topics related to anxiety or major life transitions. Regardless of presenting concern, however, Courtenay utilizes her advanced training in somatic therapy and offers convenient remote therapy options to ensure all her clients receive compassionate therapy in an accessible environment.
We asked Courtenay more about her work with clients and her guiding philosophies on therapy.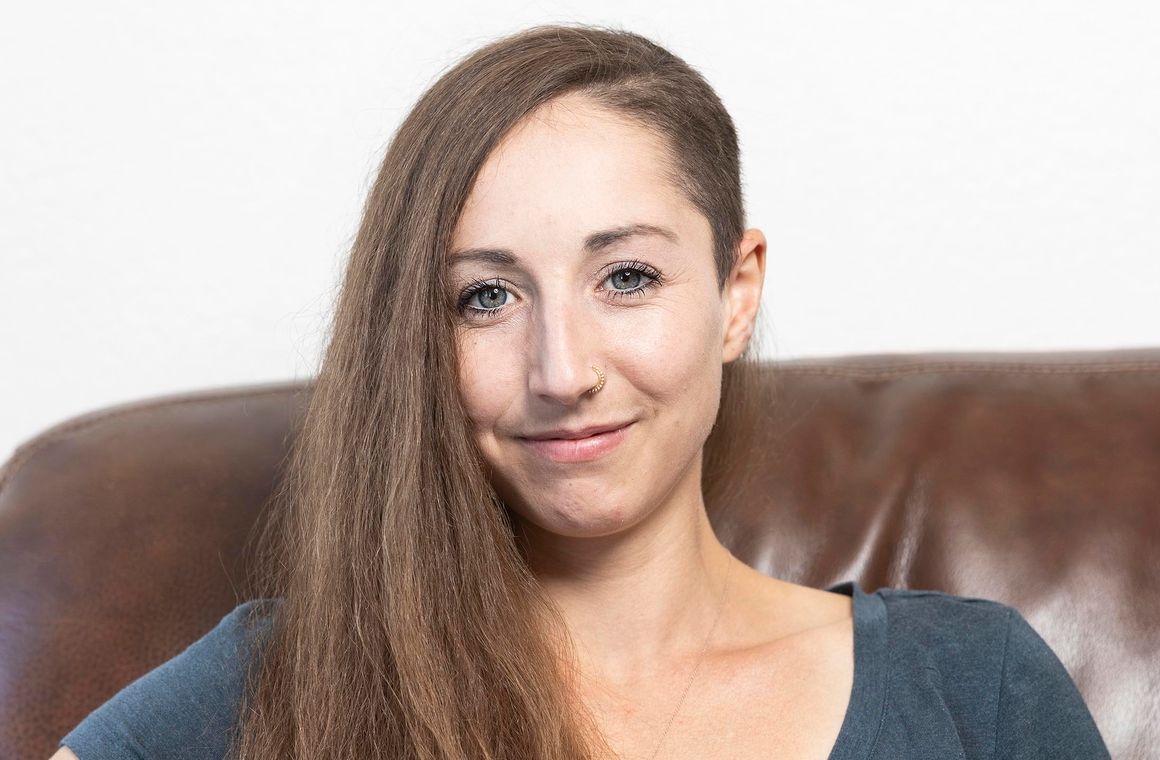 Courtenay's background and personal life
How did you decide to become a therapist?
My decision was informed by my experience of continually ending up in similar work environments, romantic relationships, and friendships. It took years for me to recognize this pattern, let alone accept that I was the common factor and these circumstances were not happening TO me (even though at the time, I felt that they were). What I did not understand at the time was HOW I was continually replicating similar choices.
By the time I was completely burnt-out and struggling with generalized anxiety, panic attacks, and depression from working 60+ hour weeks while living paycheck to paycheck, I realized that I needed to slow down just enough to put myself first. That is when I applied for the Somatic Psychotherapy Master's program at the California Institute of Integral Studies and left my fast-paced career behind. My new career as a therapist began to take shape from there.
What was your previous work before going into private practice?
Prior to starting down this path of somatic therapy, I worked in the fast-paced language service industry. Being a Third Culture Individual (TCI) myself, I once had a dream of becoming a translator. Back then, the world of language services initially felt like home for me. I worked numerous roles across three different companies, mostly in project management, quality assurance and localization, and proofreading. I primarily worked on translation and localization projects and also occasionally facilitated interpreting services.
What do you enjoy doing in your free time?
I enjoy getting my hands in soil, spending time with my two cats, finding flavorful and inspiring things to cook, walking in the forest, reading anything and everything by David Sedaris, practicing yoga, playing board games, and long/deep talks with close friends and family.
Courtenay's specialties and therapy philosophies
What guiding principles inform your work?
Two guiding principles live behind my work. First, there is no 'right' way to be a human—therapy is not about changing or correcting a person. It is about learning from yourself. My role as the therapist is to support you with that process, using somatic-emotional exercises. My second guiding principle is: We ARE our bodies. We are continually forming patterns and ways of being in the world and are often not shown how we can actively engage and influence these patterns to generate more satisfying experiences for ourselves. This is where I come in as a somatic-relational therapist.
What clientele do you work with most frequently?
I primarily work with adult individuals and couples who are navigating life transitions, boundaries, relational stressors, and charged emotions (e.g. anger, anxiety, depression). Folks who seek me out for therapy are often new parents, survivors of childhood trauma, poly- and ethically CNM, LGBTQIA+, Trans/NB, and Third Culture individuals.
Can you tell us more about your specialty in helping clients navigate major life transitions?
Transitions can take many forms. When I use the term "transition" I am speaking to a change in one's life that a person is adjusting and/or adapting to. On the macro-level, this could be moving to a new city, the birth of a child, getting married, losing a loved one, cutting off contact with someone, and so on. On a micro-level, this most often shows up in terms of emotional and physiological dysregulation, such as quickly transitioning from a place of stability to erupting into anger, anxiety, or panic.
I especially love working with charged emotions, such as anger, and have found that folks are often afraid to acknowledge (let alone feel!) their anger out of fear that they will "lose control."
Can you tell us more about your work with clients on boundary-setting?
Boundaries, like life transitions, can take many forms—physical (somatic) boundaries, verbal boundaries, emotional boundaries, energetic boundaries. From my perspective, these are interconnected and influenceable. Whether a person is wanting to grow more capacity to recognize their need to form a boundary, wanting to grow different strategies for forming different types of boundaries, or wanting more permission in their life to have boundaries, I enjoy working with wherever a person is at.
I also work to support folks in recognizing what they want, as opposed to fixating on what they don't want. How does a person learn to express their wanting in their relationships in a satisfying way? This is a particularly exciting area of boundary work for me.
Can you tell us about your work with clients on relationships?
Relationship counseling is one of my favorite areas of work because of how dynamic and alive it is. In relationship counseling, I see the relationship itself as the client, not the individual members. When people come to see me, they are part of an existing system they have created together, and I am working directly with that system. As a relationship therapist, I watch closely and connect patterns I am noticing in the relational dynamic. I ask questions that encourage self-reflection and self-engagement, and I offer somatic-emotional exercises to support partners with recognizing how they are generating a response to the other person.
If I find that one or both partners is not interested in engaging themselves somatically, I will generally shift gears to work more relational therapy (more akin to talk therapy). I have worked with relationships of many varieties: long distance partners, polyamorous relationships, relationships that are ending/transitioning, new parents, premarital couples, and folks who simply want to strengthen communication, intimacy, and vulnerability with their partner(s).
What do you find most rewarding about your work?
The "light bulb" moments when a client learns or discovers something about themselves, in real time. It's pure magic.
Therapy sessions with Courtenay
What will our first session together be like? What happens in ongoing sessions?
The first session can initially feel a little intimidating for folks who are brand new to therapy and do not know what to expect. Generally speaking, the very first session is more of an informational session, and very little therapy is done during this time. Some things you can expect from our first session include: reviewing the paperwork I send you in-between our consultation call and our first meeting, answering any questions you have about my fees or policies, and discussing more in-depth how you are wanting to grow in therapy. These goals will be the basis for our work together.
You can expect us to revisit and tweak these goals together, over time. For the first several sessions, I am gathering more information and context about you as a person, what you have experienced, how you see the world, and how you show up in therapy with me. Work generally starts to deepen by around session 4-6 once we've started to establish a baseline level of trust and safety; however it is normal and expected that some material may not come up or be addressed until months (or even years) into our therapeutic relationship. Everybody's journey is unique and happens at their own pace and their own process.
How long do clients typically see you for?
Generally speaking, relationships and individuals typically work with me for 1-2 years or longer.
Are there any books you often recommend to clients?
There are many I would recommend. Here are three:
Your Body Speaks Its Mind by Stanley Keleman
Clarity and Connection by Yung Pueblo
The Body Is Not An Apology by Sonya Renee Taylor
Do you assign "homework" between sessions?
No. I strongly believe that "less is more" when it comes to therapy, and with a somatic approach in particular, there can be a lot for folks to process in-between sessions depending on the sort of material we are deepening into.
How do you help ensure I'm making progress in therapy?
At the end of a session, or after a period of sessions, I check-in and ask about what you got from today's session or are getting from our sessions in general. These are opportunities to share with me what is either working or not working for you. Therapy is a relationship, and relationships are collaborative processes.
How do I know that it's time to start seeking therapy?
You may feel overwhelmed, stuck, or downright frustrated with yourself or a relationship you have with someone. You may be questioning your self-worth or your own innate capacity. You may feel alone or isolated, either physically or because of who you are. You may even feel as if everything is going well in your life, but you are wanting to learn something specific, such as communicating your desires or strengthening boundaries in a relationship with another person. You don't have to be struggling to come to therapy—you just need a willingness and a desire to learn from yourself.
How can I prepare for our first session?
Two things! First, the 'boring' (albeit important) administrative part: read the paperwork I send over, sign/date/return the documents before we meet for our first session (e.g. Informed Consent form), and bring any questions you have about my policies, fees, approach, or therapy in general. Second, think about what brought you to reach out to me in the first place and whether or not that is what you are wanting to focus on. This will inform how we approach your goals for therapy.
How will I know it's time to end my time in therapy with you or reduce session frequency?
Generally speaking, folks know their own experience and let me know when they either feel complete with the work or are still getting benefit from the work but are wanting to meet less often. Biweekly therapy sessions are generally a supportive means of transitioning out of therapy and/or exploring whether that choice is right for you. More than anything, it is important to engage how you want to make an ending with me, as the ending process in therapy can often be reflective of how a person forms endings or transitions in other areas of their life.
Sometimes the thought of ending arises because something about our agreement feels out of alignment, and the fix is simple—needing a new rate, a new meeting time, or changing meeting frequency. These are conversations I want to have, whether they are in support of clients deepening into the work with me or forming a satisfying ending to our work together.
Why should I seek therapy, rather than turning to my partner, friends, or other loved ones?
Emotional labor is one of the most under-valued forms of labor in our capitalist society. It takes energy and capacity from a person's nervous system to be able to hold another in their suffering, and most people do not undergo years of training or their own therapy in order to grow this capacity. Further, women are often placed in these roles without consenting because it is expected of them as "nurturers."
Therapists are trained professionals who have gone through this growth-process themselves, who are capable of offering deep care, and yet are seated enough out of the client's life that they can maintain an objective perspective in support of the client's growth.
Turning to a partner, friends or family for emotional support can be helpful and validating, but not always; sometimes loved ones are too close to the topic at hand to offer support themselves, or they may experience your growth as a form of rejection.
What advice would you share with therapy seekers?
Finding a therapist is a process; it can feel vulnerable and unfamiliar, when you are just starting off. Take your time, trust your intuition, and give yourself permission to try someone else if something about the fit feels "off" to you. Your experience of comfort and safety in the relationship is one of the most important baseline indicators of whether that therapist or approach is right for you.
Visit Courtenay's profile to read more about her and contact her for an initial consultation!