Charlotte Wickham is a Licensed Clinical Social Worker and the founder of The Centered Self Psychotherapy in Los Angeles, CA. Charlotte specializes in life transitions, relationship issues, couples counseling, stress management, and emotion dysregulation. We asked Charlotte more about her work with clients and her guiding philosophies on therapy.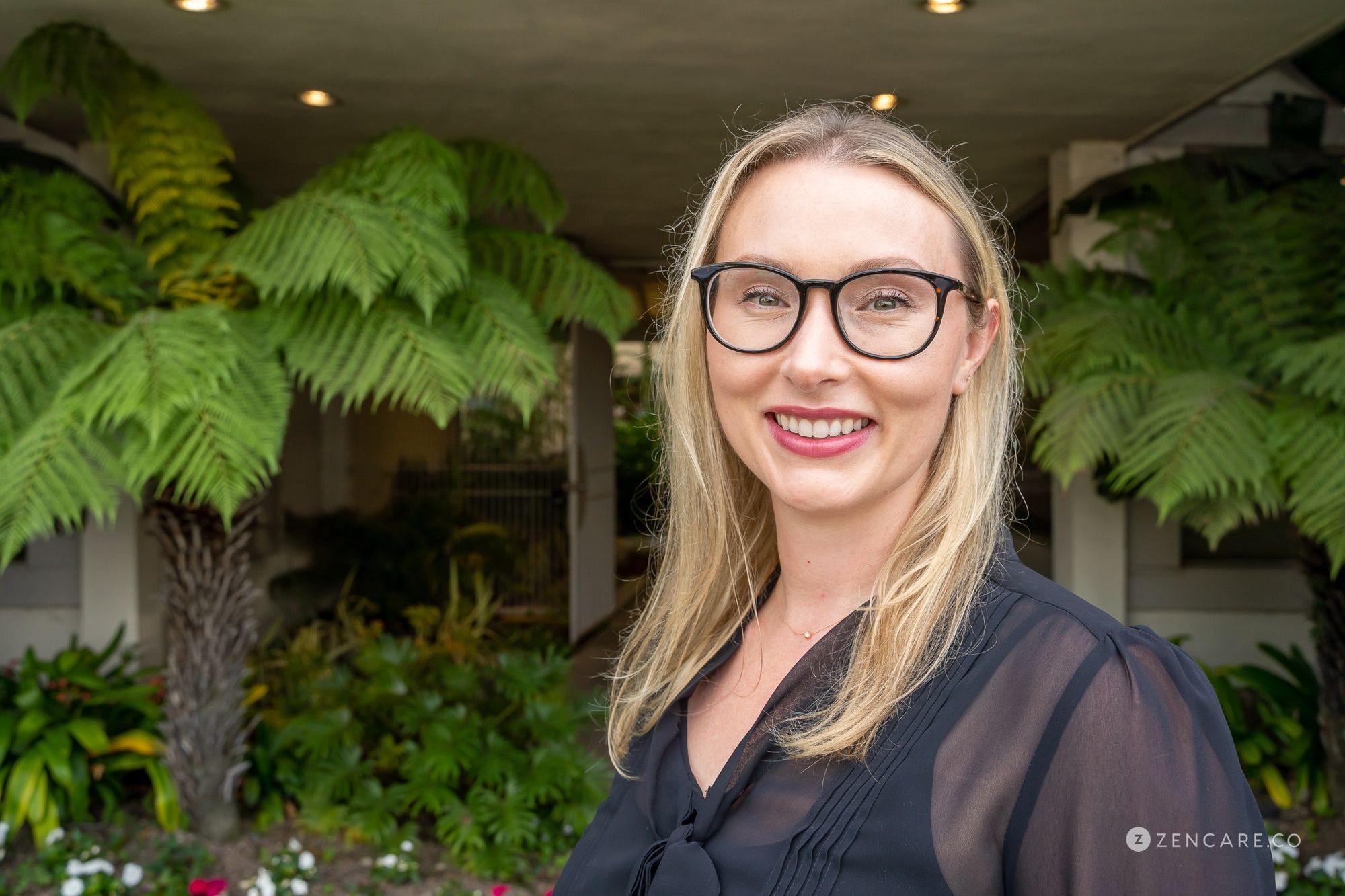 Charlotte's background and personal life
How did you decide to become a therapist?
I've known I wanted to work with people as far back as I can remember. Helping people to better understand themselves in order to support them while they strive for their goals has always fascinated me. I believe human beings inherently want to grow and be the best version of themselves, even though the path may not always be clear.
What was your previous work before going into private practice?
I received my Master's Degree in Social Welfare from UCLA and my Bachelor's Degree in Psychology from UCSD. My clinical interests are the study and practice of Dialectical Behavior Therapy (DBT) and I am a DBT-LBC Certified Clinician™. My clinical training has focused on evidence-based practices in outpatient, intensive outpatient, and partial hospitalization settings.
I previously worked at Clearview Treatment Programs and was one of the developers of the DBT Day Treatment Program at the outpatient location. Additionally, I provided comprehensive DBT to clients and clinical supervision to Master's level clinicians working towards licensure. I also facilitated DBT skills groups, ACT skills groups, as well as a variety of other skills and process-based groups.
During graduate school, I interned at Harbor UCLA's Adult Outpatient Program, intensively training in Dialectical Behavior Therapy as well as several other evidence-based therapies, including Cognitive Behavioral Therapy (CBT), Prolonged Exposure Therapy (PE), Acceptance and Commitment Therapy (ACT), and Cognitive Behavioral Analysis System of Psychotherapy (CBASP).
Prior to Harbor UCLA, I worked at the UCSD Eating Disorders Center for Treatment & Research, where I gained experience working with clients with a variety of disordered eating behaviors, as well as Borderline Personality Disorder. There, I gained experience with inpatient, partial hospitalization, and intensive outpatient programs while utilizing a variety of modalities, including DBT and CBT.
What do you enjoy doing in your free time?
I'm a yoga teacher, have previously taught yoga professionally, and continue to have active personal practice. There are so many principles in the practice of yoga that align with my therapeutic practice as well as the life I want to live--they all influence and complement each other. I frequently incorporate yoga in my therapeutic practice and I believe it can be a gateway to practicing mindfulness when a more traditional practice seems challenging.
Charlotte's specialties and therapy philosophies
What guiding principles inform your work?
My interest in the practice of psychotherapy is founded in the idea that all people want to be the best version of themselves and are capable of achieving that-- whatever that may mean to them. I want to help individuals cope with the challenges that can interfere with achieving their goals and what they want for their lives. All humans struggle and fall short of their own ideals at times, learning to successfully cope through these moments of difficulty can lead to a more fulfilling life and an ability to thrive more completely during moments of success.
Can you tell us more about your specialty in helping clients learn how to better cope with life stressors?
I believe the most caring and compassionate thing that I can do as a therapist and coach is help my clients achieve their own goals. Sometimes this requires pushing towards change and other times it requires working on acceptance. I value creating a warm and validating environment for clients to feel safe to focus on their own growth. I truly believe that working with a psychotherapist can increase the quality of your life by decreasing avoidance, increasing accountability, increasing self-validation, and supporting an individual as they move towards their goals.
Can you tell us more about your specialty in relationship issues?
After working with Individuals for many years I realized there is only so much impact that can be made without including the whole system. As I specialize in working with emotion dysregulation this leads me to work with high-conflict couples, which I feel passionate about. Teaching people skills to regulate in the moment, communicate in a warm and validating way, and increase connection is very rewarding work. Witnessing people learn to be vulnerable again with a loved one is a special thing.
Can you tell us about your specialty in emotion dysregulation?
In my work with individuals and couples, I've observed that clients often don't have the skills to manage and regulate their emotions. This may be due to several factors, including internal and external stimuli. My goal is to provide my clients with skills to regulate their emotions so that they remain in their window of tolerance. As a result, this often allows clients to navigate stressors and relationships more effectively.
Therapy sessions with Charlotte
What will our first session together be like? What happens in ongoing sessions?
In our first, I would want to learn more about you! What brings you to therapy? What would you like to focus on? What are your goals? In our ongoing sessions, we would collaborate on skills to help you achieve your goals.
How long do clients typically see you for?
This really depends on you and what you'd like to work on-- have you met your goals? Are you still finding therapy helpful?
Are there any books you often recommend to clients?
I recommend The High Conflict Couple by Alan Fruzetti quite frequently! It's an easy read and SO helpful for partners to read together and easily incorporate into their lives. I re-read it every couple years myself.
Do you assign "homework" between sessions?
I do! It would specifically pertain to your goals. For example, if you wanted to decrease social anxiety and increase connection, we would collaborate on homework that would increase your interaction with people in situations you'd like to be more comfortable in.
How do you help ensure I'm making progress in therapy?
By asking you! Your experience is most important. I also use tools to track behaviors and symptoms such as a Diary Card--something you'd fill out and bring to a session.
How do I know that it's time to start seeking therapy?
If you're at all thinking about going to therapy it probably means it's time! Often people wait too long and they could have avoided some suffering by coming in sooner. It's very human to try to solve our problems on our own first, however, we may not have the skills to do that successfully.
How will I know it's time to end my time in therapy with you or reduce session frequency?
Have you met your goals? Do you feel like we have nothing to talk about? I'll also check in with you about this if I notice the goals you came in with have been met.
Visit the The Centered Self Psychotherapy profile to read more about Charlotte, watch her introductory video, and contact her for an initial consultation!