Carrie Coplen is a Licensed Professional Counselor Associate in Grapevine, Texas specializing in insomnia, trauma, and life transitions. We asked Carrie more about her work with clients and her guiding philosophies on therapy.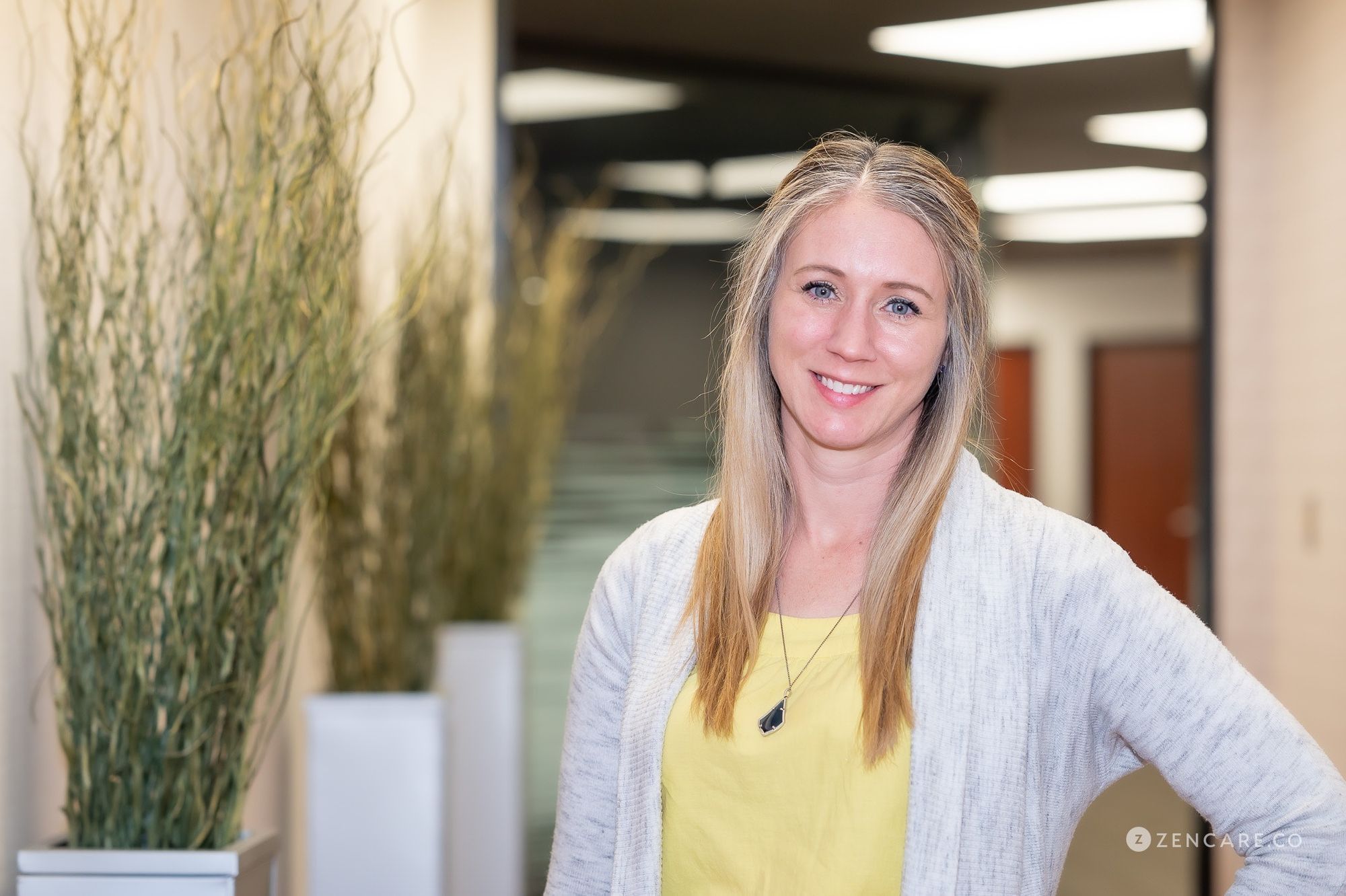 Carrie's background and personal life
How did you decide to become a therapist?
I started teaching English Literature at a local high school when I was in my early 20s. During this time, I realized that several of my students seemed disconnected with school. The more I got to know them as individuals that more I realized that many of them were struggling with mental health challenges and needed access to good mental health care. It was nearly impossible for them to focus in the classroom when they were dealing with such heavy life challenges.
Furthermore, the school counselors were so overburdened with scheduling that they were unable to practice therapeutic strategies with the students. It was during this time, that I realized that I wanted to go back to school and become a counselor. Students cannot expect to excel in the classroom if their mental health needs are not being met outside the classroom. My plan was to work with only youth, but over time my practice has expanded to working with adults as well.
What was your previous work before going into private practice?
I started my career as a teacher, then I transitioned to working part time with local youth groups while I raised my own children. Once my children were older, I went back to school at the Texas Tech Medical School to become a Licensed Professional Counselor and a Nationally Certified Counselor. I completed my practicum and internship training working with youth at one of the largest school districts in the state of Texas.
What do you enjoy doing in your free time?
I have been married almost 20 years and together my husband and I have 4 children, 2 cats, and a dog. I love spending time with my family. We love adventuring together as well as simple Friday night movie and pizza nights. When I am not with my family or working, I love to spend time with my local running group. I have ran 3 marathons and 6 Ragnar races with this group. Ragnar races at 200 mile running relay races that can be completed in various locations around the country.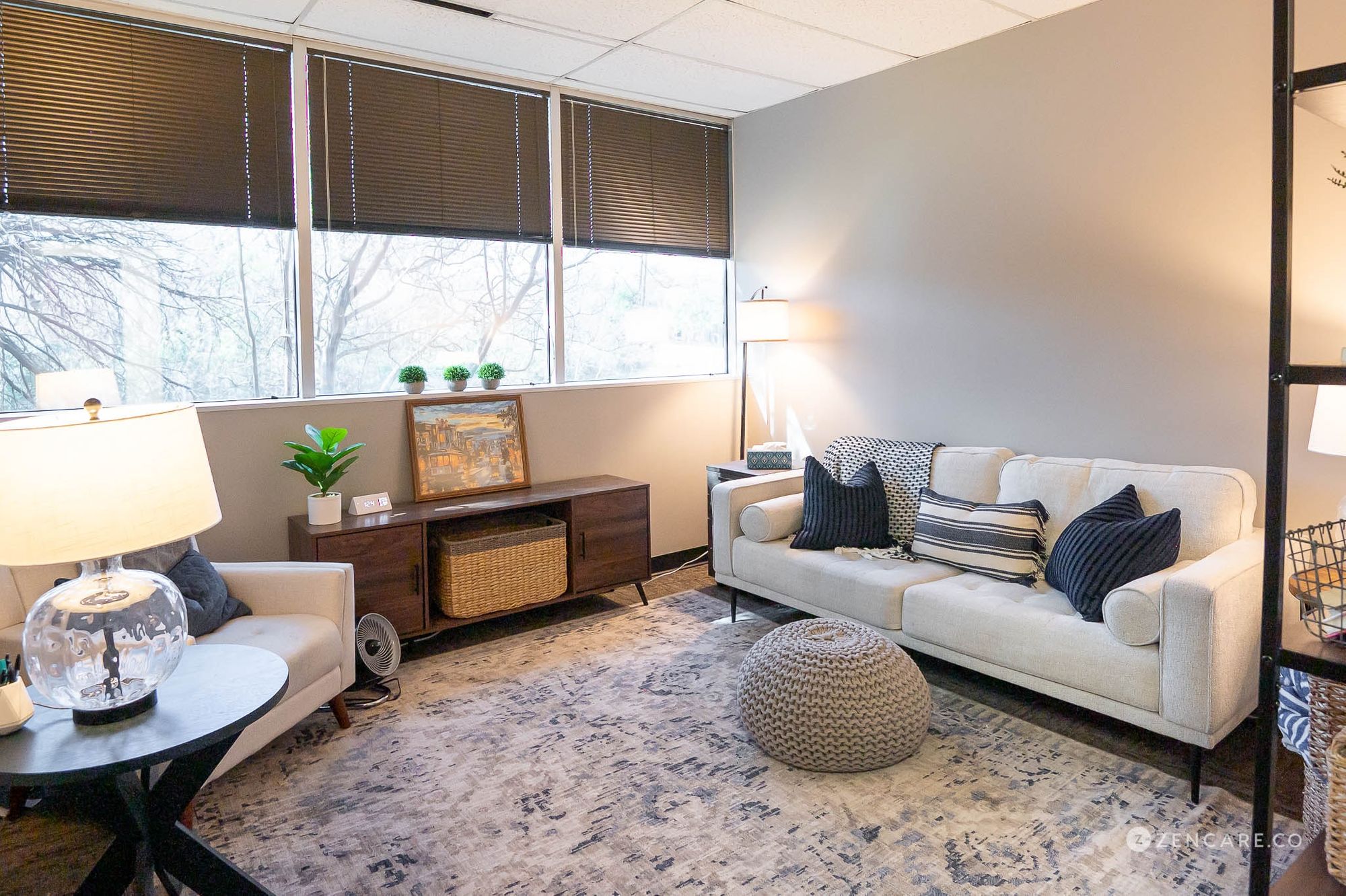 Carrie's specialties and therapy philosophies
What guiding principles inform your work?
As a therapist, I understand that my clients need a empathetic and non-judgmental counselor to help them navigate and heal from life challenges. A person cannot be expected to put in their best work at school or their job if they are not getting the mental health help that they need. Furthermore, when someone is in a crises they often feel lost and confused. They need someone who will not judge then when they are at their worst. I understand that people need support in a nonjudgmental and private environment and I offer a safe place for them and walk with them while they navigate their hard.
What clientele do you work with most frequently?
I began my career working with youth, however, I have since transitioned into working with adults too. I am certified in Cognitive Behavioral Therapy for Insomnia, and Eye Movement Desensitization and Reprocessing Therapy. I help my clients move past their anxiety and learn to sleep again as well as process negative cognitive thoughts and reprocess past trauma.
Can you tell us more about your specialty in insomia?
I have seen many clients enter my office with anxiety and depression, but after further investigation, I have learned that they are not sleeping. I am Cognitive Behavioral Therapy for Insomnia certified (CBTI). Did you know that according to a study conducted by Dr. Carney in her research lab, that CBTI has the same effect as 8 weeks on Lexapro? CBTI is a non medication sleep schedule program that helps patients learn to sleep again which in turn helps with anxiety and depression. The best thing about CBTI too is that it only takes 6-8 weeks and once it is completed most symptoms of anxiety and depression go away on their own.
Can you tell us more about your specialty in trauma?
Lots of people do not seek out therapy services until they have experienced an extreme trauma. I am Eye Movement Desensitization and Reprocessing (EMDR) trained. This means that I work with patients to access, process, and work through their trauma so that they can move past it and stop ruminating or reliving the pain in their own heads. EMDR is often used to treat PTSD and once the process is completed most patients can move on to live a happy and healthy life free of rumination and panic attacks.
Can you tell us about your specialty in life transitions?
Additionally, I have had a lot of patients come into my office who are struggling with life transitions. Entering college, starting a new job, making a big move, adding a new baby to a family, divorce, faith crises, and faith transitions are all difficult challenges that can be challenging for individuals to work through and walk through alone. I offer an empathetic and non-judgmental space for my clients and walk beside them and empower them as they learn to navigate these difficult life transitions.
What do you find most rewarding about your work?
I love people and I love working with people. There is nothing more rewarding than seeing my clients both heal and thrive in their lives again.
Therapy sessions with Carrie
What will our first session together be like? What happens in ongoing sessions?
We will spend our first sessions getting to know each other. I want to learn about you. Who are you? Why did you decide to seek therapy. I want to hear your life story. Once we finish this first session, I will be able to create a plan catered just for you.
How long do clients typically see you for?
Insomnia patients only see me for 6-8 weeks. My other patients see me until they start to see improvements in their individual lives.
Are there any books you often recommend to clients?
Do you assign "homework" between sessions?
I like to assign homework to my clients, but if my clients tell me they do not want to do it, that is ok too. I plan sessions and homework that is catered to each individual client and their needs and desires.
How do you help ensure I'm making progress in therapy?
I can tell if my clients are making progress in therapy based on how they are feeling? Is their mood improving? Are they sleeping better? Does their life make more sense and have better clarity?
How do I know that it's time to start seeking therapy?
Rumination is general a sign that you need to seek therapeutic services. Rumination is when you keep having the same negative thoughts circulating in your head and you feel stuck in a never ending maze.
How can I prepare for our first session?
Clients do not need to bring anything to their first session. They do not ever need to feel stressed about going to therapy.
How will I know it's time to end my time in therapy with you or reduce session frequency?
We will talk about it and make a plan that works best for you in our therapy sessions.
Why should I seek therapy, rather than turning to my partner, friends, or other loved ones?
It is wonderful to have a supportive people in your life, however these people are not required to stay confidential, non-judgmental and they often want to give unsolicited advice. A trained therapist will never share your information outside the therapeutic relationship unless someone is being hurt and they are trained to be non-judgmental and they will not give destructive and unsolicited advice.
What advice would you share with therapy seekers?
The hardest part of therapy is scheduling the appointment and going. Most reputable therapists will offer a free 15 minute consultation call. If you are unsure about seeking therapy, schedule a free call with a therapist to see if they are the right fit and if you are ready to heal and make changes in your life.
Visit Carrie's profile to watch her introductory video, read more about her, and contact her for an initial consultation!