Becky Belinsky is a Licensed Marriage and Family Therapist in Santa Monica, CA specializing in eating disorders, anxiety, perfectionism, relationship concerns, and life transitions. Becky works with individuals, couples, and families through a humanistic lens with mindfulness approaches. Becky is also a Certified Intuitive Eating Counselor and uses an anti-diet and Health At Every Size (HAES) approach when working with her clients with eating disorders or body image concerns.
We asked Becky about her work with clients and her guiding philosophies on therapy.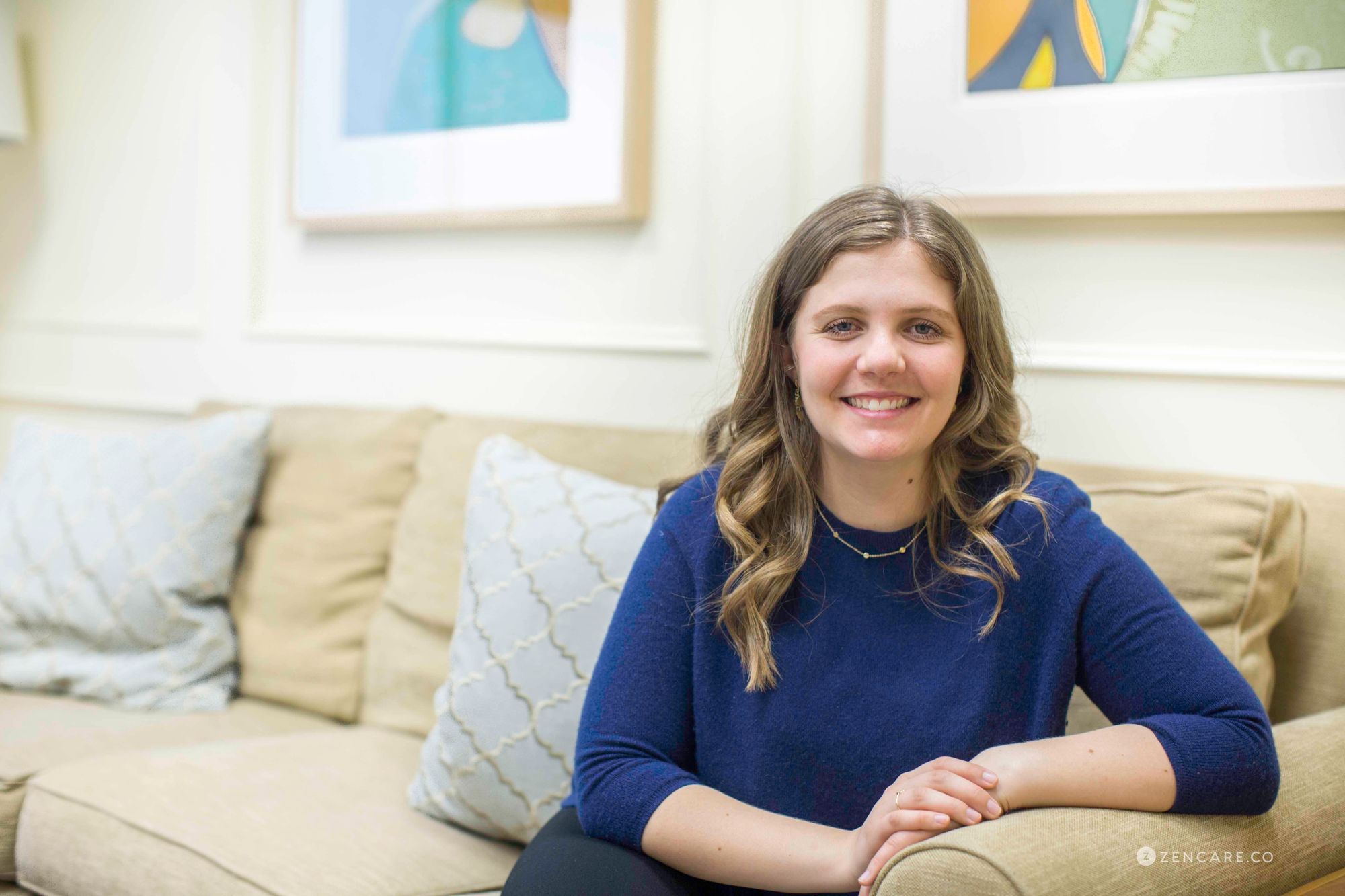 Becky's background and personal life
How did you decide to become a therapist?
I actually first thought I might want to be a therapist when I was five years old. I went to see a therapist for the first time because I was afraid of monsters under the bed. I loved the experience so much that I would play therapist with my friends on the playground.
I really decided I wanted to become a therapist when I went through a tough transition in college and found my own experience with therapy incredibly helpful and healing. I've always loved listening to people's stories and supporting them; I know from personal experience how healing this can be!
What do you enjoy doing in your free time?
In my free time I love to read, spend time outdoors, and play with my dog. I also love to cook so when I have a free evening I love to put on music and get creative in the kitchen (and then share the meal with people I love!).
Becky's specialties and therapy philosophies
What guiding principles inform your work?
One of the guiding principles that informs my work is that everyone is unique and knows themselves best. I have a lot of training and experience about what kinds of things are helpful and healing, but, at the end of the day, I respect whatever my client feels and believes is best for them.
This allows me to approach my work with genuine curiosity and empathy, and allows me to explore with my client collaboratively instead of thinking that I have all the answers.
Can you tell us more about your specialty in eating disorders?
Clients who come to me struggling with eating disorders have often been trying to manage on their own for a long time. Often clients developed an eating disorder during challenging times in life as a way to cope, and when they come to me they realize that this way of coping is no longer helping them and just causing more stress in their lives.
I work with clients on both the practical and deeper issues surrounding eating disorders. We explore what may have led them to develop the disorder, their background and history, as well as the patterns that keep them stuck. I also help clients develop ways they can change their behaviors and thoughts around food and their body so they can live a life of peace and freedom around food.
Can you tell us more about your specialty in anxiety?
Anxiety affects so many people to varying degrees. Some clients are really debilitated by their anxiety. Others seem to function fine, but it feels like a constant low level voice that follows them everywhere. I work with people who experience anxiety in all different ways and support people in finding better ways to cope with anxiety, utilizing tools, such as mindfulness, to manage and tolerate difficult emotions. I also help people understand the ways in which anxiety helps them so they can have more self compassion.
Can you tell us about your work with clients struggling with perfectionism?
Perfectionism isn't exactly a diagnosis, but it's a theme I see in so many of my clients. Perfectionism is particularly challenging because our world often rewards perfectionistic qualities, such as being high achieving and hard working.
These qualities aren't inherently a bad thing but they become harmful to people when their self worth is tied up in their achievement and doing things "right." People who struggle with perfectionism tend to have a very strong and loud inner critic, and I work with clients to recognize this critic, practice self compassion, and acknowledge that we are all human and doing our best.
What do you find most rewarding about your work?
I love the long term process of building a relationship with a client and seeing them grow over time. Usually there isn't a quick fix or an "aha!" moment, so I love being able to reflect with clients and look back on all the hard work they've done when they start to see it pay off. I genuinely care about all my clients and look forward to connecting with them each week. Even when sessions are challenging or emotional, I walk away feeling fulfilled because I value the relationship and the connection.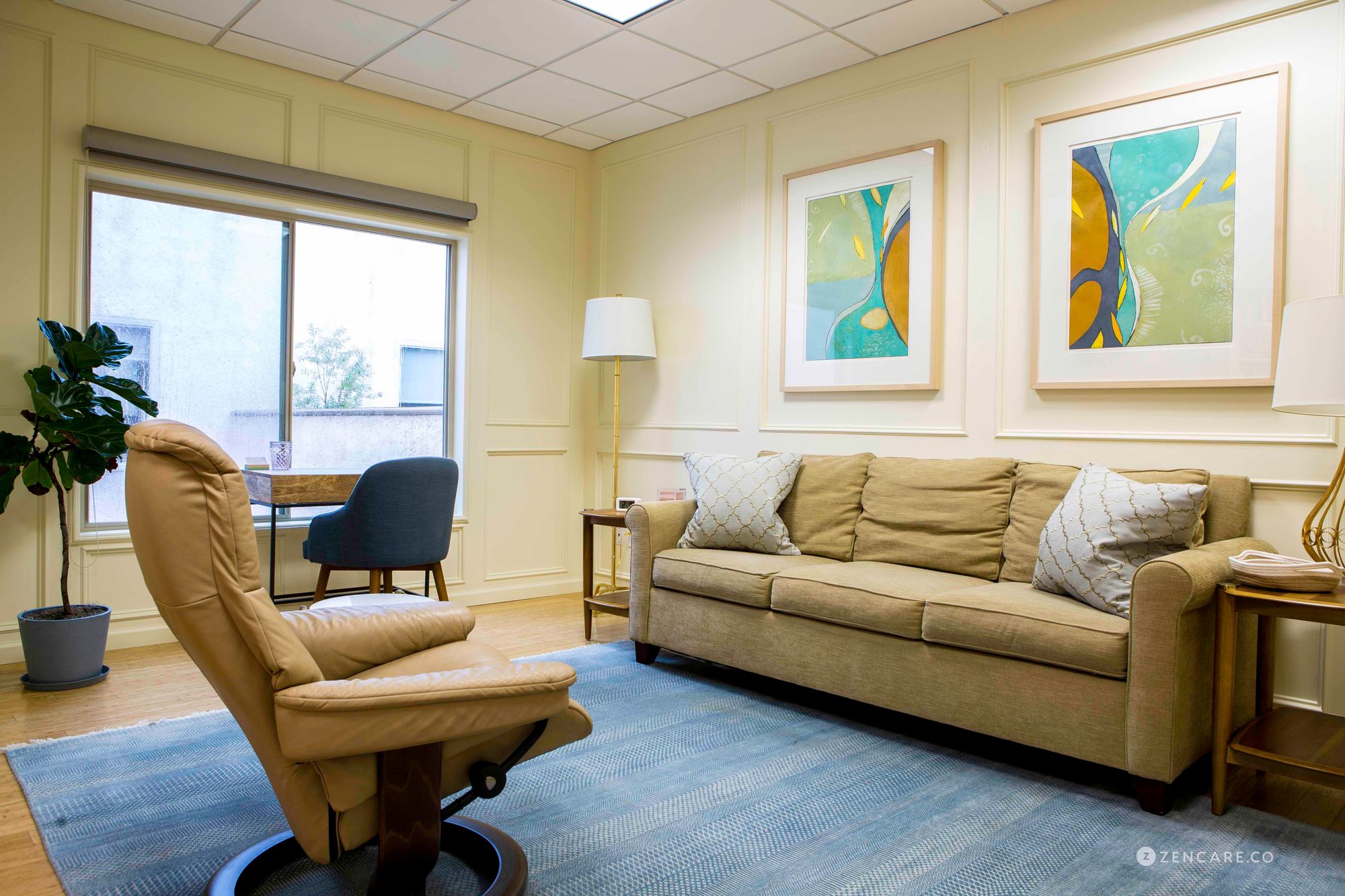 Therapy sessions with Becky
What will our first session together be like? What happens in ongoing sessions?
I see the first session as an opportunity for both of us to get to know one another. I'm a collaborative and flexible therapist, so if there's something on your mind we start there. If you want more direction in your sessions, we'll usually explore the reasons you are coming to therapy, what you hope to gain from our work together, and explore some background and history.
As we continue, I let you guide the content of our sessions together. Sometimes client's have something they specifically want to talk about that's happened recently, and other times we'll explore more about your past or patterns and themes we've noticed together. There is no one "right way" to approach therapy, and I am always open to meeting you where you are at.
How long do clients typically see you for?
I see clients for anywhere between a handful of sessions to a few years. Sometimes people come to me with a specific issue or need extra support during a challenging time in their lives. Others are looking for longer-term depth therapy and find the consistent exploration of themselves valuable. Most of my clients stay in therapy for at least 6 months or longer.
Do you assign "homework" between sessions?
I don't assign homework as a rule, but I do have various books, worksheets, and videos that I suggest to clients if it's something I think you would find helpful. When I do offer resources, I don't see them as "homework" that you have to complete, but instead resources that can supplement our work together. I'm more interested in whether or not you find them helpful and why, rather than if you do them or not.
How do you help ensure I'm making progress in therapy?
As a collaborative therapist, I always welcome feedback of any kind. You can trust that you can share with me your thoughts and feelings about how the work is going at any time, and I will also check-in occasionally to make sure that our work is feeling helpful to you and that you feel you are working towards your goals. Often these goals can change over the course of therapy, so I like to also check to see if we ever need to adjust our focus.
How do I know that it's time to start seeking therapy?
I may be biased, but I think any time is the right time to start therapy! In my personal and professional life, I have seen how helpful and healing therapy can be, no matter what you are struggling with. Usually I think it's helpful to seek therapy when you've been struggling with something for a while and have tried different ways to manage it on your own and still feel stuck. This is a sign that something isn't working and that you may need extra support from a trusted professional.
How can I prepare for our first session?
For our first session, all you have to bring is yourself. The first session can be scary since it may be your first time in therapy. Even if it's not, therapy is essentially opening up to a complete stranger! You can trust that I understand how difficult and uncomfortable it can be and that I will do my best to put you at ease and make you feel comfortable.
To mentally prepare, you can think about any questions you have for me (about myself or the process) and think about any concerns you may have about therapy. Know that I don't have any expectations about the first session, nor do I think there is a "right" way to do therapy. I will meet you wherever you are at and am just excited to get to know you and figure out how I can support you.
Why should I seek therapy rather than turning to my partner, friends, or other loved ones?
Therapy is unique in that for many people it is the only space that is just about you. While friends and family can be supportive and helpful, a therapist has the ability to be more objective and is only thinking about what is best for you as the client. A therapist also has specialized training and expertise in what you are struggling with and can be more effective in helping you cope with challenges and create meaningful change.
Visit Becky's profile to watch her introductory video, read more, and book an initial call!