Ava Elmzadeh is a Licensed Marriage and Family Therapist (LMFT) in Orange County, CA. Ava specializes in working with emerging adults as they navigate adjusting to adulthood, anxiety, depression, body image concerns, job stress, or identity concerns. Ava views clients as the expert of their own stories and approaches sessions from a Narrative Therapy perspective. She strives to help clients better create a life in-line with their own values by encouraging the consideration of both personal values as well as the cultural, political, spiritual, and environmental influences that may shape these values.
We asked Ava more about her work with clients and her guiding philosophies on therapy.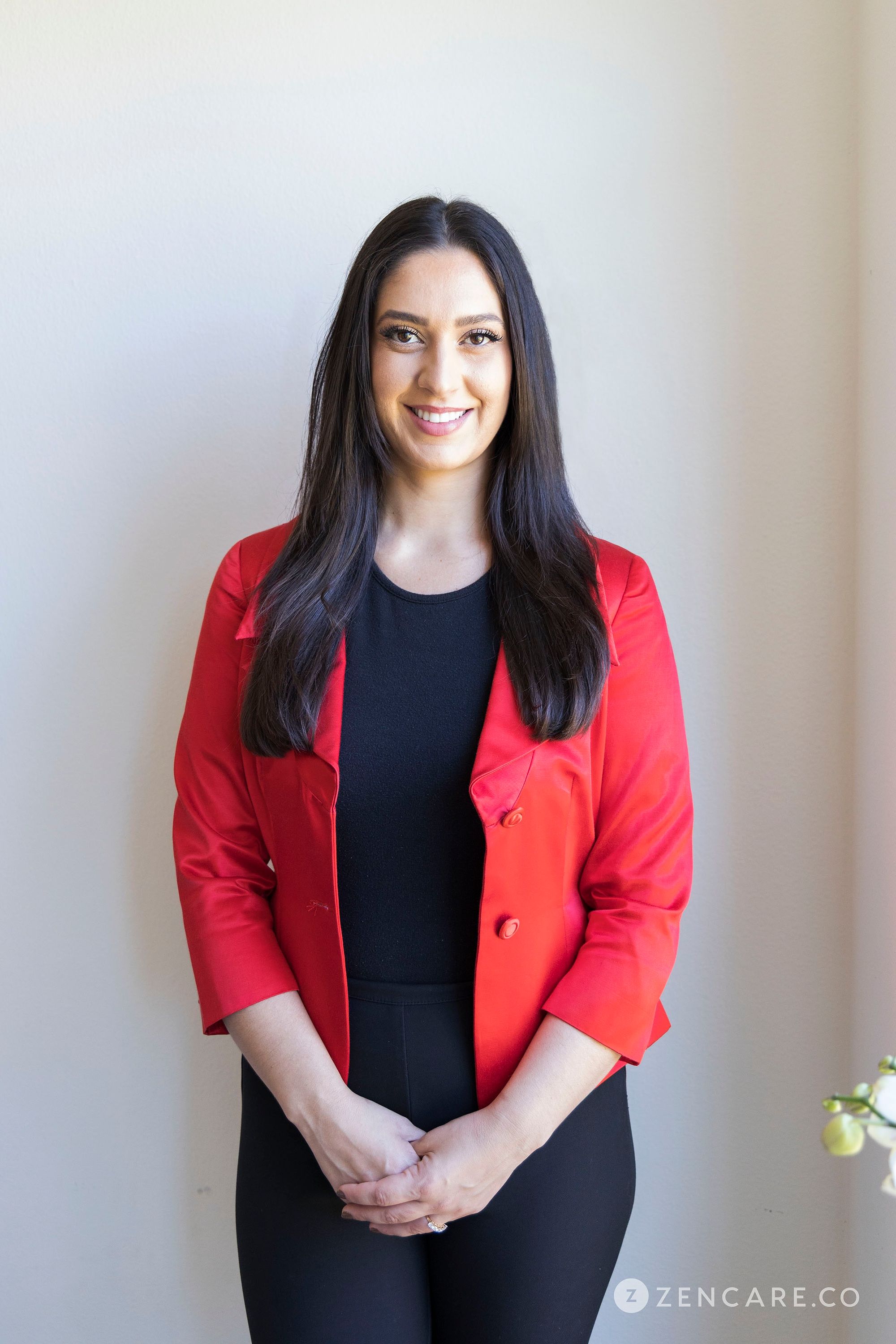 Ava's background and personal life
How did you decide to become a therapist?
I took a psychology course my senior year of high school and fell in love with the kooky experiments and study of human beings. It sparked my curiosity, and I wanted to learn more.
What was your previous work before going into private practice?
I gained my 3000 hours in a variety of work settings to get experience with different populations, including people affected by eating disorders, homelessness, bipolar disorder, substance use, and self-harm. These settings were mainly in residential facilities, IOP/PHP programs, or low-cost community clinics.
What do you enjoy doing in your free time?
I enjoy playing drums, jamming in a band, hiking in nature, reading fiction or fantasy, and spending time with people who accept me for me.
Ava's specialties and therapy philosophies
What guiding principles inform your work?
Creating a nonjudgmental space
Working side-by-side with people to tackle problems
The problem is the problem; the person is not the problem
The person is the expert in their own life
The external world around us is just as important as the internal
A conflict occurs when values clash
What clientele do you work with most frequently?
I work with a diverse population that includes women, men, teens, LGBTQIA+ folks, and people from all cultures and ethnicities.
Can you tell us more about your specialty in anxiety?
I like to break down anxiety into two problems: worry and fear. Depending on which one the client chooses, we break it down even more into what worry or fear is telling them. I also like to utilize mindfulness practices, breathing exercises, and body awareness in sessions to help clients better understand the flight/fight/fawn experience.
Can you tell us more about your work with highly-creative individuals?
I enjoy working with highly creative people because I find that I can connect and speak to them on their level. I have worked with philosophy majors, musicians, poets, artists, painters, and writers. Creativity is a gift, but it can also be a burden to some. I help people understand the affects of creativity and how to increase creativity. We may also have creative improvisational conversation in the therapy session, which might spark more ideas.
Can you tell us more about your specialty in depression?
I like to have people describe their depression and even draw a depiction of what depression looks like to them. I have found it helpful to personify depression and investigate how it affects a person in their daily life. I believe emotions often just come and inviting them in instead of closing the door on them can help. Music is also my favorite anti-depressant, and I like to find out what music clients listen to.
What do you find most rewarding about your work?
I love using my creativity to help people.
Therapy sessions with Ava
What will our first session together be like? What happens in ongoing sessions?
In the first session I like to get to know the client before diving into the problem. I want to know what they love to do, how they spend their time, where they work or go to school, and what their social life is like. I want to know what makes the person unique and start to uncover some of their values. I then begin to map out the problem affecting the person. Lastly, I want to know what hopes and goals they have for therapy.
Are there any books you often recommend to clients?
I often recommend:
Do you assign "homework" between sessions?
I do not assign homework between sessions. However, I often recommend books, movies, tv shows, or podcasts which the person might find helpful.
How do you help ensure I'm making progress in therapy?
I ensure people make progress by asking for feedback. I want to make sure people feel supported, heard, and understood.
How do I know that it's time to start seeking therapy?
If you are going through a life transition or if you are struggling to live a satisfying life it may be time to seek therapy.
How will I know it's time to end my time in therapy with you or reduce session frequency?
When you have met your goals you set out for from the beginning, it may be time to end therapy. However, my door is always open for people to come back to therapy if something in their lives arises and they need support again.
Why should I seek therapy, rather than turning to my partner, friends, or other loved ones?
The therapeutic relation is unique in that it is confidential, supportive, nonjudgmental, and allows you gain another perspective on situations.
What advice would you share with therapy seekers?
I know how much courage it takes to reach out for help. If you make the first step by showing up to the first session, you are one step closer to reaching your preferred life.
Visit Ava's profile to watch her introductory video, read more about her, and book an initial call!