Ashley Evans is a Licensed Professional Clinical Counselor (LPCC) in Colorado who specializes in seeing clients struggling with trauma, depression, anxiety, and substance use. Ashley particularly enjoys working with BIPOC women who have suffered intergenerational and institutional trauma, as well as military veterans due to her previous career as a law enforcement officer in the United States Air Force. Ashley uses a wide-variety of therapy modalities in her practice in order to provide clients with a tailored, eclectic treatment plan that meets their needs.
We asked Ashley more about her work with clients and her guiding philosophies on therapy.
Ashley's background and personal life
How did you decide to become a therapist?
Mental health is my second career. Prior to being a therapist, I was a law enforcement officer in the United States Air Force. During that time, people I worked with or knew would open up to me about their problems. Coming from a traditional Jamaican background, I found this to be awfully strange because opening up is not considered socially acceptable in my culture. However, I didn't stop them because I felt that it was something that they needed - to be able to talk to someone they trusted and felt safe with.
I was also in therapy with a military family life counselor when she said "Ashley have you thought about psychology?" I gave it some thought and then went to the nearest community college and signed up for classes. My first few psych classes "Intro to Psychology" and "Abnormal Psychology" are what drew me to the field. I began to ask myself questions, such as: Why do things happen the way that they do? What prompts people to do what they do? I also know that I wanted people to experience deep inner healing. I've been in love with mental health ever since.
What do you enjoy doing in your free time?
I love cooking, cleaning, dancing, and listening to music. I also spend time with my beautiful family, and I hang out with my friends when I can. I'm also a huge reader - I can do that all day.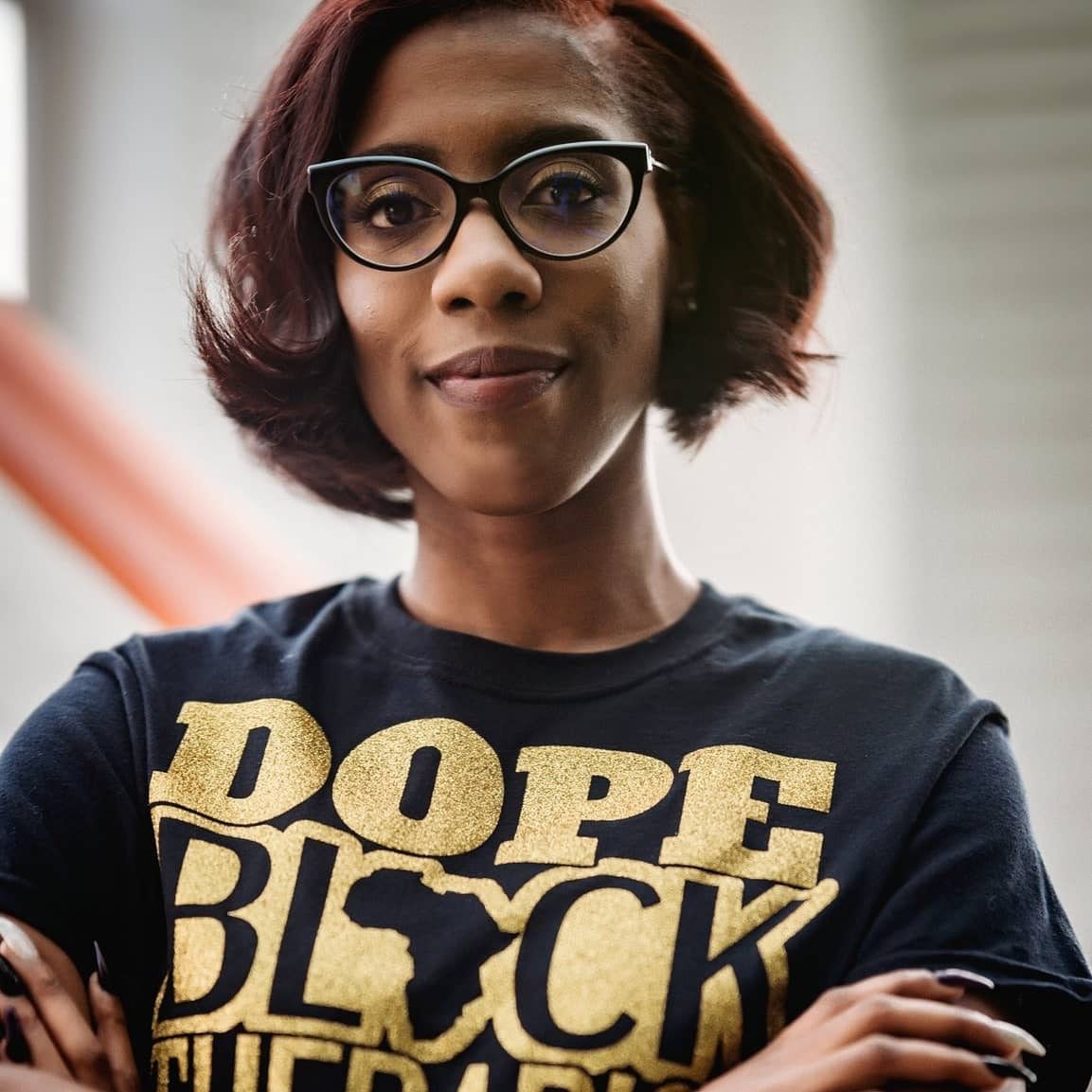 Ashley's specialties and therapy philosophies
What guiding principles inform your work?
I believe in creating a comfortable, laid-back, and non-judgmental space. Clients are already carrying so much into the room and have preconceived notions. Why add to that? I strive to make each client feel safe - I'm all about social justice and alliance. Basically, it's all about connection for me.
What clientele do you work with most frequently?
My clientele ranges from as young as six to as old as eighty. Most of my clients are young/middle age adults. I'm starting to see more teens. I work with everyone because I just love helping people
Can you tell us more about your specialty in treating trauma?
Trauma can be emotionally taxing but very rewarding. I've learned to be patient and to be more of a listener in sessions because I believe in order to help you have to listen.
Can you tell us more about your specialty in helping clients struggling with depression?
Depression can be a tricky topic to work with depending on the willingness and follow through of the client. I can say "Hey, let's try this!" and then clients can come back and say "I meant to but I didn't." It can be frustrating sometimes, but I've learned that you have to work outside the box. If you stick with it, it pays off for both you and the client.
Can you tell us about your substance use specialty?
This is one of my favorite populations to work with outside of trauma because substance use and trauma can be tied to one another. Being in law enforcement, I have seen a lot of substance use, and I saw that it's a lot more complex than most think.
Being on this side of the fence (as a therapist!), I take my previous experience and combine it with my current knowledge to reach clients. Sometimes it means a softer approach and sometimes it means a firmer hand. I never know how it's going to turn out. It's all trial and error, but I make sure to build a therapeutic alliance first so clients know that my intention is to help and not judge.
What do you find most rewarding about your work?
Just to hear someone say "I almost died but you helped me" or "I went from having daily panic attacks to none" or "We almost divorced but working with you saved us." There's nothing better than that to me.
Therapy sessions with Ashley
What will our first session together be like? What happens in ongoing sessions?
The first session is always an intake, and it's just getting to know the client. We will also come up with goals to work on. Ongoing sessions are usually client led. I always say I go where you go. During sessions, I will tie in the goals that we came up with in the beginning, but I follow rather than lead unless the client prefers otherwise. I do this because the client is actually the expert, and I honor that.
How long do clients typically see you for?
Clients typically see me for an average 3-6 months, but it is sometimes longer. I leave it up to the client.
Are there any books you often recommend to clients?
The Body Keeps the Score is one that I have recommended!
How do you help ensure I'm making progress in therapy?
I assess progress through progress notes and assessments. In the beginning, I will have a client complete assessments and then in three months, I will have the client fill them out again.
How do I know that it's time to start seeking therapy?
It's time to seek therapy when you feel that you're not functioning as well as you used to or believe you should.
How can I prepare for our first session?
Clients don't need to bring anything - just themselves! I make the process very easy.
How will I know it's time to end my time in therapy with you or reduce session frequency?
We will discuss goals that we came up with. If we both feel that the goals have been met and the client can continue to live a healthy life without therapy then I first reduce  session frequency and if there's still progression then we terminate.
Why should I seek therapy, rather than turning to my partner, friends, or other loved ones?
Having a support system is great, but people have their own personal issues too. People may not be able to help you the way that you need in order to make lasting change.
What advice would you share with therapy seekers?
It may seem scary or nerve-wrecking to start therapy but just take the leap! It's always worth an attempt.
Visit Ashley's profile to read more about her and book an initial call!