Annie Miller is a Licensed Independent Clinical Social Worker in Chevy Chase, MD and Washington DC. She has a particular specialty in sleep disorders and insomnia, in addition to seeing adolescents and adults struggling with anxiety, trauma, chronic pain, and illness.
Annie particularly enjoys helping clients shift their mindset towards positive thinking in order to help them feel tangible results from therapy, and she uses her training in Cognitive Behavioral Therapy for insomnia (CBT-i) and EMDR (Eye Movement Desensitization and Reprocessing) to help clients meet their goals.
We asked Annie about her work with clients and her guiding philosophies on therapy.
Annie's background and personal life
1. How did you decide to become a therapist?
I grew up as the daughter of a therapist, which allowed me to see therapy as a great career choice that can impact the lives of others in a deep and positive way. After college, I was working in a different career but felt a draw to help people. I decided to go back to school, and I have truly enjoyed getting to build my own practice.
2. What was your previous work before going into private practice?
I worked primarily in medical settings prior to my work in private practice. I have experience working in both inpatient and outpatient psychiatric and medical settings, including Johns Hopkins University Hospital and Montefiore Hospital in New York.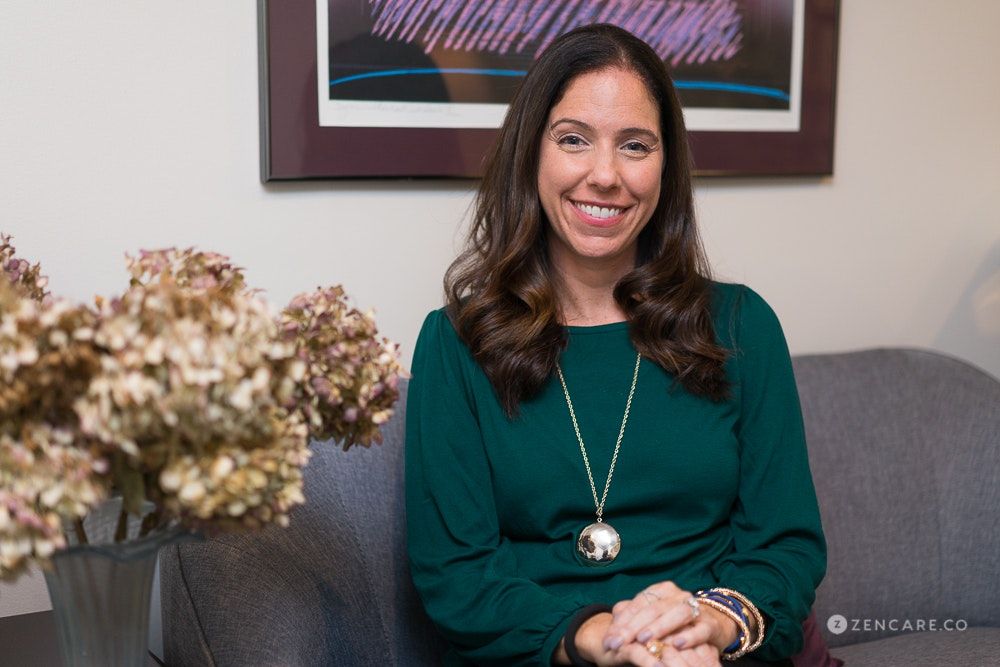 3. What do you find most rewarding about your work?
I love getting to see the changes that clients can make, both physically and emotionally. I am really passionate about the work I do, and I enjoy getting to see clients learn about how they can make changes on their own. It is wonderful hearing about how these changes are maintained down the road and nothing is more satisfying than hearing about clients living their lives and feeling good.
4. What do you enjoy doing in your free time?
I enjoy spending time with my family and being active; I also love movies.
Annie's specialties and therapy philosophies
5. What guiding principles inform your work?
My work has evolved a lot over the years. I started out as a talk therapist and now I incorporate more behavioral techniques, for insomnia in particular. I am also very interested in the mind-body connection.
I like to use tangible strategies in my work. I give clients things to work on at home that I know can be effective, while also working on shifting the client's mindset as much as possible during our sessions.
I am also very interested in neuro-plasticity and how changing the brain can positively impact our physical and mental health. A real turning point came for me when I experienced my own health struggles and learned how to deal with them in part through mind-body interventions. When I saw how deeply the mind can affect the body, I knew I wanted to teach others about this connection.
I am always learning, and I want my practice to grow as I expand my knowledge of how I can best help clients.
6. Can you tell us more about your focus on sleep disorders and insomnia?
I hear from so many people looking for help with sleep. I am trained in Cognitive Behavioral Therapy for Insomnia (CBT-i), which is an effective, evidence-based technique that can help change your mindset and habits around sleep. We tend to have a lot of fears and preconceived ideas about our sleep, and I truly enjoy teaching people about sleep and helping clients get their sleep back. CBT-i is a strategy that really works, and when sleep improves, many other issues get better as a result.
7. Can you tell us about your focus on trauma?
When we experience something traumatic or scary, our body goes into fight-or-flight mode and launches a stress response. Sometimes the body can get stuck in this response and we experience the release of stress hormones and have physical reactions, like heart pounding and sweating, among other symptoms. I see clients who experience anxiety, depression, and all kinds of physical symptoms as a result of trauma.
I work with clients to calm down the fight-or-flight system by using a variety of techniques, including EMDR (Eye Movement Desensitization and Reprocessing). EMDR helps clients to reprocess the traumatic event so thinking about the event isn't as distressing. I teach clients about meditation and other ways to relax their nervous system and train their brain not to overact. It takes time and effort to see results but these strategies can help.
8. Can you tell us more about your work with clients with chronic pain?
I think of chronic pain as being linked to trauma and other emotions. When pain and other physical symptoms are persistent and it's hard to find a definable cause or treatments haven't resolved the issue, it's important to consider the brain's role. Learning about the neuroscience of pain and illness is an amazing tool for clients.
The biggest challenge that I see is for clients to accept this way of thinking. Many people may feel insulted when I begin to talk about how pain can originate in the brain. But when clients really embrace this idea of pain, I see improvements. This model has been really helpful to me and I enjoy teaching others about how the brain works and how we can use these ideas to make positive changes.
9. What clientele do you work with most frequently?
I work with a wide age range of clients, starting with adolescents around age 12 to adults of all ages. I like working with clients who want to shift and change negative thought patterns. I am drawn to this population because of my interest in the mind-body connection, as well as my previous experience working in medical settings.
I am also really passionate about working with adolescents and young adults. I find this to be a critical time in life and it is important to have positive support during the particular challenges that adolescents face.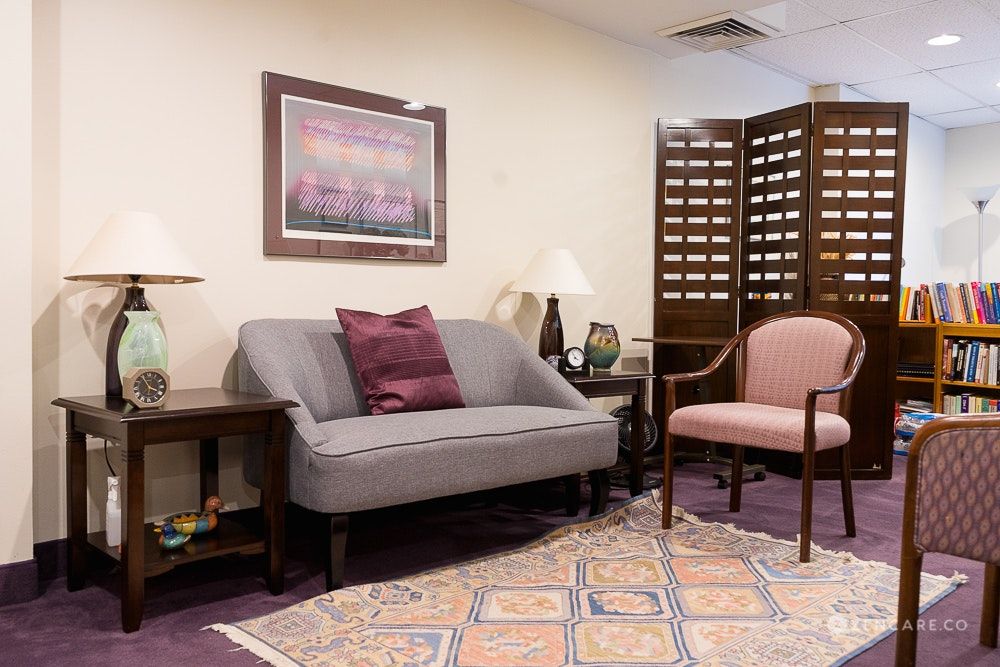 Therapy sessions with Annie
10. What will our first session together be like? What happens in ongoing sessions?
In the first session, I really want to get more information about what is bringing you in for therapy and what led to the issues you are experiencing. I ask a lot of questions, and I want to understand what you want to work on most. As we talk and I learn more about you, I start to formulate some ideas for how we can achieve your goals.
I have a variety of training and use different techniques with different clients. In that first session, I want to gather as much information as possible so I can really understand how I can be most helpful.
11. How can I prepare for our first session?
There is nothing specific to bring or prepare. I hope you will come in open and willing to share. If there are specific things you'd like to address, it can be helpful to write them down in advance.
12. Do you assign "homework" between sessions?
I tend not to call it homework because I find that the idea of homework can be off-putting to some. But I believe it's important for you to work on things in-between sessions.
One hour a week can be transformative much of the time, but I find that the clients who are motivated to work on things in between sessions have the best outcomes. CBT-i involves changes to sleep routines and so when clients are working with me on sleep, they keep a sleep diary and will have to make changes to their sleep schedule. Other types of work outside the session may include looking at negative thought patterns more deeply and incorporating strategies like meditation.
13. How do you help ensure I'm making progress in therapy?
I really like this question because it's important for you to feel like there is progress. I routinely check-in and ask for feedback. I also give questionnaires and take notes at the beginning of treatment so we can better assess progress. It can be hard to remember where things were at the beginning of our work together so these tools can be helpful. It is important to me that you see changes and feel like things are improving.
14. How long do clients typically see you for?
The length of treatment varies. When I am working with a client on something specific, like sleep or trauma, treatment is typically limited to a few months. But I also work with some clients for longer periods. It really depends on the type of work we are doing and what you hope to gain from the relationship. This is an individual choice, and I work with clients to determine this together.
15. How will I know it's time to end my time in therapy with you or reduce session frequency?
This is something we discuss and evaluate as we go along. If I see improvements, I will typically suggest reducing sessions first before discontinuing. The goal is for you to get better and to not come to therapy as often. I notice that some clients like to maintain a relationship and still meet once a month or even less frequently, and other clients feel comfortable stopping altogether.
16. How do I know that it's time to start seeking therapy?
If there are symptoms that are getting in the way of your life, then therapy is essential. But it shouldn't have to get that far, in my opinion. Therapy and self-exploration are helpful for all of us, and I believe that dealing with our thoughts, emotions, or sleep is just as important as going to a medical provider.
For some people, it takes a crisis to seek therapy. For others, it's more about learning tools and strategies to better deal with life. If you are in either position, therapy can be very helpful.
17. What advice would you share with therapy seekers?
It can be hard to seek help, and I understand that beginning a relationship can feel overwhelming. But if you are able to open yourself up to this process, therapy will be more helpful for you.
Also, I believe therapy seekers should expect to do some work on their own. It can be very limiting to go to any provider thinking that they can fix or heal you. If you are motivated and want to change things in your life, this process will be more effective and take hold more quickly.
18. Are there any books you often recommend to clients?
I recommend a few books:
The Body Keeps the Score by Bessel Van Der Kolk
Wherever You Go, There You Are by John Kabat-Zinn
Cure: A Journey Into the Science of Mind Over Body by Jo Marchant
The Brain That Changes Itself by Norman Doidge
Visit Annie's profile to watch her introductory video, read more about her, and book an initial call!