Annalise Oatman is a Licensed Clinical Social Worker in California specializing in women's issues, sexual health, and creativity/writer's block. We asked Annalise more about her work with clients and her guiding philosophies on therapy.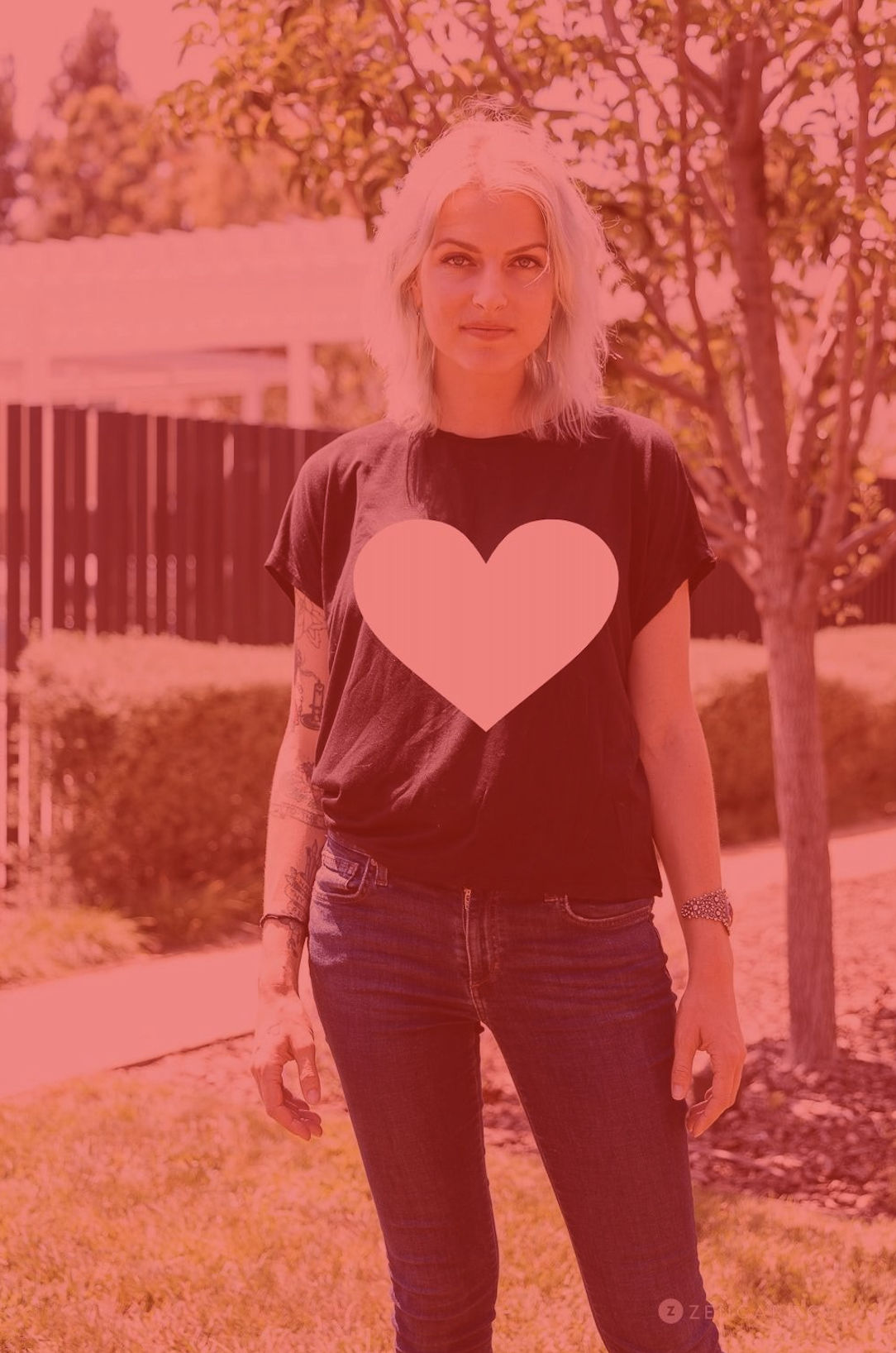 Annalise's background and personal life
How did you decide to become a therapist?
I was in the esoteric section of Barnes & Noble in my early 20s and found some books by Doreen Virtue. I read her bio on the back of one of the books which stated that she was a psychologist in private practice who writes books about angels. I thought, "I could get behind that life!" I didn't think I was literally going to write books about angels (probably), but I did love the idea of having my own practice and having that somehow connect to the books that I wanted to one day write.
Also, I thought I should connect to the deepest place within myself in order to find my way forward in life, and I knew that I was devoted to service from that deepest part of myself.
What was your previous work before going into private practice?
I've had countless retail and food service jobs since I was about 15. When I broke into the mental health world, I started out working with traumatized youth and children in the foster care system at a couple of different agencies for years, and I also interned at a men's methadone-to-abstinence residential treatment program and a skilled nursing facility for people with HIV/AIDS.
What do you enjoy doing in your free time?
Reading, writing, hiking, trying new restaurants, making art . . . !
Annalise's specialties and therapy philosophies
What guiding principles inform your work?
I believe that everything we carry and embody underneath the masks we feel we have to wear (whether it's rage, shame, grief, joy, pleasure, outrageous love, or whatever it is) is utterly sacred. It's sacred because it's what's really raw and true, and it's always pointing us in the direction of exactly where we are ready to go next in our healing, and exactly what we need to know to create more joy in our lives.
The longer I've done this work and connected to my own deep somatic healing processes, the more the line between mind and body in the healing process feels completely arbitrary to me (and impossible to uphold). Therefore, I bring the body into the work in multiple ways, both through gentle somatic inquiry and through actual lifestyle medicine interventions that involve the body's actual, physical wellness.
What clientele do you work with most frequently?
I constantly attract very high-functioning creative women (often writers) who are feeling blocked or kinked up creatively for one reason or another. They tend to have brilliant ideas and multiple passions and yet they get wrapped into dynamics with others (whether in their family or professionally) that keep them drained and busy with other things.
I assist them with detangling themselves from the traumatic narratives that keep them bound up in endless tasks and dysfunctional relational patterns so that they can start to find and enjoy the opportunities they have to create and to find joy and aliveness now. Though EMDR forms the foundation of my trauma-healing training, embodiment is a huge piece of the work and the way I do it, especially with these women, as I've found it's the body that holds the old stories and that ultimately becomes the cauldron of heightened creativity and pleasure in all areas.
Can you tell us more about your specialty in working with clients on topics related sexual health?
Unfortunately, virtually all of the women I've worked with have sexual trauma on some level, and we all dissociate from our bodies to some degree anyway in order to maintain and uphold the patterns of dysfunction that keep us plugged into people-pleasing and overworking.
I've found that, wrapped up in the healing of this dissociation and any level of sexual trauma is a beautiful reclamation of eros (the sensual, embodied desire and longing principle), and this can translate into a much more stimulating, fulfilling and fun sex life and/or in general, more embodiment, sensual enjoyment and shameless pleasure in all areas of life.
Can you tell us about your specialty in working with creators and artists?
In addition to being a therapist in private practice, I am also a facilitator of transformation through circles for women that combine erotic dance with writing, and I am myself a writer. I sometimes honestly don't know if that's why I constantly attract creative women, or if it's because, deep down, we are all creative. Whatever the case may be, I've found that engaging a creative practice stimulates and fulfills the same part of us that longs to have some kind of devotional spiritual practice, or to connect to "something larger." Nearly every woman who comes to see me has some creative dream she longs to fulfill or an avoided creative project that haunts her. While we're probably all creative, I've come to find that some people quite literally need to have a creative practice in order to be well mentally and emotionally. Those are my people.
Sometimes overwhelm and goals that seem too big right off the bat are a challenge. Fear of ridicule or memories of past censure for expressing or hazarding one's creativity in the world can also be a challenge. And all the classic internal narratives that go along the lines of, "What if my work is no good" etc., etc.
I typically begin by coming into contact with that inner creative part, whatever we choose to call that part, and then creating some tiny amount of playful time and space for that part, with the inner critic set aside. Then the creative practice becomes a practice of fully liberating oneself from all the inner constraints and shame-cloaks that oppress so many people in day-to-day life, and a vacation from internal criticism of any kind. And then all kinds of surprises and discoveries result from the practice, both with regard to our own inner work, and also to whatever project has been beckoning to us.
What do you find most rewarding about your work?
The most rewarding moments are when I've done some good, solid work with someone and they've noticed significant changes in themselves and in their life and they express this difference to me with tearful, sincere gratitude. Those are the best moments ever. I always remind them they are the ones who did the work.
Therapy sessions with Annalise
What will our first session together be like? What happens in ongoing sessions?
In our first session, I would want to begin a comprehensive assessment (I know, such a clinical word), while also allowing lots of space for you to start debriefing and telling me about yourself in whatever way feels most supportive. I like to go through a pretty thorough questionnaire together in our first few sessions which covers all areas of life, including your erotic, spiritual and creative life, and current lifestyle/wellness practices, and areas of unfulfilled longing.
Then, I love to guide clients into finding their deepest, truest longings through journaling questions and deep imagination practices. From there, we would "plot our course" in terms of getting you to that more beautiful and joyful version of your life you've envisioned. At that point, I may make lifestyle, dreamwork and/or hypnosis recommendations, and we would proceed with either a highly somatically informed episode of EMDR, or with going around the shamanic medicine wheel, or a blend of both!
How long do clients typically see you for?
Clients typically see me for one year to two years, though there are always outliers (i.e., people who see me for a much shorter or longer period of time for various reasons).
Are there any books you often recommend to clients?
Do you assign "homework" between sessions?
I do not assign specific homework that clients "must" do, but I may make suggestions about journaling questions or worksheets to try, or about dream-tending practices or a personalized bundle of hypnosis recordings.
How do you help ensure I'm making progress in therapy?
Upon request, we can begin implementing the PROMIS measure as a way to track progress before and after each session, though I do not require this and could otherwise check in throughout our work about the progress you feel you're making.
How do I know that it's time to start seeking therapy?
In my opinion, any time is a good time to start seeking therapy, and if you're considering therapy at all, it's usually because you intuitively sense that you are entering a time of transition, change or transformation. I always encourage listening to that intuition and receiving the kind of support it nudges us towards at a given time.
If you are feeling chronically unhappy or severely unhappy in your life, or are feeling noticeably anxious or lonely on a daily basis, it is definitely a good time to start therapy. In fact, please start therapy, whether with me or another provider.
How can I prepare for our first session?
Other than filling out the intake paperwork and questionnaire, there is nothing you need to do to before our first session! I always want therapy to feel like a place where you can arrive exactly as you are and be supported and know you are not judged. Having said that, it's normal to feel a little nervous or anxious before your first session with a new therapist, and I always normalize that if you are feeling that. Just remind yourself that it's normal to have feelings about starting therapy, and that all feelings are welcomed! Your sessions should always feel like a place where your internal world matters.
How will I know it's time to end my time in therapy with you or reduce session frequency?
When you've noticed that your goals are mostly met and you're feeling pretty good most of the time, then I would encourage a discussion about reducing your sessions or potentially transitioning. If you don't bring it up, but I'm noticing it, I'll likely bring it up myself!
Why should I seek therapy, rather than turning to my partner, friends, or other loved ones?
Therapy is a completely confidential space where you can receive unbiased support and reflections on you and your current situation from a trained professional who can help you understand your current difficulties in ways that no one in your personal life would be able to, and who can offer resources, too! (Even if someone in your personal life is a mental health professional, they are still unable to give you completely unbiased support. The therapy relationship is designed to maintain the right amount of distance so that truly clean, unbiased support may be received.)
What advice would you share with therapy seekers?
It's always a good time to start therapy! No matter what, we are constantly going through transition and transformation in our lives, and giving yourself the gift of a container and high quality, expert support for your current transition (whatever it is) can have a profoundly beneficial effect in all areas of your life in ways you may not currently be able to imagine.
It can feel a little nerve-wracking and vulnerable to reach out to a new therapist, but the right therapist for you should make you feel accepted and warmly welcomed right off the bat. You are worthy of the effort it takes to find and connect with a therapist who truly feels right for you and your current needs.
Visit Annalise's profile to watch her introductory video, read more about her, and book an initial call!