Amy Anderson is a Licensed Clinical Social Worker in San Diego, CA who sees clients struggling with a variety of challenges, including anxiety, perfectionism, trauma, obsessive-compulsive tendencies, substance use, relationship issues, and life transitions. Amy works hard to make her practice a non-judgmental and safe environment in which clients of all ages, cultural backgrounds, and identities feel comfortable. She uses a variety of evidence-based practices, including cognitive-behavioral therapy (CBT), dialectical behavioral therapy (DBT), and eye movement desensitization and reprocessing therapy (EMDR) to best help clients meet their own goals and build resilience and hope for the future.
We asked Amy more about her work with clients and her guiding philosophies on therapy.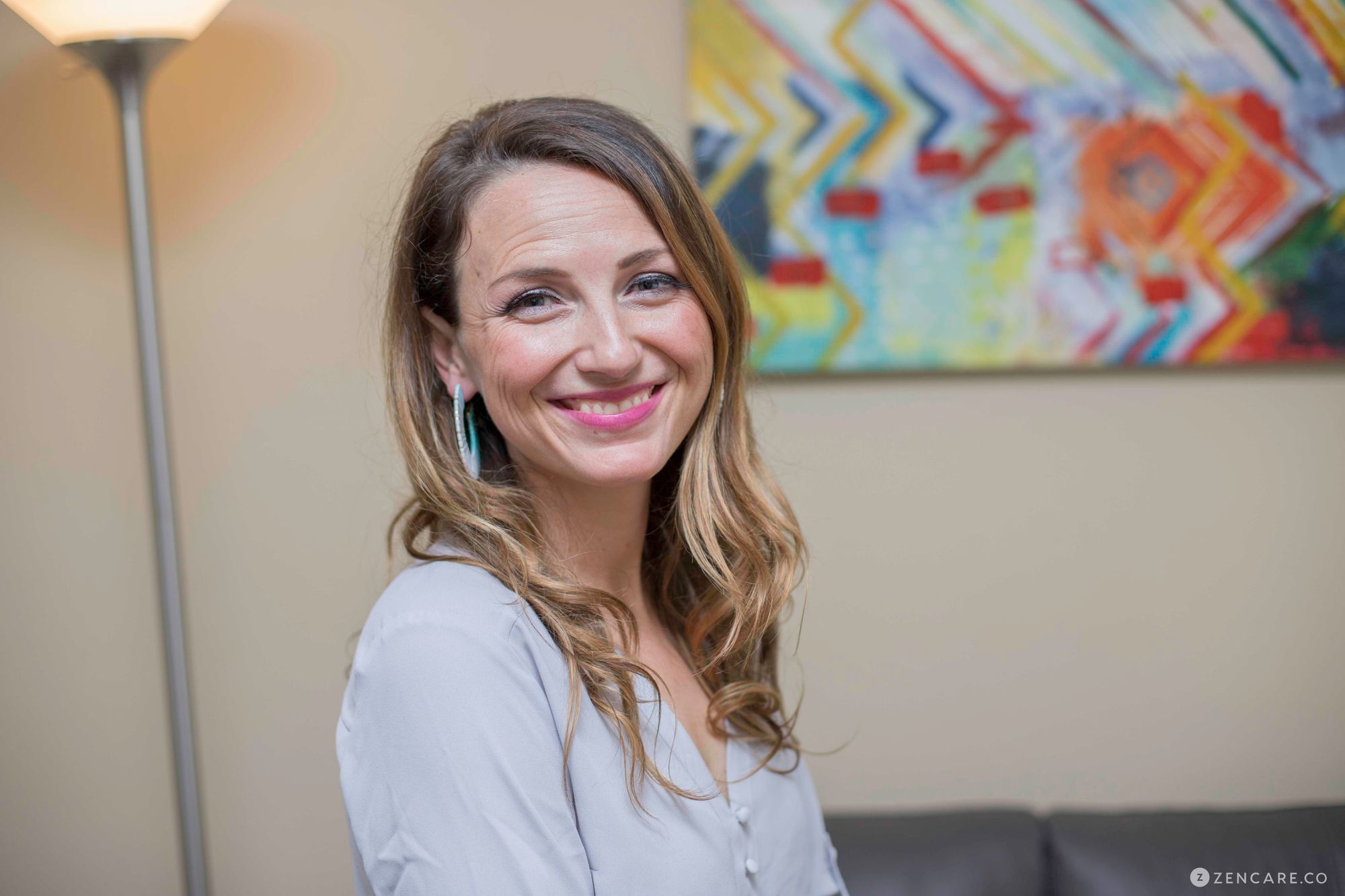 Amy's background and personal life
How did you decide to become a therapist?
I knew being a therapist was my calling when I began working in the UPMC Western Psychiatric Hospital with children, adolescents, and teens in 2004. I knew then the impact of a positive therapeutic alliance for individuals & families struggling and wanted to help directly.
What was your previous work before going into private practice?
I have enjoyed working as a clinical case manager, clinical supervisor, protective service worker, medical social worker, mental health primary clinician, mental health pre-release coordinator in a variety of government, non-profit, for-profit, and inpatient hospital environments.
What do you enjoy doing in your free time?
I enjoy practicing what I preach, doing self care and maintaining emotional and physical connectivity however I can best obtain it. You can usually find me working on a project, hiking, camping, biking, running as of late after my toddler, and enjoying some stillness in-between the amazing work I do!
Amy's specialties and therapy philosophies
What guiding principles inform your work?
My entire purpose as a therapist is to create a non-judgmental space that promotes self-reflection and provides specific interventions tailored to create long-lasting behavioral changes.
What clientele do you work with most frequently?
I'm particularly specialized in working with driven individuals and couples with intense, fast-paced careers impacted by anxiety, substance use, and/or trauma. I work most closely with those struggling with anxiety, depression, ADHD, perfectionism, obsessive-compulsive tendencies, substance use issue, relationship dynamics, and life transitions.
Can you tell us more about your specialty in anxiety?
I have worked closely with individuals struggling with anxiety and have observed that they often need a "whole person" approach towards therapy. Everyone's anxiety can look differently and impact their lives differently. By examining a client's current lifestyle, relationships, triggers, perceptions, and goals, I'm able to determine the best foundation to start working towards optimal health. Sometimes this is setting boundaries with others and work, bolstering health habits, implementing evidence based interventions, or building routines.
Can you tell us more about your work with couples?
Couples therapy is very rewarding work; however, it can be challenging when you start working with a couple when they already experienced a breakdown in communication or emotional connection. I have seen some amazing repairs and some heartfelt choices to move on in different directions in a safe therapeutic environment where both parties are heard and considered. Couples therapy only improves communication, connection, and intimacy.
Can you tell us about your specialty in working with high-achieving individuals?
Over the last three years, I have noticed that I work exceptionally well with anxious, energetic, high-achieving individuals and couples who struggle with perfectionism, obsessive-compulsive tendencies, relationship dynamics, and/or life transitions that would benefit from processing and altering aspects of their lives to be more successful overall.
What do you find most rewarding about your work?
My passion is helping those who are willing to dive deeper to discover their inner wealth of potential. I find it rewarding to work with individuals, couples, and families from multicultural backgrounds, different age groups, as well as diverse sexual and gender identities.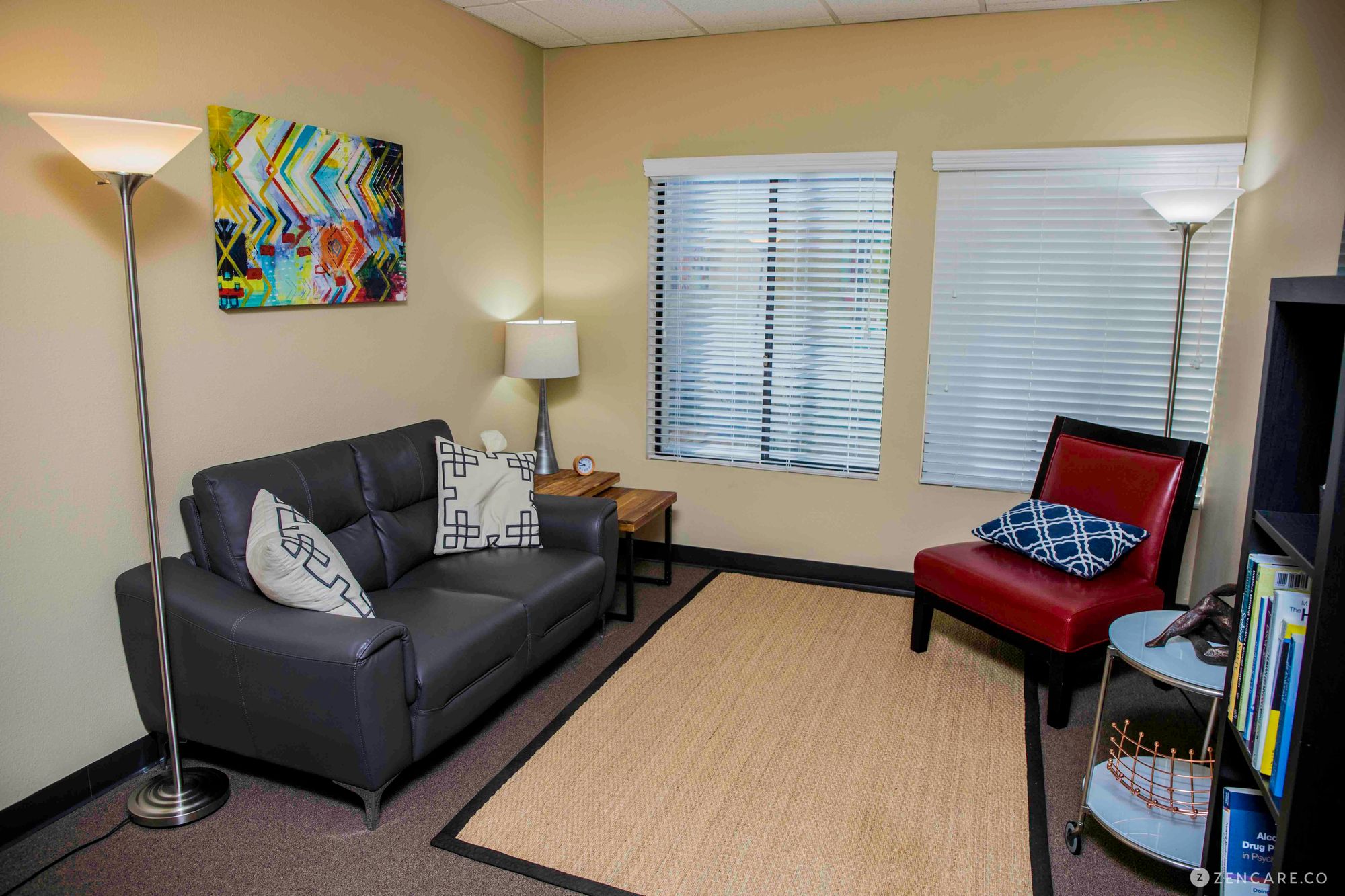 Therapy sessions with Amy
What will our first session together be like? What happens in ongoing sessions?
Our first session is considered an "intake session" where I gather a lot of background information, family history, presenting issues, and context from all parties engaged in therapy. Sometimes intake sessions can be 1.5-2 hours in length, which may be broken into two sessions. The intake paperwork you complete prior to the session will make this much faster and allows us to "hit the ground running." In the following 2-3 sessions I will be gathering and incorporating my feedback for treatment planning recommendations. Typical ongoing psychotherapy sessions are 53 minutes.
How long do clients typically see you for?
This really ranges, I have had clients see me monthly for 3 years, and some who see me weekly for only 3 months and successfully move on with their lives. Clients always know they can return to therapy. I'm not in the business of keeping people going to therapy, and I see therapy as a tool that must be self-lead and if one is not ready, they should not attend.
Are there any books you often recommend to clients?
Ah there are SO many excellent books to read in conjunction or prior to therapy!
For anyone working through a trauma I recommend:
For anyone working through any relationship dynamics I recommend:
Do you assign "homework" between sessions?
I love to assign homework. However, I have found not everyone loves to do homework, so I meet you where you are. Homework is something to consider as therapy is often one hour per week. Similar to physical exercise, mentally preparing and being aware of negative beliefs or obsessive tendencies can alter behavior and distress, so it is best to do it as often as possible to ensure the neural-plasticity of the changed behaviors stick.
How do you help ensure I'm making progress in therapy?
I regularly seek out your feedback and provide my observations regularly so you are aware of my assessment.
How do I know that it's time to start seeking therapy?
I recommend connecting with your inner-self. If you feel something is lacking or you feel you are overwhelmed and can't figure out a way to slow down and breath - seek help. I have had so many clients approach me seeking therapy explaining they are feeling a disconnect in their life, in work, relationships, family, or personal identity, and would like to feel better. Reach out, life doesn't have to feel so heavy. Sometimes our own perceptions and inner critic can be our worst enemy.
How can I prepare for our first session?
I kindly ask that you complete all necessary informed consents, a COVID waiver if in-person, intake questionnaires, credit card, and client portal access to be able to pay invoices directly. Auto bill can be set up for convenience.
How will I know it's time to end my time in therapy with you or reduce session frequency?
We will be having regular discussions regarding your level of functioning and how well you feel you are doing. My goal is to terminate therapy with you in a way where we can celebrate your progress and outline future areas of growth for your next chapter of therapy when or if it ever comes.
Why should I seek therapy, rather than turning to my partner, friends, or other loved ones?
Psychotherapy with a trained professional who is unbiased, available, and consistent can help you move through personal blocks that your partner, friends, and other loved ones are not trained to handle.
What advice would you share with therapy seekers?
Be patient, find someone you feel you can connect with, and start your healing journey now!
Visit Amy's profile to watch her introductory video, read more, and book an initial call!