Alysha Perlman is a Licensed Clinical Social Worker at A Good Place Therapy in New York City. She specializes in grief and loss, medical crises, anxiety, career counseling, and relationships. Alysha works with adults across the lifespan and utilizes Cognitive Behavior Therapist (CBT), Acceptance and Commitment Therapy (ACT), mindfulness practices, and behavior modifications to help clients learn coping skills and make lasting changes.
We asked Alysha about her work with clients and her guiding philosophies on therapy.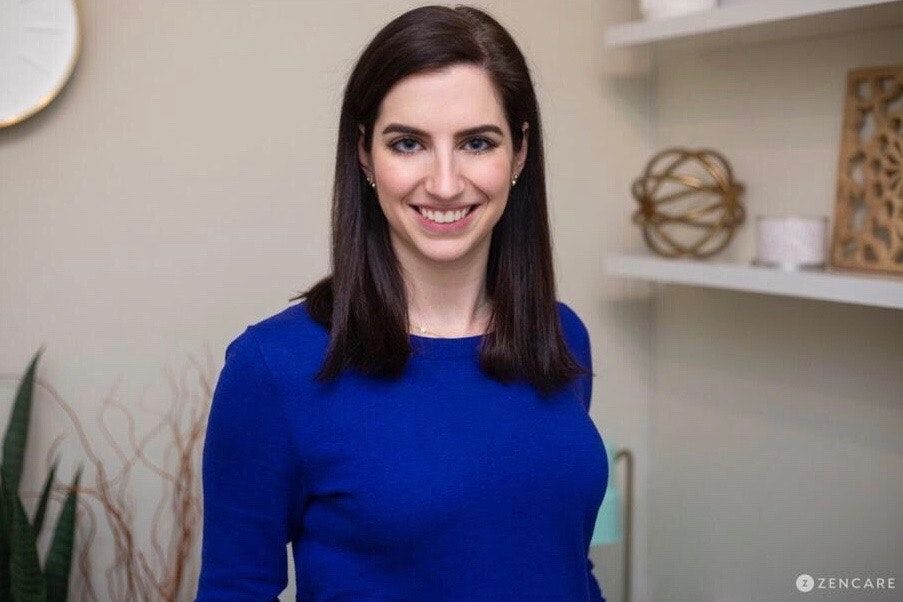 Alysha's background and personal life
1. How did you decide to become a therapist?
I always knew I wanted to work with people but did not know what that would look like. From an early age, I felt I was a good listener and people would find comfort in speaking to me. I had a grandmother who suffered from mental illness, and I watched how it impacted my family in many ways. Understanding more about mental health became a goal and passion of mine.
I went to school for psychology because of this passion for people and my experiences with my grandmother and family. This  led to my career in social work and inevitably my desire to be a therapist.
2. What do you enjoy doing in your free time?
I enjoy staying active and being social in my free time. I get excited about the future, whether it's planning a trip, hanging out with friends, or doing pretty much anything that involves being social. I also do yoga, run, and enjoy watching different documentaries and shows. I must say that I do love watching TV!
I really enjoy learning new things and recently started snowboarding again which I haven't done in years! Taking lessons and overcoming my fear of snowboarding on more difficult runs is challenging but so rewarding! I do believe that exercise clears your head and allows you to focus on only you for a small period of time.
Alysha's specialties and therapy philosophies
3. What clientele do you work with most frequently?
I work with adults of all ages. I am fortunate to understand and serve a variety of needs, but a few particulars stand out for me. I understand the issues millennials face specifically surrounding relationship and work stressors as well as generalized anxiety.
I also have a natural ability to help people through the grief and loss that come from medical crises or the loss of a loved one. If someone is looking to address those needs, then I think I'd be a good fit!
4. Can you tell us more about your specialty in anxiety?
Anxiety. Everyone has it, but some unfortunately become more overwhelmed by their anxiety than others. I use Cognitive Behavioral Therapy (CBT) as my primary means of treatment for anxiety and most people find it useful.
CBT is an evidence-based tool which focuses on the intersection of our thoughts, feelings, and actions. Once we're able to understand the patterns between these three, we can work to change our negative thinking. It is often challenging for people to think that they can think differently than they currently do. This is often the hardest for people to realize until they actually see the change!
5. Can you tell us more about your specialty in relationship and work stress?
I mostly work with millennials and young adults dealing with relationship issues and work related stress. Whether it is trying to deal with navigating online dating or transitioning to a new job, these things can be very stressful. New York can be a difficult place to live and work as there is a lot of pressure!
Setting boundaries and making time for yourself are often two challenges that I try to get my clients to focus more on when work becomes overwhelming or modern dating has become a struggle.
6. Can you tell us more about your specialty in grief and loss?
The grieving process looks different for everyone. I help by providing a safe space for the person to process their grief as well as understand what the different stages of grief may look like. Often, it is challenging to tell someone that I do not know how long they will feel this way, but I can help them through the process.
7. What do you find most rewarding about your work?
A lot of clients come into therapy feeling skeptical. As we work together, it is nice to see anxieties subside and greater insight into the issues clients want to overcome. There is nothing more rewarding than the 'aha' moments clients have as they learn more about themselves.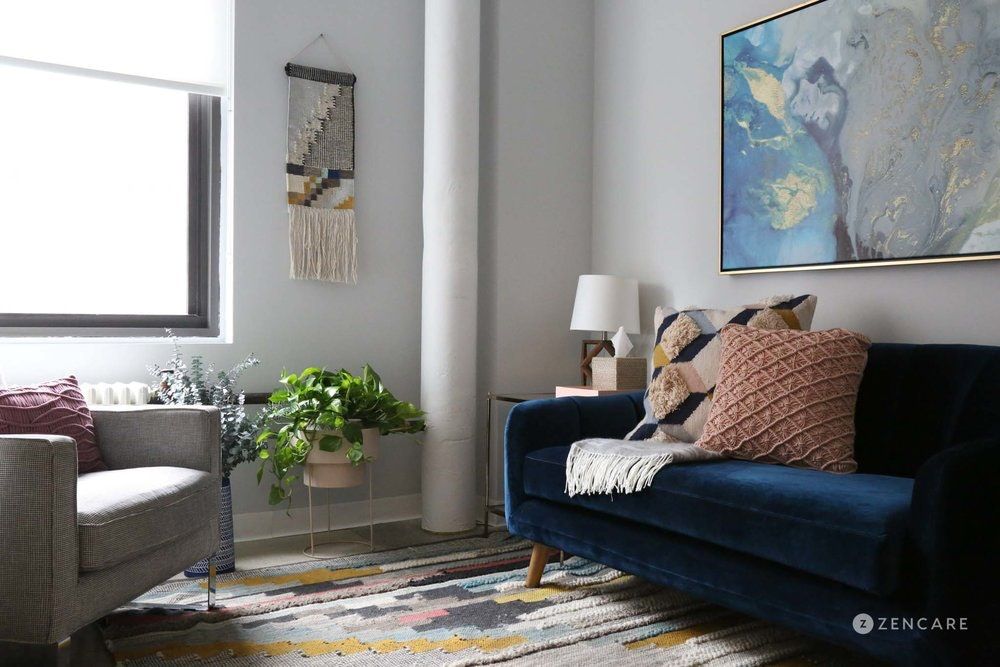 Therapy sessions with Alysha
8. What will our first session together be like? What happens in ongoing sessions?
The first session is about getting to know one another and discussing background information that may be relevant to our sessions. In ongoing sessions, the focus is on what you would like to work on and can vary from week-to-week depending on any acute issues/events that arise. It is your time and the therapist is there to help guide the session.
9. How can I prepare for our first session?
Again, this depends on the client. I think having a few questions to ask the therapist as well as an idea of what you want to work on in therapy is important. I think it is important to know that the therapist is there to support you and that it is okay to be nervous!
10. How long do clients typically see you for?
It depends, usually 6 months to a year. Again, every client is different. Sometimes clients will start weekly and then change to biweekly or as needed as time goes on.
11. Do you assign "homework" between sessions?
Depends on the client. Every client is different. When using CBT, I find homework helpful. Anything from a worksheet to journaling.
12. How do you help ensure I'm making progress in therapy?
In the beginning, the client and myself come up with the treatment plan together to make sure we are focusing on what the client wants to focus on. I also do 'check ins' to make sure the client and I are on the same page with how therapy is going.
13. How do I know that it's time to start seeking therapy?
A new life event, a loss, something that has been bothering you for a while, or the mere thought of thinking about going to therapy are all good reasons to seek out a therapist! There is no right or wrong time to start therapy.
14. How will I know it's time to end my time in therapy with you or reduce session frequency?
We will have this conversation together, usually with 'check ins.' I ask how the current schedule is working and what I would recommend (continuing with current schedule, reducing session frequency, etc.). It is also always important to bring up any questions you have while in session. If you feel you want to change your session frequency or end therapy, tell your therapist. We do not know unless you tell us :)
15. Why should I seek therapy, rather than turning to my partner, friends, or other loved ones?
Although friends and loved ones are supportive, it is helpful to have a third-party, unbiased person to speak to with an outside perspective.
16. What advice would you share with therapy seekers?
If the first therapist you see is not a good fit, keep looking! It is important to feel comfortable. Also, as I stated previously, it is okay to be nervous, this feeling will subside the more you go. Just like any new venture, it can be nerve racking at first, but overtime seeing a therapist will become a part of your routine and can help you feel better, learn, and grow!