Dr. Alia Azmat is a Psychologist in Atlanta, GA specializing in anxiety, depression, loss & grief, life transitions, and spirituality/religion-related topics. We asked Dr. Azmat more about her work with clients and her guiding philosophies on therapy.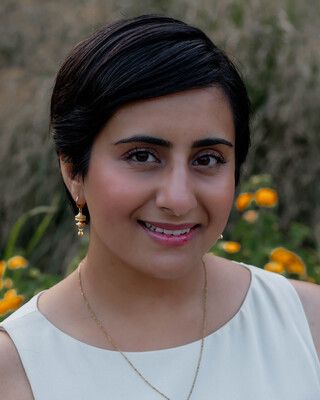 Dr. Azmat's background and personal life
How did you decide to become a therapist?
I wanted to be a culturally-sensitive health researcher and educator. I studied Global Health in college and was interested in the intersection between faith, gender, and reproductive health including mental health. After graduating with my Bachelors degree I realized that I could do all of that and more with the flexibility of a Ph.D in Counseling Psychology.
What was your previous work before going into private practice?
I have three years of work experience in college counseling centers, and two years experience in community mental health. Throughout graduate school I was a health educator for a reproductive justice non-profit (@HEARTTOGROW) so I also have experience doing more community health oriented work.
What do you enjoy doing in your free time?
I love to cook, bake, and watch a lot of cooking competition shows in my free time. I am really in awe of the creativity and speed of the folks on Top Chef and Chopped.
Dr. Azmat's specialties and therapy philosophies
What guiding principles inform your work?
I believe healing can occur in multiple spaces and doesn't look the same for everyone. However, healing to me means we are seen, heard, and valued for who we are—not for showing up as versions of ourselves others want us to be. My own healing journey has taught me that a part of taking care of my mental health is unlearning "truths" I believed to be true as a child.
At the core of my work, I think the principle of connection—to our bodies, our minds, our spirits, and each other can bring transformational change in ourselves and society.
What clientele do you work with most frequently?
I really enjoy working with emerging adults (~18-25) as well as folks in their mid-20s to 50s navigating new parts of their identity. For example, college aged students are usually navigating what it means to be themselves outside of parental and community images, and folks in their mid-20s to 50s in my experience are navigating identities such as being a partner, parent, or caregiver for people in their lives. I also work quite a bit with south Asian and Muslim women.
I typically work with folks around understanding how their anxiety, depression, and PTSD symptoms are all related but also how they are "getting in the way" of connecting more deeply with themselves and others. A common narrative I hear is "well, I am just an anxious person" which can be true but in my opinion also needs to be interrogated on why and how anxiety has served as a protective function for folks.
Can you tell us more about your specialty in supporting clients identity and culture-related topics?
This is a pretty broad population—I often see folks navigating bicultural and multicultural identities and navigating feelings of pride and shame around their multifaceted and complex personhood. I typically work with people to understand how "should" statements (i.e. "women shouldn't do X, children should do Y" impact how they talk to themselves and experience social situations. I also do a lot of validation and normalization on the impact of family culture on how we engage with the world.
Can you tell us about your specialty in working with Muslim women?
I work with this population through two different mediums—individual therapy and community workshops. I see a wide spectrum of concerns with this population and tend to explore the role of religion on mental health and the impact of community silence around suicide, shame, and sex/sexuality on engaging in healing practices.
What do you find most rewarding about your work?
Watching client's grow via changes they are making in how they talk to themselves and take care of themselves is very meaningful to me!
Therapy sessions with  Dr. Azmat
Are there any books you often recommend to clients?
Not really! The interventions I start with are: the feelings wheel, the anger iceberg, the power and control wheel, the stress performance curve, and a diagram on Pete Walker's model of CPTSD (fight, flight, freeze, fawn).
Do you assign "homework" between sessions?
I do not typically assign homework—at the end of session I will ask you how you are feeling/what you are feeling in your body and at the start of next session I will ask if any new insights or reflections have come up since our last session. I do this to help client's connect with themselves and trust their intuition around what needs to be discussed in session.
How do I know that it's time to start seeking therapy?
If you are struggling to sleep, can't stop ruminating about a certain issue, are feeling uncomfortable or unable to share how you are truly feeling with your loved ones you might benefit from a session or two of therapy to see if it is a good fit for you.
How can I prepare for our first session?
Be yourself! If there are things you are feeling nervous about, take the risk to share with me and we can slow things down to help you get comfortable. In terms of mentally preparing, know that therapy is like a seed—we don't always see the fruits of our labor right away.
Why should I seek therapy, rather than turning to my partner, friends, or other loved ones?
Therapy can be helpful because a therapist is trained to validate, normalize, and support you in feeling seen, heard, and understood. Feeling held in therapy and allowing yourself to trust a therapist can help you recognize new insights about how you connect to others. Finally, therapists are trained to interrupt unhelpful thinking and feeling traps. When you are asked to be kinder to yourself in the moment with your therapist, you are practicing a new way of being and relating to yourself.
I actually recommend clients continue to lean on partners, friends, and other loved ones for support while in therapy. It does not have to be either/or but rather a both/and around creating a meaningful support system.
What advice would you share with therapy seekers?
It can be overwhelming trying to find a therapist with the "right" technique or training for your concern. At the end of the day, the connection you feel with your therapist is what matters. Good luck!
Visit  Dr. Azmat's profile to read more about her and contact her for an initial consultation!