Afshan Mohamedali is a Psychologist offering online therapy to clients throughout New York state and providing in-person sessions at her office on Long Island. Dr. Mohamedali works with adults across the lifespan experiencing distress due to depression, anxiety, relationship challenges, or life transitions. She also specializes in working with minority populations and those struggling with race and cultural identity concerns. Using a variety of therapeutic modalities to best suit each individual's specific challenges, Dr. Mohamedali helps clients identify and interrupt unhelpful thinking patterns in order to bring about their desired positive life changes.
We asked Dr. Mohamedali more about her work with clients and her guiding philosophies on therapy.
Dr. Mohamedali's background and personal life
How did you decide to become a therapist?
Having grown up in a town where I was certainly a minority in more ways than one, I quickly recognized what "different" felt like. I tasked myself with trying to understand those around me so that I could possibly figure out what I needed to do, say, and think, believing that this was what I was supposed to do. I learned over time that creating my own identity felt more authentic and comfortable, integrating bits and pieces of my family's background with what I really appreciated from the larger community.
While this has been a lifelong journey, it's one that I've come to feel excited about and continue to reflect on. Along the way, I learned so much about myself and other people. I know that I am not alone in these efforts and look forward to helping others navigate identities in ways that feel real to them.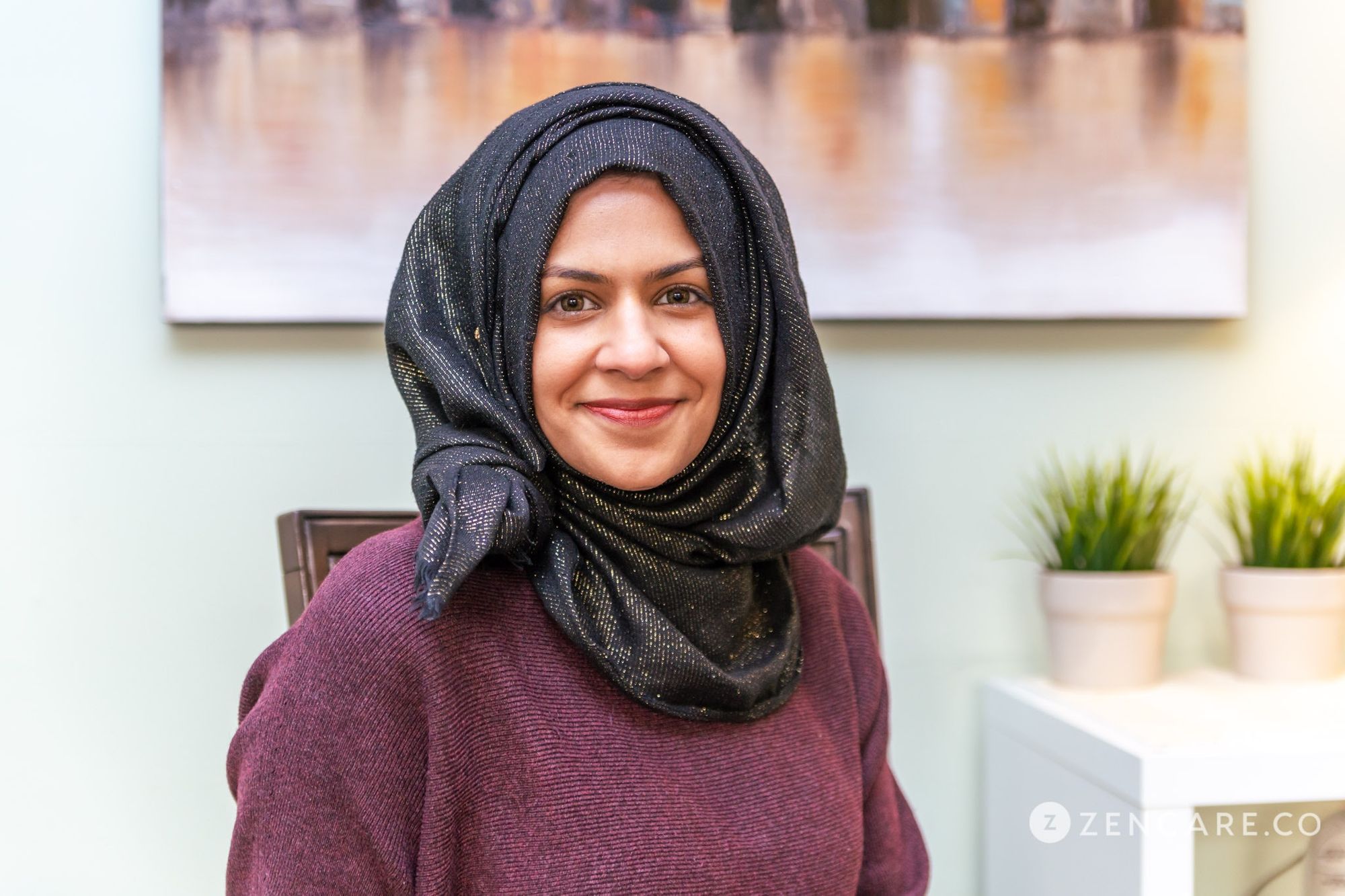 Dr. Mohamedali's specialties and therapy philosophies
What clientele do you work with most frequently?
Many of the clients I work with present to therapy with stressors in their relationships, work, or identity. While my practice often includes clients of ethnic minority backgrounds working toward a balance of their cultural identities, my curiosity and compassion fosters work in other areas of identity as well, including major life changes, rediscovery of sexuality, and shifts in relationships. Transitioning between and integrating different identities are skills called upon time and time again. I enjoy helping clients hone these skills so that they can overcome any change that comes along in a way that feels flexible but authentic to them.
Can you tell us more about your specialty in depression?
Many clients present to therapy for help in managing depressive episodes or symptoms. I find that providing context about how depression manifests, how it differs from other related emotions, and how common it is helps clients feel comfortable exploring how their depression is unique to them. I help individuals identify the usual course of depression as it relates to thoughts, feelings, and other precipitating factors. I emphasize a balance of acceptance of current feeling states with adaptive coping mechanisms, including behavioral activation, self-compassion, and medication if necessary.
Can you tell us more about your specialty in anxiety?
Anxiety is one of the most common presenting issues for clients entering treatment with me. I start with validating anxiety as an appropriate human emotion, one that is actually adaptive and crucial to survival. This paves the way in treatment as we work toward identifying healthy and unhealthy anxiety, determining things that can be controlled, things that cannot, and things that could be controlled but shouldn't be. I've found that anxious patients often look for skills or "things to do" to manage their difficult feelings, but this usually fosters even more anxiety. I encourage patients to adopt skills that are deactivating, such as mindfulness or reflective observation, and use the therapeutic space to practice.
Can you tell us about your work with clients with navigating relationship challenges?
Relationship struggles is another very common presenting concern for those who start therapy with me. I find that our relationships with others provide clues as to whether the relationships we have with ourself is in fact healthy. I stress to clients that there are natural limitations in how much we can change others but that in working toward healthy ways of relating for ourselves, our relationships with others will naturally evolve as well. I also encourage clients to look to the therapeutic relationship they form with me as an example of what a healthy relationship can look like.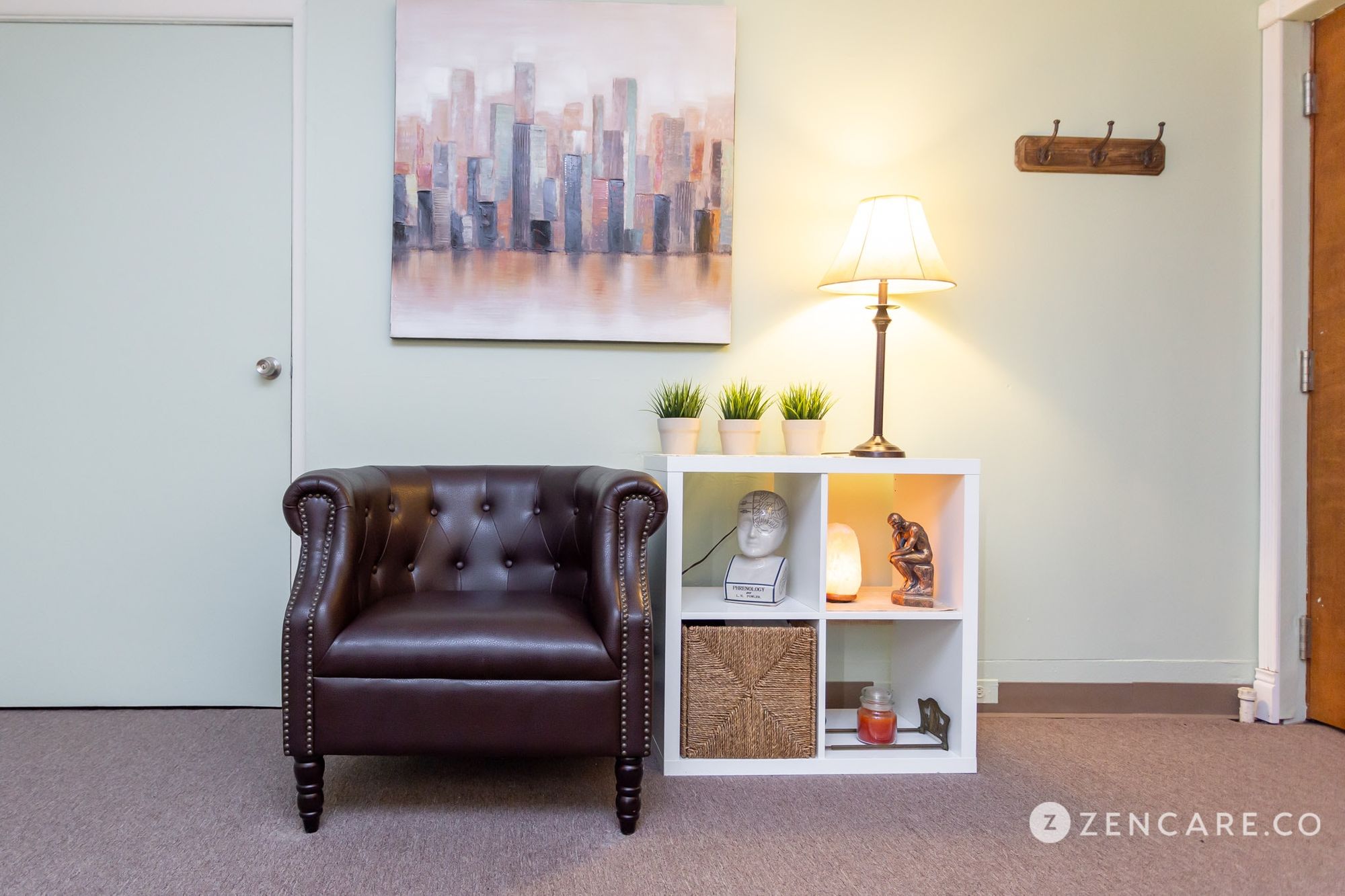 What do you find most rewarding about your work?
I'm very cautious about the role I play in a client's progress in treatment. I don't consider the goal of therapy to include clients adopting their therapist's point of view, but rather developing their own. This involves a process of reflecting on your own ways of thinking, understanding yourself at your core, and practicing curiosity. I may offer one way of thinking about things, but when my clients begin to consider their own with confidence and engage in the the work in a collaborative way, I believe the therapeutic work has been successful.
Therapy sessions with Dr. Mohamedali
What will our first session together be like? What happens in ongoing sessions?
I understand that meeting anyone for the first time can bring on anxious feelings, a therapist included. First sessions are a chance to settle in to therapy and for us to get to know each other. I create a space for you to share whatever you feel comfortable about yourself, your background, experiences of therapy in the past, areas to focus on, and your present concerns. I also encourage you to ask me questions about the way I work and how I envision your course of treatment.
How do you help ensure I'm making progress in therapy?
Over the course of treatment, themes naturally emerge. They are evident in your relationships with other people, thought processes, and even patterns of feelings. When conversations seem to touch on familiar themes, I make sure to highlight them and help my clients recognize the bigger picture. Each of these moments is a chance for us to discuss how far you've come and the progress you've made in these areas. I am also mindful about checking in with clients regularly regarding how they feel about the work and myself. I believe that success in therapy is possible after a strong relationship with your therapist is formed.
How can I prepare for our first session?
My motto for therapy is "just keep curious." I invite you to bring curiosity about yourself and what the therapeutic space can give you to your first session. I also encourage you to be as present as possible and share anything that comes to mind. Most importantly, I ask that you tell me if you are feeling uncomfortable in anything we talk about so that I can help you feel more at ease before moving forward.
Why should I seek therapy, rather than turning to my partner, friends, or other loved ones?
Your relationship with a therapist is like no other. It's a space to be vulnerable and challenged while receiving continuous support along the way. I consider the therapeutic relationship to be a model of what a healthy and rewarding relationship can look like, offering a frame of reference for relationships in your past, present, and future. Experiencing this relationship helps you to understand and repair your personal relationships and perhaps even identify relationships that are not healthy for you at all.
Visit Dr. Mohamedali's profile to watch her introductory video, read more about her, and book an initial call!