Last year was a transitional time for office setups. Millions shifted to a partial or full work-from-home status, essentially rendering living rooms, spare bedrooms, and kitchen tables across the country into makeshift offices. As we eased into this new normal, many of us missed our office spaces – and grew increasingly eager to return.
Enter our third roundup of therapist offices, 2021 edition. Even if you're not going back to the office just yet, you can still treat yourself to ideas for the future. Whether you prefer cool and casual undertones, or pops of bright colors, click through for easy inspiration in every style from your Zencare peers!
Pops of Color
The contrasting blues and yellows create an inviting space
Therapist: Sharon Uy
Location: Los Angeles
Attention-grabbing accent wall
Therapist: Dr. Tyler Howard
Location: Los Angeles

Mellow yellow meets modern and sleek
Therapist: Dr. Caroline Kalai
Location: NYC
Bright and sunny waiting room
Therapist: Latrina Hynes, LMFT
Location: Los Angeles
Gorgeous Greenery
Urban oasis
Therapist: Dr. Komal Choksi
Location: NYC
Indoor garden
Therapist: Anahita Kashefi, LMFT
Location: Los Angeles
Who said flowers have to be in a pot?
Therapist: Kim Grevler, LCSW
Location: NYC
An indoor/outdoor green scene
Therapist: Aleecia Kaloustian, LCAT
Location: NYC
Inspiring artwork
The peacock feathers brighten this soft, grey space
Therapist: Jolie Weingeroff, owner of PVD Psychological Associates
Location: Rhode Island
Colorful wall art to elevate the space
Therapist: Emily Natale, LMHC
Location: Rhode Island
This wall art takes you to another place
Therapist: Glen Barnard, LCSW
Location: NYC
Modern, metal artwork adds a unique touch
Therapist: Straight Up Treatment
Location: Los Angeles
Bright art adds color to muted walls
Therapist: Dr. Melanie Soilleux
Location: Washington DC
Who says beige is boring?
Classic fixtures in a bright & airy setting
Therapist: Dr. Bonnie Steinberg
Location: Rhode Island
Cozy with plush seating
Therapist: Dr. Stephanie English
Location: NYC
Beige - with a touch of soft color
Therapist: Danielle Feinerman, LMFT
Location: Los Angeles
Brighten up your beige with art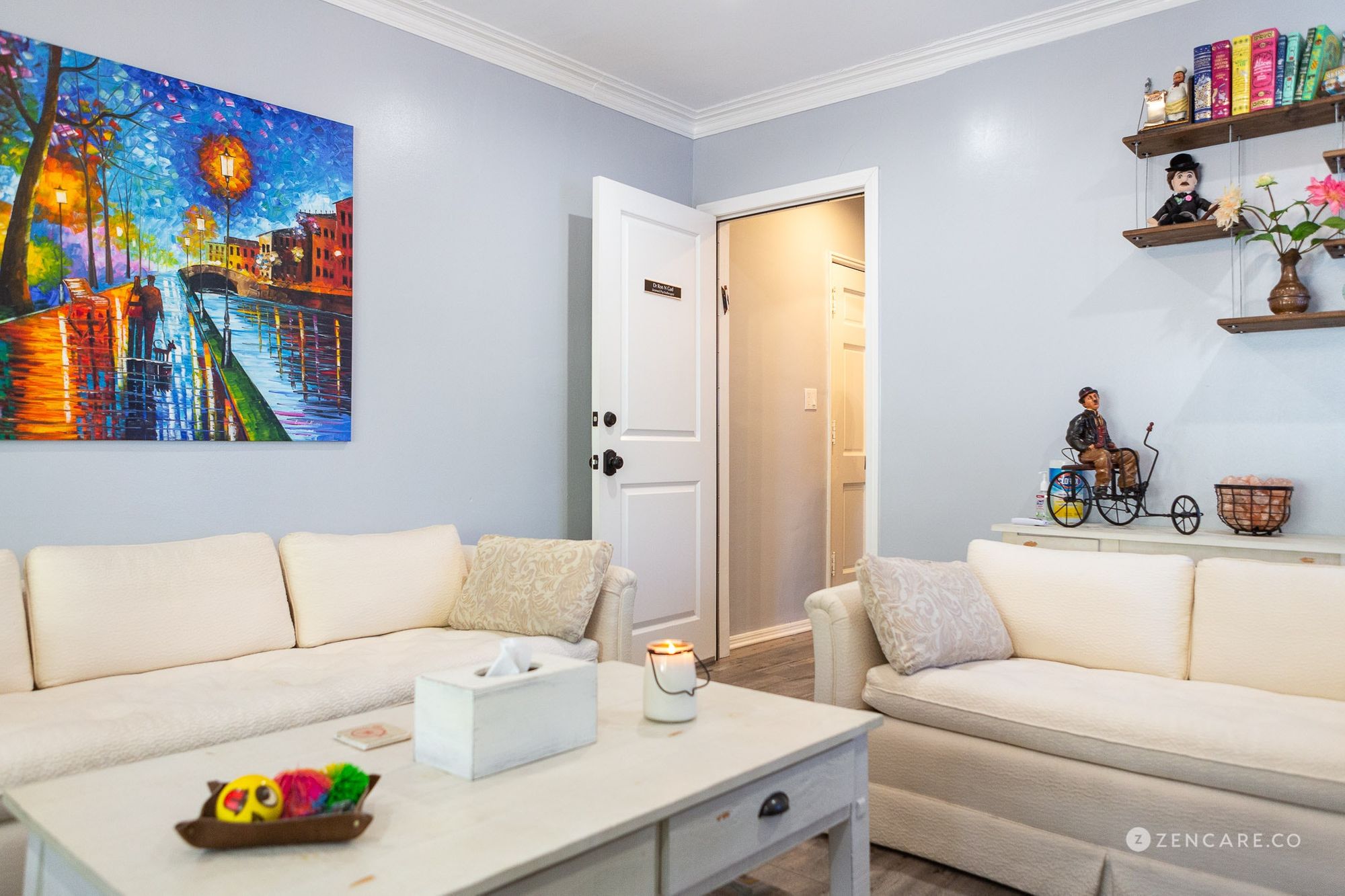 Therapist: Dr. Ron Gad
Location: Los Angeles
Books can make beige pop
Therapist: Abbe Horsburgh
Location: NYC
Light & bright – a mix of warm and cool tones creates a relaxing space
Therapist: Lisa Butler, LCSW
Location: Chicago
Warm & modern, brick walls and window frame add character
Therapist: Michele Conklin, LMFT, ATR
Location: West Los Angeles

These warm brown tones are anything but dull
Therapist: Anna Diamantis
Location: Connecticut
A mix of traditional furniture and modern decor create light & cozy space
Therapist: Kristina Cofone, LCSW
Location: New Jersey
Modern Zen
Mid-century modern charm
Therapist: Laura Hoge, LCSW, LCADC
Location: New Jersey

Tranquil & chic
Therapist: Elle Michel, LMFT
Location: Los Angeles
Peaceful & cozy
Therapist: Elizabeth Nigro
Location: NYC
Plush purple couches add an uplifting welcome
Therapist: Erin Bishop, LMFT
Location: Los Angeles
Gold accents & big windows brighten the room
Therapist: Cyndi Pylsinelli, LMFT
Location: San Diego
Pillows provide a pop of color in this light and airy space
Therapist: Zi Wang, LMHC
Location: NYC
Eye-catching area rugs
Colorful patterns bring the whole room together
Therapist: Patrick Davin, LPC
Location: Greenwich, CT
Cool blues and grey create a tranquil environment
Therapist: Resilience Lab
Location: NYC

Retro vibes
Therapist: Dr. Katherine Smith, LMFT
Location: Los Angeles
Warm & fuzzy add cheery personality
Therapist: Shira Myrow, LMFT
Location: Los Angeles
This rug transforms the light airy, space into a warm and cozy one
Therapist: Dr. Abby LePage
Location: Washington DC
The rug ties the whole room together making it warm and inviting
Therapist: The Collaborative
Location: NYC
This warm rug provides a cozy center in this loft-like room
Therapist: InTouch & Motion
Location: Chicago, IL
Unique features
A one-of-a-kind warm wall
Therapist: Koepke Counseling
Location: NYC
Some western flair in West LA
Therapist: Meghan Schafer, LMFT
Location: Los Angeles
Stunning mix of neutrals, textures, and shapes
Therapist: Dr. Alina Gorgorian
Location: Los Angeles
These tall ceilings are truly unique and create a bright and inviting space
Therapist: Dr. Rebecca Harmon
Location: NYC
Boho-chic
Therapist: Lauren Stern, LPCC
Location: San Diego

Rooms with a view
Admire the tall trees and greenery
Therapist: Transcend Anxiety
Location: Los Angeles
The cityscape peeks through these beautifully framed windows
Therapist: Dr. Samiha Jallouqa
Location: Chicago