Robyn Isman is a Licensed Independent Clinical Social worker who offers remote video therapy and in-person sessions in Needham, Massachusetts.
She uses a two-pronged approach that gives clients the space to openly share challenges and build upon strengths, while also taking concrete steps toward change. She also often incorporates mindfulness skills to increase presence and awareness in daily life.
Read about Robyn's background and approach to therapy below, and visit her profile to book an initial call today!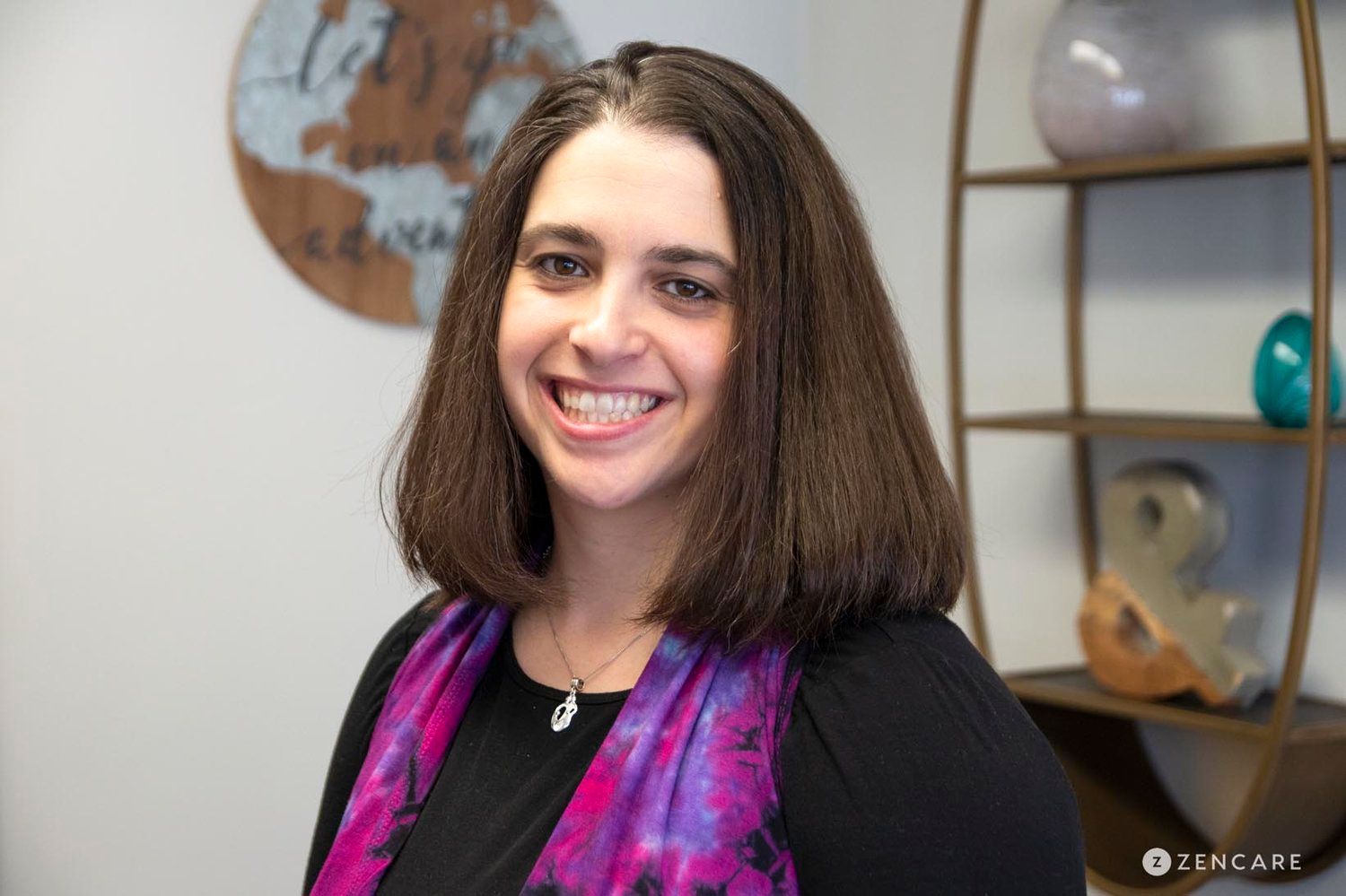 Robyn's background, and present, as a therapist
When, or why, did you first know you wanted to become a therapist?
Feelings were rushed and judged when I was younger. I wanted to provide a space where people could feel and befriend their feelings as allies.
What guiding principles or philosophies inform your work?
Being collaborative and direct; having humor; staying kind and warm.
Are there particular populations, client backgrounds, or age ranges you work with most?
I work mostly with clients who are ages 12 and up.
Many of my clients are dealing with anxiety; and some are undergoing life transitions like post-college, or recently getting married. These times bring up anxiety and worries, and people need a place to unwrap these worries.
What was your previous work before going into private practice?
I was the director of an in-home therapy program with families.
What inspired you to start your private practice?
The chance to do one-on-one work, providing people space to be heard and develop tools.
What do you find most rewarding about your work?
When a client says they feel "validated."
What do you enjoy doing in your free time?
Going to the gym; spending time with family; seeing friends.  
What to know about therapy with Robyn
What would our first session together be like? What happens in ongoing sessions?
For our first session, I ask clients what it is that brings them to me. I take some demographic information, go over paper work, ask what is important for me to know, and what they want to "put down" during our time together.
Do I need to bring anything to our first session?
Nope!
Do you often assign "homework," and if so, what kind?
Yes, I often assign mood trackers for clients.
If I need additional support outside of weekly sessions, how would you help me connect with those resources?
I would refer you to any recommendations and review a safety plan. I also answer emails when I am out of the office, if not immediately.
How will I know whether I'm making progress during my time with you?
We will reflect on this together, and review initial goals.
Are there any books you often recommend to clients?
"Overcoming Unwanted Intrusive Thoughts: A CBT-Based Guide to Getting Over Frightening, Obsessive, Or Disturbing Thoughts" by Martin N. Seif and Sally M. Winston.
Can you share an anonymous example of progress from a recent typical client?
A client recently reported that they "felt validated and knew how to process emotions for the first time."
Another client eliminated panic attacks during our work together.
How long do clients typically see you for?
6 months to one year.
That said, I do believe therapy is preventative, and believe in ongoing therapy – even when things are good.
How will I know it's time to end my time in therapy with you, or return less frequently?
We will always be reflecting on this and you can be honest on your needs.
Robyn's thoughts on therapy in general
How do I know that it's time to start seeking therapy?
When you feel like there is a nagging problem you want to process. I believe in not waiting until it's very bad.
Why should I seek therapy, rather than turning to my partner, friends, or other loved ones?
Therapists are unbiased, neutral, and unimpacted isn't the way friends or family are.
What advice would you share with therapy seekers?
Look for a face and smile that makes you feel calm, words that resonate and try a couple people out if needed. Therapy is all about good fit, but to find that, you have to take the first step!
Visit Robyn's profile to watch her introductory video, read more about her approach, and book an initial call!