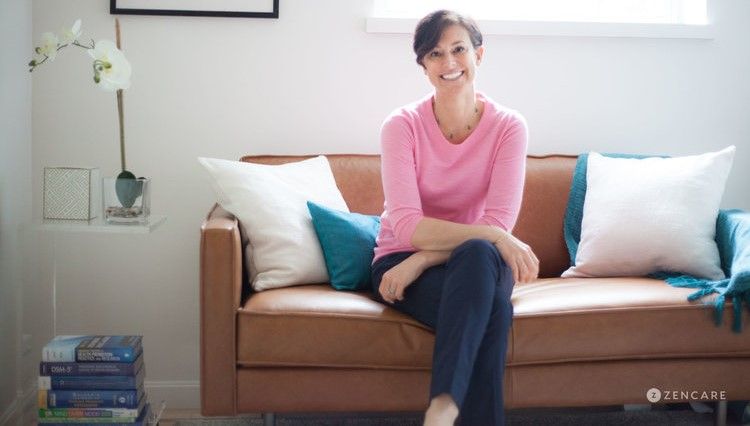 Dr. Laura Whiteley, MD in her office in Providence, Rhode Island
About the #GirlbossTherapists series: As a female founder, I love having the opportunity to support so many female therapists in private practice through Zencare. In this article series, I interview outstanding therapists on their journeys to becoming clinicians and businesswomen.
---
When I started Zencare in Rhode Island, there was one psychiatrist whose name kept coming up among therapists and students: Dr. Laura Whiteley. She was the Director and Founder of the Young Adult Behavioral Health Program, which aims to make mental health care for young adults affordable and accessible.
Dr. Whiteley is now in private practice in Providence, Rhode Island, and serves as the Associate Residency Director at Brown University's General Psychiatry Residency Program. I asked her about her research, the mental health challenges that are most common among young adults today, and what her aspirations are for this new chapter in her career.
You were the founder of a really groundbreaking practice – it's particularly unusual because it accepts almost all insurances, but is exclusive to college and graduate students. What led you to make those decisions?
As an outpatient psychiatrist, I saw first-hand that many college students needed psychiatric care, but could not find or afford care in the community. This lead to the development of the hospital based program.
How do you balance being a business leader with being a clinician?
Ha. Well, I don't see myself as a business leader at all. I leave the business stuff to Zencare! I see myself as a clinician, teacher, and researcher. I started my own outpatient practice so I could spend more time with my patients and their families. Since starting my own practice, I am able to spend less time going to hospital meetings; I no longer have to spend time on bureaucratic hospital systems issues. My time is now 100% dedicated to my patients and their care. If you are my patient, this means more individualized and personalized treatment, longer appointments, and direct access to me for scheduling and consultation.
The ratio of male to female practicing physicians in the US is nearly double. How has that impacted your career path or training experiences?
I have been lucky to train at Brown where I have an equal number of wonderful male and female role-models and mentors. My male and female mentors have been very supportive of my career.
What is your advice to women considering psychiatry? If you could start over, would you choose it as your specialty again?
I love my job and I love seeing my patients. I would definitely recommend this work to women considering a career in medicine. I would choose this career over and over again.
Can you tell me a bit about your research?
I do my research through the Department of Psychiatry and Human Behavior at Brown. I have a few different research projects. I was awarded a Rhode Island Foundation grant in 2014 for my work with young adults. In this project, I examine ways to link young adults seen in the Emergency Room, or by their PCP, with psychiatric outpatient care. I also research the best ways to improve adherence to medical treatment. For example, one of my current research projects is examining an immersive iPhone game to improve adherence to medical care for people living with HIV.
Even though I do not do research with my private practice patients, my research does influences my clinical work because research skills are required to assess the quality of evidence for certain types of therapies and medications. Through my research work, I gain a better understanding of statistics, and how to critically read journal articles, and these skills allow me to understand what therapies and medicines are most effective for my patients. My research also allows me to think about and examine (in a scientific way) what information, behavioral skills and motivational factors help people feel better. So even though I do not do research with the patients that I see in my office, my research experiences ensure that my patients receive the best, up-to-date, evidence- based treatments.
Marijuana usage is one of the most highly discussed topics in young adult mental health today. Can you tell me a bit about your knowledge or research in this field?
I was lucky enough to be asked to give a grand rounds about this topic at Bradley Hospital and Rhode Island Hospital. So, I do know a bit about this topic. Cannabis use can be very tricky for patients. Many of my patients tell me that when they use cannabis, it makes them feel better in that moment. The problem is, in the long run, or over time, cannabis use can increase your risk for worsening mood, depression, anxiety and psychotic disorders like schizophrenia. Some studies show that if you have genetic risk factors for developing schizophrenia, using cannabis can increase your risk of developing the disorder by 40%. The risk of cannabis causing mood disturbance increases if you use cannabis during adolescence and young adulthood, when your brain is still maturing and growing. So this topic is particularly important for teenagers and young adults to know about.
You started private practice after working in hospitals for many years. What are your aspirations for this new setting?
I want to dedicate my time 100% to my patients and their care. Being in private practice, I am able to do this, and this is good for my patients, and makes me very happy.
To contact Dr. Whiteley, visit her Zencare profile.