Jason Peruchini is a Licensed Marriage and Family Therapist (LMFT) in Bellevue, Washington who works with adult individuals and couples.
As an LMFT, Jason specializes in relationship work, and he often helps couples find meaningful ways of reconnecting after conflict. He also sees clients individually, typically for issues like anxiety, depression, existential crises, and identity development. In sessions, he frequently utilizes acceptance and commitment therapy (ACT), cognitive behavioral therapy (CBT), and existential therapy.
Read about Jason's background, and approach to therapy below, and visit his profile to book an initial call today!
Jason's background, and present, as a therapist
When, or why, did you first know you wanted to become a therapist?
I knew pretty early on that psychology was something I wanted to study. By the time I ended high school, I'd interviewed a few therapists in my community to learn more about what the career was actually like and not just what you see in the movies.
In college, I volunteered on a crisis hotline and in a clinic for suicidal youth and their families, which is how I came to be interested in the influence of relationships on mental health and ultimately becoming licensed as a marriage and family therapist.
Even though it's nothing like the movies (thank God!), I find it quite exciting and am honored to be in a position to help others through difficult times in their lives.
What guiding principles or philosophies inform your work?
I'm interested in helping people figure out how they want to live their lives specifically when life gets difficult. It's easy to know what to do when all of your needs are being met, but more complicated when life stops meeting all those needs. It's then understandably easy to fall into the trap of waiting for things to feel good again before continuing to live a meaningful life.
So, I'm working with people to explore the type of person they want to be when facing challenges. There's great information to be revealed in that exploration if people really look, and it's a good first step for starting to act in a valued direction.
What do you find most rewarding about your work?
Most of the time people come in for help because they're having problems managing the complexity of their lives. Things have gotten out of hand on them and their attempts to get them back under control have left them feeling exhausted and out of sorts.
I enjoy helping people think differently about their struggles to reveal a greater sense of personal control over their lives, as well as engaging in solving problems in ways they have not previously considered. We're quite powerful in our ability to choose how to respond to stressors, so having the privilege of being on somebody's team to help them straighten out the tangles in their lives is very rewarding.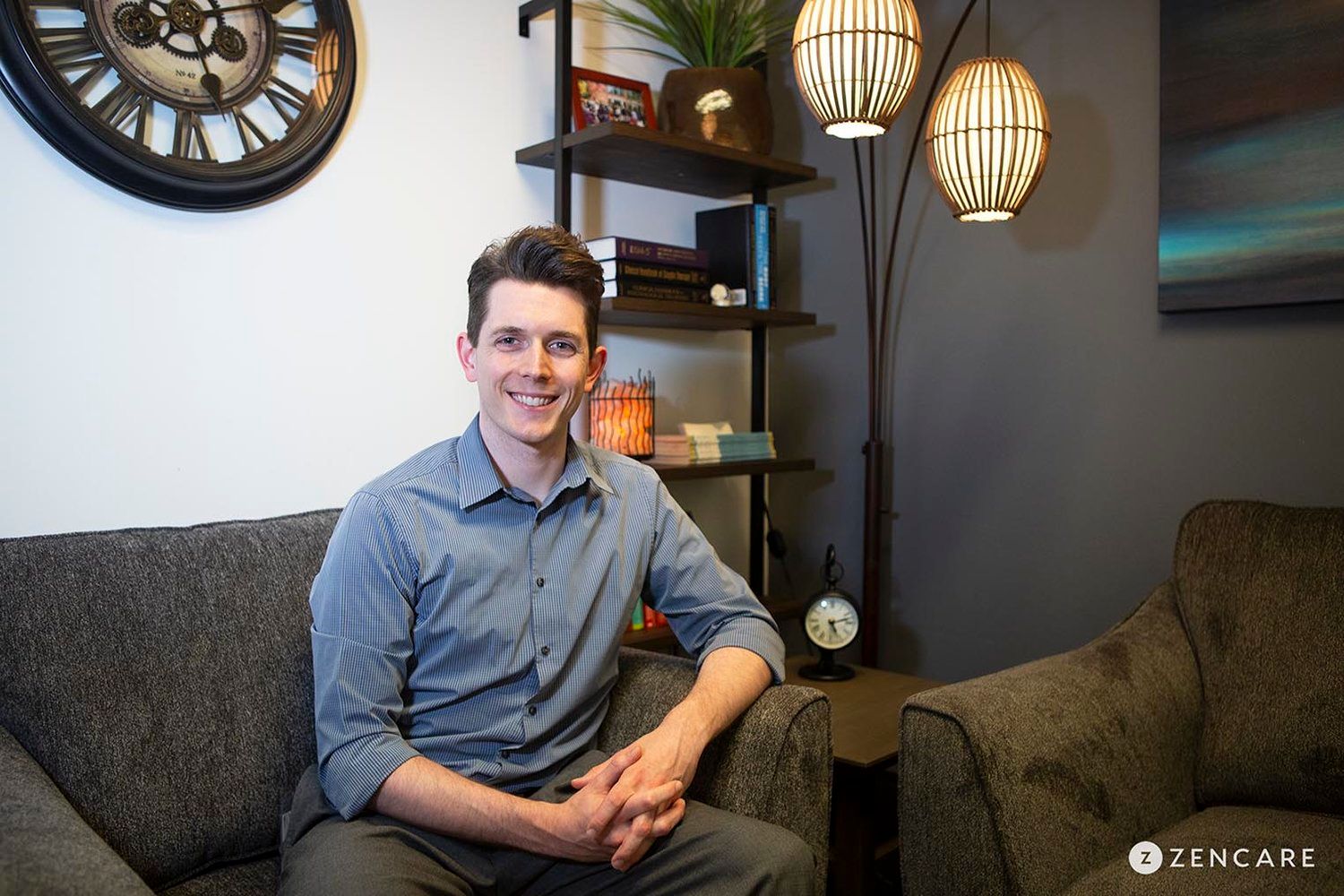 What to know about therapy with Jason
What would our first session together be like? What happens in ongoing sessions?
I always start by asking people how they're feeling about coming to meet with me. For people who've never met with a therapist before, it can feel a little intimidating so I want to make sure I answer any questions you may have first. I understand it can be tough sharing personal information that perhaps you haven't told anyone else, so I also do my best to be respectful of any boundaries you may have around the information you choose or choose not to share. I'll then ask your perspective on what's been contributing to your current difficulties, what you've tried so far to manage it, as well as whether you've found those things helpful or not. Once we know how you'd ideally like to be living your life, ongoing sessions are spent with us working together to identify and practice new ways of responding to stressors that move you closer to your goals.
Do you often assign "homework," and if so, what kind?
My goal is to get you back into your life in the way you're wanting as quickly as possible. This looks different for everyone, but I will typically suggest something to practice or test out during the week between our meetings.
I'll also often ask for your feedback on how you'd like to apply what we talk about during the week in a way that would be meaningful and relevant for you. I don't usually assign worksheets unless there's clearly a benefit to writing as a method of addressing a current issue.
How will I know whether I'm making progress during my time with you?
Two questions I ask during our first meeting are "What type of person would you ideally like to be?" and "What do you have to do to be that kind of person?"
Do I need to bring anything to our first session? How can I prepare?
It's quick and easy to get started. Before we meet, I'll send you a link to my online portal where you'll be able to read and sign some initial consent forms. This will include more information about me and my services, as well as my privacy policy and a confidentiality agreement. You'll also be able to enter payment and insurance information if you decide to use it, so there's no need to bring anything with you to our first session.
What do your credentials mean?
I'm licensed in Washington as a marriage and family therapist, which is what LMFT stands for. This is granted to therapists who have completed at least two years of postgraduate experience in a therapeutic field and have received supervision on their work. While this means I have specific training in working with relationships, I am also qualified to treat other mental health issues like depression and anxiety. I am also a member of a few therapeutic associations and actively pursue continuing study to stay up to date and well-informed about current practices.
Are there any books you often recommend to clients?
I'm fond of Russ Harris's book "The Illustrated Happiness Trap." It's in the style of a comic book, so it's easy to read and easily digestible for learning new ways of working through difficult situations that affect your satisfaction with life.
"Atomic Habits" by James Clear is also a wonderful guide for creating more structure and intentional planning to meet the goals you've set for yourself.
Are there particular populations, client backgrounds, or age ranges you work with most? What draws you to that population?
As a marriage and family therapist, I have a particular interest in working with couples who are looking for better ways to manage conflict and improve trust and intimacy together.
There's a great wealth of research on what contributes to long-lasting, satisfying relationships and being in a couple's corner to help them learn new skills and unlearn unhelpful habits gives me great satisfaction.
I also work a lot with people in tech-related industries who are having a hard time balancing high-stress careers with other domains like family, friends, and leisure time.
Everyone is looking to make an impact in their lives and helping people make a plan for prioritizing what is most important to them is quite rewarding.
Jason's thoughts on therapy in general
How do I know that it's time to start seeking therapy?
It may be time to start looking for a therapist when the strategies that worked to manage the issue before are no longer working, you realize that those strategies perhaps never really worked to begin with, or you're feeling uncertain about how to begin addressing it.
We all have different emotional barometers for the pressure we can and can't handle in our lives, but if it's at the point where the situation is requiring a lot of your time and energy to manage and leaving you with little payoff, a therapist is a useful resource to help you manage the complexity.
Why should I seek therapy, rather than turning to my partner, friends, or other loved ones?
Part of living with the particular problems you may be carrying is being able to discern for yourself what you share with others, when you share, and in how much detail. It's going to be different from person to person depending on the relationship.
If you have people in your life you can rely on for support, and actually feel supported, then certainly use them. For those you'd like to be able to use as support more, but have seen that they don't quite get it, see if they're open to feedback on what you need from them. If they are, that's wonderful for maintaining emotional connection with someone you trust. Not everyone is equipped to provide that, however.
A therapist on the other hand has specific mental health training and knowledge of new ways to approach your current difficulties that have been validated through scientific study, so they're not just offering opinion.
Part of therapy may even be to strengthen the relationship you have with other people who are important to you so that you can use them more effectively for support when you need it. Both can be very important for different reasons.
What advice would you share with therapy seekers?
If you think there's even a chance that therapy could add something useful to your life, even if you have some initial misgivings about it, it's worth trying out to see firsthand.
I'll often hear people say about our time together how different it is from what they thought and that they wish they'd done it sooner. Underneath the label of being a therapist, which can feel daunting for some people, it's a real person you're meeting with who's interested in helping you.
If you've had an unhelpful experience in therapy before, let the next one know specifically what was and was not useful so that they can adjust their approach to best meet your needs.
Visit Jason's profile to watch his introductory video, read more, and book an initial call!